Book Offers Help, Hope for Parents with Drug-Addicted Child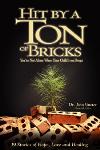 John Vawter likes to answer questions by telling stories – usually real-life stories of a family whose child has fallen victim to drug or alcohol abuse. Whether addressing the heartbreak of having an addicted child, or keeping a marriage together while dealing with a child's drug abuse, Vawter's stories underline his central ministry message: You are not alone when your child is on drugs.

The former seminary president and pastor, along with his wife, Susan, learned the value of sharing their personal pain with other Christians soon after they discovered in July 1997 that their daughter, Stephanie, was a heroin addict.

"Frankly, Susan and I would not have survived without a support group," he told AFA Journal. While their daughter struggled through detox and treatment, the Vawters, who now live in Phoenix, experienced every emotion caring parents feel when coming to the realization that their child is a drug addict: shock, guilt, shame, anger and all the rest.

Six years later Stephanie has remained sober and has learned to deal with her addiction one day at a time. In 1999 her parents turned their family ordeal into a ministry called "You're Not Alone." Their first conferences were aimed at pastors and Christian workers who had drug-addicted children. Along the way they opened the conferences to any family who needs their help.

Vawter's most recent effort to offer biblical instruction and hope to families whose children are addicted reflects his conviction that true experiences can be a powerful healing tool. His new book, "Hit by a Ton of Bricks," offers 19 true stories of hope, love and healing. Compiled from writings and speeches by You're Not Alone conference presenters, the 242-page volume offers the kind of authentic insight that comes only from those who have seen drug abuse up close. Contributing writers include parents, drug and alcohol abusers and professional counselors. Chapters are organized into seven sections that carry such themes as "Living with the Pain of Having an Addicted Child," "Keeping Your Marriage Healthy When You Kids Aren't," and "Hoping the Best for the Future."

Published by FamilyLife, "Hit by a Ton of Bricks" is more like a reference book than a volume to be read cover to cover. "One of the things that we learned is that different parents respond differently to different situations," said Vawter. "And so we really like the fact that there are so many different personalities and styles in the book.

"My hope is that parents will sit down and find a chapter or two that will become one of their best friends."

Along with their bios, nearly all of the contributors include personal contact information. "By being in this book, the people who contributed are saying, I don't mind being contacted, because you're not alone, we're in this together.'"

The First Steps

For parents dealing with their child's drug abuse, step one is to admit the problem and seek help. "I talked to a fellow the other day, a recovering heroin addict who now runs a treatment center," Vawter said. "This guy told me that his first goal is just getting the addict to the treatment center. His goal is not to get the addict clean, but simply to get the process started." Parents must take the same approach, Vawter advises.

Then parents must realize that there is no "Jesus pill" to swallow. "This is pain and trauma that is not likely to go away overnight. It's going to be a lot of hard work," he said. That hard work may begin, according to Vawter, with this hard prayer: "Lord, bring my kid to the bottom fast. Make them see and understand what they are doing."

Hope

Insight, instruction, and support are essential tools in persevering through the family tragedy of drug abuse, and Vawter's ministry offers an abundance of each. However, the underlying purpose of You're Not Alone is to give hope. Hope that in the end is not based on the experiences of others, but on the reality of the gospel of Jesus Christ.

"A month ago, Susan and I returned to Minnesota for the 50th anniversary of a church I pastored," Vawter recalled. "While en route to the church, Stephanie called and said, 'Dad, I was just thinking about the reunion and growing up in Minnesota. I guess if I could reduce my life to one sentence, it would be: Jesus loves me.' She recalled how her first-grade Sunday school teachers taught her that, and she said she never forgot it, even when she was using drugs and had walked away from Him. There's proof that God can keep His witness alive in His children even when they are as far away from Him as shooting up heroin."



Rusty Benson is associate editor of AFA Journal, a monthly publication of the American Family Association. This article appeared originally in the January 2004 issue.

© 2004 AgapePress.  All rights reserved.  Used with permission.