Bookends of the Christian Life
Jerry Bridges and Bob Bevington

Authors

2009

21 Apr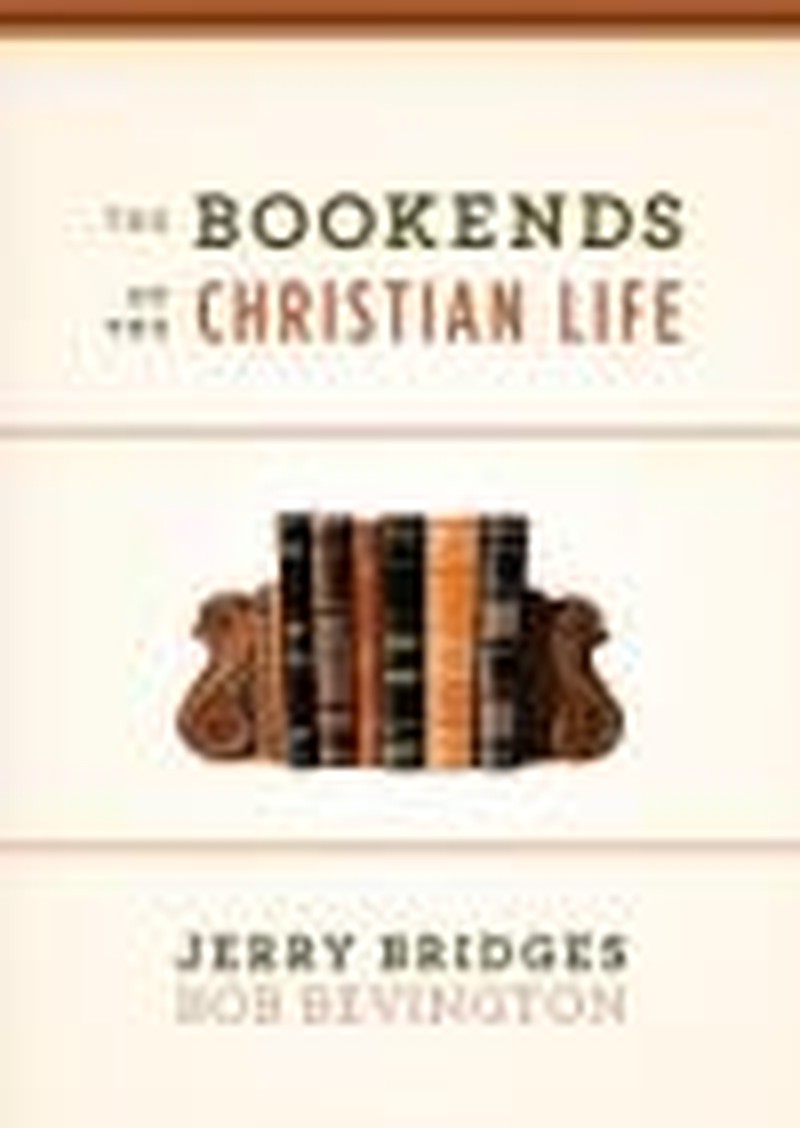 EDITOR'S NOTE: The following is an excerpt from
The Bookends of the Christian Life
by Jerry Bridges and Bob Bevington (Crossway).
CHAPTER ONE: THE RIGHTEOUSNESS OF CHRIST
I am not ashamed of the gospel . . . for in it the righteousness of God is revealed. – Romans 1:16-17
What is the righteousness of Christ, and why do we need it as the first bookend? The word righteous in the Bible basically means perfect obedience; a righteous person is one who always does what is right. This statement assumes there's an external, objective standard of right and wrong. That standard is the universal moral will of God as given to us throughout the Bible. It's the law of God written on every human heart. It's the standard by which each person will ultimately be judged.1
Our problem is that we're not righteous. As the apostle Paul put it so bluntly, "None is righteous, no, not one … No one does good, not even one" (Romans 3:10-12). That's strong language. We may quickly protest that we're not so bad. After all, we don't steal, murder, or engage in sexual immorality. We usually obey our civil laws and treat each other decently. So how can Paul say we're not righteous?
We respond this way because we fail to realize how impossibly high God's standard actually is. When asked, "Which is the great commandment in the Law?" Jesus responded, "You shall love the Lord your God with all your heart and with all your soul and with all your mind. This is the great and first commandment. And a second is like it: You shall love your neighbor as yourself. On these two commandments depend all the Law and the Prophets (Matthew 22:36-40). None of us has even come close to fulfilling either of these two commandments. Yet Paul wrote, "For all who rely on works of the law are under a curse; for it is written, 'Cursed be everyone who does not abide by all things written in the Book of the Law, and do them'" (Galatians 3:10). "All" is absolute. It means exactly what it says; not most, but all.
If we applied this same standard in the academic world, scoring 99 percent on a final exam would mean failing the course. A term paper with a single misspelled word would earn an F. No school has a standard of grading this rigorous; if it did, no one would graduate. In fact, professors often grade "on a curve," meaning all grades are relative to the best score in the class, even if that score isn't perfect. We're so accustomed to this approach we tend to think God also grades on a curve. We look at the scandalous sins of society around us, and because we don't engage in them, we assume God is pleased with us. After all, we're better than "they" are.
But God doesn't grade on a curve. The effect of Galatians 3:10 is to put us all under God's curse. And while it's one thing to fail a course at the university, it's altogether something else to be eternally damned under the curse of God. The good news of the gospel, of course, is that those who have trusted in Jesus Christ as their Savior will not experience that curse. As Paul wrote just a few sentences later, "Christ redeemed us from the curse of the law by becoming a curse for us" (Galatians 3:13). Let this truth sink deeply into your heart and mind: apart from the saving work of Christ, every one of us still deserves God's curse every day of our lives. We may not commit "scandalous" sins. But what about our pride, our selfishness, our impatience with others, our critical spirit, and all sorts of other sins we tolerate on a daily basis? Even on our best days, we still haven't loved God or our neighbor as we should. So we have to agree with Paul. None of us is righteous, not even one.
We know we need a Savior, so we trust in Christ to redeem us from the curse of God's law. But though we believe we're saved as far as our eternal destiny is concerned, we may not be sure about our day-to-day standing with God. Many of us embrace a vague but very real notion that God's approval has to be earned by our conduct. We know we're saved by grace, but we believe God blesses us according to our level of personal obedience. Consequently, our confidence that we abide in God's favor ebbs and flows according to how we gauge our performance. And since we each sin every single day, this approach is ultimately discouraging and even devastating. This is exactly why we need the first bookend. The righteousness of Christ changes all this.
Jesus Christ the Righteous One
What exactly is the righteousness of Christ? And how will it give us a sense of assurance in our day-to-day relationship with God? To begin answering those questions, let's go to one of our favorite verses of Scripture:
For our sake he made him to be sin who knew no sin, so that in him we might become the righteousness of God. (2 Corinthians 5:21)
The first thing we need to consider in this verse is the sinlessness—the perfect obedience—of Jesus as a man living among us for thirty-three years. The Scriptures consistently testify to this. All four of the major writers of the New Testament letters attest to the sinless, perfect obedience of Jesus throughout his life on earth. In addition to Paul's words that Jesus "knew no sin," we have the testimony of Peter, John, and the writer of Hebrews: "He committed no sin" (1 Peter 2:22); "In him there is no sin" (1 John 3:5); Jesus was in every respect "tempted as we are, yet without sin" (Hebrews 4:15).
One of the most powerful indications of the sinlessness of Jesus came from his own mouth. To a group of hostile Jews to whom he'd just said, "You are of your father the devil," Jesus dared to ask the question, "Which one of you convicts me of sin?" (John 8:44-46). He could ask this question because he knew the answer—he was sinless. Jesus could confidently say of the Father, "I always do the things that are pleasing to him" (John 8:29). Every moment of his life, from birth to death, Jesus perfectly obeyed the law of God, the same law that is applicable to all of us.
Christ's obedience was tested by temptation (Matthew 4:11; Hebrews 4:15), and the intensity of his temptation was greater than any we'll ever experience or even imagine. When we succumb to temptation, the pressure is relieved for awhile; but unlike us, Jesus never gave in.
As astounding as that is, it wasn't the epitome of Christ's obedience. The pinnacle of his obedience came when "he humbled himself by becoming obedient to the point of death, even death on a cross" (Philippians 2:8). The obedient death of Christ is the very apex of the righteousness of Christ.
Let's not miss the implications of this. At the cross, Jesus paid the penalty we should have paid, by enduring the wrath of God we should have endured. And this required him to do something unprecedented. It required him to provide the ultimate level of obedience—one that we'll never be asked to emulate. It required him to give up his relationship with the Father so that we could have one instead. The very thought of being torn away from the Father caused him to sweat great drops of blood (Luke 22:44). And at the crescendo of his obedience, he screamed, "My God, my God, why have you forsaken me?" (Mark 15:34). The physical pain he endured was nothing compared to the agony of being separated from the Father. In all of history, Jesus is the only human being who was truly righteous in every way; and he was righteous in ways that are truly beyond our comprehension.
Our Sin Transferred to Christ
The second truth to note in 2 Corinthians 5:21 is that "for our sake he made him to be sin." This is Paul's way of saying God caused Jesus to bear our sin. Peter wrote something similar: "He himself bore our sins in his body on the tree" (1 Peter 2:24). So did the prophet Isaiah: "All we like sheep have gone astray; we have turned—every one—to his own way; and the LORD has laid on him the iniquity of us all" (Isaiah 53:6). Paul is telling us that God the Father took our sin and charged it to God the Son in such a way that Christ was made to be sin for our sake.
Now we can see what Paul meant in Galatians 3:13 when he said, "Christ redeemed us from the curse of the law by becoming a curse for us." He became a curse for us because he'd become sin for us. And by those words for us, Paul indicates that Christ did this in our place and as our substitute.
Imagine there's a moral ledger recording every event of your entire life—all your thoughts, words, actions, even your motives. You might think of it as a mixture of good and bad deeds, with hopefully more good than bad. The Scriptures, however, tell us that even our righteous deeds are unclean in the sight of God (Isaiah 64:6). So Jesus has a perfectly righteous moral ledger, and we have a completely sinful one. However, God took our sins and charged them to Christ, leaving us with a clean sheet.
The biblical word for this is forgiveness. In and of itself, forgiveness is a monumental blessing. Paul echoed David on this when he wrote, "Blessed are those whose lawless deeds are forgiven, and whose sins are covered; blessed is the man against whom the Lord will not count his sin" (Romans 4:7-8; Psalms 32:1-2). But how did God do this and yet remain perfectly holy and just?
He did it by causing the sinless Son to bear our sins, including everything that goes with them: our guilt, our condemnation, our punishment. That's what it took for God to wipe our moral ledger sheet perfectly clean and at the same time preserve his holiness and justice—the price had to be paid on our behalf; so the sentence was executed on our Substitute.
Christ's Righteousness Credited to Us
But it wasn't enough for us to have a clean, but empty, ledger sheet. God also credits us with the perfect righteousness of Christ "so that in him we might become the righteousness of God." This happens the same way Jesus was made to be sin—by transfer. Just as God charged our sin to Christ, so he credits the perfect obedience of Jesus to all who trust in him. In what is often called the Great Exchange, God exchanges our sin for Christ's righteousness. As a result, all who have trusted in Christ as Savior stand before God not with a clean-but-empty ledger, but one filled with the very righteousness of Christ!
The theological term for what we've just described is one of Paul's favorite words, justification. The word justified in Paul's usage means to be counted righteous by God. Even though in ourselves we're completely unrighteous, God counts us as righteous because he has appointed Christ to be our representative and substitute. Therefore when Christ lived a perfect life, in God's sight we lived a perfect life. When Christ died on the cross to pay for our sins, we died on the cross. All that Christ did in his sinless life and his sin-bearing death, he did as our representative, so that we receive the credit for it. It's in this representative union2 with Christ that he presents us before the Father, "holy and blameless and above reproach" (Colossians 1:22).
There's an old play on the word justified: "just-as-if-I'd never sinned." But here's another way of saying it: "just-as-if-I'd always obeyed." Both are true. The first refers to the transfer of our moral debt to Christ so we're left with a "clean" ledger, just as if we'd never sinned. The second tells us our ledger is now filled with the perfect righteousness of Christ, so it's just as if we'd always obeyed. That's why we can come confidently into the very presence of God (Hebrews 4:16; Hebrews 10:19) even though we're still sinners—saved sinners to be sure, but still practicing sinners every day in thought, word, deed, and motive.
The perfect righteousness of Christ, which is credited to us, is the first bookend of the Christian life. The news of this righteousness is the gospel. Christ's righteousness is given to us by God when we genuinely trust in Christ as our Savior. From that moment on, from God's point of view, the first bookend is permanently in place. We're justified; we're credited with his righteousness. Or to say it differently, we're clothed with his righteousness (Isaiah 61:10) so that as God looks at us in union with Christ, he always sees us to be as righteous as Christ himself.
And that changes everything.
The Present Reality of Our Justification
From our point of view, however, we sometimes handle our books as though the bookend of Christ's righteousness is not in place on our bookshelf. We do this when we depend on our own performance, whether good or bad in our estimate, as the basis of God's approval or disapproval.
And when we take this approach, our assurance that we stand before God as justified sinners inevitably fades.
How can we experience the righteousness of Christ as it was meant to apply to our daily lives? In Galatians 2:15-21, Paul provided much insight on this, beginning with this sentence:
We know that a person is not justified by works of the law but through faith in Jesus Christ, so we . . . have believed in Christ Jesus, in order to be justified by faith in Christ and not by works of the law, because by works of the law no one will be justified. (Galatians 2:16)
In this single sentence Paul uses the word justified three times. The repetition emphasizes that we're justified not by our personal obedience to the law but by faith in Christ.
In this context, faith involves both a renunciation and a reliance. First, we must renounce any trust in our own performance as the basis of our acceptance before God. We trust in our own performance when we believe we've earned God's acceptance by our good works. But we also trust in our own performance when we believe we've lost God's acceptance by our bad works—by our sin. So we must renounce any consideration of either our bad works or our good works as the means of relating to God.
Second, we must place our reliance entirely on the perfect obedience and sin-bearing death of Christ as the sole basis of our standing before God—on our best days as well as our worst.
Just a few sentences later Paul wrote, "The life I now live in the flesh I live by faith in the Son of God, who loved me and gave himself for me" (Galatians 2:20). In the context of Galatians 2:15–21, it's clear Paul is still talking about justification, yet he's using the present tense. He writes of the life he lives now in the flesh. This raises an apparent problem. We know justification is a past event—the moment we genuinely trusted in Christ we were justified, declared righteous by God. That's why Paul wrote, "We have been justified [past tense] by faith" (Romans 5:1). So if justification was a point-in-time past event for Paul, why in Galatians 2:20 does he speak in the present tense: "The life I now live [today] . . . I live by faith in the Son of God"?
The answer to this question is important. It tells us how to experience the application of the first bookend to our daily lives. For Paul, justification was not only a past event; it was also a daily, present reality. So every day of his life, by faith in Christ, Paul realized he stood righteous in the sight of God—he was counted righteous and accepted by God as righteous—because of the perfectly obedient life and death Christ provided for him. He stood solely on the rock-solid righteousness of Christ alone, which is our first bookend.
We must learn to live like the apostle Paul, looking every day outside ourselves to Christ and seeing ourselves standing before God clothed in his perfect righteousness. Every day we must re-acknowledge the fact that there's nothing we can do to make ourselves either more acceptable to God or less acceptable. Regardless of how much we grow in our Christian lives, we're accepted for Christ's sake or not accepted at all. It's this reliance on Christ alone, apart from any consideration of our good or bad deeds, that enables us to experience the daily reality of the first bookend, in which the believer finds peace and joy and comfort and gratitude.
Before battery-powered watches were invented, wristwatches had to be wound every day. A watch's stem was used not only to adjust the hands but also to wind up the mainspring. The gradual unwinding of the mainspring throughout the day drove the mechanism of the watch to keep time. The gospel of justification by faith in Christ is the mainspring of the Christian life. And like the mainspring in old watches, it must be wound every day. Because we have a natural tendency to look within ourselves for the basis of God's approval or disapproval, we must make a conscious daily effort to look outside ourselves to the righteousness of Christ, then to stand in the present reality of our justification. Only then will we experience the stability that the first bookend is meant to provide.
But if it's true God's acceptance of me and his blessing on my life is based entirely on the righteousness of Christ, what difference does it make how I live? Why should I make any effort? Why should I put myself through the pain of dealing with sin and seeking to grow in Christlike character if it doesn't affect my standing with God? We'll answer these questions in the next chapter.
The Bookends of the Christian Life
Copyright © 2009 by Jerry Bridges and Bob Bevington
Published by Crossway Books, a publishing ministry of Good News Publishers
1300 Crescent Street Wheaton, Illinois 60187
All rights reserved. No part of this publication may be reproduced, stored in a retrieval system or transmitted in any form by any means, electronic, mechanical, photocopy, recording or otherwise, without the prior permission of the publisher, except as provided for by USA copyright law