Catching Christmas
Lori Borgman

Author, Catching Christmas

2008

24 Dec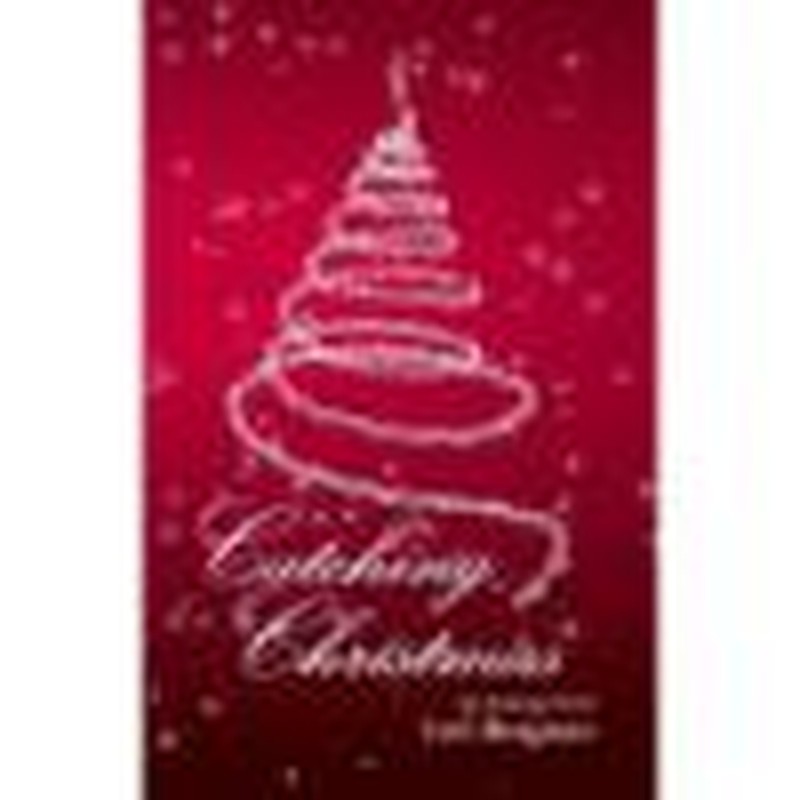 EDITOR'S NOTE: The following is an extract from Catching Christmas, by Lori Borgman (Good Cheer Press, 2008).
Walter
Walter Hawkins had taken his eyes off the road for two seconds, maybe three, when his front right tire glanced off the curb. He jerked the steering wheel hard to the left, and in the process sent an adrenalin rush through the driver in the car next to him, who instinctively laid on her horn.
Walter glanced at the driver. Spiked hair, multiple piercings, and a bobble-head Santa shaking on the dashboard. Looked like the type that might or might not have a small handgun on the seat beside her. Walter was about to make one of those apologetic nods drivers make when they know they've done something stupid and are profoundly grateful it didn't result in an accident, when the driver smacked her thumb and index finger, shaped like the letter L, to her forehead and mouthed a word Walter could clearly make out as "LOSER!" She surged ahead with Santa's oversized head bobbing wildly and leaving Walter in a putrid cloud of exhaust.
He began searching again, but this time keeping one hand on the wheel and both eyes on the road. He rummaged through a pile on the passenger seat — loose papers, file folders and an empty sack from Freddy's Fried Chicken. He stretched his arm, reached into the glove box and gave it a good ransacking, but no go. He popped open the console between the driver's seat and the passenger seat and dug around in there. Christmas CDs, straws, gloves, salt and ketchup packets, napkins — bingo — sunglasses.
No wonder he had a hard time finding them. It had been ages since he'd needed his sunglasses. Ever since Thanksgiving it had been the Twelve Days of Darkness. For nearly two weeks, people had plodded through their daily routines beneath low-lying clouds that looked like dryer lint suspended from the sky. Today, all that had changed. This morning the sun burst through the clouds, turning the sky a glorious pink and orange. The glare of the sun was nearly blinding. It was hard going for Friday morning commuters headed east.
Walter enjoyed the drive to the Cypress Academy. He had been a commuter in D.C. before his recent move. He and his family had lived in one of those satellite suburban communities that ring the capital. It was a newer neighborhood where all the houses on all the streets in the entire subdivision looked exactly alike, were it not for two small details. One, each homeowner expressed individuality in the choice of color for the shutters, and secondly, the builder had flipped the floor plan on every third house. Each and every house sat on a postage-size lot and sold for three times what it would have in the rest of the country, California excluded.
In D.C., Walter would have driven ten minutes to the train station, parked the car, taken a twenty-five minute inbound train, then walked another ten minutes from the station to the office. Roughly fifty-five minutes one way; nearly two hours round trip; ten hours a week, forty hours a month, 480 hours a year. Walter had a thing for numbers. Numbers and efficiency.
Walter's work in D.C. had involved appropriating monies to organizations across the country, from day care centers to homeless shelters, and assorted groups that served as putty in the cracks through which the lost and forgotten often slipped. His specialty, however, was schools — urban partnerships hammered out between faith-based groups, private organizations and corporate sponsors. All in all, it was a rewarding job. Or at least he told people it was.
In reality, Walter Hawkins found himself morphing into the dreaded policy wonk, tending decimal points, flipping through computer printouts, reciting boring statistics on education and philanthropy that nobody gave a blast about, all in an isolated four-by-six basement cubicle under the ghastly green cast of fluorescent lights.
When Walter got a call from an old friend about a faith-based K-through-12 school in the Midwest needing a headmaster, he knocked over his desk chair, two computer monitors, and a trash can to lunge at the opportunity. He couldn't wait to roll up his sleeves and actually do something hands on. This would be dealing with people, not paper, and real-time as opposed to distant projections.
The timing for the job offer had been perfect. Both Walter and his wife, Claire, had never seen themselves in D.C. for the long haul. They'd hoped to get back to the Midwest eventually. Their oldest boy was in grade school and the youngest hadn't started, so the trauma of changing schools would be minimal. Walter and Claire Hawkins didn't need any more trauma with the boys. Some days the two Hawkins boys were a trauma unit in themselves.
Just this morning the boys had attempted to launch themselves from the top bunk bed after wrapping one another in bubble wrap and mailing tape they "borrowed" from the packing supplies Claire had on hand for shipping out-of-town gifts. Walter heard the crash from the kitchen and knew immediately it had come from the boys' bedroom.
"What going on up there?" he yelled.
"Nuttin'!" a voice answered.
It always spelled trouble when the boys were engaged in "nuttin'." Walter slammed the coffee pot back on the warmer and raced up the stairs. Claire bolted out of the bathroom with toothpaste still foaming in her mouth, grabbing a hand towel on her way.
Griffin, the older of the two boys, was sprawled on the floor, momentarily stunned. Quinn was oblivious, stomping on a sheet of bubble wrap that had ripped loose from his projectile brother. No serious collateral damage, other than one sore bottom belonging to Griffin and a blue wad of Crest that had dripped on Claire's white sweater.
Claire had been ready for the move back to the heartland and family roots as well. They sold the cookie-cutter house, packed a moving truck, and headed for The Cypress Academy. The founders had thought that a good name when they began the school twelve years ago. Cypress is the wood Noah used when he built the ark. Jim Ross, one of the original founders and still a board member, noted that in some translations the wood is called gopher wood, but Gopher Academy hardly seemed fitting for a school committed to academics. The founders shared a common belief that a school is like an ark, a place of safety and refuge from turbulent waters, so they settled on Cypress.
The Cypress was only a fifteen-minute drive from the Hawkins' home. That was a commute time savings of forty minutes a day, three and a third hours a week, thirteen hours a month, 156 hours a year. The first month or so at Cypress, Walter recited those statistics almost daily, puffed up and pleased with his efficiency. Then one day Claire asked if he planned on using any of those extra 156 hours a year to help around the house a little more and he stopped mentioning it.
A wide grassy median separated northbound and southbound traffic on the parkway. Old-money mansions lined both sides. There were grand Italianate manses with second floor porticos, and magnificent Tudors with heavy wooden doors. The mercury had plunged below freezing last night, leaving a heavy frost glistening on the lawns. From just the right angle, prisms of color flashed in the sun's rays. Many of the homes had enormous wreaths and boughs of evergreens accented with artificial fruit hanging on their front doors. When Walter had mentioned to Claire that, other than the Harry and David Fruit of the Month Club, he didn't grasp the new fruit trend that accompanied Christmas this year, Claire just smiled and told him that sometimes he thought too hard.
Walter and Claire's house was nowhere as grand as these. Nor did it have any fruit on it. They had found a comfortable three-bedroom, two-story traditional red brick home with white trim and green shutters in an older neighborhood adjacent to the parkway. The mailbox, attached to the front of the house, was dark red with a flip top lid and large white letters that said POST. The mailbox, like the chimney with the ivy crawling up the sides, had a warm and friendly aura about it. The house had hardwood floors, paned windows, pocket doors and a stone fireplace.
As of this morning, the Hawkins family had been in the house one year, six months and four days. Walter didn't know how he did it, but he remembered numbers in detailed ways. This would be the Hawkins' second Christmas in the charming house and Walter's second Christmas as headmaster at Cypress Academy. For any school administrator, private, public or charter, the month of December was second in activity level and energy demands only to the month of May, when students graduated. Walter knew this from experience and, of course, he had statistics to back it up as well.
Even without his Blackberry in view, Walter had a clear idea of how the day would unfold. It was Friday, his final chance to catch up on a growing mound of paper before the weekend. At 8:10 there would be announcements, followed by an 8:25 meeting with the director of development, followed by a nine o'clock meeting with the counseling staff, followed by an open window of time to put out assorted brush fires, followed by time allotted to work on the accreditation forms. At noon he would meet several of the Parent Teacher Fellowship board members for a working lunch. In the afternoon he would answer e-mails, return phone calls and clarify guidelines for the upcoming, and much ballyhooed, senior class trip. The high school principal had informed Walter that there were going to be some changes this time around. Last year, several students had gotten a little too friendly at the back of one of the charter buses late at night. This year the high school principal wanted guidelines requiring girls and guys to return to their separate sides of the bus by midnight.
Walter wheeled into the parking lot and was delighted to see that vehicles were sparse. He'd have time to get a few steps ahead of the crowd. The basketball coach's SUV was parked by the gym and there was a truck by the maintenance office. The only other vehicle he recognized was a maroon minivan belonging to his administrative assistant, Peggy Valentine.
"What in blazes?" Walter muttered, as he eased into parking spot No. 112.
Either Peggy had decorated her minivan for the holidays, or her vehicle had been car jacked and vandalized by craft maniacs armed with glue guns and garlands. Silver aluminum garland, the kind that went out of style in the '60s, and giant, plastic red bows had been wrapped the entire length of the luggage rack on top of the minivan. There was a big silver wreath with a white dove attached to the grillwork on the front of the minivan.
He peered inside and saw Christmas lights wrapped around the interior, with some sort of adapter dangling from the cigarette lighter. A Christmas tree shaped deodorizer that said "Wise Men Still Seek Him," hung from the rear view mirror.
Walter liked his assistant Peggy, he really did. The students did, too. They were all fond of her. She was bubbly, enthusiastic, a regular Old Faithful when it came to creative ideas. He couldn't do his job half as well without her. She kept her ear to the ground, he could trust her to keep private information private, and her energy was infectious. But Peggy had become an empty nester this year. Her last one had gone off to college and Peggy's extra energy seemed to carry over to the job. Often it was welcome, but sometimes it was simply over the top.
Yes, he thought to himself, surveying the vehicle, Peggy has become the X in Xmas. X for excess.
He could hear Claire's voice in his head telling him he was being critical again. He didn't mean to be critical. It was just that Christmas seemed like it was getting further and further away from Christmas. And, now, he was having a hard time reconciling the Son of God leaving the heavens to take on the flesh of humanity with a gaudy minivan wrapped in garland and outlined with twinkle lights powered by a cigarette lighter.
Maybe he did have a critical side. Maybe Claire was right. His critical vein had been bulging. Bulging nothing, it had gone varicose. Lately, when he had felt his critical spirit rising to the surface, he had begun praying the prayer of St. Francis of Assisi. The classic prayer helped him focus on being a servant meeting needs, as opposed to being a critic delivering commentary. He prayed silently as he walked to the building, "Lord, make me an instrument of your peace. Where there is hatred; let me sow love; Where there is injury, pardon; Where there is doubt, faith; Where there is despair, hope: Where there is darkness, light; And where there is sadness, joy."
He finished the prayer and felt considerably more charitable in spirit. He glanced over his shoulder and saw that Peggy had also painted a large icthus fish on her back windshield with artificial snow. He prayed once more, "And, Lord, where there is excessive ornamentation, let me sow simplicity."
For a man who rarely took time to smell the roses, and often barreled right past the more tender moments of life, Walter counted it a small pleasure to walk into the main building on the Cypress campus. He liked the pull of the big wooden doors, the smell of polished wood, and the three-step jaunt up the stairs in the foyer and through a second set of double doors that opened into the main hall. In its heyday, this campus had once boasted the largest high school in the greater metropolitan area. There wasn't just one building to the school, there were three buildings on the campus in all. One was now used for the elementary school, another for the middle school, and the third for the high school. This campus had once been a major hub of the city. Everybody who was anybody had gone to school here in the '40s and '50s.
The school had borne witness to fashion changes from poodle skirts and Bobbie sox to disco and pastel polyester prom tuxes with Bozo the Clown-size bow ties. The one change the school had not been able to weather was the exodus to the suburbs. Last one out, turn the lights off. The school closed and, with the exception of late-night visits from rats and cockroaches, every building on campus sat vacant for years. Finally, the district put them on the auction block.
In a huge step of faith, or a lapse of sanity, several couples with a vision for a faith-based school that would draw from urban and suburban communities alike offered a bid. This old campus and these large buildings had been an answer to prayer.
Today, Cypress contained kindergarten through high school, with thirteen hundred kids on one sprawling campus. Two-hundred seventy-six different churches were represented here. Talk about diversity. Cypress enjoyed a reputation for strong academics. Kindergartners studied the paintings of Georgia O'Keefe, third-grade students read Homer's "Iliad," and fourth-grade students learned Latin. Students came from all over the city, urban and suburban, a colorful mix of black, white, and brown.
In the elementary building, where Walter's office was, there were wide hallways and massive wooden staircases. At the back of every classroom was a cloak room with hooks for coats and a bench for taking off snow boots.
This morning, Walter was early enough that only the security lights were on in the entry way. He rounded the corner to his office and saw light spilling into the darkened hallway from an opened door. He was delighted to hear the whir of the copier. It meant his assistant Peggy with the wildly decorated minivan was already at work, and that the temperamental copier was still working.
He poked his head in the workroom. "Morning, Peggy."
"Good morning, Mr. H. Did you see my minivan?"
See it? He was nearly blinded by it. "I did," he said. "That's really something." It wasn't a lie. It wasn't even a half-lie. It was the truth. Her minivan really was something.
"Isn't it fun?" she said. "I got the idea when I was flipping channels between Christmas at the Biltmore and the Amy Grant and Vince Gill Christmas special! The idea hit me between the eyes."
He weighed his words carefully. "And what an idea it was," he said. He'd recently heard white lies described as "social tact." He had contemplated the concept briefly and decided a lie was still a lie. That was Walter in a nutshell, heavy on the black and white, skimpy on the shades of gray.
"Actually," she gushed, "what you saw is my plan B. My original plan was to write 'Jesus, the reason for the season' on the side windows with aerosol spray snow." She thrust her hands in the air like a film director framing a scene. "I tried it on the passenger side, but the letters went downhill and I ran out of room before I finished 'season.' I thought of taking some of the vowels out of season to make it fit. You know, just spell it s-e-s-n. I mean, the kids would get it, that's how they all do that instant messenger talk on the computers. No vowels, just a lot of consonants. But Carl said it was beginning to look more like a ransom note than a Christmas greeting."
Walter offered a silent prayer of thanks for Carl. Every pot has a lid, as Walter's mother would say, and thankfully Peggy found hers in Carl. Carl was the sensible voice of restraint to her often-unbridled enthusiasm.
Peggy continued chattering, "So I washed it off. Who knows, I still have some spray snow left. I may try some stenciling on the windows tonight. Anyway, I've got some garland left over if you'd like me to put a little holiday zip on your car." She clucked her tongue, did a little cha-cha-cha action with her shoulders, and waited for Walter's response.
"I don't think so. I was thinking of taking it through the car wash later this afternoon, but thanks for the offer." It was true. He had a mental picture of driving his car through the car wash the instant Peggy mentioned putting "zip" on his car.
"Oh, well that's fine," she said curtly, turning back to the copier. "I guess some have more spirit than others," she muttered.
"Pardon?" Walter said.
"I said, you have some more messages on your desk from late yesterday afternoon. Some man called twice. Wouldn't leave a name, but said he has something that belongs to you. Sounded gruff, if I might make an observation."
Peggy was long on making observations. Sometimes her observations were mildly annoying, but more often than not they were spot on.
Walter strode down the hall and turned into the reception area of the main office. Peggy's desk was the hub of the main office. During December, she always kept a holiday sweater either draped over her desk chair or draped over her shoulders. Today's sweater, presently resting on the back of her chair, was dark blue with snowflakes covered in pearl white sequins. Peggy had more holiday sweaters than all the kindergarten teachers combined.
Red and white striped candy canes filled a big glass apothecary jar sitting on the corner of Peggy's desk next to a small plastic crèche with glitter on the roof of the manger. All of the candy canes had been turned upside down to remind kids that they were "J" for Jesus. Peggy was also quick to point out that the cheap plastic nativity was made in China, although the Chinese had no real freedom to worship Christ. Though Peggy was not a certified teacher, she was of the firm belief that every moment was a teachable moment.
Walter strode into his office, shook off his coat and hung it on the coat rack. He did a double take. A sprig of artificial holly and red plaid ribbon now adorned the top of the coat rack. Was there no escape? He sat down at the desk, glanced out the window and saw two cars pulling into the lot. Time. There was never enough. He leafed through papers to sign and sorted phone messages. The phone rang. He ignored it and let it ring over to voice mail. Technically, the office phones weren't open for another thirty minutes.
Before too long, foot traffic began picking up in the hall. Locker doors were slamming and kids' voices filtered into his office. The background chatter steadily built momentum. He could hear Peggy at her office desk, laughing with some of the students and chatting with some of the moms.
"Live one on line three!" Peggy yelled. This was her cue that she was putting through a call to Walter. He wished she wouldn't refer to callers as "live ones," but in Peggy's words, that was just her way of "keeping it real."
He lifted the receiver and said, "Walter, here."
"Headmaster?" a gravely voice asked.
"Yes," Walter said, "how may I help you?"
"This is Walter Hawkins?"
"Yes, Hawkins here."
"Walter Hawkins in the old P.S. building on Jackson Street?"
"Is something wrong with our connection?" Walter asked, mildly irritated.
"No, just making sure you're the right one."
The voice was rich and deep. Too old to be the parent of a student. Could be a grandparent or guardian though.
"Well, this is Cypress and I'm the only Walter Hawkins, so you have the right one." Get to it, man, Walter thought, I don't have all day.
"I have something you might be interested in. Something that belongs to that school of yours."
"Really?" Walter said detached, pulling open his middle desk drawer.
"Sure do." The man sounded confident.
"What is it?" Walter asked.
"I'd like to show it to you," the caller said.
"Sir, I have a school to tend to. Is this some kind of sales pitch?"
"No sales," the caller said.
"Sorry, I don't have time —" Walter was about to disconnect when the voice on the other end said something that drew him back.
"What was that?" Walter said. He froze.. "Go on, I'm listening."
A small group of upper elementary students filed into Peggy's office for morning announcements. This morning, Mrs. Moffat's after-school French Club would be singing "Ah! Quel Grand Mystere." That was, if they could contain themselves. They were giggly, squirrelly, and bouncing all over the place.
"Hold on, will you?" Walter asked the caller.
Walter dropped the phone, lunged for the door and swung it shut. He was back on the phone, pen in hand, taking notes.
"You're sure?" Walter asked with an air of disbelief. "Absolutely sure?"
He brushed stray crystals from a used Sweet 'n Low packet off his desk top, exhaled and said, "Sure, I'll be there.
"East on 28th Street, then north. I know right where it is. I've driven by before. I'll be there Saturday. Right. Ask for Ludwig. OK, see you then."
Lori Borgman is author of "I Was a Better Mother Before I Had Kids," "Pass the Faith, Please" and "All Stressed Up and No Place To Go." Her weekly column, distributed by McClatchy-Tribune News Service, covers family life issues, values and contemporary culture with insight and a touch of humor.
On sale now through Amazon.com and loriborgman.com