15 Classic Christian Fantasy Books for Kids and Adults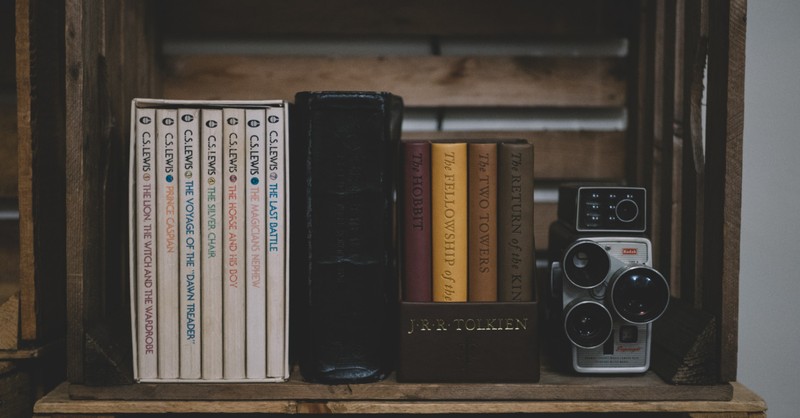 You may not know much about Christian fantasy, or know that it is a recognized genre. In fact, it's been around for a while and has an interesting relationship with Christian Fiction. Here are some things you should know about what makes a Christian book, what Christian fantasy has to do with Christian Fiction, and where you can start looking for good Christian fantasy books.
What Makes a Book Christian?
The term "Christian book" can be very loaded – does it imply that everything else is pagan? Didn't God make all things good (Genesis 1:31) and doesn't he give different people different things to do (1 Corinthians 12)?
For centuries, scholars have debated whether the Bible separates "sacred things" from "secular things." If you're a Baby Boomer or Generation Xer, you were probably taught growing up that "work for God" was full-time ministry work, and everything else was second-rate.
Many theologians have shown the Bible sees all work that isn't outright sinful (gambling, prostitution, etc.) as work humans can do for God's glory. Abraham Kuyper famously said, "There is not a square inch in the whole domain of our human existence over which Christ, who is sovereign over all, does not cry: 'Mine!'"
This means that Christians can serve God in "secular professions" or write for secular publishers. Many classic Christian books were published by mainstream publishers and provide Christian messages to people who never enter a Christian bookstore.
What Is Christian Fiction?
Christian Fiction is the marketing name for a book category. Daniel Silliman explains in his book Reading Evangelicals that Christian Fiction began in the 1970s when Janette Oke released Love Comes Softly. Books following Oke's example created a new market: novels by evangelical Christian authors for evangelical Christian readers. Later books like This Present Darkness and the Left Behind series expanded Christian Fiction beyond historical romance.
Many Christian Fiction readers were uneasy about fantasy novels. Particularly in the 1980s, many evangelical Christians were concerned about the possible pagan messages in fantasy stories. Most of those concerns turned out to be less solid than they looked. Since the mid-2000s, there has been a growing fantasy category in Christian Fiction.
The following 15 Christian fantasy books fit several labels. Some predate Christian Fiction, some are current Christian Fiction titles, and some fit between those labels. Each entry includes a note about the recommended age group, but this is more a recommendation than a strict guide.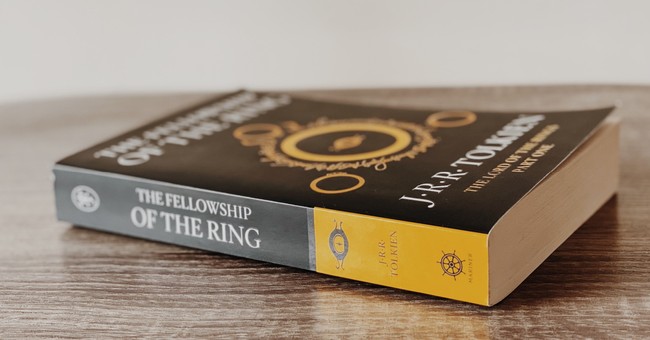 Photo Credit: ©Madalyn Cox/Unsplash
5 Christian Fantasy Books Before Christian Fiction
Mainstream publishers released these five fantasy novels by Christians, which mostly predate Christian Fiction.
1. The Lion, The Witch and the Wardrobe by C.S. Lewis (recommended for Young Adult Readers)
This book started The Chronicles of Narnia, one of the best-selling fantasy series ever and a favorite among Christian parents. While many mistakenly call this book an allegory, Lewis called it a "supposal" about what might happen if a certain Christian figure appeared in another world.
In the 1940s, German air raids force the Pevensies (Peter, Susan, Edmund, and Lucy) to leave London and stay with a professor in the English countryside. While exploring the professor's house, Lucy discovers a wardrobe filled with fur coats… and a snowy forest on the other side. She meets a faun named Tumnus, who explains she is in Narnia, where the White Witch has ruled for a hundred years. However, old prophecies say that if "daughters of Eve and sons of Adam" appear in Narnia, things will change.
2. The Fellowship of the Ring by J.R.R. Tolkien (recommended for Adult Readers)
J.R.R. Tolkien was a devout Roman Catholic who didn't like books that made their religious ideas too obvious. However, he said his Lord of the Rings trilogy has implicit Christian ideas. Picking up where The Hobbit left off, The Fellowship of the Ring takes readers on a journey with plenty of Christian imagery and themes.
Frodo Baggins lives in Middle-Earth's cozy countryside where people never have adventures. His eccentric Uncle Bilbo leaves Frodo a magic ring, but Bilbo's wizard friend Gandalf warns Frodo not to wear it. After much research, Gandalf gives Frodo the terrible truth: the Dark Lord Sauron made this ring. Most Middle-Earth inhabitants believe Sauron died in a famous battle centuries ago. The truth is the ring's power keeps Sauron alive, and only one place can destroy it. With some friends and experienced warriors, Frodo heads for Mount Doom, the volcano where Sauron forged the ring.
3. The Light Princess by George MacDonald (recommended for Young Adult Readers)
George MacDonald was a 19th-century Scottish pastor, professor, and novelist. Most people know him today for his fairytales (he was good friends with Lewis Carroll, who wrote Alice in Wonderland). His novel Phantastes greatly influenced C.S. Lewis, who said the book helped shift him from atheism to Christianity. The Light Princess is a great introduction to MacDonald, short and hilarious.
In a far-off kingdom, a king has forgotten to invite his sister to the christening of his only daughter. Unfortunately, his sister is a wicked witch who shows up at the christening any way and casts a spell that makes the baby princess lose her gravity. The castle staff does what it can to handle this problem (keep the princess away from windows, etc.). However, as in all fairy tales, things change when a young prince comes by.
4. A Wrinkle in Time by Madeleine L'Engle (recommended for Young Adult Readers)
Madeleine L'Engle is known to many Christian writers for Walking on Water, a series of reflections on Christianity and creativity. A Wrinkle in Time, part 1 of an eight-book series, plays the line between fantasy and science fiction and has many references to God's presence where we least expect him.
When Meg Murray's physicist father disappears during a secret project, most assume he abandoned the family. However, when a woman visits Meg's mother and says, "by the way, there is such a thing as a tesseract," Meg and her prodigy brother Charles start to wonder what's going on. A schoolmate named Calvin joins them on a search across planets and dimensions to find their father… and maybe save him before it's too late.
5. The Book of the Dun Cow by Walter Wangerin, Jr. (Recommended for Adult Readers)
Walter Wangerin, Jr. was a pastor before he became a fantasy author, memoirist, children's author, and several other things. Like its two sequels, The Book of the Dun Cow is based on an episode in The Canterbury Tales. It features talking animals, but its stark themes and Old Testament imagery make it a story for grown-ups.
Chauntecleer the Rooster has a simple existence ruling his barnyard of chickens. Occasional interlopers (Ebenezer Rat, Lord Russell the Fox, John Wesley Weasel) create problems, but nothing Chauntecleer can't handle. Chauntecleer doesn't know that his area borders an entrance to the underworld, where the evil Wyrm is always trying to escape. When an egg hatches a medieval monster, the balance is upset.
5 Christian Fantasy Books that are Christian Fiction
The following books were written by current Christian authors and fit the Christian Fiction category.
1. The Bark of the Bog Owl by Jonathon Rogers (recommended for Young Adult Readers)
In the first book of his Wilderking trilogy, Jonathon Rogers places a particular Bible character in a new setting, facing various challenges as he learns his God-given path.
Aidan Errol is a nobleman's son on the island kingdom of Corenwald, the youngest of many sons. He has resigned himself to a life of shepherding when a renowned prophet visits his home with strange news: Aidan is the foretold Wilderking. Before he can decipher this news, Aidan's friendship with a forest dweller named Dobro leads to unexpected adventures. As Corenwald enters a war with its old enemy, it may be that a young man with unshakeable faith is the improbable solution.
2. The Weight of Memory by Shawn Smucker (recommended for Adult Readers)
Shawn Smucker's books fit somewhere between fantasy and magical realism ("it looks like our world, but something's different…"). Weight of Memory has a plot resembling one of Stephen King's fantasy stories, but less dark and with various references to George MacDonald and C.S. Lewis.
Paul Elias has gotten a difficult diagnosis from his doctor. He has a few months to live and no one to care for his granddaughter Pearl. Paul takes Pearl to Nysa, the rural hometown he left 30 years ago. On the way, he listens to Pearl talk about a "woman in white" who keeps talking to her, telling her to find something. When he reaches Nysa and strange events escalate, Paul must consider whether Pearl is making these stories up.
3. A Room of Marvels by James Bryan Smith (recommended for Adult Readers)
James Bryan Smith is best known for his nonfiction books, particularly An Arrow Pointing to Heaven, his biography of Christian musician Rich Mullins. This novel was inspired by Smith's spiritual struggles during a hard time, with a fantasy-fable element not unlike C.S. Lewis' novel The Great Divorce.
Tim Hudson is a well-known Christian author. Unfortunately, after losing three loved ones in three years, he's not sure how he feels about God. Tim goes for a private retreat at a Massachusetts monastery, where his spiritual director instructs two things: give up his need for control and meditate on Luke 1:26-28. One night, Tim dreams that he is in a strange countryside, where he meets crucial people from his life and legacy. Some of them are famous; some died before he was born. Each one teaches him something about how to live life well.
4. On the Edge of the Dark Sea of Darkness by Andrew Peterson (recommended for Young Adult Readers)
Andrew Peterson is known to many for his Christian music and his writings about art (Adorning the Dark). This book begins his Wingfeather saga, which The Gospel Coalition described as halfway between Lord of the Rings and The Chronicles of Narnia. The series has its own flavor, with humor that kids will enjoy and serious themes about facing the darkness that adults will appreciate.
The Igiby children – Janner, Tink, and Leeli – live in the land of Aerwiar, which used to have many good things. Unfortunately, a nameless evil called Gnag the Nameless destroyed most of those good things years ago. Now Gnag is after something that he thinks the Igiby family has, and the siblings are in the crossfire. They will need a lot of courage and help to unravel the truth before Gnag, or the Fangs of Dang find them.
5. Raising Dragons by Bryan Davis (recommended for Young Adult Readers)
Bryan Davis has written in many genres, from supernatural suspense (Let the Ghosts Speak) to science fiction (The Oculus Gate). Raising Dragons is the first novel in his Dragons in the Midst series, exploring questions about where we gain our strength.
Billy's awful breath has earned him the nickname "Dragon Breath." When he breathes fire and sets off the school's fire alarm, he knows something truly abnormal is going on. A girl named Bonnie helps him learn that his father was once a dragon, and he's not the only one with this bizarre heritage. With his secret out, Billy has to evade dragon slayers while searching for other vital secrets.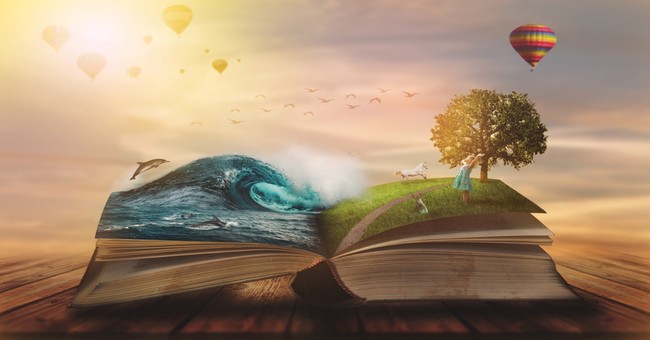 Photo Credit: Getty Images/HiddenCatch
5 Christian Fantasy Books that aren't Christian Fiction
These books are by contemporary Christian authors, but they were not overtly marketed as Christian Fiction.
1. Flight of the Sky Cricket by Gordon Greenhill (recommended for Young Adult readers)
Gordon Greenhill's debut fantasy novel (part 1 of the Relics of Errus series) is a tongue-in-cheek riff on C.S. Lewis' The Chronicles of Narnia. It starts with a similar plot, but it takes the characters to a very different fantasy world and asks different religious questions.
The Hoover children – Eli, Rose, and Anna – aren't sure what to do when their father moves them to a historic Victorian house that their late mother inherited. They become even more confused when they step through a wine cellar window into another world. Newfound friends pick them up and explain they are on the planet Errus. The Hoovers embark on a quest in an inventor's flying machine, the Sky Cricket. Their goal? A legendary magic well that may be their only ticket home. Unfortunately, the Hoovers are not the only ones seeking this magic resource.
2. Auralia's Colors by Jeffrey Overstreet (recommended for Young Adult Readers)
Jeffrey Overstreet is also known for his movie criticism (including a great book on film, Through A Screen Darkly). This book begins The Auralia Thread series, which owes something to both J.R.R. Tolkien and C.S. Lewis, but has a unique form of magic that sets it apart.
In the land known as The Expanse, only the wealthy are allowed clothing and objects that contain color. Decades ago, the Queen of House Abascar created this rule, and people assumed that colored objects would be returned in a spring celebration. The Queen is gone, and no one knows when spring will arrive. When peasant thieves find a baby in a monster's footprint and raise her, it turns out Auralia has a gift: she can extract colors from nature and create new colored objects. With the authorities coming to punish her "rebellious activity," Auralia has to learn what will revive the kingdom.
3. Wraithwood by Alyssa Roat (recommended for Young Adult readers)
Alyssa Roat is a newer author who has released several books (most notably the superhero romance Dear Hero). This book, part 1 of the Wraithwood trilogy, mixes fairytale and Arthurian fantasy with various themes about family and facing one's legacy.
Brinnie Lane doesn't know much about her mother's family, except that her mother left long ago. When travel plans mean that her parents can't take Brinnie on a research trip, she must spend the summer with her mother's brother at Wraithwood Estate. This old mansion in upstate New York is weird itself, and its inhabitants are bizarre in their way. As Brinnie digs into why her mother left this old house, she begins to realize something otherworldly may be going on. Some conflict is centered around this house, and Brinnie must choose a side.
4. Legend of the Storm Sneezer by Kristiana Sfirlea (recommended for Young Adult readers)
The first book in the Stormwatch Diaries, Legend of the Storm Sneezer is spooky, but in a cute way that kids will understand is make-believe. It's a story involving ghosts, magic clouds and gaurdian angels.
Rose Skylar is thirteen years old, and has a problem: when she was born, she sneezed and a magic storm cloud appeared. The storm cloud has never left Rose, and since it tends to create havoc wherever she goes, Rose is sent to Heartstone Asylum to deal with this pesky magic problem. Rose hasn't been at Heartstone long beofre she learns about the ghosts haunting the forest of stone trees that surrounds the asylum. Then she starts receiving letters from her own future, warning her to figure out the ghost's plot before something comes to destroy Heartstone. Fortunately, Rose has both the magic storm cloud, and a gaurdian angel named Marek to help her solve the case.
5. The Gifted by Matthew Dickerson (recommended for Adult Readers)
Matthew Dickerson has written on many subjects, including trout fishing, Christian rock, and the Inklings. The Gifted is the start of his Daegmon War trilogy, a high fantasy saga about the need to combat evil and recover good things lost.
On an island kingdom called Glondisle, magical people called the Gifted once fought against the Daegmon Lord. The Gifted and the Daegmon have been gone for centuries… until a new Daegmon destroys the fishing village Elynna calls home. Elynna discovers a Gifted power to read Daegmon minds and sense them coming. She joins other people who have manifested powers: Cane and Cathros have battle skills, and Tienna has healing powers. The question is whether they are enough to combat the rising threat.
Where Can I Find Good Christian Fantasy Books?
If you're looking for more Christian Fantasy books, you can start by checking what recently won The Christy Award for Speculative or Visionary book. You can also see what has gotten awards or publicity from Realm Makers, a writer's conference for Christian Fiction authors who write fantasy and science fiction.
You can also follow a particular publisher. Christian Fiction publishers like Enclave Publishing or Story Warren release fantasy books as "Christian speculative fiction" (which covers fantasy, science fiction, and many things in between). Some publishers have specialty imprints (like Mountain Brook Fire or Tyndale Wander) for Christian speculative fiction.
Of course, there are online spaces you can explore. Lorehaven, a website for Christian speculative fiction, has a special shelf for fantasy books. The Rabbit Room, a Christian community group for artists, has online reading groups and discussion boards (and Rabbit Room Press publishes speculative fiction titles).
Photo Credit: Chris Bair/Unsplash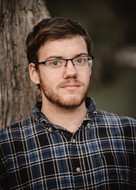 G. Connor Salter is a writer and editor, with a Bachelor of Science in Professional Writing from Taylor University. In 2020, he won First Prize for Best Feature Story in a regional contest by the Colorado Press Association Network. He has contributed over 1,200 articles to various publications, including interviews for Christian Communicator and book reviews for The Evangelical Church Library Association. Find out more about his work here.