Crossroads: Navigating Your Calling and Career
Colin Creel

Author

2008

1 Apr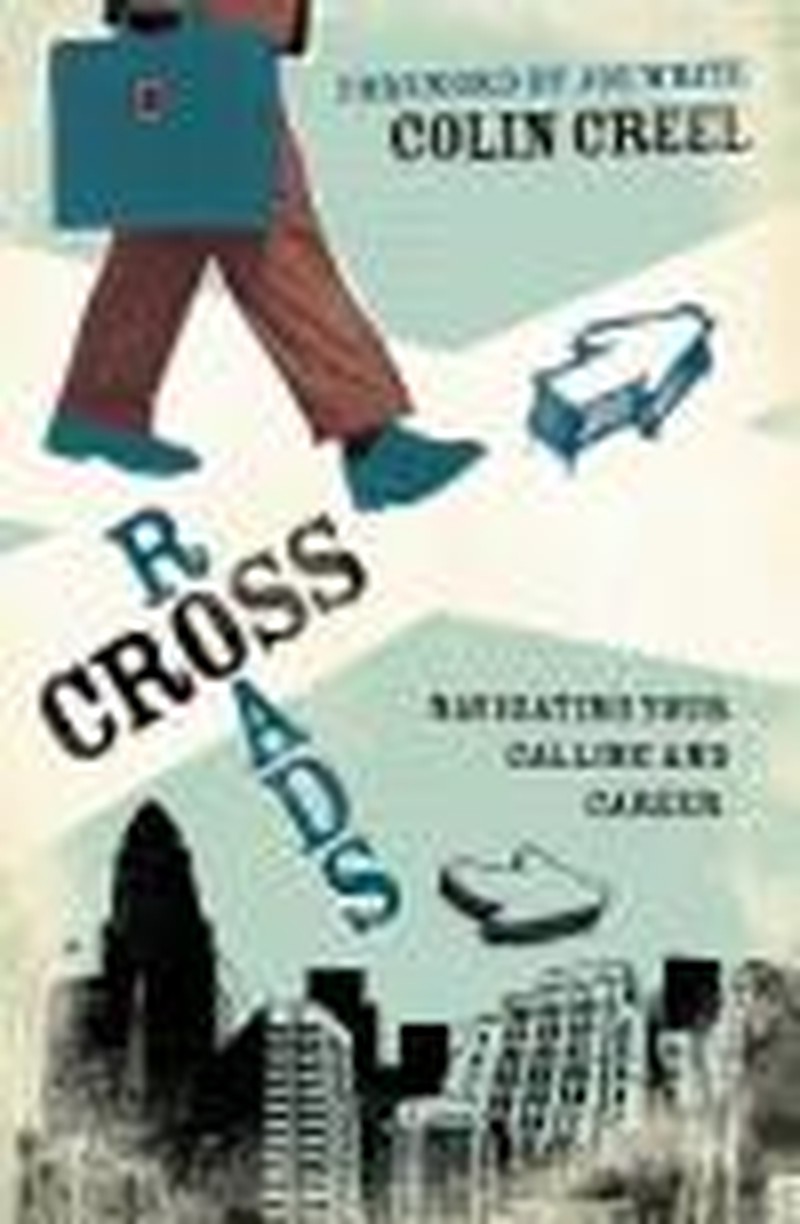 EDITOR'S NOTE: The following is an excerpt from Crossroads: Your Calling and Career by Colin Creel (Crossway Books).
Part 1 Calling
Calling—A Definition
When I hear the word call or calling, many different ideas scatter across my mind. Thus, for the purpose of clarity, allow me to elaborate on the component of the call that will serve as the focal point in this book. Most scholars agree that the call of God contains at least two primary arms and perhaps three arms. R. Paul Stevens suggests the three-components option: "the call to belong to God, the call to be God's people in life, and the call to do God's work."1 Os Guinness collapses Stevens's second and third callings into one: "our secondary calling, considering who God is as sovereign, is that everyone, everywhere, and in everything should think, speak, live and act entirely for him. We can therefore properly say as a matter of secondary calling that we are called to homemaking or to the practice of law or to art history."2 In other words, as long as you are serving Christ in your thoughts, your words, and your actions, your secondary calling takes all shapes and sizes depending on your affinities, abilities, and opportunities (which will be discussed in a later chapter).
As Christians our primary calling is "to belong to God." We are called to be God's people on this earth. Guinness says, "We are called to someone (God), not to something (such as motherhood, politics, or teaching) or to somewhere (such as the inner city or Outer Mongolia)."3 This calling focuses on our discipleship and on the fact that "the promise is for you and your children and for all who are far off—for all whom the Lord our God will call" (Acts 2:39). As children of God, we understand that we are works in progress with feet of clay and that we continually need to "press on toward the goal to win the prize for which God has called [us] heavenward in Christ Jesus" (Philippians 3:14). Our secondary callings only have meaning because we have a primary calling. There is only one primary calling for Christians, whereas there are potentially many secondary callings for each of us. For instance, I am called to be a teacher, a coach, a writer, a husband, and hopefully someday a father. These secondary callings may change throughout your lifetime. For instance, while I was in college my secondary calling was first and foremost to honor God in my academics. Too often I fell short of that goal, but it was a goal nonetheless.
Most people find some secondary callings that will never change throughout their lifetime regardless of their situations or surroundings. For example, my friend Charlie is a teacher at heart. Even though he is currently pursuing his Master's in church history, he always takes a great deal of pride and thoroughness to ensure that others understand whatever he is teaching, whether it's the rules to a new game or how to find a certain restaurant. Our primary calling is "to belong to God," and our secondary callings are more commonly referred to as our "work."
Historically, the term calling is often misused. My friend Andrew Boyd would say he is called into the ministry of Young Life, which is certainly true as evidenced by his accompanying gifts and affirmation from all who know him. But if my friend Jimbo were to say he was called into finance because of his analytical mind, those same people who nodded their head in affirmation for Andrew would smirk at Jimbo. Why? There is an underlying assumption that calling only occurs within the clergy, and in addition most presuppose a hierarchy of callings; to be officially called, you must be in "full-time ministry." Throughout my life many close to me have often questioned why I am not a pastor, or in other words why I have not chosen to serve in "full-time ministry." A long-time friend and mentor, Jim Reed, once said to me, "If you can do anything else, then do not go into traditional full-time ministry." These wise words have guided me through the years.
I remember early in my life questioning my devotion to God because I never had a strong desire to serve a church in an official capacity. The truth is, the world needs godly men and women to work in all fields in order to reweave shalom, God's vision for a flourishing city here on earth. Our work on this earth "is not something we do apart from God, as the secular worker would view it. Work is not something beneath God's dignity or concern as the Two-Story view believes. Nor is work a game that we play with non-Christians in order to accomplish a more important agenda, as the Mainstream advocate holds."4
This book seeks to clarify a biblical view of our secondary calling, to explore how we are called, as well as to offer practical guidelines to seizing the opportunities your secondary callings afford you. None of us is an ordinary person, and there are no ordinary occupations. We need to dispense our notions of hierarchical callings and embrace our God-ordained wiring in order to contribute to the kingdom. "Jesus built the kingdom as a carpenter before he built it as a rabbi. And he taught us in the parable of the talents that the question for disciples is not which callings they have but how faithfully they pursue them."5
Seasoned Advice
Dennis Bakke, sixty-one; president and CEO, Imagine Schools; chairman emeritus, The AES Corporation; author of New York Times bestseller, Joy at Work: A Revolutionary Approach to Fun on the Job; www.dennisbakke.com; Arlington, VA:
Miss McInnes, a petite woman in her early 50s, was my math teacher from 8th to 11th grade. Polio had left her with a withered arm, but her brilliance and dedication were her most important features. During my senior year, I decided to stay at school before home football games, which were played on Friday nights, instead of spending an hour and a half riding the bus home and then turning right around to get back in time for the game. Miss McInnes invited me to have supper with her before those games at the local cafe about a quarter of a mile from school. One evening she asked the question put to every high school senior: "What are you going to do with your life?" I gave her my usual answer: "I don't really have any idea, although I am hoping to go to college." I thought the college answer would bear out the faith she had shown in me. Fewer than 40 percent of my classmates planned to attend college. "I have some advice for you," she responded without hesitation. "Raymond and Lowell [my older and younger brothers, respectively, both of whom had scrupulously avoided taking math from her] have already committed to be pastors. Someone needs to support them."
To my knowledge, Miss McInnes was not a churchgoer or an amateur theologian. But her advice to me captured what I had been taught about the purpose of work and God's attitude toward it. The best occupation for a devout Christian, according to the teachings of my church, was to be a missionary, preferably in rural Africa. My cousin Gordon Bakke filled that role for over 20 years. Second best was to be a pastor or priest. My brothers were called to this kind of work. Third in the hierarchy were the "helping" professions: teachers, social workers, nurses, and others who served in similar ways, especially those who were not paid high salaries. People seemed to get more credit if they performed these kinds of jobs within a Christian-based organization, rather than working for the government, a public school, or a profit-making organization. Next in line was government work. Homemaking was a respected occupation as well. At the bottom were commercial and business jobs such as secretaries, technicians, factory workers, and executives. The primary path to redemption for these unfortunate souls was to make enough money to support those working in "full-time Christian ministry." They could also atone by volunteering their time to do something significant for the local church or another Christian activity when not at their jobs. Miss McInnes had advised me to use my talents to play the role dictated by my religious beliefs, at least to the extent that I understood them at the time.
One of my core beliefs, then and now, is that every entity incorporated by the state should serve the needs of society in an ethical and economically healthy manner. The same goal is appropriate for both profit-making and not-for-profit business organizations. My views on this point are based on biblical principles, starting with the Creation story in the Bible.
The Creation story begins with God working. He is creating the universe. He then creates mankind in His own image. He assigned humans to manage the Earth and all the animals, plants, and other resources it contained. God gave us the capability and authority to work. Through the act of Creation, He showed us how to undertake this responsibility. Genesis 2:5 says, "... and there was not a man to till the ground." This implies that one of the reasons mankind exists is to work.
Work itself was not the goal of life. We were not placed in the Garden purely to work. The Bible says that we were created to have a relationship with God and to honor Him. Work is one of the ways we honor or "glorify" God. Humankind's first important job description was to manage the Earth and all that comes from God's creation. I believe this includes the ideas, services, and products that come from the imaginations of people. We honor God by furthering His creation. Work should be an act of worship to God. God is pleased when people steward their talents and energy to achieve these ends.
The Bible does not appear to give priorities to the various kinds of stewardship or work. All kinds of production and management activities honor God. If the work is seen by the worker as something accomplished for God and meeting a need in society, it is pleasing to God. Some roles that modern society tends to see as less valuable and mundane—animal husbandry and tilling the soil, for instance—are specifically mentioned as worthy endeavors in the Garden. Isn't it logical that all work that results in food, clothing, shelter, rest or recreation, beauty, and a host of other worthy ends can be acts of worship to God and seen as valuable contributions to society? Are these not activities that can be as sacred as rearing children, teaching school, or even carrying out priestly duties?
Though I often fail to live up to God's highest standards, I realize that my approach to the job is consistent with the expectation God places on all my daily work. God does not differentiate among types of work. Halfhearted efforts and sloppy work do not honor God. He expects me to use my best efforts, talents, and skills in every task I undertake, whatever its importance.
(From Joy at Work (Seattle: PVG, 2006), used by permission.)
POINTS TO PONDER
1. How does Os Guinness's definition of calling align with yours? "Calling is truth that God calls us to himself so decisively that everything we are, everything we do, and everything we have is invested with a special devotion and dynamism lived out as a response to his summons and service."6
2. Read Matthew 28:16-20
3. How does this passage align with our calling?
NOTES
1R. Paul Stevens, The Other Six Days (Grand Rapids, MI: Eerdmans, 1999), p. 88.
2Os Guinness, The Call (Nashville: Word, 1998), p. 31.
3Ibid.
4Douglas Sherman and William Hendricks, Your Work Matters to God (Colorado Springs: NavPress, 1987), p. 77.
5Cornelius Plantinga Jr., Engaging God's Word: A Christian Vision of Faith, Learning, and Living (Grand Rapids, MI: Eerdmans, 2002), p. 121.
6Guinness, The Call, p. 4.

Copyright © 2008 by Colin Creel. Published by Crossway Books, a publishing ministry of Good News Publishers, 1300 Crescent Street Wheaton, Illinois 60187. All rights reserved. No part of this publication may be reproduced, stored in a retrieval system or transmitted in any form by any means, electronic, mechanical, photocopy, recording or otherwise, without the prior permission of the publisher, except as provided for by USA copyright law.