4 Encouraging Reads for Times of Anxiousness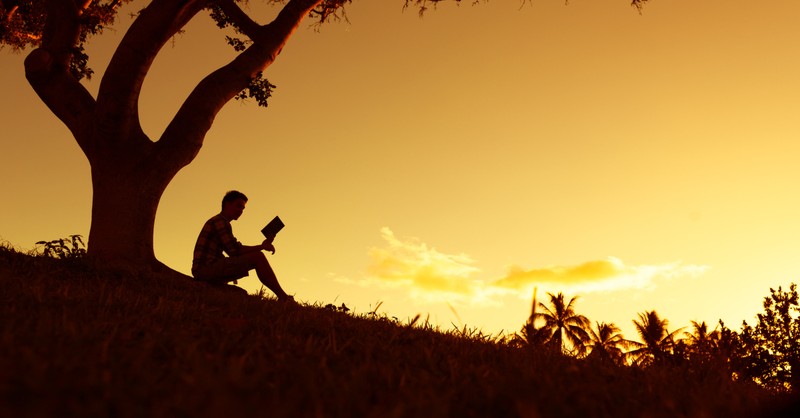 Sometimes we need to fall into a good book, whether we're a mom, a parent, or even a teenager! And it's not always fiction that does the trick. Sometimes we need encouragement, practical advice, a good laugh, and something real. Especially as Fall descends, we may find ourselves with a little more free time to read. Perhaps it's at a kid's practice, a drizzly Saturday afternoon, maybe by a campfire, or on the run in the subway between stops. Whatever it may be, it's always good to have a recommendation that ensures you're not wasting your time or money on a good book.
Here are a few to get you started:
Help, I'm Drowning – Sally Clarkson, Bethany House Publishers
Sally Clarkson brings life to our darkest hours. Maybe this year has been rotten. Perhaps you've lost your job, spent half the year in pandemic quarantine, lost a loved one, been diagnosed with a health struggle, or confronted some painful memories. Whatever your story, there is hope in being anchored during the storms that rampage through our lives. You will find encouragement, conviction, and insight in the pages of this book. And, I think many of us can instantly relate to its title; drowning seems to be a regular part of life nowadays.
Don't miss this must-read!
About this book: Life is filled with unexpected storms that take you by surprise. In these storms of life, it's easy to feel helpless, exhausted, afraid, and alone. We can feel like victims to circumstances out of our control. Beloved author Sally Clarkson understands deeply. Through almost seven decades of life, she has found herself tossed about in overwhelming life storms through many different seasons. In Help, I'm Drowning, Sally identifies the challenges that took her by surprise and then leads you to the wisdom she gathered from her experiences. Finding grace to walk through the darkness and hope to make it through will give you the comfort and encouragement you need in knowing you are not alone. Though there are no easy, formulaic answers that apply to every situation, Sally leads us to the One who is with us and will see us through. Sally found the anchors that held her steady amid every storm, and she wants to help you find your anchors too. She invites you into her personal story of anchoring well, and then--with honesty, grit, and her trademark wisdom--she will help you heal and move forward with courage and strength.
Praying Mom -- Brooke McGlothlin, Bethany House Publishing
Prayer often gets a bad rap for being a cliché answer to a big (or small) problem. But the truth is, prayer really does move mountains! In Praying Mom, you will find the answers in not only what to pray, but how to pray, and how to have effective prayers when it comes to your children. Parenting was never meant to be a journey you walked alone. God knows we don't have the personal wisdom to navigate our children's lives, and there will be some big mountains to climb. He gives us Himself, and we have the privilege of coming before Him in prayer. But if you need some help, this is the book for you!
About this book: God, I need you to do something in my children!" Have those words found their way into your desperate prayers? Do you feel helpless to know how to equip your children for this world and all it throws at them? If so, you're not alone. When Brooke McGlothlin realized her best efforts were falling woefully short of her goal to produce godly children, she discovered the joy and power of praying Scripture over her family. Her life and her children's lives were transformed. Yours can be too.
Complete with prayers for specific situations, this encouraging book is perfect for times when you feel too busy to pray, don't know what or how to pray, or don't know if your prayers really matter. Nothing is more powerful and faith-building than praying God's Word for those you love. Become a mom full of hope in the God who can, even if you can't.
The Big Book of Crack Yourself Up Jokes for Kids -- Sandy Silverthorne, Revell Publishing
Okay, let's be honest, a book of jokes is sometimes what we need for a rainy, Autumn Saturday. And this book won't decrease your delight! Kids and teenagers alike will find it funny—even if your teenager doesn't want to admit it. And if you have young kids, you'll have fun watching them bust out in engaging and contagious laughter over these remarkable silly ditties.
Take some time out this month for some laughter and fun. It doesn't have to make sense. It just needs to be funny.
About this book: Why are dogs such bad dancers? They have two left feet. Did you hear about the guy who stole a truck filled with rubber bands? He was put away for a long stretch. Knock, knock. Who's there? Alex. Alex who? Alex the questions around here. What's red and goes up and down? A tomato in an elevator.
This zany collection of one-liners, knock-knock jokes, riddles, puns, tongue twisters, and hilarious illustrations promises hours of good, clean fun. Perfect for lazy afternoons, long car rides, and anytime you need an all-out belly laugh!
I Choose Peace -- Chip Ingram, Baker Books
Are you finding yourself filled with anxiousness? Just turn on the news, and you'll quickly see a world that appears to be self-destructing. And that's the world! What about your own life and all that turmoil that's roiling around? There's not much worse than trying to navigate your day or your life when filled with anxiety and worry. When things are entirely out of your control, and there doesn't seem to be much to stand on. This book gives you hope. It helps guide you through how to process anxiety and come before the Lord in a way of faith that can bring peace that passes all understanding. Don't miss out!
About the book: Respected pastor and bestselling author unpacks Philippians 4 to help us choose peace in any circumstance in life, including relational conflict, anxious moments in our personal lives, or difficult circumstances that are beyond our control.
There are so many great books hitting shelves this Fall that cover topics like anxiety, family matters, marriage, grief, special needs, sexuality, race, and more! There is no excuse to be without something helpful to read, and you will find that your faith life deepens, grows, and intensifies as you feed it.
Make it an Autumn challenge to yourself to read one non-fiction book that targets an area of your life that you need to give some special attention to. Even if it's simply taking time out to laugh, there is value in a moment to breathe. To drink in new insight. To allow God to speak to you through the words of others and to embellish and add grace to your daily life. What are you waiting for? Have fun! Visit a local bookstore, shop online, or go to your local library! Cross-check the authors and publishers with your doctrine, and go! Read! Drink it in!
Photo credit: ©GettyImages kieferpix
Jaime Jo Wright is the winner of the Carol, Daphne du Maurier, and INSPY Awards. She's also the Publishers Weekly and ECPA bestselling author of three novellas. The Christy Award-Winning author of "The House on Foster Hill", Jaime Jo Wright resides in the hills of Wisconsin writing suspenseful mysteries stained with history's secrets. Jaime lives in dreamland, exists in reality, and invites you to join her adventures at jaimewrightbooks.com!