"Every Man's Bible" Has Good Helps, But Hard to Navigate
Randall Murphree

AgapePress

2004

21 Aug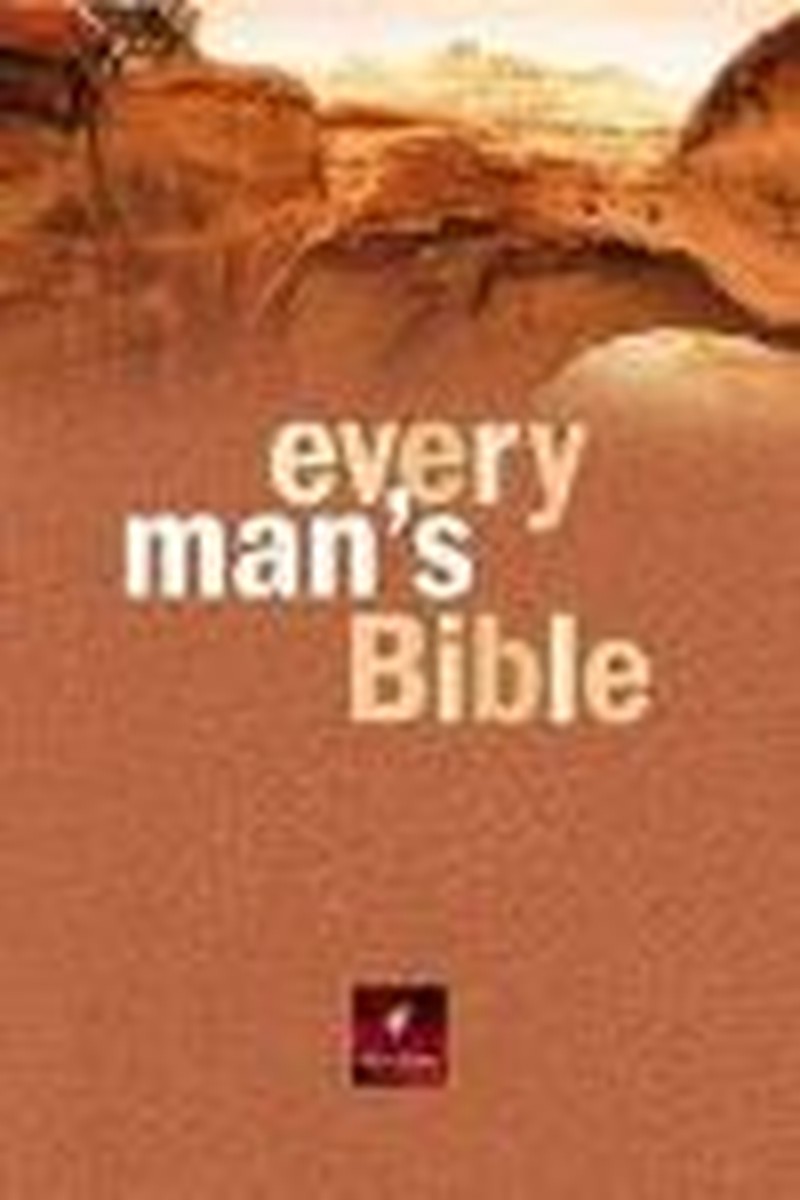 Having long appreciated New Life Ministries and the "Every Man" book series, I was pretty excited to receive a review copy of "Every Man's Bible" (Tyndale House). The 1,536-page paperback carries a 2003 copyright by its executive editor, Stephen Arterburn, founder of New Life Ministries. Arterburn's personal testimony and his books have had quite an impact on my own faith journey.

"Every Man's Bible" includes a lot of lists, essays, charts, character profiles and other special sections that can enhance a man's understanding of important spiritual concepts. However, the wealth of information in these many study helps is not organized in a user-friendly way.

First, the plaudits. As I began scanning the pages into the book of Genesis and beyond, I discovered that each book is preceded by a concise, easy-to-read introduction that puts the book in context (e.g., who wrote it, when) and suggests practical application (e.g., verses worth memorizing, a short section called "The Masculine Perspective.") Also, at the first opening of text, each book has a little box titled, "What's the Point of (Genesis, e.g.)?" So far, I like it a lot.

Looking on into Genesis, I found a page with several verses on "What the Bible Says About Time." Great. Then came the first of a series of sidebars called "Men, women and God." Then came the first of many excellent one-page profiles of Bible men and women who illustrate Scriptural principles. The first one, on Adam, is "Coming in First."

These enlightening essays and sidebars are obviously inserted at places where they're relevant to the surrounding Scriptural text. And that's good. But there's a problem for the guy who's trying to use these helps for an in-depth study of a topic or an issue.

Let me use an example. I'm looking for Scriptures that address the subject of work. In the introductory pages of the book, pages A25-A63 are filled with the "Tyndale Bible Verse Finder." It's a listing of scores of topics including "Work." It gives me six references to look up. Then, flipping pages in the back of the book, I discover "What the Bible Says About ... Index." There again: "Work." I turn to the page referenced, and it quotes eight passages, none of which were listed in the "Verse Finder" section.

Furthermore, I noticed one of the verses talks about Jeroboam's great work ethic and his appointment by Solomon as a foreman. Scanning the "Someone You Should Know Index," sure enough, there's Jeroboam. But I turn to his profile and it's titled "A Great Fool." It focuses on all Jeroboam did wrong – no help regarding the subject of work.
Now, wouldn't it make sense to give the reader/student the references to the subject of work all in one index? We used to call it a concordance.

In other areas, I noted that the Contributors page lists Bob Kelly as responsible for the selection of "Quotables for Men." I haven't yet run across one of those as I've read, flipped and scanned through the book. I suspect they may be what in the appendices is called "Perspectives." The Perspectives pages include brief quotes from various Bible scholars past and present.

In summary, the appendices include seven separate indices, many of which list only titles – not subjects or issues. Not an easy way to make best use of such a great treasury of information.

Oh, yes. One more thing. It's a little humbling. Call me old if you will; I am a bona fide "senior." But I still care about reading the Word of God and the thoughts of Stephen Arterburn and other men much wiser than I. And even with new trifocals, the print size in "Every Man's Bible" is too small, and the blue-on-gray (or vice versa) text in some of the screened material is almost impossible to read.

Still, the point I want to make is not to diminish this book's value. It does, indeed, offer a vast sea of insights and inspiration -- but it's simply not easy to navigate.




Randall Murphree, a regular contributor to AgapePress, is editor of AFA Journal, a monthly publication of the American Family Association.

© 2004 AgapePress.  All rights reserved.  Used with permission.