Peek Behind the Curtain in Director's Cut
Susan Ellingburg

Crosswalk.com Contributing Writer

2012

9 Jul

COMMENTS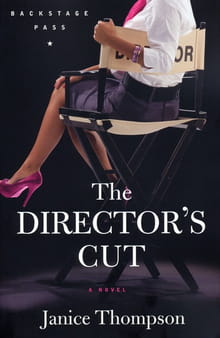 Author: Janice Thompson
Title: The Director's Cut
Publisher: Revell
The Director's Cut offers a peek inside a television show that proves to be a romantic comedy both on and off the screen. The third (and apparently final) entry in Janice Thompson's "Backstage Pass" series, The Director's Cut takes us once again to the soundstage of hit sitcom Stars Collide. While you don't need the back story to enjoy this installment, readers familiar with the series will recognize old friends. But in this episode, it's time for the girl behind the camera to be in the spotlight.
Tia—a successful television director from a not-so-successful family—loves being in charge. A self-professed "control freak," she spends her time in the studio making television magic while conspicuously not noticing the handsome cameraman a few feet away. (Well, maybe she notices him a little bit . . . or a lot. How can someone so annoying be so handsome?) It's a demanding job, what with trying to work around one star with Alzheimer's and another who's about to go into labor, adding her (younger, prettier, flirtier) sister to the crew, and dealing with her feelings toward Jason the cameraman. Tia's starry-eyed production assistant doesn't help much, either, though she'll prove to be a Godsend before the season's over. All this and more while trying to keep the ratings up—no wonder Tia tends to be a little cranky.
Many readers will identify with our heroine, who longs to direct her life outside the studio as easily as she does her TV show. If only Tia could yell "Cut" when her contractor brother doesn't show up (again) to work on her remodel-in-progress or reframe her father's philandering ways in a softer focus. She could even recast her sister, Benita, as a less-sexy, more sensible character. If only she had her life script in advance, everything would be better . . . wouldn't it? Eventually Tia will learn when it comes to real life, God is the one calling the shots—and once she gets out of His way she'll find He's written her a very happy ending.
The author has a deft hand with dialogue and fantastic comic timing, with some of the best lines reserved for Tia's mom. Her daily phone calls will sound all too familiar to many daughters, both in tone and topic. Movie buffs will enjoy film quotes sprinkled throughout the story.
Thompson's Hollywood is definitely a G-rated version of Tinseltown. The stars of her sitcom don't show up on tabloid covers after a wild night of partying; they prefer to spend a quiet night cooking dinner at home. There's a conspicuous lack of studio politics, artistic hissy fits, or vices of most any kind. This could be because it seems everyone who works on the set of Stars Collide is a committed Christian. That's not a complaint; the absence of sleaze makes for a very comfortable read. Isn't one of the reasons for reading fiction to escape from reality? Lively, lighthearted, charming, and fun, The Director's Cut is a delightful mental vacation.
*This Review First Published 7/9/2012