Rex's Miracle
Cathleen Lewis

Author, Rex

2009

8 Jan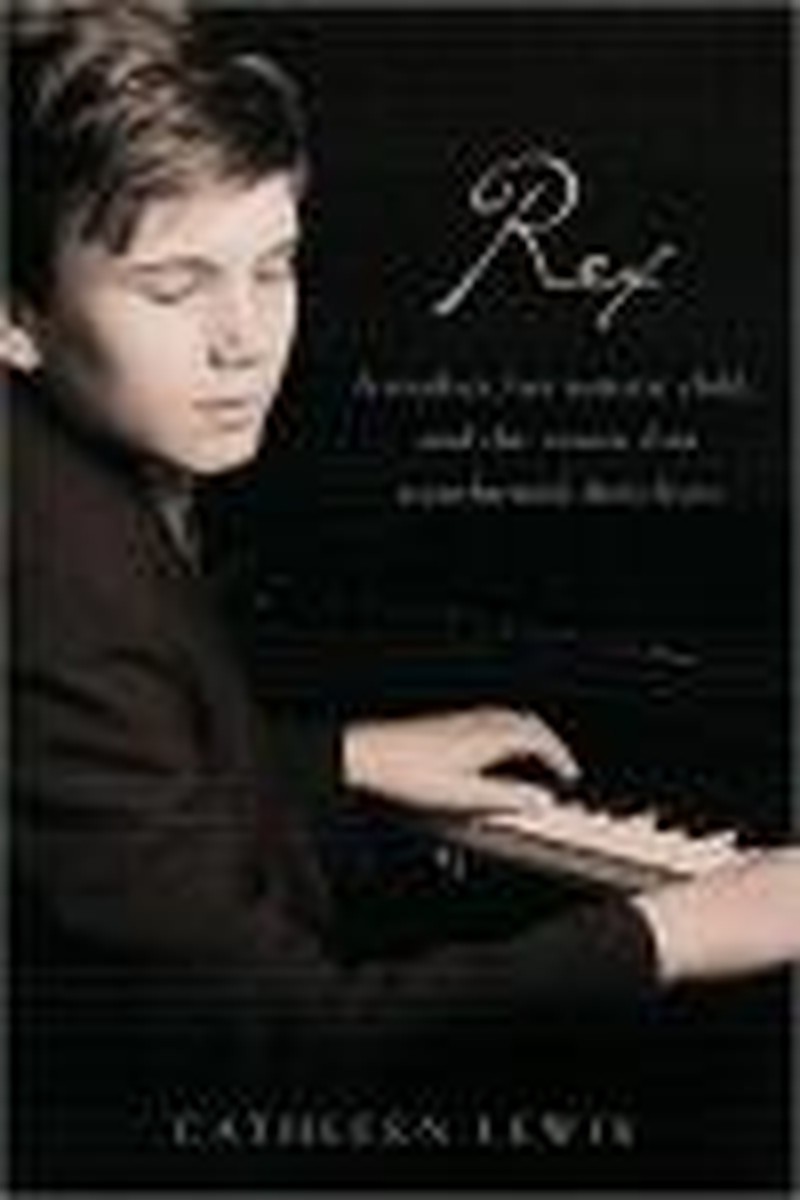 Editor's Note: Below is an excerpt from Cathleen Lewis' book
Rex: A Mother, Her Autistic Child, and the Music that Transformed Their Lives
(Thomas Nelson, 2008).
In the meantime, there was another concern that made me feel the passage of time even more acutely than his extreme feeding issues—those infernal spaghetti legs. At three and a half, he was getting heavier by the day, too heavy to carry around, and he was outgrowing his stroller. Why did he keep collapsing his legs? He had the ability to walk, he had shown us all—his physical therapist, the staff at the Blind Children's Center, and me—that he could, and yet he wouldn't, especially now that he had the word up in his "control and defend" arsenal. Maybe I hadn't been tough enough these past few weeks, caught up as I'd been in the joy of hearing him use language, his two grand words. The scary reality of what we were facing struck in his physical therapy session, when his therapist Tam pulled out a catalogue and showed me some lightweight wheelchairs. "He doesn't need anything heavy-duty," she said, as if that might soften the blow, "but he is going to need something soon." Her words felt as if she'd doused me with cold water, and I couldn't get the thought out of my mind all week.
Walk by faith, not by sight. I could hear the words at night and clung to their promised hope during the day, because I felt letting go would be the end for us. And yet a question began to arise in my mind. How do you have hope without getting lost in it? Without leaving yourself open to letdown or eventual heartbreak? I wasn't sure I could find the answer by myself.
It was Friday afternoon, the ending to what had been a very long week. Arriving home after therapy, I needed some air. I was hoping Rex would be up for a walk down to the beach. I wanted to catch the sun setting over the water, such a beautiful sight these days. The golden hues, slightly tinged with red, reflecting off the ocean and framing the horizon, had never failed to inspire me with that sense of hope I so needed right now. We were deeply into autumn, the air crisp and clear, but the days were becoming shorter. In spite of the unmatched beauty of a November day, it was a period of the year that normally didn't set well with me, filling me with angst, merely because daylight was giving way progressively to nighttime. Darkness stealing light. It was an irrational fear, I knew, but still ever so real when added to the reality I was living with my son. But this afternoon I was hopeful that the life-affirming beauty of Creation would prove hope is stronger than fear. I blocked out images of lightweight wheelchairs, feeding tubes, and any other artificial support for Rex as I told him how fun it would be to walk down to the beach so "we could listen to the waves going crash." Normally, when I said the word "crash," I would pretend to throw him down, a game he loved. As I did so now, he laughed in spite of the end-of-day tiredness, so I knew it was a go. Our "walks" to the beach consisted of me coaxing him to walk a short distance and then giving in to his cries of "up," which would normally get louder with each step he was forced to take. Then I would carry him the rest of the way.
But today I did things a little differently. I began by carrying him, and then stopped midway to the beach along the sloping entrance driveway to our condominium. Instead of heading directly toward the sand, which would take us down the sloping driveway, for some reason I looked in the other direction. Had it been a bird calling out from over there that had drawn my attention? The sound of a car behind us? Or just the silent whisper of a brisk autumn day? I looked up to the top of the driveway. There was an outdoor parking lot, the tarred surface buckling and cracking in several places, begging for repair. There were also planters brimming with pink and red geraniums skirting the road, adding spots of color at the base of the predictable palm trees. But today, all I really saw was the driveway itself, its slope, and how steep it became at the top. Suddenly, I had an idea. I carried Rex all the way up, then quickly set him down onto the tarred pavement, facing him down the slope. His legs were rigid as he stood there, stiff as rods, which was normally the way they got right before they went "spaghetti." Going from one extreme to the other—hypertonic to hypotonic mush. Before his legs had a chance to buckle, I gave him a slight nudge on his back and said, "Go, Rex, go!" I jumped in front of him, poised to catch the inevitable fall, as he took the first faltering steps I had forced him into. But he held himself up as the slope made his legs move faster. Gaining momentum, he began walking faster than he ever had, while I backed up in front of him, guiding him with my voice, egging him on. "Rex is walking faster and faster! You can do it, Rex!"
Then, as though a Divine hand touched my son, I felt something infinitely higher supersede my own efforts as a sort of ecstasy swept over him. Gone were spaghetti legs. Instead, his legs were infused with vibrancy and strength as he walked faster and faster, until he was walking too fast for his own legs. But he didn't stop; he couldn't! And he didn't pitch face-first into my ready arms either. Instead, with his motor all revved up, he began running! My child began to run! His face registered disbelief, having never done anything remotely like this before, but he ran faster still, veering right, then left. He tottered, his arms flailing like a novice skier. Yet he had no fear, and his balance held as he ran faster and faster. His face was alight with surprise at what he was doing, the discovery of what he could do, and I gaped in awe myself. His disbelief gave way to overwhelming joy in the thrill of intense movements in his little body, the body that had been barely mobile for so long.
"That's running, Rex!" I shouted. "Isn't it fun?" As he broke the chains of his body, his legs spinning full speed, he began laughing as he ran. It was infectious, a laugh straight from his belly, its resonance testifying, like nothing else could, that God was on high and all was right with the world.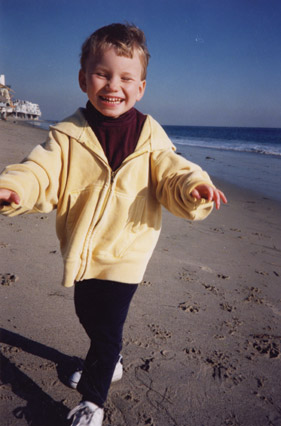 That night I lay in bed floating on my own high, full of the joy of the day and full of peace. Rex had gone to bed easily and was sleeping soundly, his body exhausted. This time it was the peaceful exhaustion of good physical exertion. If I could etch a picture in my mind that would endure throughout eternity, it would be Rex's arrival at the bottom of our driveway that day, his look that of an Olympic runner breaking the tape at the finish line to win the gold. It had been a perfect moment. As I lay in bed, I acknowledged how few moments in life touch us to the core of our very being. Moments that make the rest of the world fade into nothingness. Moments when the past is a distant memory and the future remains far away and irrelevant.
It's in those moments that you know what you need to know and you forget what should be forgotten. You have a brief glimpse of eternity, as time is suspended as though God is looking you straight in the eye, with a smile that leaves you clear in the knowledge that all is right and good and is as it should be.
---
Cathleen Lewis lives in Malibu, California, where she currently divides her time between her work as a Vision Specialist, the demands of her life as a single mom, raising her complex son, and traveling around the world to select speaking/piano playing engagements with her son to share his gift and the miracle and beauty of Rex.