The Color of Rain
Michael Spehn & Gina Spehn

Authors

2011

28 Nov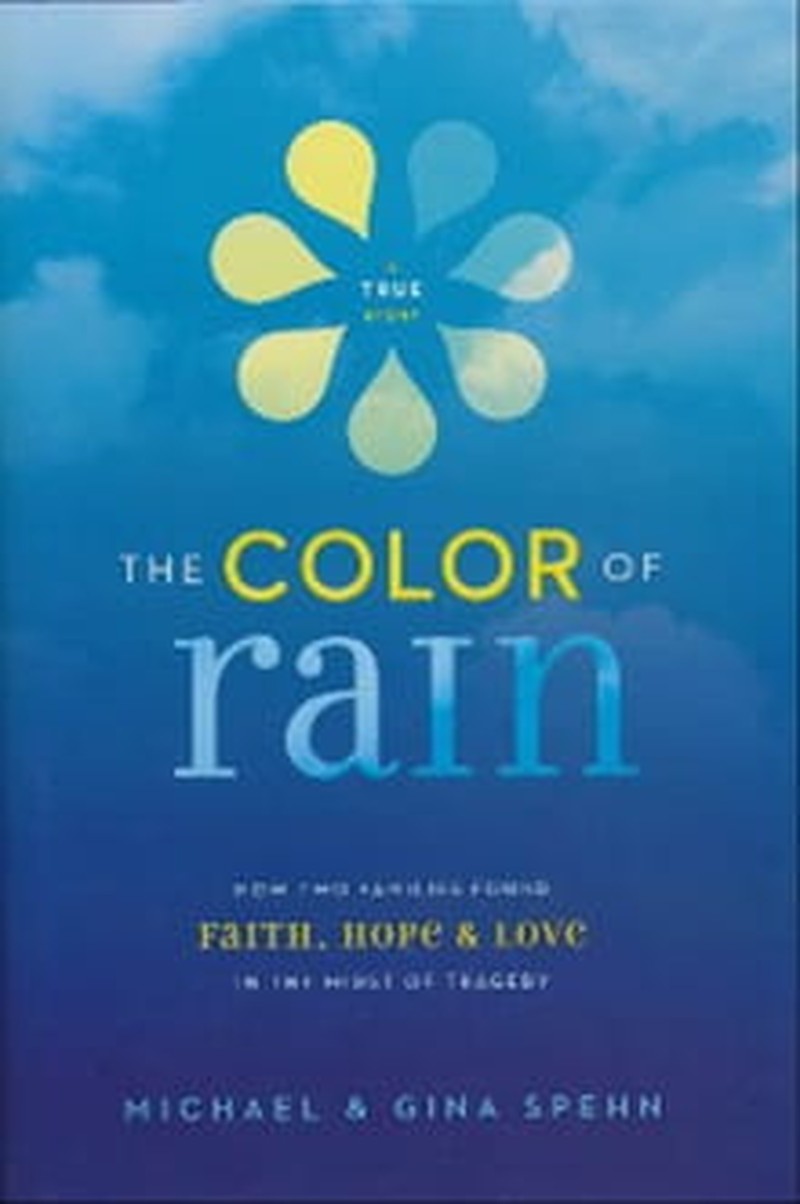 EDITOR'S NOTE: The following is an excerpt from The Color of Rain by Michael Spehn and Gina Spehn (Zondervan).
CHAPTER 1
the fall
gina
The morning of my thirty-second birthday, I was already looking forward to dinner with my parents. Dad and I shared the same birthday and Mom was making our favorite, linguini with traditional meat sauce and meatballs, to celebrate. With a name like Antoinette Valenti, you know her sauce is ridiculously good. I've yet to meet a person, regardless of how many vowels they have in their name, who can make a more tender meatball than my mother.
Bright sunlight bathed the kitchen in warmth. Two-year-old Drew had just finished eating oatmeal, and Sam was sitting in his high chair launching toys in between bites of Gerber baby cereal when the phone rang. My best friend, Colleen Schomaker, was calling with a solo performance of "Happy Birthday." She sang at hyperspeed, so as not to actually sing, and then reminded me that I am still older than her. We said good-bye with a plan to meet for lunch.
As I hung up, the television caught my eye. Smoke was billowing from one of the World Trade Center towers in New York City. I leaned my elbows on the counter to watch on my tiny black-and-white kitchen television and called Colleen back.
"Are you watching this?"
"Yeah, I know. Unbelievable."
We mulled it over for a few minutes and hung up again. By now, I had turned on the television in the family room. Sam was still in his high chair, happily being entertained by Drew as I watched a passenger jet explode into the second tower. My body recoiled with every replay of the plane entering the building. I sat on the coffee table in stunned silence and began to feel nauseated. My soul ached at the sight of incomprehensible suffering. With the rest of the world, I was riveted to my television on this otherwise gorgeous September day, helplessly watching America wounded and bleeding.
It took my husband, Matt, several hours to return home from his downtown office at the local NBC television station in Detroit. When I heard the garage door go up, I ran to meet him. We held each other tightly, still in a state of disbelief. My parents had already arrived. Time was standing still as we came together to watch the horror unfold. Around five o'clock I walked outside to clear my head. The late afternoon sun was blinding. I felt like I had been in a tunnel all day. My body ached from tension. It was surreal, and it wasn't even happening in our state. It was, however, happening in our safe country, in a city we had visited many times, and in a place where people we knew and loved were living. It was happening to people just like us. It was happening to us.
Dinner was quieter than usual, although the kids helped keep things light. The world may have paused, but Drew still had spaghetti sauce on his face, and Sam was still throwing things from his high chair. There wasn't much conversation aside from expressions of deep sadness, gratitude, and a strong sense of unity with our fellow Americans.
I took an hour tucking the kids into bed that night, snuggling, reading, and saying prayers. What kind of world had I brought them into? I walked downstairs and collapsed into Matt's arms. The television was muted and we sat quietly watching the images on the screen.
"I have a present for you," Matt said.
"For what?" I asked and then remembered it was my birthday. "I don't feel much like celebrating. How about if I open it tomorrow?"
"Okay, but you have to read this tonight." He handed me a letter.
9/11/01
Gina:
Especially today, with the enormity of current events, I want to convey to you again, how much you mean to me and how proud I am to be your husband. The hard work that you are engaged in right now is exhausting, invisible and largely thankless in the short term.
But honey, please know that buried at the core of this tedium is the most noble and important work in the world — God's work; the fruits of which you and I will be lucky enough to enjoy as we grow old together. Watching these little guys grow into men is a privilege that I am proud to share with you, and the perfect fulfillment of our marriage bonds.
You are a great mom.
You are a great wife.
You are my best friend.
You are very pretty.
Happy Birthday.
 — Matt
Matt's generosity restored my hope. He made me feel safe and loved and purposeful. In his own adorable way, he even made me feel beautiful, which every mother of young children knows is no small task. At a time in our lives when careers and kids were creating loose threads in our marriage, and on the worst day in our nation's recent history, Matt gave me a renewed perspective about our life together and our future. His letter was like a stitch in the mending process. It was the best birthday present I'd ever been given.
A few months after 9/11, we celebrated our tenth anniversary in California. We planned the trip several months prior to our actual October anniversary, mostly to accommodate schedules. We rented a convertible Porsche Boxster in San Francisco and made the leisurely drive south to Big Sur. Matt was in his glory. Evidence of God surrounded us. The Sierras to our left, crashing surf to our right, and a little black sports car beneath us. Heaven. We looped around the Seventeen-Mile Drive and took in all the sights. The Lone Cypress Tree, tall Spyglass palms, and sea otters serving themselves a dinner of abalone on the rocks as they languished in the Pacific. We twisted and turned a bit farther south on Highway One until we arrived at the Ventana Inn and Spa, a quiet, romantic resort nestled in the cliffs at Big Sur. Pulling into the resort we noticed smiling people meandering around in white robes. Before the bell captain could open the car door, Matt leaned into me and whispered, "Resort? Or insane asylum?"
"Either way, we'll fit in," I replied with a laugh.
Ventana was quite a contrast from our everyday world. It was an extremely quiet, romantic escape. There was a bit of culture shock, but it didn't take long to adapt. Fifteen minutes after we mocked the crazies in the white robes, we were donning our own monogrammed terries with matching white flip-flops, sipping a delightful Napa Cabernet on our leisurely stroll to the Japanese hot baths. We giggled like kids who were getting away with something. We had only two days to luxuriate, so we made the most of them, eating extraordinary cuisine and taking deep breaths of the night-blooming jasmine.
After dinner we sat on the terrace of our bungalow overlooking the tranquil mountains. I rested my head back and felt the tension in my body melt away. When I opened my eyes, there was an open jewelry box with a beautiful pair of diamond earrings sitting on top of a Ventana notepad with a handwritten note:
Here's my big idea. When the time comes, we give one to Drew and one to Sam as "down payments" on engagement rings. Then, we go get you two giant rocks! I love you. — M
I hugged him around his neck and we kissed. He got it right. The earrings were perfect, but most of all, I loved his big idea. He considered five people in giving this gift. It was for me, our boys, and their future wives. His thoughtfulness would touch people he didn't even know.
"Try 'em on," he said, smiling. He knew he had me. Matt had been buying me jewelry for years, but much of it sat idle in the jewelry box. I had never been one to wear much jewelry, mostly because I was hyper-aware of the fact that I had it on, and I tended to fidget with it. My discomfort, however, did not stop my persistent salesman husband from buying it. Now, after ten years, he had found the perfect gift, elegant and understated, with the perfect message.
"Thank you," I whispered. "I can't wait until our boys can understand this about you."
Matt hit play on the CD player on our nightstand, and we listened to a complimentary CD titled Going to California. The CD was an acoustic guitar tribute to Led Zeppelin. I liked my rock-and-roll, but this mellow CD worked with the robes-and-slippers mood. It became the soundtrack for a perfect weekend getaway.
Back home, the week of our actual anniversary in early October, Matt and I were not feeling pressured to buy gifts or plan an elaborate night out. Great memories of our California trip lingered, but we were glad to be home in Michigan this time of year. The autumn chill was beginning to creep back into the air, which meant sweatshirt weather, football games, and spicy chili. Everything smells different when the leaves begin to turn. Their yearly morph releases a burnt perfume that sweetens the air.
The vibrant colors and crisp temperatures make me feel like I could run a thousand miles, although after the first two, I'd rethink that idea. Autumn arouses all of the senses like no other season, perhaps because we can feel the beginning of the end, nature's grand finale.
Matt was upstairs showering and Sammy took his morning nap while I molded Play-Doh with Drew. I took notice of the leaves that hung just outside the window. The chartreuse green was giving way to hints of vibrant red, orange, and yellow.
"Gina!" Matt shouted to me from our bedroom. I walked to the bottom of the stairs to see him wrapped in a towel, dripping wet.
"Feel this," he said as he pushed his finger into his thigh. At first I thought he was being funny but quickly realized that his tone was more serious.
"What is it?" I asked, rushing up the stairs.
"I don't know. It feels like a marble in my leg, like a tiny tumor."
I stopped moving and glanced up at him with a confused look.
"A tumor? Who says that?" I said half sarcastically. That thought lingered in the air a moment until I realized, a Kell says that. While the average person does not jump to the conclusion that it's a "tumor" before considering every other possibility, Matt's family, given the genetic history on his dad's side, tended to assume the worst. We continued feeling around his thigh. The marble was very deep in the muscle. Matt and I agreed that he would call his dad's oncologist.
A few days later, on the day of our tenth anniversary, I was in our bedroom and saw our acoustic Led Zeppelin CD from Ventana. I realized that the timing of our trip had been less about logistics and more about a divine plan. As Matt lay in our bed recovering from surgery to remove a tumor from his leg, I pressed play. The last two songs on the CD were "Babe, I'm Gonna Leave You" and "Stairway to Heaven."
Autumn had arrived.

ZONDERVAN
The Color of Rain
Copyright © 2011 by Michael Spehn and Gina Spehn
This title is also available as a Zondervan ebook. Visit www. Zondervan.com/ebooks.
This title is also available in a Zondervan audio edition. Visit www.zondervan.fm.
Request for information should be addressed to:
Zondervan, Grand Rapids, Michigan 49530

All rights reserved. No part of this publication may be reproduced, stored in a retrieval system, or transmitted in any form or by any means—electronic, mechanical, photocopy, recording, or any other—except for brief quotations in printed reviews, without the prior permission of the publisher.