Thirty-One Days of Drawing Near to God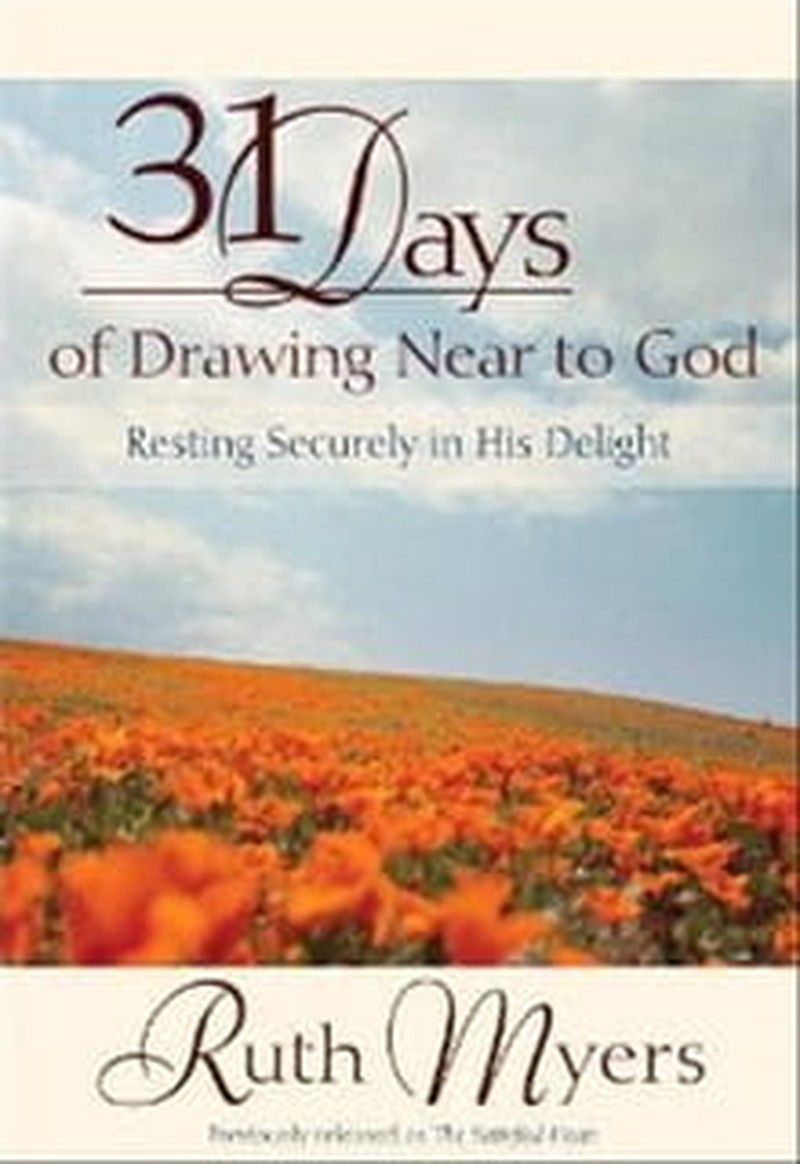 EDITOR'S NOTE: The following is an excerpt from 31 Days of Drawing Near to God by Ruth Myers (Waterbrook Multnomah).
My Story
First Love
When I was ten, God (and my mother) used a famous verse about His love to give me my first conscious experience of it.
Four years earlier I had gone forward in an evangelistic meeting. The pastor had talked with me about the gospel and I prayed. Soon I was baptized and became a church member. But later on, all I could remember was my baptism. I knew about the cross of Christ and about His resurrection, but I remembered no personal contact with God. And I didn't know where I would go if I died. This worried me. So whenever our pastor began preaching on hell, I'd slip out of the service, pretending I needed to go to the rest room.
One night my mother, sensing that something was troubling me, asked me about it. I didn't really want to tell her about the struggle in my heart, for she thought I was a real Christian. But I admitted my fear concerning my eternal destiny.
In reply Mother did something so simple. She quoted a verse I'd known for as long as I could remember. But as she spoke, the truth dawned in my heart and I believed: "God so loved the world, that he gave his only begotten Son, that whosoever believeth in him should not perish, but have everlasting life." That night I believed in Christ as my Savior, and my fear and guilt rolled away. That night, for the first time I remember, I felt God's love. All this happened in an instant as Mother quoted John 3:16 (KJV). When she finished, I bowed my head and thanked the Lord that He had given me eternal life.
"I'LL DO ANYTHING"
When I entered my teenage years, I didn't know any Christian young people who, as far as I could tell, were really living the Christian life. I had one friend a few years older who loved the Lord, but she seemed rather old-maidish and I didn't want to be like her. So I decided I wouldn't follow the Lord closely.
Behind this decision were wrong ideas about God. I didn't believe He wanted what was best for me. I was afraid that if I gave Him the controls, He would make me do things I didn't want to do and I'd miss the best in life. In this time of rebellion I tried everything I dared, though sometimes the Holy Spirit blocked me. And I became more and more miserable.
Finally at age sixteen I agreed to attend a Christian conference. There I saw young people on fire for the Lord, and I received a lot of solid Bible teaching. One night I went outside under the trees and prayed, "Lord, I'll do anything You want me to—even be a missionary," which was the very worst thing I could think of.
During the next few years God began to deepen my appreciation for His love through "The Love of God," a song made famous by George Beverly Shea. This song describes God's love as "greater far than tongue or pen can ever tell." If the skies were a scroll and the oceans filled with ink, the song says, and if every stalk on earth were a writing quill, we still could never write in full this love God has for us. The skies could not contain it. The oceans of ink would run dry.
Singing those words I truly felt the love of God. I knew that He understands, that He cares, that He is compassionate. I needed this knowledge then, and I still need it every day. But I had not yet learned to let my roots go down deep into His love so that it was a constant influence in my life. I felt His love primarily when I was singing about it with others, but not when I was alone or when things went wrong.
As the Lord worked within me, my desires for the future gradually made a U-turn. I found I wanted to become a missionary after all, and I began preparing for this. A favorite verse became Psalm 84:11: "No good thing will He withhold from those who walk uprightly" (NKJV). As I followed God, I was discovering He knew better than I did how to satisfy me. Life was getting better, though not necessarily easier.
MAJOR PURSUIT
After I was graduated from high school, I set out for Northwestern Bible School and College in Minneapolis. There the Lord did more new things in my heart. I'd been having daily devotions since I was sixteen. Often it was the last thing I did at night, and I could hardly hold my eyes open. Nevertheless, I congratulated myself for being such a good Christian.
Then the Lord began speaking: "Ruth, that's not the point at all. I want you to come to My Word because you want to know Me." The lesson was reinforced for me by the hymn "Break Thou the Bread of Life" in the lines that say,
"Beyond the sacred page I seek thee, Lord; my spirit pants for thee, O Living Word." I still wanted Him to teach me the principles I should know from the Bible, but I began going to Him more often with the prayer, "Lord, most of all I want to know You." Since that request is in line with God's will for His children, He answered it just as He promised in 1 John 5:14-15.
There was one fellow in school who, more than anyone else, seemed set upon knowing the Lord, and I greatly admired him. Stan had plenty of work and study responsibilities, and between those and his pursuit of the Lord, he didn't have time for dating. Being a little beyond my reach made him all the more desirable. I learned that one of Stan's favorite Scripture passages was from Philippians 3. I began to pray over it—and to cry over it, for I was learning that I had to get my heart needs met in my relationship with Jesus Christ and not anywhere else. The passage soon became a favorite of mine as well. Verses 8 and 10 in the Amplified Bible (condensed a bit) read,
I count everything as loss compared to the priceless privilege—the surpassing worth and supreme advantage—of knowing Christ Jesus my Lord.… For His sake I have lost everything and consider it all to be mere rubbish, in order that I may gain Christ.… [For my determined purpose is] that I may know Him—that I may progressively become more deeply and intimately acquainted with Him, perceiving and recognizing and understanding [the wonders of His Person] more strongly and more clearly.
Nothing else meant anything to Paul compared to the priceless privilege of knowing this vastly wonderful Person he had met. Back then I didn't have the Amplified version but I did have Philippians 3:10 in the King James: "That I may know him." I began to hear God say, "Ruth, this must be your major pursuit." He used circumstances to drive me to my knees and to begin praying along this line. And, as a young single woman, I discovered that the Lord could and did meet my deepest longing if I let Him be my first love.
My younger sister Mary eventually joined me at Northwestern, and we found a poem, the source of which is unknown, that we often reflected on and used in prayer:

Purge me, Lord, of my follies; an empty cup let me be,
Waiting only Thy blessing, hungry only for Thee.
Can even the Lord pour blessing into a cup that is full?
Put treasure into a locked hand, be He ever so bountiful?
Empty me, Lord, and make me hungry only for Thee.
Only Thy bread once tasted can ever satisfy me.

DESIRED AND DESIRING
Then came another crucial lesson from the Lord, a brand-new revelation for me: Not only was He compassionate and understanding, not only was He always there to tenderly care for me and love me, but He also desired me. He longed for fellowship with me.
Sometime later I realized how strongly this truth had impressed me as I talked with a friend in college, a tough young man just out of the navy. Doug told me one day that he'd been having trouble getting out of bed for his morning quiet time. But he had found a verse that helped him. It was in Proverbs (I soon forgot the reference because I didn't feel inclined to write it down): "How long wilt thou sleep, O sluggard? When wilt thou arise out of thy sleep?"
Well, I thought, that's fine for Doug. But I don't want to wake up to that. I preferred hearing the Lord speak to me through Song of Solomon 2:13-14—"Arise, my love, my fair one, and come away.… Let me see your face, let me hear your voice, for your voice is sweet, and your face is comely" (RSV). How could the Lord say that to me? Because in Christ I stand forgiven and cleansed, and in my innermost being I'm beautiful with His beauty. Amazing! To think that my appearance is pleasing to God, that my voice is sweet, that He desires intimate fellowship with me! What a motivation to spend time with Him.
Later I was struck by these words from an unknown author:
My goal is God Himself;
Not peace or joy
Or even blessing,
But Himself, my God.
'Tis His to lead me there—
Not mine, but His.
At any cost, dear Lord,
By any road.
Another truth dawned on my heart during that time— a truth that revolutionized my life. I found this truth in capsule form in Colossians 3:4—"Christ…is your life." And I personalized it to say, "Christ is my life." As one man of God put it, "It's not only true that my life is Christ's, but my life is Christ."
How delightful it was to learn that Christ my Savior, the Lord of love, triumphant over sin and death, is my life! His Spirit is united with mine in a permanent union (1 Corinthians 6:17). And as I live by faith in Him, His Spirit unveils truth to me, empowers me to do His will, and pours out His love in my heart (Galatians 2:20, Philippians 2:13, Romans 5:5). What a vast difference this makes in how I view myself: I am united in the most intimate way with the Lover of my soul. I am able to enjoy His divine, self- sacrificing love and, with growing depth and constancy, to channel it to other people.
Once a year during my time at Northwestern, an elderly Southern gentleman would speak for a week in our daily chapel services. His name was Dad Byus. He wasn't particularly impressive in appearance; what I remember most were three funny little pin curls of white hair hanging down his forehead. But he radiated Christ. As he preached, he would suddenly burst out singing, "My wonderful Lord, my wonderful Lord, by angels and seraphs in heaven adored," and we would all join in. He often quoted these words: "I have seen the face of Jesus; tell me not of ought beside. I have heard the voice of Jesus, and my soul is satisfied." The Lord used this man's teaching to make me more hungry for Him.
The same year that Mary joined me at Northwestern, two identical twin brothers enrolled and were noticed by everyone. They were handsome, they dressed attractively, they were musical, and they walked closely with the Lord. And they were the same age I was. Lots of girls liked the Denler twins. Mary and I did too, but we didn't think they'd ever like us. My sister was so dogmatic about this that I said, "Mary, you can't be that sure about anything."
The twins didn't date anyone that first year. But the next fall Dean Denler asked me to go with him to an upcoming stage play, the big production of the school year. On the same day Gene Denler asked Mary. I found out later that Dean told his brother, "Ruth said yes, but she sure didn't look very enthusiastic." The fact was, I was shocked.
Mary and I talked about this upcoming date as we left the campus that evening, heading for home. At first our conversation was along the lines of how lucky can a girl be? Then the Lord brought to mind Psalm 73:25-26, a passage we had memorized: "Whom have I in heaven but You? And there is none upon earth that I desire besides You" (NKJV). God was reminding us that He was to be our first love. I don't think this verse means we can't or shouldn't have any other desires. Rather it's saying, "Lord, in comparison to my desire for You, I desire no one else. If ever I must choose between You and any other, I'll choose You."
Verse 26 goes on, "My flesh and my heart fail; but God is the strength of my heart and my portion forever." We both felt that going out with the Denlers would surely be a one-time event, but God would be our portion forever—all through life and all through eternity. Only one relationship is sure to be lifelong. Only one Person is for sure our permanent life partner. And He is our best life partner, worthy above all others of being our first love.

The Lord reminded me of this truth many times. I'm so grateful He did.
PLOWING TIME
It turned out to be more than one date. Within two years we were engaged: Mary to Gene, and I to Dean. The Lord (through the Navigators) sent the twins ahead of us to Taiwan to pursue ministry opportunities there.

On our way to join them a year and a half later, Mary and I spent half a day with Lila Trotman, the wife of Dawson Trotman, founder of the Navigators. Lila knew that our future husbands would often be traveling in their ministry responsibilities. "Just remember," she told us, "God will make up for every moment you're apart." Then she added, "And He won't wait to do it until you're back together again." In other words, God would make up for our loss with Himself.
My inner response to Lila's gracious counsel was, "Yes, Lord, You are well able to do this, and You will—if I let You." This realization was great preparation not only for marriage but also for the time, seven years later, when God would call Dean home.
Soon it was time to cross the Pacific on a comfortable American President Lines freighter. Mary and I were so excited. To be used by the Lord in Asia had become the dream of our hearts, and now in 1952 this dream was coming true—as were our dreams of becoming Mrs. Denler.
A week after we arrived in Taiwan we had a double wedding in Taipei, then we headed to Hong Kong for our honeymoons. Afterward Mary and Gene flew off to the Philippines to serve the Lord there, and I went with Dean to southern Taiwan. Mary and I had always been close, the twins had been even closer, and most of our dating had been as couples together. So we were facing some adjustments.
Lots of them, in fact. And we had received little prior help on how to handle them. Decades later, I helped con duct many two- to three-month orientation programs to help western missionaries prepare for life in Asia. But back in 1952, new missionaries received just one bit of counsel on how to respond to all the unfamiliar ways of the Chinese culture: "Not wrong, but different." This was sound advice from a veteran missionary and dear friend, Dick Hillis, founder of Overseas Crusades. It has helped often in building relationships as well as in adjusting to other cultures. But entering another culture involves more than that.
In our new surroundings we did not yet know the language. I began to miss greatly the rich Christian fellowship I had long known. A few older missionaries were in our city, and that helped a lot. But being with them just wasn't the same as relating to loved ones and people our own age. Also, back in America I had enjoyed helping other young women grow in their faith, and I missed that as well.
Two big surprises made our adjustments even more complex: Dean and I had our children earlier than we had planned. From the first we were grateful for those precious gifts from our sovereign God. And later I was so glad that Brian was six and Doreen almost five when their father died—old enough to have memories of him, old enough for me to communicate with them, and easier to care for than if they were still babies or toddlers.
Those years in Taiwan were good in so many ways, but they were hard years. They were a time of plowing in my life, when the steel of the plow was cutting deep into my soul. I could no longer feel the love of God as easily as I had before.
I would tell Him, "Lord, I don't know what's happening to me. I don't know why my emotions don't cooperate like they used to." Then I would remember Hebrews 13:8 where God says, "Jesus Christ is the same yesterday and today and forever" (NIV). So I would choose to believe that His love for me and His life in me had not changed, but were still as warm and true and certain as before.
How I missed my sister! I remember going out under the sky at night to decisively tell the Lord (and myself), "I don't have to see Mary. You are enough." Again He would meet the longings of my heart, but it wasn't with the easy joy I'd so often known earlier.
I also experienced the reality that my husband couldn't meet all my needs. Dean loved me very much, but his love wasn't perfect. Sometimes he was occupied with his own needs. Sometimes he would be away for weeks at a time. Often the Spirit would bring to mind Psalm 73:25-26, reminding me again: "Only one Person is your best, your perfect life partner. Only One can be with you all the time and meet your deepest needs. You may love others as much as you can, as deeply as you will, but I must be your first love."
The truth of God's love and the solid footing of His Word kept me steady. I found that many truths I'd known in my head were becoming more deeply rooted in my life. The plowing time was of great value, and in the long run it made me love the Lord more.
But after about three years of plowing, God took me back to the second chapter of the Song of Solomon: "For lo, the winter is past, the rain is over and gone. The flowers appear on the earth; the time of singing has come, and the voice of the turtledove is heard in our land.… Rise up, my love, my fair one, and come away" (verses 12-13, NKJV). I felt God was telling me that the plowing time was over, the winter done with, and I now could look forward to a new fresh springtime of love with Him.
On the basis of Romans 15:32 ("That I may come unto you with joy by the will of God, and may with you be refreshed," KJV), I began to pray for increased refreshment in ministry. I trusted Him to fulfill in a new way John 7:38— that as His rivers of living water flowed through me in service to others, I, too, would experience more fully their life-giving freshness.
In His all-wise love, God still had more plowing times planned for me. Through each one He has strengthened my experience of His love. He has caused me to seek Him more desperately and know Him more deeply.

TRUEST GAIN
I've often appreciated the statement, "Each loss is truest gain if, day by day, He fills the place of all He takes away."
In our second missionary term we moved to Hong Kong, where Gene and Dean together directed the Navigator ministry. A year later, in 1959, we learned that Dean had cancer. He lived only nine more months.
It was a fast-growing form of cancer and quickly worsened, often causing him severe pain. We prayed, and others prayed. Twice, in direct answer to prayer, Dean experienced a dramatic turn for the better. But then God began to speak to our hearts, leading us no longer to claim healing and letting us know He wanted to take Dean home. He confirmed this by giving several men and women of God the same message. This affirmation helped us hold Dean in open hands and prepare our hearts for his homegoing.
Even in his suffering Dean would say, "Remember, Ruth, God has our best interests at heart." And God comforted both of us with a quotation someone sent us: "God is too wise to ever make a mistake and too loving to ever do anything unkind."
My friend Doug—the one who shared with me the sluggard verse from Proverbs—sent us Jeremiah 29:11. This time his choice of verses really appealed to me: "For I know the plans I have for you, says the LORD, plans for welfare and not for evil, to give you a future and a hope" (RSV). I had never focused on this verse before, but now I explored the full context while reading through the prophets. I discovered that history had proved this promise true for the people of God to whom it first was spoken. They suffered a great tragedy. Yet through it all, the Lord protected them and eventually restored their fortunes.
I went before God and said, "Lord, You say that You know the plans You have for us. I personally don't really know what You're doing. Dean is just starting his work in Asia. He has two young children. He has me. I don't understand what's happening or why You're allowing this. But You say Your plans are good, and You've never lied to me. So I choose to believe You." Again and again God used Jeremiah 29:11 to calm my heart and remove my fears. More help came from Psalm 31:15, which says, "My times are in thy hand" (or as one version says, "My destiny is under Your control"). I realized that Dean's life was not in the hand of this dread disease. His life was not even in the hands of his doctor, a godly and skilled physician. Dean's life was in the hands of God. Our sovereign God was with us, and we could trust Him.
Gene and Mary took care of our children while I stayed in the hospital room with Dean, sleeping in a smaller bed near his. Dean was growing weaker and was hardly able to speak. One morning as I woke up, he said to me in his slow speech, "You know, honey, I almost died last night."
"You did? No, I didn't know that."
His frail voice continued, "Oh, what a wonder it was!"
I tenderly urged him on. "Honey, what was a wonder?"
"Well…you just can't describe it."
"What was it you can't describe?"
Dean answered, "The wonder of being with the Lord." Then he began singing, and I joined him: "It will be worth it all when we see Jesus. Life's trials will seem so small when we see Christ. One look at His dear face, all sorrow will erase. So bravely run the race, till we see Christ."
Soon afterward, Dean's brave race was over and he went to be with the Lord. I had lost my best and primary human love. But I wasn't alone. I still had my first love; I still had my Source of deepest satisfaction. So the bottom did not fall out of my life.
I cried often. In my quiet times, no matter what I did, I would weep. I'd worship and cry. I'd pray and cry. I'd read the Bible and cry. But I also received rays of warmth from God, shafts of sunlight shining in through His Word, through other people, through other ways. For example, on the evening of the day Dean died, our daughter Doreen came rushing to me in the kitchen and said, "Just think, Mommy: My daddy can see the angels now!"
How grateful I was that God had taught me not to dare fixate on any other relationship, but to focus only on Him. Only His love was sure to be lifelong.
GOD SUPPLIES
Soon after Dean was promoted to glory I received a letter ending with these words: "May you find in the Lord Jesus Christ your Boaz." God was leading me to the book of Ruth as He had often done before. And what did Boaz do for Ruth? He satisfied her hunger and quenched her thirst; he provided her a home and supplied her needs; and he gave her a fruitful place in the harvest. I found the Lord doing these same things for me.
Six months after Dean's death, the children and I traveled back to the United States with Gene and Mary. After another six months we said good-bye to them as they returned to Asia. Then the three of us started a new chapter of our family life, settling in Colorado Springs. The children, especially Brian, struggled greatly, for they had lost not only their father but now also their extended family, including their Uncle Gene who was so much like their daddy. Despite their grief, Brian and Doreen adjusted quickly to their new surroundings, to school in America, and to life in general. How grateful I am for the many people who prayed for them back then and continued to do so throughout the years!
Besides providing prayer backers and friends, the Lord as my Boaz also supplied our needs for a home and clothing. And He gave me a part in His spiritual harvest at Glen Eyrie, headquarters of the Navigators. There I had abundant opportunities for ministry, including training other women to serve the Lord overseas. Besides counseling women and girls individually, I also spoke to women's groups and at conferences and retreats.
When we said good-bye to Gene and Mary, we hoped to join them later in Manila. But I had a deepening impression that the Philippines was not to be our field of service. I prayed about going back to Hong Kong, but again found no freedom of heart regarding this. Through counsel and prayer it seemed the Lord was telling me to stay at Glen Eyrie, helping train others who in turnwould go into many places throughout the world.
But to think of perhaps never returning to Asia! Of perhaps never again ministering among the Chinese or Indians or Filipinos! Then I came across Deuteronomy 3:26-28.
God had told Moses he was not to enter the Promised Land. Moses pleaded with God to let him go. The Lord's reply was final: "Let it suffice you; speak no more to me of this matter.… But charge Joshua, and encourage and strengthen him: for he shall go" (RSV). Somehow this passage reaffirmed my conviction that, at least for the foreseeable future, we were to remain where we were. "You're not to go," I sensed the Lord saying, "and you're not to beg Me to let you go. Instead you're to charge others who will go and encourage and strengthen them." He graciously removed from my heart any restlessness about the matter.
HOLDING MY RIGHT HAND
I continued to be amazed at how God's love meets our needs when we let Him, satisfying our hearts and giving us contentment and joy. Soon after Dean's death my mother sent me a Scripture—Isaiah 41:13, which says, "For I, the LORD your God, will hold your right hand, saying to you, 'Fear not, I will help you' " (NKJV). That's nice, I had thought, especially in the version that says, "whispering to you, Fear not.…" Though the verse didn't touch my heart deeply at the time, I memorized it. Later I learned how much I needed it.
Brian and Doreen would often hold my hand, and that meant a lot to me. I adored having them with me and enjoyed the sense this gave me of still being in a family. But I needed more than that. Especially in the second year after Dean passed away, the loneliness and longing for love often swept in upon me in a deeper way than before.
We were living in a lovely third-floor apartment in Glen Eyrie's huge old castle. How we reveled in the many opportunities for fun and rich fellowship with Navigator staff and trainees, especially at mealtimes. But overnight we would sometimes be the only people in the castle with its scores of rooms. I wasn't afraid of our being by ourselves. But at times in those still, silent hours after I tucked the kids into bed, and in my growing loneliness, a host of "what-if" fears about my life rose up. What if God asks me to do this or that? What if such-and-such happens? I'd even ask myself—while thinking about a man who was a good friend but whose wife I couldn't imagine being—What if God asks me to marry him?
So many different fears! "Lord," I would pray, "please say something to encourage me."
He would bring to me His promise in Isaiah 41:13, speaking it to my heart in the present tense: "I, the LORD your God, hold your right hand, whispering to you, 'Fear not, I will help you.' " As He spoke His Word to my heart, I found it helpful not only to listen, but also to speak it back to Him in thankful prayer.
When the fears returned, I would say, "Tell me again." I, the LORD your God, will hold your right hand….
"Lord," I responded, "I really need someone to hold my hand. And I have Someone: I have You! I've never had anyone better and I never will." Prayers like this kept me open to God and able to receive His love as He met my need.
I also discovered how much I wanted someone to tell me the words "I love you." Brian and Doreen said this often, but I longed for someone big to say it. The Lord often spoke of His love for me by reminding me of Isaiah 43:4—"You are precious in my eyes, and honored, and I love you" (RSV). I was to Him like a precious gem, which is loved not for its usefulness but for its great emotional value. I was honored in His eyes—amazing! And at any moment I could pause and let Him say, "I love you." I especially needed to pause like that in the summer.
Summer was the big conference season at Glen Eyrie, and there wasn't room for us in the castle. During those months each year we would rent a house in nearby Pleasant Valley, where my lonely times came more frequently.
Our neighbors one year included our Navigator friends Leroy and Virginia Eims. One beautiful summer evening I looked over, saw their home, and envisioned them inside happily together. "Virginia has Leroy," I began thinking, and I was tempted to complete the thought with "but I don't have anybody." However, I'd been warned that when I saw happy couples together I would be tempted with jealousy, so I had prayed about this and decided on a way to respond. I prayed, "Lord, give Leroy and Virginia a good evening. Bless them. Bless their relationship. And I thank You that I have You. Now tell me how You feel about me."
You are precious in My eyes, and honored, and I love you.
"Thank You, Lord, that I still have the best love I've ever had or ever will have."
These were the years when the red notebook you'll read about in Day 2 was filling up with God's personal words to me about Himself. I had started a new page with the heading "My _________," and had begun to fill the page with verses that actually used the word "my": my Rock, my Shepherd, my Champion, my Beloved, and so forth. I had settled on Psalm 16:5 in the Moffatt translation as my favorite verse for this page: "Thou art what I obtain from life, O thou Eternal, thou thyself art my share." My joy that God was "my Share in life" increased as I added Psalm 142:5, also from Moffatt: "I have thee as my very own, in the land of the living."
One summer I found myself focusing on God as my Father. I had a wonderful earthly father who loved me deeply, and I had always thought it was great to have God as my Father as well. But now, in this time of deeper loneliness, it meant so much more. I especially liked Romans 8:15 where J. B. Phillips, in place of "Abba, Father," says, "Father, my Father." I'd wake up in the morning thinking, "Father, my Father!" For the first time I was really taken with this thought. I imagined crawling onto His lap as a little girl and nestling in His arms as I spoke the words, "My Father!" One morning, the day after we had moved from Glen Eyrie for the conference season, I woke up filled with low and lonely feelings. I started my quiet time, admitting to the Lord that I really didn't feel like having one. My Bible reading for that morning was Psalm 102. I came to these words: "I am like a pelican in the desert, like an owl moping in the ruins…like a lonely bird on the roof" (verses 6–7, Moffatt). Already I felt better—the psalmist had been even bluer than I was!
The passage goes on to say that God does not change. So I could say to Him, "Lord, You're the same as You were when I lived on the Glen. You're the same as You were when I lived with Dean. You are not the least bit different." I rejoiced as He comforted my heart with His unchanging love.
WHO NEEDS ME?
Four years after Dean died, we were surprised by the opportunity to finally return to Asia for the summer, including a month's stay with Gene and Mary in Manila. After the initial excitement, my heart was flooded with fears about going so far by ourselves and with anxiety about the many things that could happen to the children. I remembered all the sickness they had experienced there before. I also recognized that we would be in Satan's territory. Then Psalm 121:8 came forcibly to mind: "The LORD shall preserve your going out and your coming in from this time forth, and even forevermore" (NKJV).
Meanwhile, before we left Colorado Springs, several things happened that made me feel that no one there really needed me. Most of this was probably only in my imagination, though I think some of my impressions were accurate.
For Brian and Doreen, the month with their Uncle Gene and Aunt Mary in the Philippines was especially a delight. Since Gene was an identical twin to their father, being with him was almost like being with Daddy again. Gene did an incredible job of giving them a good time. And what a joy it was to have the whole clan together once more!
Later we stopped in Hong Kong, one of my favorite places. While there we visited a counselor, who was offering his services free of charge to missionaries (and I still qualified). After Dr. Rodd had talked with each of us, he told me Brian had some thoughts and feelings I might want to find out about.
As the children and I went out to dinner that night, Brian hesitantly mentioned that there was something he should probably let me know.
"What is it, Brian?"
"Well," he answered, "I don't think I should tell you. It might make it hard for you to be a good mother."
"Oh," I said, "honey, please tell me. Mommy will understand."
Finally he came out with it: "You know…sometimes I wish you would die so I could go live with Uncle Gene."
I handled it without tears as long as I was with the children. "Honey," I told him, "I can understand that. He's a wonderful uncle. He's so much like your daddy. I understand why you feel that way."

But in bed that night I let myself have a long, hard cry: Even my kids didn't need me!
I knew this was a lie. Brian didn't mean he didn't need me. But that's the feeling I had.
The Lord lifted me from that experience to thrill me in a new way with what I mean to Him. I recognized the truth that if God were to take me home any moment, He would lovingly meet the needs of those around me in other ways. The fact is, most of us are probably needed here much less than we like to think. But for all of time and all eternity, there's an exciting sense in which God does "need" you and me. In one sense He has no needs. But in another sense He has love needs. He has longings. And we as His loved ones can fulfill His deep desire for intimacy with us through our love and worship, our fellowship, our obedience. This quotation captured that truth for me: "Every soul is a vast reservoir from which God can receive eternal pleasure." Each of us can bring Him joy in ways no one else can. And that will never change.
FROM IMPOSSIBLE TO WONDERFUL
Someone has said, "When God wants to do something wonderful, He begins with a difficulty. When He wants to do something very wonderful, He begins with an impossibility."
After another four years went by, the Lord led me to marry again. Warren Myers—who served in Asia during the same years Dean and I did—became my husband and the head of our family, warmly welcomed by our teenagers (though, of course, adjustments followed). That's the "very wonderful" part. The "impossibility" is how Warren and I were brought together. For years I had a profound respect for his walk with God, and I greatly valued his friendship. Yet when Warren told me he felt the Lord wanted us to begin a relationship, I thoroughly disagreed.
The years went by. I'm sure it took clever strategy on the Lord's part to keep Warren unmarried, especially with lovely, godly women available and despite unrelenting encouragement from friends to find a wife. I prayed that God would lead Warren to someone else. How grateful I am the Lord disregarded those prayers. As Hannah More, a British author and playwright in the early 1800s, wrote, "Did not God sometimes withhold in mercy what we ask, we would be ruined at our own request."
Warren had been twenty-three when he yielded his life to Christ as Lord. At that time God assured him that if he left marriage in His hands, He would not let him miss the right girl or marry the wrong one. Now, twenty-three years later, God answered by working in my heart in a thorough way. He gradually transformed my respect for Warren into love, eradicated my objections, and gave me a deep desire to become his wife.
Once again I knew I dared not hold this earthly love with a clenched hand. After all, Warren was God's man, not mine. So even before we finalized our engagement, I promised to give Warren back to the Lord all the days of his life. I included that promise in my wedding vows.
A year and a half after Warren and I were married, we returned to Asia, where we have lived and ministered for most of our married life. For three years we had Brian and Doreen with us in Singapore, for twenty-three years they were half a world away.
Then in 1995 Warren was diagnosed with cancer— fourth-stage lymphoma. In the months and years since we learned this, he has been prayed for by the elders of our church (James 5:14-16) and by many others around the world, and he has undergone careful and promising treatment. With confidence we ask for complete healing, believing this fits in with our much deeper desire and prayer, "Our Father who art in heaven, may Your name be honored, may Your kingdom come, may Your will be done." We have a quiet faith that the Lord is healing him. Yet we refuse to clench our fingers around physical healing, unwilling to let go.
I want Warren to be healed. I want him to live a long time, and I believe he will. But more than that I want God's will. He knows the good plans He has for us, plans for welfare and not for evil, to give us a future and a hope. I thank the Lord for this promise, and I believe it because He's never lied to me.
DEEP ROOTS IN THE SOIL OF HIS LOVE
In the decades of living I've outlined here, I've seen God beginning to answer for me Paul's beautiful prayer for believers in Ephesians 3:17-19 (expressed here in The Living Bible):
May your roots go down deep into the soil of God's marvelous love; and may you be able to feel and understand, as all God's children should, how long, how wide, how deep, and how high his love really is; and to experience this love for yourselves, though it is so great that you will never see the end of it or fully know or understand it. And so at last you will be filled up with God himself.
This may sound like an impossibly high goal—to be "filled up with God Himself" and to fully experience a love that's so far beyond fully knowing. But it's not too hard for God. Immediately Paul goes on to say, "Now glory be to God, who by His mighty power at work within us is able to do far more than we would ever dare to ask or even dream of—infinitely beyond our highest prayers, desires, thoughts, or hopes." If we truly want to know His love more, we can use this prayer of Paul's to pour out our hearts to Him, and He will more than answer.
God offers us a perfect and permanent love, a love relationship that can meet our deepest needs at every point of life and forever. And He wants us to respond to His love. In His heart He is intensely involved with us.
I wonder, are we intensely involved with Him? Only as we daily renew our focus on Him as our first love, our best love, our perfect love, can we find the peace that comes with a satisfied heart.
Day 1: I Must Have Love

Through the years, the Lord has been weaving into my life a richer awareness of how lavishly He loves me (and all of us) and how deeply He longs for each of us to experience His love. My heart has been opened again and again to delightful discoveries that have made me feel more satisfied and at rest in Him, more alive in His love, more liberated, more secure.
All of these rich discoveries are available to anyone who truly wants to know God better.
A. W. Tozer wrote of the knowledge of God stretching out before us like a vast ocean, with you and me like children playing along the beach (and, I like to add, perhaps dipping our toes into the water now and then). There'sso much more to know and experience of this wonderful, loving God. We've only just begun.
Amy Carmichael, Irish missionary to India, deeply experienced the love of God. Yet in one of her poems she implored Him to reveal His love even more:
Love of my heart, my stream runs dry;
O Fountain of the heavenly hills,
Love, blessed Love, to Thee I cry,
Fill all my secret hidden rills.
Waters of Love, O pour through me;
I must have Love; I must have Thee.
I'm trusting that you've begun to read this book because you have this same longing deep within, even as I do: We must have love. We must have God's love. We must have God, the only source of perfect, unfailing love, the only one who can fully satisfy our hearts. I believe God has sovereignly brought you and me together at this time and through these pages, and He wants to bless us in the adventure of letting Him respond to our heart cry.
The Lord deeply desires for us to know Him and experience His love. With boundless emotional longing, He wants us to know Him as He really is. He has already handed us an invitation to this in His Word, where we find the fullest portrait of Him, the most complete unveiling of His love, ready for us to contemplate and experience. From beginning to end, and in surprising and heartwarming ways, the Bible reveals a love that can flood our hearts with ever-increasing power through the Holy Spirit within us. God's love is a love that entirely satisfies, a love that brings true happiness and inner growth. It's a love that expands and corrects our thinking, changing us both inside and out.
Psalm 90 is a prayer of Moses as he led the people of Israel in the wilderness. They had known many sins, many failures. But Moses knew the Lord well, and in verse 14 he prays to Him, "Satisfy us in the morning with your steadfast love, so that we may rejoice and be glad all our days" (NRSV). The Moffatt translation reads, "Let thy love dawn on us undimmed." Moses knew the true source of all satisfaction: the Lord's steadfast love, dawning in our darkness. He knew this was the basis for joy even in the hard times. And he asked to experience it early.
I've found this Scripture a helpful one to pray. Lord, do this for me: Satisfy me early, soon, this morning, with Your steadfast love, so I can rejoice and be glad all day long. Then I pray the same thing for my husband and for us as a couple: Satisfy us early with Your love. And I gradually spread out from there, praying for others: Satisfy them (or him or her) this morning with Your steadfast love. Let Your love dawn on them this morning, so that today they may rejoice in You.
God has given us in His Word a beautiful picture of what His steadfast love is like. He wants to speak His love to our hearts, individually, tenderly. He wants you to take time to hear His words of love and to let them dawn on you undimmed, that you may very soon be satisfied…and be glad all your days.
Dear Lord, I thank You that I am Yours, that You know me through and through, and that it's no accident You've led me to this book.
Father, I've tasted Your love, and I long to experience more deeply how You really feel about me. I long to know in my daily life the intense reality and great wonder of Your boundless love, which You so freely bestow on those who seek You.
Help me turn away from my misconceptions of Your love and from being casual or indifferent toward You. Help me to turn from hectic, frantic activity that often makes even my time with You so hurried. I ask that through Your Word You will speak to me of Your perfect love in powerful, life-changing ways.
I pray in Jesus' name…
God's words of love for me today:
Psalms 86:15; 90:14; 100:5; 118:1; 1 John 4:16
In the space below, write out the verse or phrase from these passages that helps you most. You can follow this same encouraging step for all thirty-one days.
Excerpted from Thirty-One Days of Drawing Near to God by Ruth Myers Copyright © 2011 by Ruth Myers. Excerpted by permission of Multnomah Books, a division of Random House, Inc. All rights reserved. No part of this excerpt may be reproduced without permission in writing from the publisher.