Flawed Characters Strengthen Jordan's Forsaken
Annabelle Robertson

Crosswalk.com Contributing Writer

2008

2 Dec

COMMENTS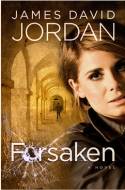 Author: James David Jordan
Title: Forsaken
Publisher: B&H Publishing Group
When Taylor Pasbury meets televangelist Simon Mason, she's at the top of her game. A former Secret Service agent, Taylor runs a successful security company based in Dallas, Tex. So when Simon contacts Taylor about some scary threats he's been receiving, Taylor flies to Chicago to meet with the man the press recently dubbed "the most famous Christian on Earth" (with apologies to the Pope).
Before Taylor has time to fully assess Simon's situation, however, his teenage daughter is kidnapped. And, all too soon, it becomes clear that she's been taken by terrorists. Worse still, it's not money they're after. They want something far more dangerous from Simon.
Taylor handles the crisis with aplomb, but the young security officer isn't nearly as adept when it comes to her personal life. She drinks, she sleeps around and she's in total denial about it all. Of course, Taylor has also had a very traumatic life. Like Simon—who isn't nearly as perfect as his adoring public might imagine, either—she'll eventually need to face her past, before she can move forward.
This thriller, by James David Jordan, a Dallas-based attorney, has a strong Christian theme that will appeal to believers. Unlike a lot of other Christian fiction, Jordan doesn't stick to the prototype of "almost perfect" characters. His characters are flawed—and greatly so—which is one of the book's strongest points. The plot is also enjoyable.
The book lacks credibility on several levels, however. First, the middle-aged male author doesn't pull off the voice of his 29-year-old protagonist. Taylor sounds like a teenager, not a high-powered ex-Secret Service agent who worked with international dignitaries. She's insecure, easily impressed and easily flustered. She talks like a kid and responds like a kid. She even ends up rooming with Simon's daughter, who is a kid. It's hard to believe that anyone would hire Taylor to defend them—especially since she doesn't.
The story also lacks realistic detail. Both Taylor and Simon are painted with huge brushstrokes that give readers little information about their fascinating worlds, save generic, almost childlike descriptions. If you're going to give your character this level of skill and expertise, you need details. And that means research—something that is sorely lacking here.
Thirdly, inconsistencies abound. Simon calls Taylor on her cell phone, for example. She doesn't even wonder—or ask—how he, a perfect stranger, got that number. Wouldn't that be a well-kept secret number for a powerful private security company owner? If not, we need to know why. Simon also knows that Taylor is at her office when she answers the phone, even though she doesn't mention it—and it's a Saturday morning. The reason Taylor was asked to leave the Secret Service was also highly implausible.
Finally, Jordan has a nagging tendency to tell his story, rather than allowing it to unfold through description, dialogue and plot. It's a common problem for inexperienced writers, but the result here is a very basic narrative which, despite the occasionally good metaphor, reads more like a book for a young adult audience. For very mature teens, it will be an enjoyable read. For those who don't mind simplistic prose, the story's strong Christian elements may also be enough for a satisfying read.