Forgiveness and Hope the Themes in Herman's Danger
Chery Russell

Infuze Magazine

2007

17 May

COMMENTS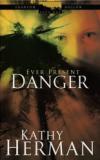 Author: Kathy Herman
Title: Ever Present Danger
Publisher: Multnomah Fiction
Ivy Griffith is returning home to Jacob's Ear after a ten-year absence. Ivy is now clean after several drug-filled years, but she's not alone. She's bringing with her seven-year old Montana, her illegitimate son, and a seventy year old woman named Lucia.
Her life started its downturn when she was in high school and began to date bad boy Pete Barton. One night, while high on drugs, Pete, Ivy and their two best friends Reg Morrison and Denny Richards murder one of their classmates and bury his body where it won't be found. They swear a pact to one another to keep their secret. In the fall, they go their separate ways and their secret goes with them. And now it drives Ivy back home.
Her parents, Carolyn and Elam, are caught completely off guard. They want their daughter home, but are terrified she will run away again. But they agree that Ivy, Montana, and Lucia can live with them until Ivy gets her feet under her again, something that her parents know will be next to impossible in the tight job market in Jacob's Ear.
Ivy has no intentions of running away again. She has come home to face up to her past and is determined to do so once she's sure her son will have a home with his grandparents. But before she can confess to her part in the long-ago crime, bones are discovered at her father's new condo development. At long last, everyone else knows what she and her friends have kept secret for ten years—Joe Hadley wasn't a runaway or abducted, but murdered and buried, not far from his home.
The pressure mounts for Ivy to keep her part of the pact. Pete Barton has moved back to Jacob's Ear to run his parents' deli after his father's death. Reg and Denny have also meandered back to town for a *visit* and to keep up the pressure. But Ivy is tired of hiding her secret, of the guilt she's carried all of these years. As the sheriff tries to find the murderer, her ten-year class reunion rolls around and by the end of the evening, the sheriff adds three more murders to his list. And Ivy is left to wonder if she's next.
Ever Present Danger is the first book in the Phantom Hollow series by Kathy Herman. Readers of her previous novels may recognize two of the characters in this book, Brandon Jones and his wife Kelsey, from Not By Chance, the fourth book in the Seaport Suspense series. Brandon is employed by the Three Peaks Christian Camp and Conference Center, owned by Elam Griffith. He's involved in a subplot of his own, one that may destroy his marriage before its first anniversary.
Ever Present Danger is a story of guilt and forgiveness, of responsibility and hope. Ivy has done terrible things in her past and has paid a heavy price. But putting things to right is something she is determined to do, but she can't do on her own. She needs the help and love of her friends and her family to find the courage to face up to her past and start anew. But will she live long enough to share the secret of Joe's long-ago death or will the murderer silence her before she can confess? Until the killer is caught, Ivy is in Ever Present Danger.


© 2007 Infuze Magazine. All rights reserved. Used with permission.