Halloween Evangelism Tool Uses Popular Comic-Book Format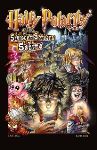 Title:  "Hairy Polarity and the Sinister Sorcery Satire"
Author/Publisher:  Truth for Youth
A green-haired demon holds his foot on Minnie's neck and warns her friend Ari, "Put down your magic wand, Ari Potiphar – or I'll deep-fat fry Minnie and the others!"
Minnie urges Ari to use his magic to free her, and Ari wonders, "How did it ever come to this: how did I end up here in this wack world of wizards? I never imagined such a thing could be for real. ...."
The scene is the teaser for "Hairy Polarity and the Sinister Sorcery Satire," a 32-page, full-color comic book that takes its characters on a dangerous adventure through the world of the occult. The story incorporates a number of themes that will resonate with youth – peer pressure, rebellion against parental authority and witchcraft.
It is an original creation from Truth for Youth. Evangelist Tim Todd, founder of Truth for Youth, believes the state-of-the-art comic story can be a powerful evangelistic tool during the Halloween season.
Other Christian leaders have cited that potential as well. For example, Dr. Jerry Falwell, founder of Liberty University in Lynchburg, Virginia, said, "The unique format of 'Hairy Polarity and the Sinister Sorcery Satire' grabs young people's attention with the biblical truths that will transform their lives."
The Truth for Youth ministry is best known for its hallmark method of getting the New Testament into the hands of today's teens. Through Todd's evangelistic crusades and various media partnerships, attractive paperback Truth for Youth New Testaments are offered to Christian teens if they make a commitment to give them to an unsaved friend. Truth for Youth uses the God's Word Translation (God's Word to the Nations Bible Society, copyright 1995).
The ministry inserts attractive full-color comics in the front section of the Bibles. Each comic story addresses a specific moral issue – abortion, peer pressure, drug abuse, homosexuality – and examines how the Bible deals with the subject. Hairy Polarity is the latest addition to the comics, and Truth for Youth makes it available in single-comic format. In fact, for Halloween, it can be purchased below cost through the Truth for Youth website.
Tim Wildmon, president of American Family Association, said the comic book format is sure to appeal to teens and younger students alike. Wildmon said, "It would be well worth the investment to purchase Hairy Polarity and put a Christian-based comic book in the hands of trick-or-treaters, or as a treat for kids who attend alternative seasonal events at their churches."
Each year since 2002, AFA's American Family Radio network has partnered with Truth for Youth for one week in August. The AFR network of 180 stations hosts Tim Todd on-air and urges its listeners to order a Truth for Youth Bible free of charge to give to an unsaved teen. "The comics grab the kids," said Wildmon, "and then they're suddenly dealing with the Scriptures."
Todd emphasizes that the gripping, fast-moving story subtly reveals biblical principles, with frequent footnotes giving specific Scripture references. With more than 300 million Harry Potter books sold, Todd said, "We have to get the truth out about the dangers of [witchcraft]. This comic normally costs $3/copy, but if you order 50 copies or more, we will let you have them for below cost at only $1/copy plus shipping. I am convinced this is the greatest tool of evangelism for Halloween that has ever been available."
The Truth for Youth Bible ministry has been endorsed by countless Christian leaders including Bishop T. D. Jakes, pastor Rod Parsley, actors Dean Jones and Pat Boone, and the late Dr. Bill Bright, founder of Campus Crusade for Christ. Dr. Bright said, "The Truth for Youth Bible is a wonderful tool to reach young people and nurture them in the ways of the Lord."
Now, with "Hairy Polarity and the Sinister Sorcery Satire," Todd says the ministry offers a unique new instrument that God can use to help rescue teens from the deceit and allure of the occult.

© 2005 AgapePress.  All rights reserved.  Used with permission.