Heaven, Healing and a Side of Bluegrass
Janet Chismar

Crosswalk.com Contributing Writer

2009

8 Dec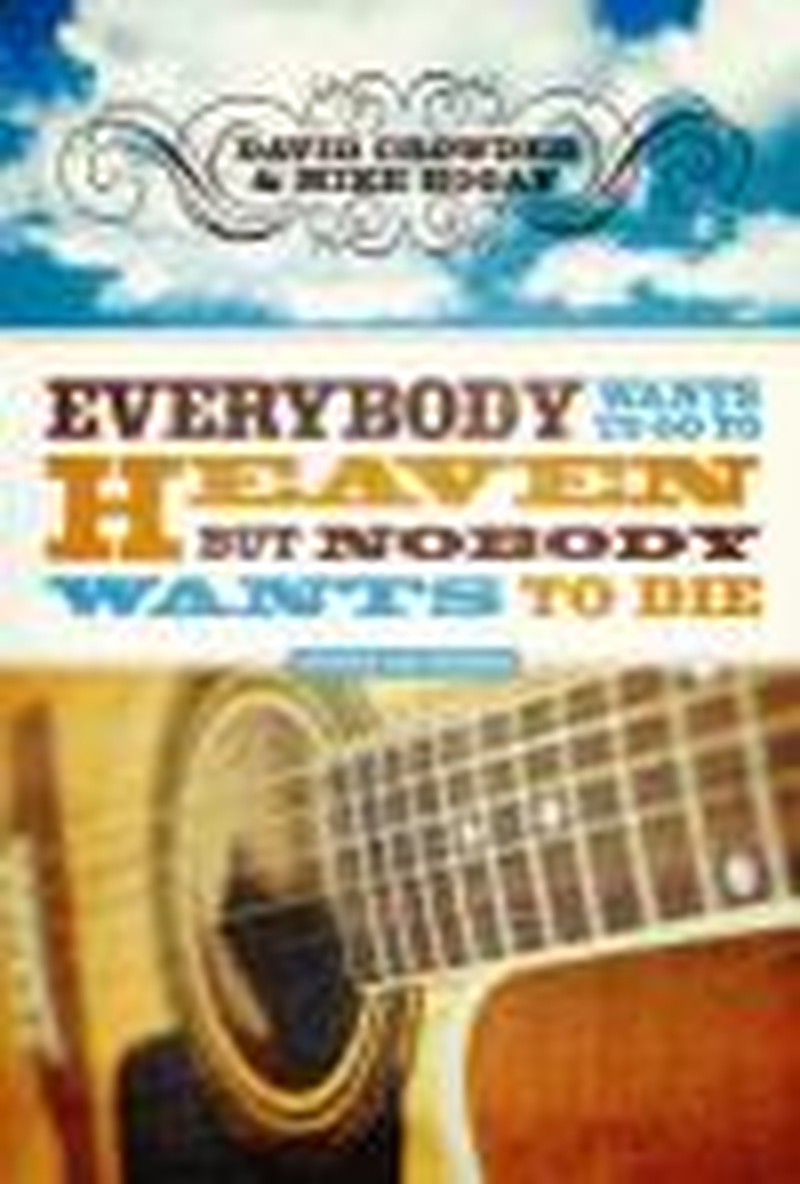 When they first starting writing together, David Crowder and Mike Hogan ( musicians and members of David Crowder Band) wanted to fill a void. Yes, there was a gaping hole in each of their hearts when their friend and pastor Kyle Lake died. But this was a different type of void.
"No one seemed to be talking about death," says Hogan, "even in the church. It was not a topic you heard much about. When you're looking for answers and just not finding anything, it can be really unnerving."
On Oct. 30, 2005, Lake was electrocuted while baptizing a mutual friend at University Baptist Church in Waco, Texas. The tragedy made national headlines. "Because it was such a visible death and we were visible as a band, it felt like we should let people go through this with us," Crowder says.
Everybody Wants to Go to Heaven but Nobody Wants to Die was the end result. Weaving candid instant-message exchanges between snippets of bluegrass history and a philosophical examination of the soul, Crowder and Hogan have succeeded in filling the societal void. The book tackles death in a completely open, touching, and strangely humorous way.
At the same time, writing helped the coauthors on a personal level. While working on the second edition (released by Zondervan this past November) the two men realized how much they had healed in two years—and how much the book had facilitated that process.
"At first it pulled me emotionally back to where I was," says Crowder. "There was some scar tissue there. To start carving away at it again was pretty tough, especially since the release of it was right around the anniversary. It made everything a little bit tender again."
But as the project progressed, Crowder realized that writing allowed him to revisit his emotions. "I think that's a unique thing a lot of people going through a grieving process don't do. It's not typical that you would write down everything you are feeling and thinking. To be able to do that was amazing."
Hogan adds, "It brought everything back into focus. It's surprising how much you forget in two years of living. I don't think it's a bad thing to look back and see how you were feeling and thinking at the time. It was hard, but at the same time it was good."

Processing Grief
Kyle's death was not the first one that Hogan experienced. He lost his father while in grade school. A childhood friend died when he was in high school. A few days after a breakup, he learned a friend's mom had died of breast cancer. His wife's grandmother died while the Hogans were in the emergency room, dealing with a kidney stone attack.
When Kyle died in 2005, Hogan "completely fell apart." He tried to hold on to the composure he "perfected and nourished" his entire life but he had never grieved properly. "We don't. None of us do."
Writing helped Hogan process a lifetime of grief "in a pretty intense way." Working on the book "brought it all up again" and he started to think about death in a new way. "I never put words to it before, and never really solidified it in my head. I never thought, 'What am I feeling and what does this all mean in terms of my faith? How am I living day to day, and what I am afraid of or not afraid of?'"
Looking back, Hogan says he wishes he had this experience "much, much earlier but it would have been impossible. I think now I have a much healthier outlook on death than I did before."
A good deal of the book traces the history of the soul—how people have viewed our eternal state through the ages. With an eye toward heaven, argue Crowder and Hogan, people are free to live more fully on earth.
But today's culture has shifted to the opposite end of the spectrum, where even churches avoid death and focus on making our earthly existence better through social justice.
Striking a balance isn't easy, even for the two authors. "Prior to this moment," says Crowder, "it felt like the present was where I was living too. I was trying—like a lot of my peers—to announce the story of God in a way that wasn't like a car salesman. My eyes were here and now. Then, all of sudden, death was upon me."
Crowder found that Kyle's death challenged his belief system. "I didn't focus on Kyle being in a better place. All I was feeling was this absence of relationship with him."
It was a turning point. Crowder says he realized then he needed to start "restructuring things in my head, so that I am looking forward rather than just staring at the present."
"Looking forward" in the book starts with looking back. The authors take you on a journey to the Golden Age of Greece, the Renaissance and the Reformation, among other eras. Least you consider skipping these sections, you would miss some great insights and funny asides.

Bluegrass in Focus
The other historical journey takes you, oddly enough, to Scotland and the hills of Appalachia, where bluegrass music was birthed. "Why are they talking about bluegrass in a book about death?" you might wonder. Crowder and Hogan gladly will explain.
"Bluegrass comes from such a deep place of suffering and sorrow," Crowder says. "For most Americans, we don't experience the toil and the struggle that this music was birthed from, until a moment like death happens, until you are up against tragedy."
Ultimately, any discussion on bluegrass is designed to take the reader to a place more eternal. "Since bluegrass is so eternally focused," says Crowder, "and tells us there is this ever after that's waiting, it brings hope to the present."
In most songs—even those from David Crowder Band—people sing about the present. According to Crowder, "That's because our culture has sort of robbed us of being able to talk about the eternal in any intelligent way that holds weight in intellectual or philosophical discussions."
Bluegrass is a genre that "points to the ever after and says it is real," Crowder adds. "Then for people to be able to sing themselves into that space is really amazing."
Considering that David Crowder Band provides congregational music, say the band mates, "we want to be able to create songs that allow people to sing themselves into a state that's better than where they currently are—to sing hope into the present."
Their book has a similar goal. "We want you to see the green pastures," says Crowder. "Death is not the ultimate calamity if the eternal presence of God is awaiting you."
When asked about his own vision of heaven, Crowder says quietly, "The only thing I can feel and say for certain is that to be in the undiluted presence of God with that knowledge of where you are is the thing that I hold on to. When I get glimpses of it, all I can think is 'wow!'"

ABOUT THE AUTHORS

David Crowder is the pastor of music and arts at University Baptist Church (UBC) in Waco, Texas, where he lives with his wife, Toni. He is also a part of the rock-and-roll extravaganza known as David Crowder Band (sixstepsrecords/EMI CMG).
Mike Hogan plays in the David Crowder Band and, although Everybody Wants to Go to Heaven, but Nobody Wants to Die is his first venture into the world of books, he has done a good bit of music writing for various magazines.

For more information about Everybody Wants to Go to Heaven but Nobody Wants to Die, please visit here.

Janet Chismar, a former Crosswalk.com editor, now works as the Senior Writer/Editor for the Billy Graham Evangelistic Association website. In her spare time, she enjoys writing about books, music and social issues. She's also now learning to appreciate bluegrass.