"In His Feathers" Celebrates Life Lived to the Fullest
Jenni Parker

AgapePress

2006

11 Nov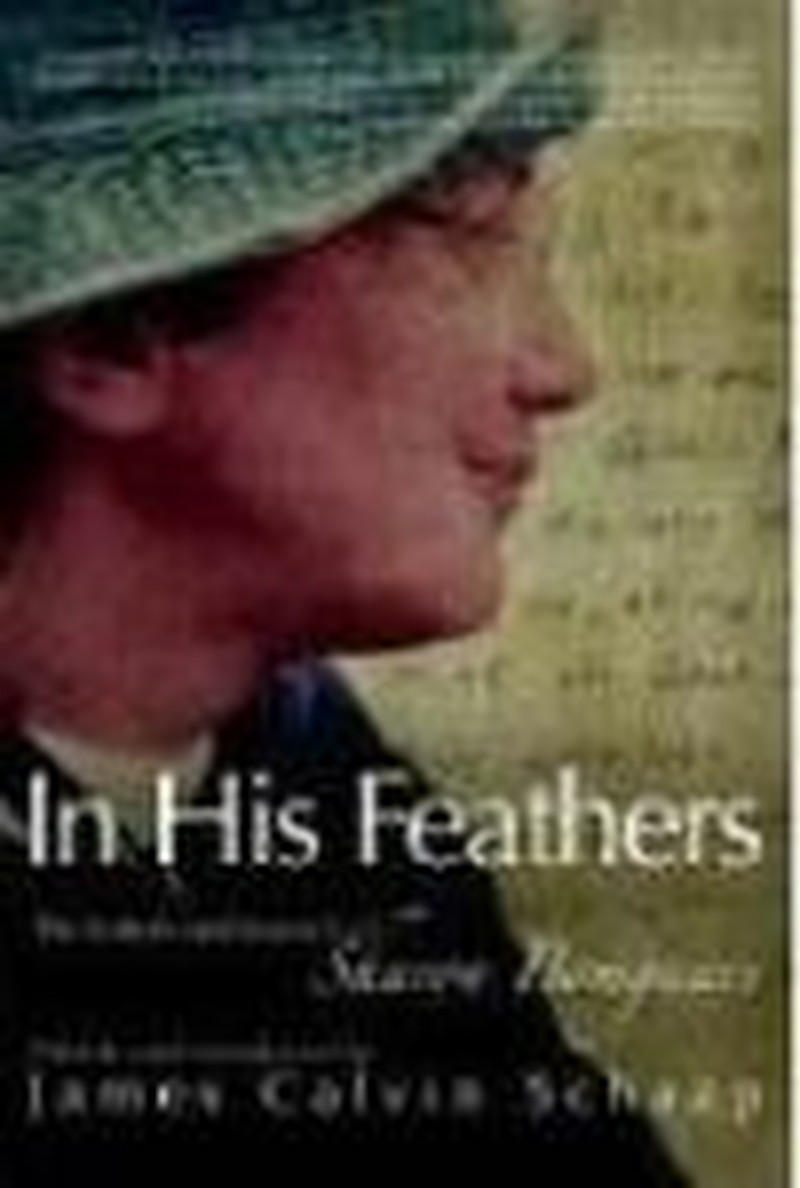 Author:  James Calvin Schaap, Editor
Title:  "In His Feathers"
Publisher:  Dordt College Press
The opening of Erich Segal's novel "Love Story" asks the question, "What do you say about a girl who died?" – a question that came back to me as I tried to come up with a way to describe a very different kind of love story I recently read.
Instead of some fictional soap opera of lost love and remembrance, "In His Feathers: The Letters and Journals of Sharon Bomgaars" (Dordt College Press), tells a true story of how one Christian wife and mother dying of cancer confronts her fate, not with "rage against the dying of the light," but with thankful celebration of the glory of God's creation, His gifts of life and love, and every bit of light His grace affords until her final sunset.
"In His Feathers," edited and introduced by Iowa-based Christian author and Dordt College professor James Calvin Schaap, paints a poignant picture drawn from the journal pages of a Jackson, Mississippi, woman of faith, of how her own faith and the love of God and family helped sustain her during the tumultuous journey from a diagnosis of ovarian cancer in 1999 to her death three years later. This important compilation details, in Bomgaar's own words, her thoughts, fears, and hopes; her pain, sorrows and joys, as well as her prayers and praises.
Sharon (Wagenaar) grew up in Iowa, where she also married Dennis Bomgaars, and where the two attended Dordt College together in Sioux Center. However, Sharon gave up her studies to become a mother; and after her husband graduated, they and their two children moved to Mississippi, where he attended Reformed Theological Seminary in Jackson, and she gave birth to two more children.
A devoted mom and homemaker, Sharon homeschooled all four of her kids through high school. She enjoyed her family, tending their healthy growth and development even more carefully than she tended the gardens, trees, and the birdhouses around their home. As an avid birdwatcher and nature enthusiast, Sharon loved the outdoors and was almost fanatical about proper nutrition and a healthy lifestyle, which was one of the reasons her cancer diagnosis at age 43 struck her as such an ironic surprise.
Not one to indulge in self-pity, Sharon faced her doctors' ominous prognosis with realism and determination. While not ruling out the possibility of a miracle, she saw the importance of teaching her kids how to accept whatever the Lord decides with humility, grace, and a thankful spirit. "When God's will seems so clear," she observed in her journals at one point, "I cannot dig in my heels and drag my feet. It seems best to me to talk with my children of my death, to prepare for it calmly, and to use this time to put my life in order and smooth the path for those I love."
Sharon Bomgaars – 1956 - 2002: "Only, I Am Not Weeping"
Also, Sharon consciously determined to make the most of the time she would have with her family, however long it might be and to establish some important memories for them to cherish in her absence. So she organized a series of "Make-a-Wish-type" trips to visit places and see sights she'd always dreamed of seeing, traveling more than 25,000 miles with family members to destinations across the United States and Canada.
Sharon said she took her inspiration for these trips from the prayer of Jepthah's daughter in Judges 11:37, whom when condemned to die asked that she be granted "two months to roam the hills and weep" with her friends. "Only, I am not weeping," she admitted in her journals.
Rather, the dying woman confided, "I feel I am partying – traveling and shopping and eating ice cream cones and doing all those things I could not do when the kids were small and I never left home except to go to the grocery store." And while she felt sure her post-diagnosis travel adventures were "a frivolous pleasure," she remarked, "it is a pleasure that I am very glad that God allowed me."
During her three-year battle with the disease, Sharon experienced the highs and lows of life with terminal cancer and chronicled those highs and lows with unstinting honesty. Through her journal, she posthumously allows others to accompany her through it all, from the moments of remission and well-being to the agonizing experience of fighting the painful regrowth of tumors with what were often equally painful surgical and chemotherapy treatments, and her increasing weariness and debilitation as the deadly cancer advanced inexorably upon her waning life.
Although Sharon's faith never failed, at times her upbeat disposition and cheerful outlook did. In a moment of characteristic honesty, she once admitted her jealousy of those she would be leaving behind, observing, "I would love to have a future. I feel as if I am being fed a meal, blindfolded." The dying wife and mother described her situation as being similar to having God spoon-feed her morsels of life, bite by bite.
"I can see nothing," Sharon wrote. "I don't know what the menu offers. And I can't even see the table. Will the next bite be bread and butter, or chicken and stew, or will the spoon be empty? I can only wait and wonder. You seem to be looking at a banquet ... and you choose your bites. ... That's what I'm jealous of – that seeing the meal and choosing the next bite."
Yet, throughout her story, Sharon's journals reveal a heart neither bitter nor filled with regrets. She repeatedly expressed gratitude that God allowed her to live to raise her children to adulthood and even to see two sons marry before she died; and at one point she noted that she had received plenty of "little treats" from God. "I can't have the big prize (life)," she said, "but He sure gives me lots of little ones."
At the end of "In His Feathers," Sharon's own final remark – typical of her – ascribes goodness and faithfulness to her maker. "God is gracious," she wrote. "He has sustained me through cancer." And although I confess I was weeping as I closed the book, I do not think of this account of her life, ultimately, as a sad story.
A popular song recorded by country singer Tim McGraw features an unnamed "narrator" who explains how he faced the revelation of his own terminal illness, confronting the awful news of his mortality by going skydiving, "rocky mountain climbing," bull riding, and taking on other new experiences.
As the song continues, the storyteller goes on to say that, as a result of his imminent death, his life changed, such that he "loved deeper," "spoke sweeter," and gave forgiveness he'd "been denyin'." Then, slowing to linger over the last words of the chorus, the singer ends with a memorable hook:  "And he said, someday I hope you get the chance to live like you were dyin'. ..."
That last line of the song, like the first line of "Love Story," comes back to me as I reflect on Sharon Bomgaars' life and death. What can you say about the woman whose story is told in the pages of "In His Feathers"? I would say she was someone who lived a beautiful life of faith and selflessness. And she is someone who, faced with imminent death, delighted herself in the Lord and His gifts in a way that made her death beautiful as well. She didn't live like she was dying, so much as she died the way she had lived – gratefully, graciously, all the while giving honor to God and thought for how to make every moment of the journey meaningful.
Sharon's life and death are a challenge to those of us whose lives may or may not be threatened by anything so relentless as cancer, but who are nevertheless compelled by circumstance, as she was, to answer some of life's hardest questions. Among those questions are how will we accept the path God has ordained for us, and what will we do with the time we have left. How now shall we live, always ready to die but without ever ceasing to live the abundant, full life to which we have been called?
The answers Sharon Bomgaars offers us through her journals will undoubtedly inspire and challenge many to celebrate life with all its vagaries, tragedies and triumphs alike. Her story will also remind many, as it did me, to be grateful for the lives we are given and the fact that we live each day in the shadow of God's wings – or, as Sharon would have put it, "in his feathers."

© 2006 AgapePress.  All rights reserved.  Used with permission.