Jesus and the Feminists: Who Do They Say That He Is?
Margaret Elizabeth Kostenberger

Author

2008

27 Nov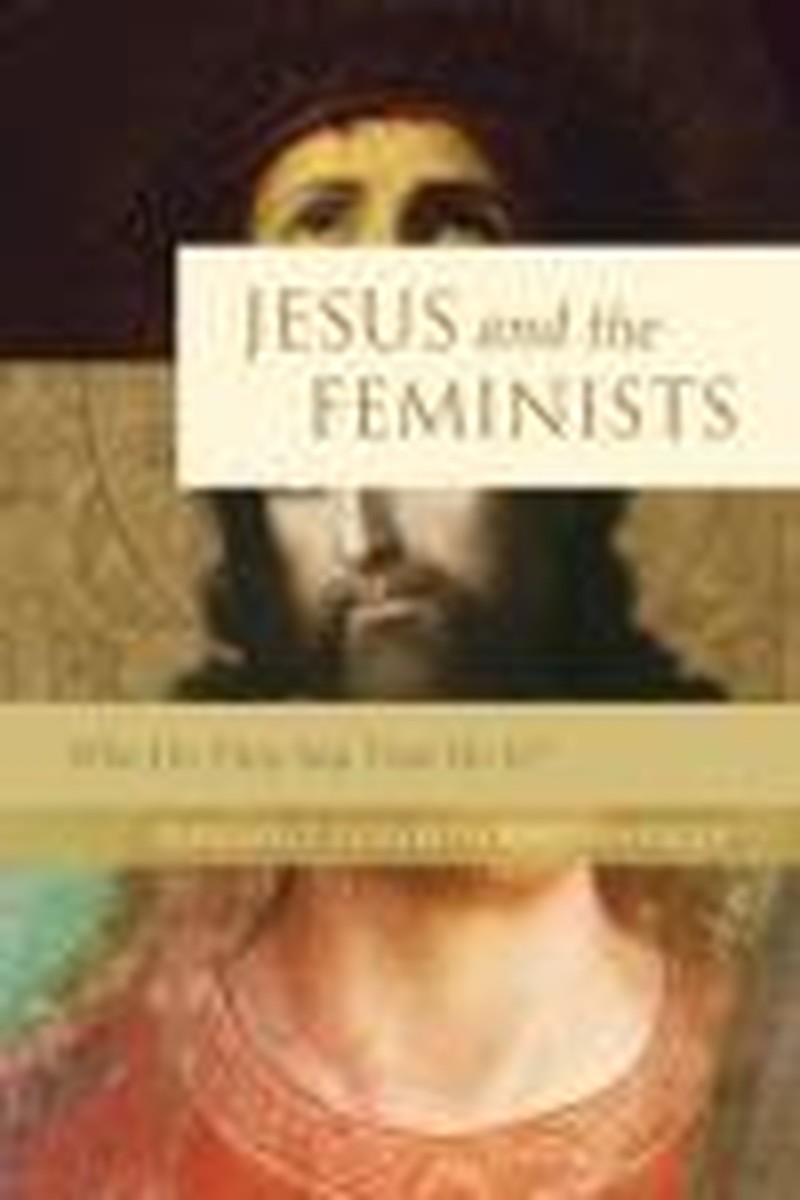 EDITOR'S NOTE: The following is an excerpt from
Jesus and the Feminists: Who Do They Say That He Is?
by Margaret Elizabeth Kostenberger (Crossway).
Chapter One: All We're Meant to Be: Feminism Confronts the Church
Today we stand at the crossroads. As Christians we can no longer dodge the "woman problem."
To argue that women are equal in creation but subordinate in function is no more defensible than "separate but equal" schools for the races.
—Letha Scanzoni and Nancy Hardesty, All We're Meant to Be (1974)1
It is an undisputable fact that over the course of church history women have been misunderstood and undervalued. In the first few centuries of the Christian era, women were generically blamed for Eve's sin and viewed as temptresses and morally inferior. Only slowly did the Enlightenment change people's attitudes toward women, and fairly recent American history revealed that women were denied basic human rights.
When on March 31, 1776, Abigail Adams wrote in her famous letter to her husband, Congressman John Adams, "I desire you would Remember [sic] the Ladies, and be more generous and favourable to them than your ancestors" in the "new code of laws." John chose not to grant her request, and "all men" were pronounced equal in the Declaration of Independence. It was less than a century ago that women received the privilege to vote and were given equal pay for equal work, along with many other common human freedoms in America.
While it is certainly healthy and appropriate for women to be valued and to receive these kinds of liberties, a woman who is committed to God and his purposes will want to be open and submissive to the plan God has for her in Scripture. It is true that in the midst of the conflicting voices on how a woman's identity is to be construed in this world, determining and practicing what the Bible has to say and what Jesus' own teaching and practice were with regard to women is a challenge.
Many influential feminist voices have risen to challenge the long-held conservative interpretation of Scripture regarding women, and it is my hope to honestly address and wrestle with these alternative views on Jesus in order to enable women to clarify and lay aside the misunderstandings or misrepresentations that linger. This direct confrontation should help to clear up the confusion and wavering in women who desire to serve him in committed submission. True freedom comes from obedience to God's will.
In order to set the stage for the study of Jesus' approach to women, we will begin with a survey of the rise of feminism. After this we will explore some of the most important issues impacting the feminist interpretation of Scripture. The remainder of the book will focus on and evaluate each of the major schools of feminist thought on the topic of Jesus and women.

The First Wave of Feminism
The period of church history leading up to the Protestant Reformation is a good place to begin examining the rise of the feminist movement, a time when ecclesiastical authority was firmly vested in the hands of men. The Reformation itself, with its emphasis on the right and obligation of individual believers to study the Scriptures for themselves, embodied the seeds of a greater consciousness of the value of women. This consciousness led certain women to assert their right to preach and teach.2
Among the first was Anne Hutchinson, who was condemned for dissenting from Puritan orthodoxy in 1638.3 Later, women rose to a prominent role in the campaign to abolish slavery in the American South, a campaign that extended also to women's rights. This quest for legal equality of women in conjunction with the appeal for the abolition of slavery is commonly known as the "first wave" of feminism.4
In the 1830s, Mary Stewart was the first to advance issues of gender equality and social justice in the United States.
The Grimké sisters, Angelina and Sarah, contributed the treatises "Appeal to the Christian Women in the South" (1836) and "Letters on the Equality of the Sexes and the Condition of Women" (1837), respectively, claiming that the Bible had been misunderstood and mistranslated.5
The Seneca Falls "Declaration on Women's Rights" issued in 1848 summed up women's concerns with regard to the male-dominated system in their day.
The Quaker Lucretia Coffin Mott argued in an 1849 sermon that Scripture was not supremely authoritative or inspired. In the same year, Antoinette Brown published an article in the Oberlin Quarterly in which she set forth the argument that 1 Corinthians 14:34–35 and 1 Timothy 2:12 merely proscribe inappropriate teaching by women.6 She was ordained in the Congregational Church, New York, in 1853—probably the first American woman to undergo ordination.
Other outspoken women in the second half of the nineteenth century included Catherine Booth, cofounder of the Salvation Army; Frances Willard, who established the Woman's Christian Temperance Union; and Katharine Bushnell, leader of women's equality Bible studies.
First-wave nineteenth-century feminists used two primary methods for interpreting Scripture. The first method sought to counter the argument of those who limited the role of women by reasoning from passages that spoke of the "equality"7 of men and women in Christ. The second method made use of female characters in Scripture that could serve as role models for women in leadership, such as Deborah, Ruth, and Esther.8 Toward the end of the nineteenth century, a more critical approach began to take hold. This approach labeled the actual biblical texts as sexist and challenged their integrity, including their view of women. All of these approaches mark the first stage of feminist hermeneutics—methods of interpretation—and form the foundation of feminist biblical interpretation.
The rising tide of women active in Christian ministry and scholarship reached a culmination point in The Woman's Bible, edited by Elizabeth Cady Stanton (1895, 1898).9 The work resembles a commentary more than a translation, with twenty women contributors enlisted to comment on selected biblical passages judged significant for women.10
Stanton herself did not consider the Mosaic law to be inspired,11 yet she acknowledged the powerful influence of the Bible as the bedrock of male-dominated Western law and civilization. Believing that women's emancipation would be impossible if Scripture's position continued to be accepted, Stanton applied a supposed "higher criticism" to erode its authority, particularly with regard to biblical teaching on women.12 The historicity of biblical narratives was challenged and certain criteria of authenticity were applied to test their reliability. In so doing, Stanton attempted to correct traditional interpretations of passages related to women and sought to achieve legislative reform through a reinterpretation of the Bible.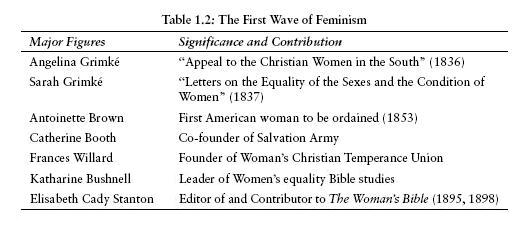 The Second Wave of Feminism
Through the efforts of Stanton and her friend Susan B. Anthony and many others, women in America gained the right to vote in 1919.13 The decades subsequent to this female milestone (1920–1960) saw little growth in the women's movement. It was only when American society entered a major social upheaval in the 1960s, with an anti-establishment message and a civil rights emphasis, did modern-day feminism emerge. Initially, this second wave of feminism was a radical, secular phenomenon seeking only to extend the feminist movement to the social and economic realm.14
It received its major impetus from the French author Simone de Beauvoir's The Second Sex (1949; English translation 1952).15 In the United States, women such as Betty Friedan, author of The Feminist Mystique (1964) and first president of the National Organization of Women (NOW) founded in 1966, and Gloria Steinem, who launched Ms. magazine in 1971, which she edited until 1987, also had a large impact on the general culture as they sought to promote women's emancipation in the larger society, the workplace, and the home.16
Soon, however, Christian feminists took up the task of providing an interpretation of Scripture that sought to give special consideration to women's concerns and interests, especially in the ecclesiastical realm, and this had a marked impact on Christian theology.


Developing feminist theologies within existing cultural and social contexts included the African American "womanist" and the Hispanic mujerista theology in America, as well as emerging feminist theologies from European, Latin American, Asian, and African origins.17 Feminist theology, in its diverse manifestations, confronted the issue of authority, challenging traditional understandings and seeking to address the patriarchal and sexist domination and marginalization of women in all sectors of society—political, social, and religious.
The term theology, coined by Canadian Naomi Goldenberg, called for reflection on the divine feminine and on coinage of feminist terms. Hence, a major task of feminist theology was the rethinking of traditional male symbols and concepts in an effort to eliminate patriarchy and legitimize female power.
It was at a conference in Chicago in 1973, "Evangelicals for Social Action," that the Evangelical Women's Caucus was started. From 1975 to 1983 the movement grew, but so did tensions regarding biblical interpretation and inerrancy. An organizational fracture took place in 1986 when divergent views on the authority of Scripture emerged surrounding the issue of homosexuality. This led to the establishment of Christians for Biblical Equality (CBE), a leading advocate of biblical or evangelical feminism, also called egalitarianism owing to its emphasis on women's equality to men in all spheres of life.18
Over time, three general groups of feminists emerged: (1) radical feminists, (2) reformist feminists, and (3) biblical or evangelical feminists or egalitarians.19 In simple terms, radical feminism rejected the Bible and Christianity as unusable because of their male patriarchal bias. Radical feminism focused on feminine religious experience as a key to interpretation. Reformist feminism essentially rejected Christian tradition about women and used the Bible as a means to reconstruct a "proper" positive theology. However, the Bible itself was not seen as inerrant or authoritative. The third movement, evangelical feminism, rejected a critical stance toward Scripture. Evangelical feminists said that nothing in the Bible should be rejected, and Scripture was seen as teaching complete male-female equality.20


The 1980s witnessed the first conservative responses to evangelical feminism, including works by Susan Foh and James Hurley.21 In addition, further works advocating the egalitarian viewpoint, such as those by Mary Evans and Mary Hayter, appeared.22 Two North American organizations were established during this period. One, which promoted egalitarianism, was the above-mentioned group Christians for Biblical Equality (CBE), and the other group, rooted in complementarianism, was The Council on Biblical Manhood and Womanhood (CBMW).23 Subsequently, the hermeneutical and exegetical dimension of this debate was explored with increasing sophistication.24 Gender wars over men's and women's roles in the home, the church, and society were raging.
The Third Wave of Feminism
The most recent development of feminism is often referred to as Third Wave feminism. Its beginnings can be traced to the early 1990s. The major features and proponents of Third Wave feminism can be gleaned from examining the two-volume reference work edited by Leslie Heywood, The Women's Movement Today: An Encyclopedia of Third-Wave Feminism.25 Third Wave feminism is characterized by an even more radical pursuit of feminine self-realization completely removed from any guiding Christian principles.
We will delve into the details of these three waves of feminism on the pages ahead.
Footnotes:
1. L. Scanzoni and N. Hardesty, All We're Meant to Be: A Biblical Approach to Women's Liberation (Waco, TX: Word, 1974), 205.
2. W. Baird, History of New Testament Research, Volume Tw From Jonathan Edwards to Rudolf Bultmann (Minneapolis: Augsburg Fortress, 2003), 331–32, 335–37.
3. See also C. Bolt, The Women's Movements in the United States and Britain from the 1790s to the 1920s Amherst, MA: University of Massachusetts Press, 1993), 19, who refers to Mary Astell, whose anonymous publications appeared primarily between 1694 and 1705, as "perhaps the best-known English feminist before Mary Wollstonecraft" a century later.
4. Bolt, in ibid., 26, also mentions that, in the 1820s, Catharine Beecher, daughter of the well-known Congregational preacher Lyman Beecher, opened a female seminary in Hartford, Connecticut. She notes that Beecher and others did not proclaim themselves feminists but maintains that these women "prepared the ground for the nineteenth-century women's movement." See also J. Cottrell, Feminism and the Bible: An Introduction to Feminism for Christians (Joplin, MO: College Press, 1992), chap. 1.
5. C. Gifford, "American Women and the Bible: The Nature of Woman as a Hermeneutical Issue," in Feminist Perspectives on Biblical Scholarship, ed. A. Y. Collins (Chico, CA: Scholars Press, 1985), 14–20; D. W. Dayton, Discovering an Evangelical Heritage (New York: Harper, 1976), 89–91; and Bolt, Women's Movements, 61–78.
6. A. Brown, "Exegesis of I Corinthians XIV, 34, 35 and I Timothy II, 11, 12," Oberlin Quarterly 4 (1849): 358–73; see Dayton, Discovering, 88–89.
7. As will be seen later in this book, the definition of equality is at the very heart of the controversy surrounding women's roles. Is "equal" to be understood in terms of equality in worth or does it encompass what God has called women to do in the church and in society?
8. A. Y. Collins, ed., Feminist Perspectives on Biblical Scholarship (Biblical Scholarship in North America 10; Chico, CA: Scholars Press, 1985), 4.
9. See the summary in Cottrell, Feminism and the Bible, 26–37.
10. Gifford, "American Women," 27–30.
11. E. C. Stanton, The Woman's Bible (repr. New York: Arno, 1972 [1895]), 12.
12. Ibid.
13. See Bolt, Women's Movement, chaps. 5 and 6.
14. See Cottrell, Feminism and the Bible, chap. 2.
15. See M. A. Kassian, The Feminist Mistake: The Radical Impact of Feminism on Church and Culture (Wheaton, IL: Crossway, 1992), 18–22.
16. See Cottrell, Feminist and the Bible, 43–48, who lists Friedan and Steinem together with Kate Millett and Germaine Greer as the "architects of the movement" (i.e. second wave feminism); and Kassian, Feminist Mistake, 23–27. Kassian discerns three stages in the development of Second Wave feminism: (1) naming self (1960–1970); (2) naming the world (1970–1980); and (3) naming God (1980–1990).
17. For an interesting treatment see L. A.-L. Abrahams, "A critical comparison of Elisabeth Schüssler Fiorenza's notion of Christian ministry as a 'Discipleship of Equals' and Mercy Amba Oduyoye's notion as a 'Partnership of both men and women'" (minithesis, University of Western Cape, 2005). Cf. M. A. Oduyoye, "African Women's Hermeneutics," in Initiation into Theology: The Rich Variety of Theology and Hermeneutics (ed. S. Maimela and A. König; Pretoria: J L van Schaik, 1998), 359–71; and D. M. Ackermann, "Feminist and Womanist Hermeneutics," in ibid, 349–58.
18. P. D. H. Cochran, Evangelical Feminism: A History (New York; London: New York University Press, 2005), 77–109.
19. For the most part, "evangelical feminism" will be used in the remainder of the book to describe this movement also known as biblical feminism or egalitarianism.
20. Kassian, Feminist Mistake, 249–50.
21. Such as S. T. Foh, Women and the Word of God: A Response to Biblical Feminism (Phillipsburg, NJ: Presbyterian and Reformed, 1979); J. B. Hurley, Man and Woman in Biblical Perspective (Grand Rapids, MI: Zondervan, 1981).
22. E.g. M. J. Evans, Woman in the Bible (Downers Grove, IL: InterVarsity, 1983); M. Hayter, The New Eve in Christ: The Use and Abuse of the Bible in the Debate about Women in the Church (Grand Rapids, MI: Eerdmans, 1987).
23. Representative works from these two camps are Women, Authority & the Bible (ed. A. Mickelsen; Downers Grove, IL: InterVarsity, 1986), as well as now Discovering Biblical Equality (ed. R. W. Pierce and R. M. Groothuis; Downers Grove, IL: InterVarsity, 2004), and Recovering Biblical Manhood and Womanhood (ed. J. Piper and W. Grudem; Wheaton, IL: Crossway, 1991). The work by Mickelsen includes essays on biblical authority and feminism; the meaning of kephal in the New Testament; and exegetical chapters on 1 Corinthians; Gal 3:28; and 1 Tim 2:12, plus thoughts on contemporary implications. Piper and Grudem's work covers much of the same territory from a complementarian perspective yet is even more comprehensive. Discovering Biblical Equality follows the exact same format as the work by Piper and Grudem and provides a chapter-by-chapter egalitarian response. For a survey of biblical feminism see chap. 19 in Kassian, Feminist Mistake.
24. See A. J. Köstenberger and T. R. Schreiner, eds., Women in the Church: An Analysis and Application of 1 Timothy 2:9–15, 2nd ed. (Grand Rapids, MI: Baker, 2005); A. J. Köstenberger, "Gender Passages in the NT: Exegetical Fallacies Critiqued," Westminster Theological Journal 56 (1994): 259–83; S. J. Grenz with D. M. Kjesbo, Women in the Church (Downers Grove, IL: InterVarsity, 1995); and W. J. Webb, Slaves, Women, and Homosexuals (Downers Grove, IL: InterVarsity, 2001).
25. L. L. Heywood, ed., The Women's Movement Today: An Encyclopedia of Third-Wave Feminism, 2 vols. (Westport, CT: Greenwood Press, 2005). See also J. Baumgardner and A. Richards, Manifesta: Young Women, Feminism, and the Future (New York: Farrar, Straus and Giroux, 2000); and L. Heywood and J. Drake, eds., Third Wave Agenda: Being Feminist, Doing Feminism (Minneapolis; London: University of Minnesota Press, 1997).

Jesus and the Feminists: Who Do They Say That He Is?
Copyright © 2008 by Margaret Elizabeth Kostenberger
Published by Crossway Books, a publishing ministry of Good News Publishers
1300 Crescent Street Wheaton, Illinois 60187
All rights reserved. No part of this publication may be reproduced, stored in a retrieval system or transmitted in any form by any means, electronic, mechanical, photocopy, recording or otherwise, without the prior permission of the publisher, except as provided for by USA copyright law.