Leading on Empty
Wayne Cordeiro

Author

2009

22 Jan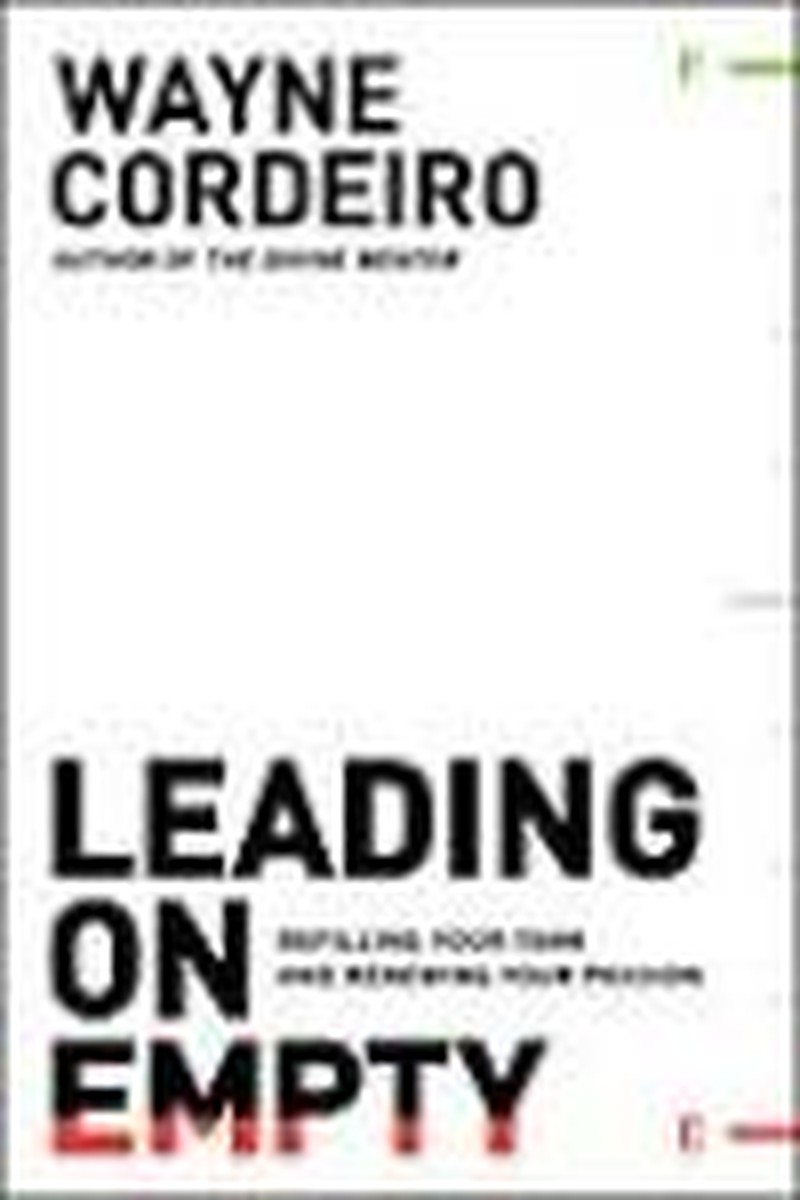 Editor's Note: The following is an excerpt from Leading on Empty: Refilling Your Tank and Renewing Your Passion by Wayne Cordeiro (Bethany House).
Introduction
We don't forget that we are Christians. We forget that we are human, and that one oversight alone can debilitate the potential of our future.
It arrived without warning like an uninvited guest. Decisions that were once simple now refused solution, and I found myself dodging anything that required my emotional input. My once stalwart faith was left fragile; I avoided whatever required my action.
It was a balmy California evening. I had gone for a jog before I was to speak at a leadership conference. I still can't recall how I got there, but I found myself sitting on a curb weeping uncontrollably. I couldn't tell if it took place suddenly or gradually, but I knew something had broken inside. I remember lifting my trembling hands and asking out loud, "What in the world is happening to me?"
I had been leading on empty.
That incident on a California curb began a three-year odyssey I could never have imagined. It was a journey through a season of burnout and recalibration that would radically change my lifestyle, my values, my goals, and even adjust my calling. Everything I had blissfully taken for granted was about to come under brutal scrutiny.
My vision for the church was barren, and the once alive heart that beat incessantly for others had begun to shrink. Each day that passed was taking a toll on me, but I didn't know how to stop the bleeding. Whatever was causing the drain was winning.
If I had been alert, I might have seen the signs before that curbside meltdown and recognized them for what they were. But for some reason, I ignored them.
One of the common anesthetics that numbs us to these dark harbingers is thinking, "It could never happen to me!"
But the signs were all around me. I ignored them. Simple problems refused solution. Anything that necessitated emotional energy sent me in the other direction. My faith was bruised and fragile. My confident demeanor had turned pensive, and a soul that used to be an ocean of life was now a stagnant tide pool.
What had broken loose on that mild twilight run? Was it an emotional hemorrhage? If so, how would I stem the bleeding? I had no idea where to begin the triage. I had to figure out what was happening, how to somehow repair the inner damage.
But who has time for that?
My schedule determined my song and an inner conductor set the rhythm. I was simply playing the part that had been given to me, and I didn't know if I could change the score.
In this case, the road to success and the road to a nervous breakdown were one and the same.
Over the ensuing months, I would wrestle with bouts of depression, losing some rounds but continuing the fight. With the help of a doctor, an understanding wife, a supportive church, and the strength and wisdom of God, I would survive a course of invaluable life lessons that would demand the highest tuition I have ever paid.
My love for God had not abandoned me. My marriage was stable, and the ministry seemed healthy. But I still had no idea how to confront the silent predator that was stalking me—sometimes far behind and at other times, so close I could feel its breath on my neck.
If there were a pill I could have swallowed that would have kept me from this inner collapse, I'm glad I didn't find it.
Suffering will change us, but not necessarily for the better. We have to choose that. And it was the choosing that made all the difference for me.
Chapter One: When the Needle Points to Empty
"I am weary with my groaning and have found no rest." —Jeremiah 45:3
Not long ago I was asked to meet with two dozen of the nation's brightest and best emerging church leaders through a wonderful organization led by Bob Buford called The Leadership Network. The men who gathered were all around forty years old with congregations over 3,000. Larry Osborne of North Coast Church and I were the supposed white-haired veterans from whom these young leaders could extract wisdom. (I hope they didn't pay much for this conference!) Nevertheless, we interacted and shared what we could.
On the second day, conference organizers asked these young leaders a question that caught many of them (and me, too) off guard.
What do you fear the most?
As they each took turns answering, tears began to flow freely and several couldn't finish their sentences. One admitted that he didn't know how much longer his marriage could sustain the pressures. But it was another leader's answer that grabbed my attention.
His greatest fear? "I just don't want my kids growing up hating God because of me."
Observing the lives of many of these forty-something leaders, I saw the unmistakable signs of burnout already emerging.
When the signs of burnout appear, it's time for a break.
A mother with children in diapers doesn't have the option of leaving her babies to fly to Hawaii to get a break from the late-night feedings. The captain of a football team can't decide to stay home from a strategic game simply because he wants to finish watching his favorite rerun. And neither can a pastor of a growing church cash in on a last-minute half-price deal for a Caribbean cruise.
As a senior pastor, my life was book-ended with weekend services. I had developed the discipline of image management, but I was slowly collapsing on the inside. A slow-motion implosion.
Pastors are expected to lead even when our desire or inclination to do so is severely challenged. I knew that others loved me, but the great expectations which had systemically ingrained themselves into the fabric of who I was became the person I could not escape.
How do you lead on empty? How do you continue when you don't feel like being in front anymore?

Leading on Empty: Refilling Your Tank and Renewing Your Passion
Copyright © 2009 by Wayne Cordeiro
Published by Bethany House Publishing, a division of Baker Publishing Group
PO Box 6287 Grand Rapids MI 49516-6287
Used by permission. All rights reserved. No part of this publication may be reproduced, stored in a retrieval system or transmitted in any form by any means, electronic, mechanical, photocopy, recording or otherwise, without the prior permission of the publisher, except as provided for by USA copyright law.