Letters from the Closet Poignant but Problematic
Susan Ellingburg

Crosswalk.com Contributing Writer

2013

19 Apr

COMMENTS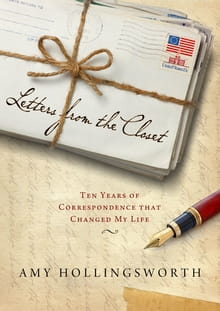 Author: Amy Hollingsworth
Title: Letters from the Closet
Publisher: Howard Books
She was a high-school girl. He was her teacher. She was his best student, an anorexic over-achiever with a dysfunctional home life. He was "a genius with the emotions of a thirteen-year-old girl" and gay—in a time when sexual harassment of females was socially acceptable but homosexuality decidedly was not. Their relationship began when she walked into his classroom and continued—mostly via letters—for years.
Their story is fascinating but this book . . . not so much. Fans of Hollingsworth's The Simple Faith of Mister Rogers —also based on a relationship conducted mostly by correspondence—will not find the calm tone and sweet stories of her earlier work. This is more an obsessive analysis of a relationship that is equal parts difficult to define and difficult to read. That theirs was an emotionally intimate, deeply impactful connection is obvious. But the author refers to her mentor (John) with such reverence it's a wonder she didn't title the book the "Gospel of John." She pores over his every written word with the intensity of a seminary student studying Holy Scripture in the hopes of finding the key to eternal salvation. But alas, John was not God and his words were not Gospel. Although is no longer among the living, John's messages apparently continue to arrive from beyond the grave as Hollingsworth writes at length about his appearances in her dreams. "My postmortem visits with John," she writes, "have been as important to understanding our relationship as our real time together."
Clearly Hollingsworth is deeply invested in this long-term liaison, but I found it hard to share her enthusiasm for John's literary and philosophical rants. But then, I've never been much of a fan of Freud, either, and he's another major player in this psychological autopsy. More than once the author quotes Patrick Dennis's book 3D: "If God in Heaven failed, there was always God in Vienna. As a team, God and Freud were unbeatable." Eventually she did find "God in Heaven" but there's a lot of the Vienna version to deal with first.
Kudos to the publisher for setting the excerpts from John's letters in an easy-to-read handwritten font, which makes it obvious who is speaking and adds visual interest. Not so successful is the succession of seemingly random quotes in call-out boxes. Possibly meant to be memorable takeaways, they serve more as mental roadblocks for those who stop to wonder why that sentence was deemed worthy of emphasis.
The description on the back of the book says, "Timely and relevant, this is a love story of the most contemporary kind . . . a poignant commentary on the values that unite us all." I'm not so sure about that. While I came away from the story respecting the difficult roads both the author and her mentor had to walk, shared values were not so easily found. I liked the author as a character—I just wish her memoir was more enjoyable to read. Perhaps all the introspection, literary allusions, and psychoanalysis are her attempt to get one last set of high marks from her teacher.
*This Article First Published 4/19/2013