Listening In – Part II
CCM Magazine

2004

9 Mar

COMMENTS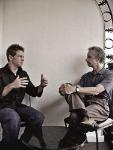 Last month, we debuted our new "Listening In" feature, letting readers "sit in" on a conversation between an artist and another influential person in, or of interest to, the Christian community. We unveiled the first part of recording artist Steven Curtis Chapman's and author Philip Yancey's conversation, where they shared, discussed and sometimes rambled about everything from the way they create their individual art to God-honoring sexuality (Believe it.).
This month, we eavesdrop again for the conclusion of this discussion as these two thinkers tackle whether or not there should even be a Christian industry in addition to the mainstream; and, for all of you fans of U2, Philip offers a little insider story about his friends. So sit back, relax and see what these two have to say!

---
Steven:  One of the things we struggle with in the church at large is this constant tug of war that goes on of, "Are we just preaching to the choir? Are we really reaching the world; are we really impacting the culture if we're just speaking to other Christians?"
There's an Eric Little quote in "Chariots of Fire" when his father says, "Run in God's name, and let the world stand in wonder." You do what you do, you do it for the glory of God, and you know the motivation. And it's going to look different for every artist. Every artist is going to have a different stroke with his or her brush, a different stroke with his or her pen, a different way of approaching it. There are going to be those who communicate musically to the culture at large. MercyMe is finding itself in the middle of this huge explosion of a song called "I Can Only Imagine." That is as Christian a song as has ever been written, and it's been a smash hit on pop radio. So, you just do what you do, and God brings those opportunities.
Philip:  I think it's OK to tell this story. U2 came to New Orleans and played in the Superdome. Brennan Manning ["The Ragamuffin Gospel", "Signature of Jesus"] was in New Orleans, so they looked him up because they had read his books. Edge [guitarist] said, "OK, Brennan, I have two questions for you." I forget the first one. The second one was: "Can I glorify God by being the best rock guitarist I can be?" And Brennan said, "Absolutely you can. If that's your calling, you can."
In a lot of ways Edge is a more thoughtful, content-oriented guy than Bono. But he's aware that Bono's the front guy. [He's probably thinking:] "Bono is the media-savvy [one]. He can handle the crowds, and that's not my goal, and that's not my calling. I probably wouldn't be very good at it. But I can be God's guitarist!"
Steven:  Wow, that's incredible.
Philip:  Bono is an interesting example here because [U2] tried intentionally not to be a "Christian rock band," even though some of the guys are strong Christians. Yet he came to a point where he said in USA Today, "We live in this crazy celebrity culture. Like an athlete, I've got the attention of the world; so what matters most? To me what matters most is the continent of Africa, AIDS and the debt and the poverty these people live under." It's actually the most Christian continent in a lot of ways. So I'm going to use this crazy platform I have because I play music and use it for things I believe in."
He wasn't doing that 10 to 15 years ago, and all these Christians were wondering, "Are they still Christians?" But he's very strategic. He waited until his credentials were secure. He can walk into George Bush's office as he does because he didn't get pigeon-holed as a Christian rock musician. But now he's matured, and he's saying, "How am I a steward of this crazy celebrity culture?"
Steven:  In terms of Christian music, should there even be a contemporary Christian music? Should there even be a Christian Booksellers Association? Obviously, you're grateful there is; but do you think it's a matter of being called to different things, of God placing different callings, putting people in different places to do that?
Philip:  That's part of it. And then part of it is just the mechanics of distributors and outlets. Even now, most secular bookstores have in their religion section probably as much New Age and non-Christian religion material [as Christian religion material]. It's all mixed in there together. They do not give a fair shot to the 46 million Americans who call themselves "born again."
If one out of three Americans considers himself/herself a born again Christian, you would think, in a bookstore, one out of three products would speak to those people. Instead it's one out of 3,000. So part of it is just a practical matter.
You're an artist; I'm a writer, and we're both trying to make a living. You make a living off a tiny percentage of a product out that's sold; but if nobody can get that product, you wither. So the Christian booksellers sprang up because those books weren't in secular outlets. That's changing a lot. Eventually, secular [outlets] were saying, "Hey, they're [Christian booksellers] making a lot of money over here; I can sell that, and they don't care."
Steven:  The old dollar starts calling them.
Philip:  They don't care whether it's Buddhist, yoga, massage or what! But, for me, the calling is more the platform. Most Christian writers have another platform. Like Chuck Colson: His platform is his history and his current Prison Fellowship [ministry]. Max Lucado's platform is the pulpit. In fact, most authors who have best-selling books – such as Rick Warren – are people who have another job.
I don't have another job. My calling is that I'm just an ordinary pilgrim. I don't have a board [of directors], and I don't have a group of elders telling me, "Don't talk about this, and don't talk about that." So I sit there in church just like anybody else and try to figure out, "OK, does any of this make sense?" Is it like the pastor tells me it's going to be; and if my prayers seem dead, is that my fault, is it God's fault? So it's a glorious freedom to be able to ask any of those questions. I'm usually pretty intimidated when I ask them, wondering: "Am I the only one?"
Later I find out, actually, most of the people sitting there are also asking, "Am I the only one not getting it?" We live in a culture that's saying the opposite all day long, and it's just not easy. For me and for Christian musicians, too, you just have to figure out: What is my calling, and who is my audience? So it's just being faithful to the calling.
Really, what any artist has is an individual point of view. There's a quote that says: "I can't imagine how God could love the particular person that is me; but I can imagine how God is incomplete, that somehow His work, His creation is incomplete without the particular point of view represented by everyone on earth." So you have to be faithful to that point of view.
And, in my case, it involves a very unhealthy church background; so I have to be honest about that and call it like it is, even though I hurt people sometimes when I do that. Other people say, "This is the body of Christ; you shouldn't criticize them." I say, "Well, it doesn't look a lot like Christ, so it doesn't have to!" So we just have to figure out our calling and what our point of view is.
Steven: I think there's a part of all of us that imagines ourselves as being "Bonos." If we play Christian music and think, "Man, here's a guy who has communicated great truth; but he's also been a really cool rock star and has developed this platform on which he can speak." Sometimes there's this struggle of [wondering] if [what you're doing is] second rate. I think the kind of ministry that's accomplished when you write a book like "What's So Amazing About Grace" or "Disappointment With God" – and reach beyond anybody who would probably ever pick up a Phillip Yancey book – is that those people will grapple with their faith and wrestle with the disappointment of where they're living right now. All of the sudden there will be a revelation of, "Wow, this is what God is trying to say to me through all of this. Now I can be a more believable Christian because this is real now."
I make music, and you write books for Christians. But if we can somehow pour His truth into the lives of others, they are going to go live a more authentic, real Christian life. And that's evangelism; that's the Great Commission being carried out. We can never underestimate the impact of that as well as those opportunities we have to speak to the culture at large.

To view the entire transcript from this interview, go to CCMmagazine.com.
© 2004 CCM Magazine.  All rights reserved.  Used with permission.  Click here to subscribe.