Loving, But Honest, "Legacy of Faith" a Fine Tribute
Laura MacCorkle

Senior Entertainment Editor

2006

30 Jun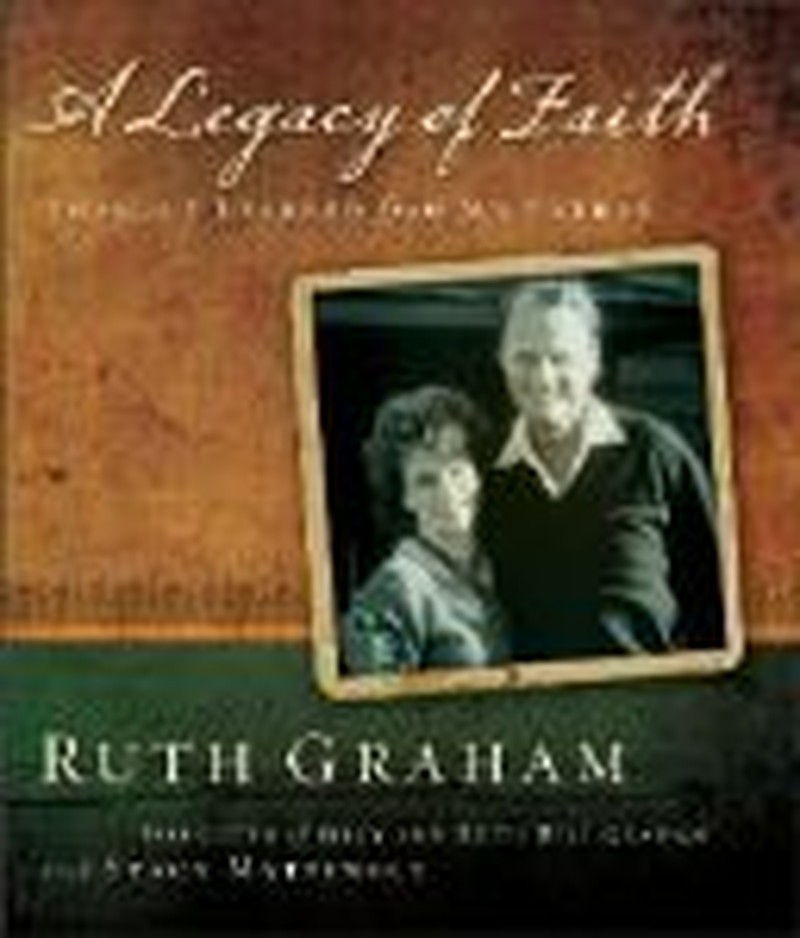 Author:  Ruth Graham with Stacy Mattingly
Title:  "A Legacy of Faith: Things I Learned From My Father"
Publisher:  Inspirio/Zondervan
When you're a preacher's kid, your life is not your own.  You live in a fish bowl, where your actions are highly scrutinized and many times criticized by friends, relatives or acquaintances.
Multiply that scenario times a thousand and you can imagine what it must have been like to grow up as the daughter of Billy Graham, the twentieth century's most popular evangelist.  Ruth Graham, third daughter of Billy and Ruth Bell Graham, holds nothing back in her latest literary offering, "A Legacy of Faith: Things I Learned From My Father."  Refreshingly honest, she tells it like it is – and was – to grow up as the daughter of such a famous minister of the Gospel.
"I was not as generous in my heart when it came to sharing my father's time," an older and wiser Ruth says, remembering what it was like to not have her dad around for 50 to 60 percent of the time.  Yes, she reveals, that life was painful for her.  But she also understood the calling placed on her father's life to take the Good News to the world.
While only 189 pages in length, the book is deceptively dense with each page packed full of tender memories, life stories and lessons learned from her father, including:  love for the world, a father's heart, humility, grace, loyalty and authenticity.  Normally, I would fly through a book of this size in one afternoon, but because the subject matter is so meaty and so personal, I found myself taking longer to read and consider each part of the legacy that Ruth shared from her time with her dad.
Truth be told, early on in my perusal I began to question why the Reverend Graham would leave his family for months at a time to preach the Gospel in some remote – or not so remote – region of the world.  Weren't his responsibilities to his family equally if not more important?  I struggled with this question throughout, as did Ruth during her formative years.
Later in life, when Ruth had gone back to school to complete her undergraduate degree in religion and communications, she decided to write her thesis on her father's two-and-a-half week trip to China back in 1988.  While doing so, Ruth began to see her father's choices from a different perspective:
"… I learned to better appreciate my father and his sacrifices; and I realized my own sacrifice in letting him go for the ministry was small compared with God's plan to touch the world through a humble farmer's kid from North Carolina."
Her words really challenged my thinking and biblical interpretation about the role of a father.  Was it God's will that Billy Graham be away from his family so much?  Were the phone calls, telegrams and letters enough to cover Billy's physical absence and provide "effective parenting" as Ruth now sees them to have been? 
In his own memoir, Ruth shares, the Reverend reveals how this unconventional family life was hard on himself:  "For myself … as I look back, I now know that I came through those years much the poorer both psychologically and emotionally.  I missed so much by not being home to see the children grown and develop. … Our children could not possibly have missed their daddy nearly as much as I missed them and their mother when I was away." 
Thankfully, surrogate parents, in the form of staff members from her father's organization or family friends, provided much-needed support for Ruth during times when her father could not be physically present.  She credits God for orchestrating these loving, supportive "uncles" to be in her life in her father's absence.
If anything, I appreciate the honesty that permeates this loving memoir.  It's encouraging to see behind the curtain and know that even Billy Graham has had struggles.  His children aren't perfect and neither is he.  But this imperfect man has been used by God to do great things in the lives of millions around the globe, in the lives of his friends and family, and in the life of his daughter Ruth.  And that is a legacy worth reading about.