Novelist and Evangelist Capture Revival, Unrest in 1800
Randall Murphree

AgapePress

2006

11 Jul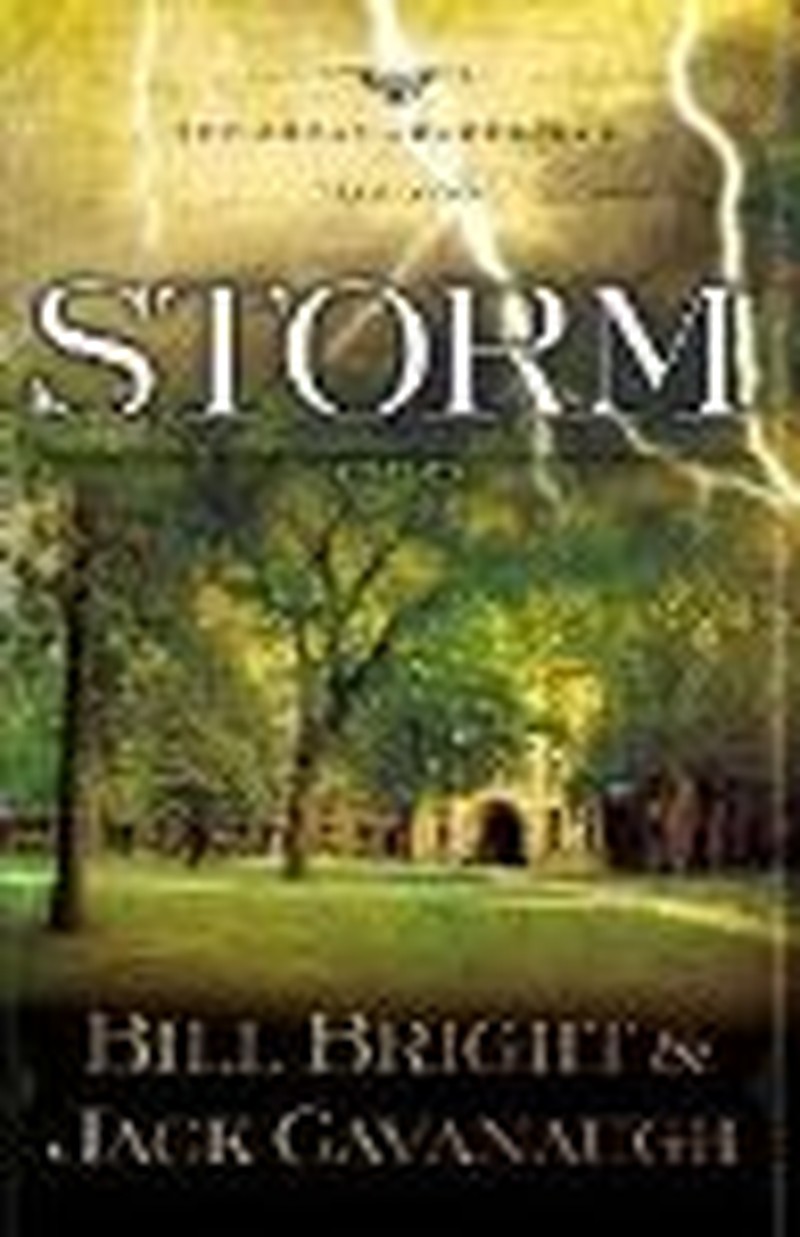 Authors:  Bill Bright & Jack Cavanaugh
Title:  "Storm"
Publisher:  Howard Publishing
Young Asa Rush gulped when called forward for debate in his freshman class at Yale College. His prayers had gone unanswered.
"He'd prayed that this moment would never come. ... He'd even prayed that the Lord would return and time would be no more," writes Jack Cavanaugh in "Storm" (Howard Publishing). Asa is the main player in Cavanaugh and Dr. Bill Bright's imaginative and creative novel set during the 1800 New Haven, Connecticut, revival.
Asa is one of only four Yale students who claim to be Christian. They are immersed in an academic community that disparages Christian beliefs and rushes to join enlightenment societies. Rationalism is offered as the antidote to simplistic Christianity. The free-thinking ideas of French philosophers dominate academia.
As the story's protagonist, Asa encounters all manner of obstacles to persevering in his faith. He falls head over heels for a beautiful but duplicitous young woman. He runs afoul of Eli Cooper, a leading upperclassman who delights in antagonizing and sometimes physically assaulting him. And he becomes embroiled in political intrigue surrounding the fourth U.S. presidential election in which Thomas Jefferson wins the office. Asa's involvement turns out to be much more dangerous than he had anticipated.
Added to those elements is his work as scribe for Dr. Timothy Dwight, Yale's president. Dr. Dwight charges him to reach Eli Cooper for Christ. Asa is sometimes bungling, often courageous, sometimes naive, but always a personable and appealing young man who doesn't take himself too seriously.
"Storm," released this year, is the third title in "The Awakening Series" from Howard Publishing. The genius of the series is the pairing of Cavanaugh's craft as a storyteller with Bright's passion for revival. Together the co-authors conceived of the series of four novels after their paths crossed and they discovered a common interest in the periods of U.S. revival.
"Dr. Bright had a strong desire for revival in America," said Cavanaugh. "So that's where we began. We prayed that God would sweep our nation with his Spirit as He has done in the past." Bright's health was failing, and he died in 2003 before the first title appeared, but he had signed off on the storylines and urged Cavanaugh to complete the series.
Cavanaugh said he and Bright had a couple of intensive sessions in which they agreed on storylines set in four distinct historical periods. The books are not sequential, each being a complete story in itself.
At one point, Dr. Bright told his co-author, "Jack, if I knew what fiction could do to communicate God's Word, I would have started writing fiction early in my ministry."
At the end of the novel, Cavanaugh includes brief notations explaining which elements of the story are factual and which fictional. For example, while Asa, Eli and their classmates are creations of the authors, Dr. Dwight was the Yale president hired to bring the college back to its roots. And the Yale revival of the period is a matter of record.
Founder of Campus Crusade for Christ in 1951, Bright authored more than 100 books and booklets, of which 2.5 billion copies are in circulation. Cavanaugh, a former Southern Baptist pastor, has published 21 novels since he began writing fiction in 1993. He has earned numerous awards including two Christy Awards for excellence in Christian fiction.
Together the authors have produced a masterful and informative account of some critical periods in American history. "Proof" and "Fire" are the first two "Great Awakenings" titles, and "Fury," the fourth and final one, will be released in September.
"Fury" is set in upstate New York in 1798-1800. The main character is a young man who flees a murder scene, then is pursued by his uncle, by the killer and by the "hound of heaven" (via the preaching of period evangelist Charles Finney). It promises all the elements of another first-rate suspense thriller.

© 2006 AgapePress.  All rights reserved.  Used with permission.