Photographer's Shots Enhance Sites "Where Jesus Walked"
Randall Murphree

AgapePress

2006

11 Apr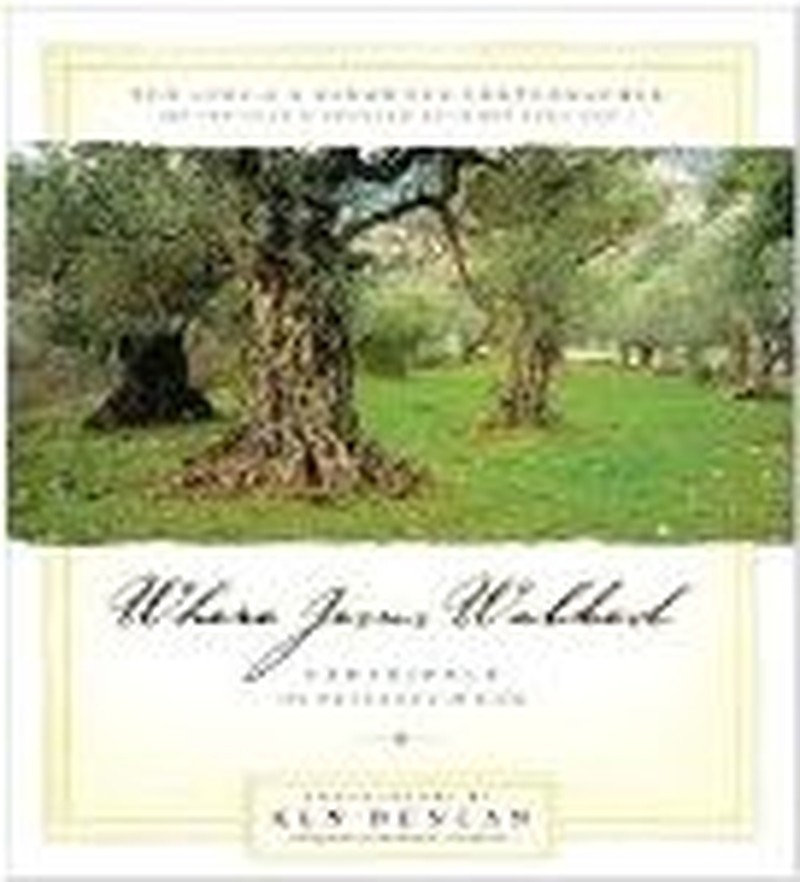 Title:  "Where Jesus Walked"
Author:  Ken Duncan
Publisher:  Integrity
A favorite photograph has a powerful capacity to transport us to another time and place, to a fond memory or a fanciful daydream. To the deck of the deep-sea fishing boat when we pulled in a 100-lb. marlin. To the romantic New England inn where we hope to spend a second honeymoon. To the Peruvian village with dirt-floored huts where we served on a mission team. To Africa's Masai Mara game reserve where we dream of seeing a lioness and her cubs frolicking in their natural habitat.
In his new book "Where Jesus Walked:  Experience the Presence of God" (Integrity, 2006), world-renowned photographer Ken Duncan takes us on a moving journey to the lands where Jesus lived and ministered on the earth. It was Duncan's first visit to the areas he photographed for this book.
"Spiritually, the Holy Land really stirs you up and starts awakening many things in your life," Duncan said in an exclusive interview.
For any who have visited or who dream of visiting the Via Dolorosa, Gethsemane or the empty tomb, this 162-page volume will enhance the appreciation for Israel. It will whet the appetite to follow in the footsteps of the Savior through the paths He traveled while on the earth.
Sit on the Mt. of Beatitudes where Jesus preached the Sermon on the Mount. Hear the Galilee's waves on the shore. Smell the St. Peter's fish from the latest catch. Stunning. Moving. Inspiring. Duncan's photos evoke a rich emotional experience capturing the land and its exquisite beauty. Accompanying quotes from Scripture and from respected Bible teachers -- e.g, Max Lucado, Ravi Zacharias and Joseph Stowell -- help convey the sense of Jesus walking and talking in those ancient lands.
"Hopefully, these pictures and the great words from people who really have a love for Jesus will strengthen thousands of Christians in their faith," Duncan said. And for those who don't know Jesus, Duncan hopes the book will bring them to an encounter with Him.
Duncan insists that he is just an average photographer and that requires him to be more dependent upon God. He sees himself as just a "button pusher" awaiting God's instructions.
"Often when I am on location," he said, "I will call out to God and say, 'God, what am I doing here? I don't know what to do.'" In those instances, he prays for God to open his eyes so that he perceives and photographs from an angle that reflects what God sees.
Anyone whose heart yearns to experience the scenes of Jerusalem, the Judean desert and Bethlehem will be inspired and moved by the images in "Where Jesus Walked."
In other photo collections, Duncan has celebrated America. First, "America Wide -- In God We Trust," is a collection of panoramic images from all 50 states. "Spirit of America" is a sequel with photos from his three-year journey through the U.S.
Duncan says the indigenous people of his native Australia have a concept called "walk-awhile." The idea is that if you really want to know a place or a person, you need to walk-awhile in that place or with that person.
The award-winning photographer regularly applies that principle in his work. Consequently, he produces some of the world's most stunning images.

© 2006 AgapePress.  All rights reserved.  Used with permission.