Q&A with "A Delirious Summer" Author Ray Blackston – Part II
Baker Publishing Group

2004

3 May

COMMENTS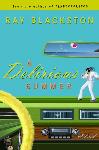 History and Advice for Aspiring Writers:
What other types of writing have you done or are currently doing?  Prior to "Flabbergasted" I had written um, e-mails and whatever papers were assigned in high school and college!  Really, no short stories or articles for me. I just jumped in with both feet, kind of half-blind, half ignorant of what I was getting into.
I felt like I had exhausted my other vocational options, so I just thought back to what my second grade teacher had told my parents: that I had a knack for stringing words together. Took me thirty years to heed Mrs. Kretzer's advice. But then, those thirty years contained the raw material from which I would draw ideas for the novel. I'm currently in the early innings of book three, which is the final book in a loosely connected "Flabbergasted Trilogy."
What advice do you have for aspiring writers?  My advice is this: Make sure that your goal is to improve as a writer, not to gain the status of "getting published." That's what I hear at so many conferences and writers groups — "How do I get published?" or "How do I get an agent?" To me, those are the wrong questions. You first want to compare, as objectively as possible, published works with your own. Look for every possible way to note what you are doing wrong. Believe me, you are doing some things wrong. We all are. Too many passive sentences? Unrealistic dialogue? Introducing too many characters too quickly? No sense of "place?" Cardboard characters that are mere mouthpieces for your message? Those are five of the most common errors I see. So start there. If you will devote yourself to the task of being the best writer you can be, and always but always continue to learn, and only submit a manuscript after you honestly cannot think of a single improvement, then, and only then, might some agent or publisher notice you. This is a very competitive business, and the monies that it takes to bring a new author and his book to market are only going to get risked on manuscripts that sparkle and impress and entertain. Perseverance is key.
"A Delirious Summer"
How does it differ from your previous book "Flabbergasted"?  The minor characters from the first novel are now major, and the major characters from the first novel are not quite as major as before, yet very much a part of the story. And a new character, Neil, is introduced very early and will narrate the rest of the story. All of the geography from "Flabbergasted" — Ecuador; Greenville, S.C.; and the Carolina coast — are part of the background again, though in different quantities.
Are there any themes you are exploring in this book?  Hey, when you have flawed singles traveling at blazing speeds through the intersection of Faith and Impatience, what more theme do ya need?!
"Flabbergasted"
How much of "Flabbergasted" is based on your own life and experiences?  About 34 percent. Most of the beach scenes are fairly close to the truth.
Personal
Book you're currently reading?  "The Four Loves," by C.S. Lewis

For more information about Ray Blackston or "A Delirious Summer," visit  www.rayblackston.com or  www.revellbooks.com.