Q&A with "A Delirious Summer" Author Ray Blackston – Part IV
Baker Publishing Group

2004

1 Jun

COMMENTS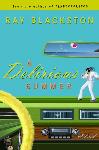 CBA vs. Mainstream, History:
Why CBA? Why not the secular market?  Why not both? My CBA-published novel is on the shelves of Barnes and Noble, Books a Million, Wal-Mart, and Target Stores, so God in his grace has allowed it be a crossover novel. I wrote "Flabbergasted" as real as I could write it without offending my Biblically based values and what I determined to be the CBA's parameters. I absolutely hate cheesy storylines and characters who are just mouthpieces for doctrine. My sensitivity to this is very high, and so red flags go up when anything like that creeps into the narrative. There were one or two CBA insiders who told me that a story of a guy going to church to meet girls would not make it in their markets. But God lined me up with the right publisher. The Revell staff is a fun bunch, highly focused and willing to take a risk when others were not. I've felt a loyalty to them as I wrote the second book, and now again as I begin the third. (By the way, "Flabbergasted Trilogy" is my unofficial name for this entire project.)
What do you know now that you wish you knew when you first started?  I wish I had known that "Flabbergasted" was going to sell 36,000 hardcover copies in its first five months. Then I would have gone ahead and put in my new kitchen floor earlier! Seriously, I'm glad I jumped in half-blind and ignorant, as that made the journey a lot more fun. Kinda like swimming in the ocean at night.
What spiritual message are you trying to impart to your readers?  One would be that people who own lots of "stuff" are not necessarily the ones who are having the most fun.
"A Delirious Summer," "Flabbergasted"
 
Your books have unique titles. How did you come up with the titles for the books?  I thought the word "Flabbergasted" best summed up Jay's experience at the end of the novel. As for "A Delirious Summer," well, after the situations these characters get themselves into, there is really no other way to describe their journey.
What has been the most gratifying response you've received regarding the book?  I heard from the father of the missionary pilot who flew me into the Ecuadorian jungle. Dan Osterhus, the young pilot, was killed three years after my visit, while he was in the midst of a rescue mission in some very mountainous terrain. In the acknowledgements of "Flabbergasted" I noted his help and asked that God "send blessings to his widow and young daughter." (she was three at the time). So Dan's father wrote me and told how Dan had sat in his lap as a child and learned to fly, and that he (Dan's father) had also flown with Mission Aviation Fellowship. Then I found out that Dan's wife, Phoebe, has since remarried to a youth pastor in Wisconsin, and just had a new baby. In the hospital, before she went into labor, someone gave her a copy of "Flabbergasted" and she got to read how her first husband was used by God to fly me into remotest Ecuador and help inspire the book. I doubt anything will ever top those emails. Brought me to tears.
Personal

If you could invite two people to dinner, who would they be and why? Billy Graham and Bono – two men who believe the same things but handle themselves (and fame) very differently. The three of us and a pot of my mom's shrimp creole would make for an interesting evening, methinks.
For more information about Ray Blackston or "A Delirious Summer," visit  www.rayblackston.com or   www.revellbooks.com.