Relationship Experts' Book Explores "Singlehood Phenomenon"
Jenni Parker

AgapePress

2007

13 Feb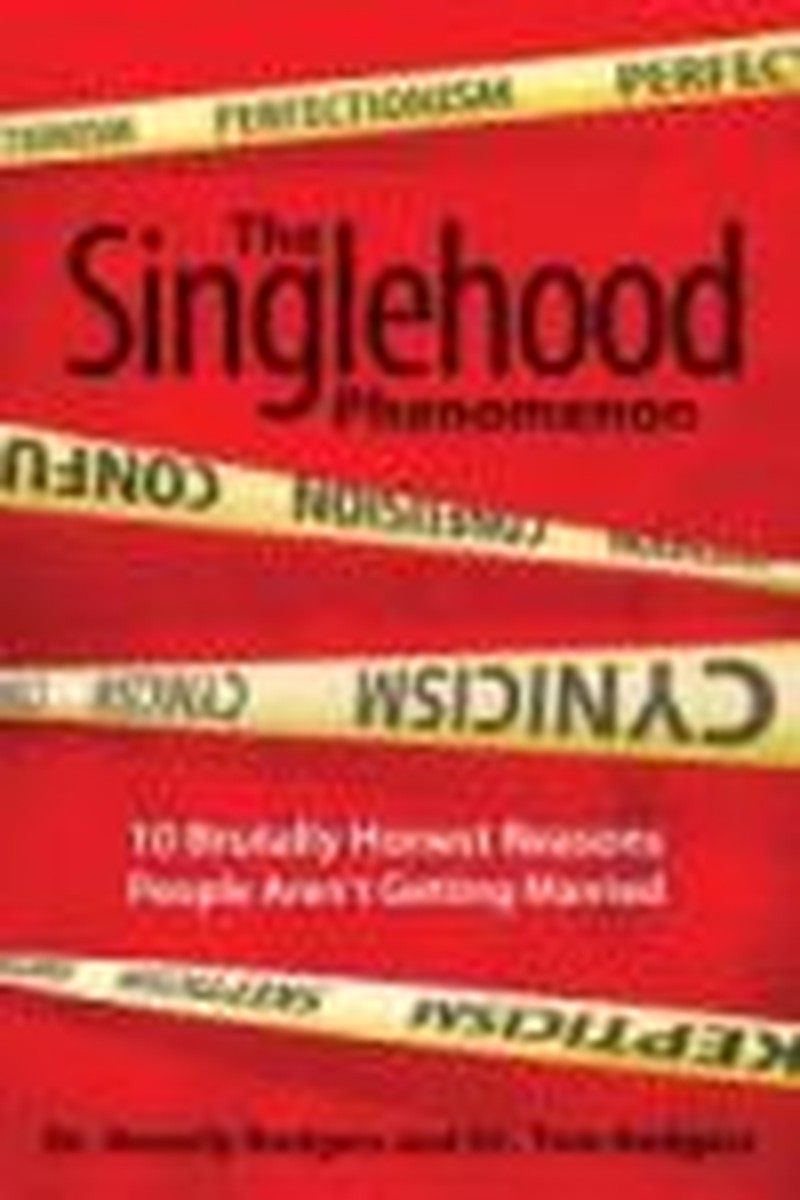 Author(s): Drs. Beverly and Tom Rodgers
Title: "The Singlehood Phenomenon"
Publisher: NavPress
The husband and wife authors of a new book on single life and attitudes believe a negative stigma about marriage is partly to blame for the way that institution is under attack in contemporary U.S. society. America currently has the oldest and largest population of singles in the nation's history, the couple notes, and their recently published book explores the top ten reasons why many people are not getting married.
Doctors Beverly and Tom Rodgers are the founders of Rodgers Christian Counseling in Charlotte, North Carolina, and members of the American Association of Christian Counselors and Certified Imago Relationship Therapists. The two have been relationship counselors for the past 26 years, working with individuals, couples, and families.
The Rodgerses are also the authors of a number of books on relationship, including "Soul Healing Love: Ten Practical, Easy To Learn Techniques for Couples in Crisis"; "How to Find Mr. or Ms. Right: A Practical Guide to Finding a Soul Mate"; "Adult Children of Divorced Parents: Making Your Marriage Work"; and their latest release, "The Singlehood Phenomenon: 10 Brutally Honest Reasons People Aren't Getting Married" (NavPress, 2006).
Dr. Beverly Rodgers says "The Singlehood Phenomenon" was written partly "to uncover unconscious beliefs, unhealthy behaviors, and toxic relationship patterns that can hinder one's ability to have healthy relationships," and partly "to educate the culture on the positive notion of marriage." The authors sought to integrate biblical and psychological principles to help people look at past hurts and determine how these may have affected them as adults, she explains.
Dr. Tom Rodgers says the fear of marriage is very prevalent in contemporary culture, whether it is a byproduct of the culture or a basic part of it. "We've also become very self-focused as a culture," he observes, "and I think we've created a kind of narcissism in our culture that just feeds these fears in a way, because we become ultra-self-focused rather than focusing on relationship."
This cultural trend goes against the heart's essential design, the therapist continues. "I think we are hard-wired by God for relationship, with Him first and then with one another at all levels," he says. "But this kind of narcissism that's fed by our culture [is oriented toward] instant gratification and instant access, so we're kind of overindulging ourselves even as we're pushing farther and farther away from relationship."
The ultimate goal of "The Singlehood Phenomenon," Mrs. Rodgers says, is to help each unmarried person become "the healthiest, happiest, single person possible while overcoming the fear of marriage and the reasons that keep people single." Among the most common reasons the authors cite why contemporary singles stay unmarried are skepticism about love and marriage, lack of faith in God's provision, unresolved issues from the past, fear of getting hurt, and perfectionism.
Also, the Rodgerses note that many singles are confused about "the rules" and feel they do not know how to date or how to be in a relationship. Others, the authors suggest, may have a poor understanding of the purpose of marriage or an unbalanced emphasis on their career. And many, the Christian relationship counselors add, are simply concerned that their marriages will fail -- and rather than risk being in a bad marital relationship or ending up divorced, they simply avoid marriage altogether.
"We now have the oldest and the largest singles population in our history," Dr. Beverly Rodgers points out, "and we suspected that as singles would come into our workshops and our counseling office over the years." She and her husband would hear many single clients expressing their confusion and frustration over the dating process or lamenting that "they'd much rather go to work than have to deal with the possibility of a broken heart ways in a relationship.
"We've heard this hundreds of times: 'I'm very successful at work; why can't I be successful at love? I've given up,'" the relationship expert says. "Hearing this over and over and then beginning to look at the demographics and seeing that it was borne out in the entire culture," she explains, "we said we need to write something to that, to speak to the disappearance of matrimony in our culture and the lack of belief by Christians in matrimony, as borne out by the fact that they are not marrying."
Lest anyone become defensive, the authors of "The Singlehood Phenomenon" hasten to say that there is nothing wrong with being single. "We invite singles to enjoy that time in their life tremendously," Dr. Beverly Rodgers says, "as it's an awesome opportunity, not only to do some wonderful traveling and things, but to serve the Lord in ways that you can't serve the Lord when you're married with a family.
"But if what is keeping you single is steeped in fear – and the top ten reasons are all based on fear – then fear is not of God," the counselor observes, "and you then are single because you're afraid ... fear is guiding you." And since the Lord is not the author of fear, she says, "that's when you need to begin to ask the deeper questions."
Some people, after asking those questions and addressing their fears, do discover that they find singlehood enjoyable and fulfilling, Dr. Beverly Rodgers acknowledges. But for the majority, she says, "once they read the reasons, look at the material, and begin to do the work that God has them do, they'll say, 'I want to surrender my life to the Lord and ask Him to help me find a life mate.' And they do."

© 2007 AgapePress. All rights reserved. Used with permission.