Rosa Parks: "Tired of Giving In"
Toby Mac & Michael Tait

Authors

2005

27 Oct
Rosa Parks, 1955-56
She had been pressing slacks all day at her job. Her feet hurt and her back and shoulders ached. The first bus that came past had standing room only, so she decided to wait for the next bus in hopes of getting a seat. During her wait, she remembered why she often walked home – riding the bus took its toll on her dignity.
The segregation laws in force in 1955 in Montgomery, Alabama, seem unbelievable today, but they were a reality for thousands of blacks in the South. Take the restrictions on riding the bus, for instance. Even though the majority of bus passengers were people of color, the front four rows of seats were always reserved for white customers. It was common to see people standing in the back of the bus while the first four rows remained empty. Behind the reserved-for-whites section was a middle section where African Americans could sit if the seats were not needed by white customers. If just one white customer, however, needed a seat in this center section, all those already seated had to move.
Even getting on the bus was an elaborate process for black people. They would pay their fare in the front, exit, and then reboard the bus at the back. Rosa died a little each time she found herself face-to-face with this kind of discrimination. In fact, Rosa had once been thrown off a bus for refusing to reboard at the back door.
Finally a second bus came, and to Rosa's joy, there were a few seats available in the middle section – "no-man's land." Rosa climbed the stairs, put her dime in the fare box, climbed back down the stairs, hurried to the back door of the bus, climbed up the stairs, and made it through the aisle in time to find there was still a seat available. Greatly relieved that she wouldn't have to stand all the way home, she sat down in the row just behind the white section. What a relief to relax for a minute!
The bus picked up more riders and the front section of the bus filled up. When the driver noticed a white man standing in the aisle, he ordered four people, including Rosa, to give up their seats. At first no one moved.
The bus driver said, "You all better make it light on yourselves and give me those seats." The other three riders did as they were told, but Rosa knew that to do so would be wrong – and she quietly refused to get up. "I'm gonna call the police," the bus driver threatened.
"Go ahead and call them," said Rosa. She sank back in her seat. She was tired, true – but even more, she was tired of giving in. It wasn't just the bus. It was the "whites only" restaurants, the drinking fountains and elevators marked "Colored," and the unspoken intimidation that were all a part of daily life in a place that did not treat all its citizens as equals. Rosa remembered, "I was tired of seeing so many men treated as boys and not called by their proper names or titles. I was tired of seeing children and women mistreated and disrespected because of the color of their skin. I was tired of legally enforced racial segregation. I thought of the pain and the years of oppression and mistreatment that my people had suffered… . Fear was the last thing I thought of that day. I put my trust in the Lord for guidance and help to endure whatever I had to face. I knew I was sitting in the right seat."
Rosa later wrote, "I felt the presence of God on the bus and heard His quiet voice as I sat there waiting for the police to take me to the station. There were people on the bus that knew me, but no one said a word to help or encourage me. I was lonely, but I was at peace. The voice of God told me that He was at my side."
As Rosa waited for the police to come, she thought about her life in the segregated South. Born in 1913, she had grown up on a farm with her mother, her brother, and her grandparents. They were very poor and worked hard to raise enough food to feed themselves. Rosa's mother, a schoolteacher, taught whenever she could but also took in sewing and worked as a hairdresser. Rosa's grandparents picked corn, peanuts, and sweet potatoes on nearby plantations – with little Rosa working alongside them. It was so common for African-American children to work all day in the fields that Rosa's school closed three months earlier than the school for white children. And unlike the white children's school, Rosa's school was little more than a shack, without windows or desks and with only a few books.
Rosa was raised as a devout Christian. She grew up attending a church where her uncle served as a preacher. She recalls, "Every day before supper and before we went to services on Sundays, my grandmother would read the Bible to me, and my grandfather would pray. We even had devotions before going to pick cotton in the fields. Prayer and the Bible became a part of my everyday thoughts and beliefs. I learned to put my trust in God and to seek Him as my strength."
Rosa remembered how, as a young girl walking through a white neighborhood in Montgomery, she was pushed from behind by a white boy. Instead of walking on, pretending nothing had happened – which was the expected behavior – Rosa turned around and pushed the boy back. His mother was shocked. "How dare you touch a white boy!"
Rosa replied, "I don't want to be pushed by your son or anyone else," and calmly walked away.
She had tried to work within the system. She remembered her struggles to help African-American citizens get registered to vote. She remembered the years spent working as a youth adviser for the National Association for the Advancement of Colored People (NAACP).
Remembering these things put a determination within Rosa. She had never been one to ignore acts of injustice. What was going on was not fair. Not in the eyes of man, and not in the eyes of God. It was time for action. When the police arrived, Rosa calmly asked, "Why do you push us around"
The officer replied, "I don't know, but the law is the law and you're under arrest." When the officers asked her to stand up and get off the bus, Rosa quietly obeyed. They drove her to the police station and fingerprinted her as though she were a criminal. Before they put her in a jail cell, they allowed her one phone call. She called a prominent member of the NAACP, who called a lawyer. The two bailed Rosa out of jail for one hundred dollars and suggested that Rosa appeal her case to challenge the segregationist law that had led to her arrest. Rosa's husband and her mother had some real concerns about Rosa's personal safety, but they all agreed that it was time to act. Rosa recalled, "As I sat in that jail cell, behind bars, I felt as if the world had forgotten me. But I felt God's presence with me in the jail cell."
The ministers of the city's African-American congregations lent their support. Dr. Martin Luther King Jr., using his church's mimeograph machine, made seven thousand leaflets encouraging African Americans to boycott the Montgomery city bus system on Monday, December 5. A community meeting that night drew an overflow crowd numbering in the thousands.
What began as a one-day boycott lasted for 381 days. Continuing the boycott was neither comfortable nor convenient. Some people walked miles to work, others rode bikes or shared rides. For more than a year – in the cold, pouring rain and in the blistering heat of summer – the black community worked together, giving their one hundred percent cooperation. They were determined to pay the price to see change. As the months went by, Rosa's case went all the way to the U.S. Supreme Court – and Rosa won. On December 21, 1956, Rosa sat in the front row of a newly integrated city bus.
Both Rosa and her husband lost their jobs and were considered unemployable as a result of their part in the boycott. They were also harassed with phone calls, letters, verbal threats, and intimidation. The family moved to Detroit, Michigan, in 1957, and for the next eight years, they struggled financially, until Rosa was hired as a staff assistant to a U.S. congressman.
In later years, Rosa was hailed as the mother of the civil rights movement and received many awards and honors. Among them was a seventy-seventh birthday celebration in the nation's capitol in 1990, which was attended by government dignitaries, prominent entertainers, and a host of notable African-American leaders. Here Rosa was praised for her "beautiful qualities [of] dignity and indomitable faith that with God nothing can stop us." In 1999, President Clinton awarded Rosa the Congressional Gold Medal, the nation's highest civilian honor.
Our country is the model for every other developing country in the world for achieving justice and equality for its citizens. Our Constitution has lasted longer than any other constitution in modern history.
We cannot take these blessings for granted. We must share these gifts from God. Whether we are thirteen or eighty-three, we must show the world that we are able to correct our mistakes – including homelessness, poor race relations, and violence -- and move forward to a better society. I know that we can. This nation has always overcome the obstacles it has faced.

— Rosa Parks

I have learned that in order to bring about change, you must not be afraid to take the first step. We will fail when we fail to try. Each and every one of us can make a difference.

— Rosa Parks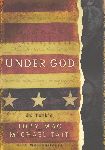 Excerpted from "Under God" by Toby Mac and Michael Tait (with WallBuilders). Copyright © 2004; ISBN 0764200098; Published by Bethany House Publishers.  Used by permission.  Unauthorized duplication prohibited.