Terri Blackstock Turns to NonFiction in "Soul Restoration"
Randall Murphree

AgapePress

2005

18 Nov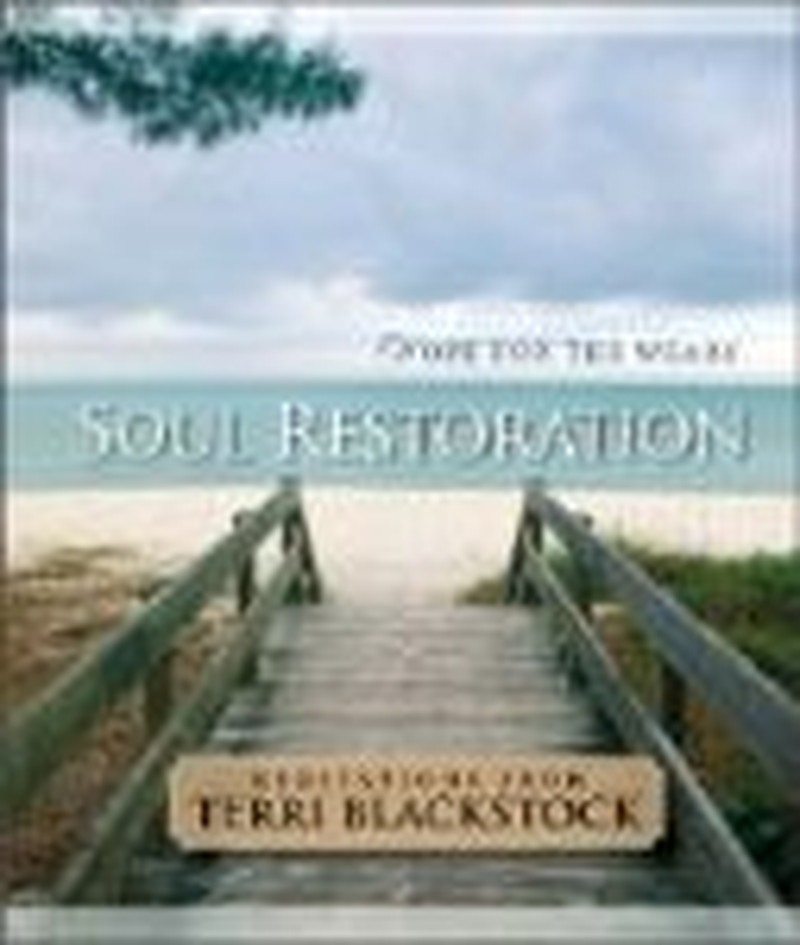 Title:  "Soul Restoration"
Author:  Terri Blackstock
Publisher:  Inspirio
Fans know her for her stay-up-late fiction, but best-selling Terri Blackstock's latest release is "Soul Restoration: Hope for the Weary" (Inspirio, 2005), a collection of meditations. In reality, fans who love her fiction have also grown to appreciate her honest, self-revealing "Afterword" features in her novels. In those sections, she often gives glimpses of her own struggles, stories behind her fiction and a challenge to her readers to keep growing in their faith.
Thus it comes as no surprise that she is adept at touching the heartstrings with accounts of the ups and downs of her own faith journey -- a painful chronic back problem, a failed marriage, a long season of life during which she misused her writing gifts, a second marriage that faltered and stumbled before restoration came, the loss of young friends in tragic deaths.
Some may be surprised at her courage and total honesty. The Jackson, Mississippi, author puts her life out there in the center-stage spotlight, in printed words that can't be retracted. "Soul Restoration" is a winner in both message and medium. The attractive, 127-page, gift-book format lends itself well to Blackstock's 24 meditations.
"Over the years, many readers have expressed their appreciation for the honest glimpses into my life in the 'Afterwords' of my novels," Blackstock said. "For that reason, I decided to pull some of those reflections and put them into a book of devotionals."
Interspersed with Scriptures, she spells out the hard lessons life has taught her, and gives her readers hope that they, too, can weather the storms of life. In sharing her life lessons, she paints some powerful word pictures.
For example, in the meditation titled "Prodigal Daughter," she writes of her successful secular romance novel career and how she had compromised her Christian principles: "I found it difficult, if not impossible, to pray. I never read my Bible, and rarely spoke of my Savior .... Instead of drawing me closer to Christ, church served as a sort of scouring pad, irritating and chafing me."
The church as a scouring pad. That hits a little too close to home. Most of us have surely been there, a time when our Christian faith-walk had taken a detour down the road of rebellion. Church could, indeed, feel like a scouring pad rubbing our soul raw.
In "Righteous Hearts," she recalls how she often relied on a mental list of all the good deeds she had done, as if keeping score to assure that the good would outweigh the bad. Then, God planted in her heart the question of whether all those things were for Him or for her?
"What is it you want from me, Lord," she asked.
His answer: "I want your heart to be pure. Your good deeds amount to nothing but filthy rags if your heart isn't pure. If worshiping me is a sacrifice and your good deeds are nothing more than markings on the score sheet of life, you still don't get it."
Again and again, often with illustrations from her own life, Blackstock presents biblical principles in a way we can all understand. And somehow, coming from one of her stature and accomplishment, the truths she teaches have a duel impact. First, we are reassured to be reminded that no one is immune from failure. Second, we are reassured to be reminded that no one is without hope.

© 2005 AgapePress.  All rights reserved.  Used with permission.