The Adventure of Christmas: December 25th
Lisa Whelchel

Author, actress, homeschooling mother of three

2004

13 Dec

COMMENTS


December 25th
The Romans called it Saturnalia, which means "the birthday of the unconquerable sun," and they celebrated it in a big way! They spent an entire week feasting and worshiping their false gods, and they capped it off with the biggest and wildest party of all. That party was held on December 25th.
But something happened in A.D. 313 that would change everything. Those seven evil days of idol worship and over-the-top parties would disappear form the Roman calendar, and December 25th would move out of the dark shadows of pagan worship in to the light of God's truth and love.
How did this happen?
In the year A.D. 313, the Roman emperor Constantine became a follower of Jesus Christ. As a believer, Constantine was disturbed by his people's worship of false gods. Acting on his concern, Constantine declared December 25th the Feast of the Nativity. And when a Roman emperor declares something, it gets done!
In the years that followed, the Feast of Nativity would become "Christ-mass," which eventually became our Christmas. It shouldn't surprise us that something dark and evil has been transformed into a day characterized by radiant light, selfless giving, and sacrificial love. Romans 12:21 says, "Do not be overcome by evil, but overcome evil with good (NIV)."
More than likely Jesus was not actually born on December 25th. But given the fact that it is around this date that darkness prevails with the year's longest night and the sun begins a new cycle, it's a grand time to celebrate the birthday of the Son. Proclaiming and reclaiming December 25th gives an opportunity for God's light of truth to chase away the blackest of shadows, revealing the true "Sun of Righteousness."
Happy Birthday, Jesus!
What you will need:
1 box of white cake mix
Red, green, and yellow food coloring
1 container of white frosting
Two 8-or 9-inch round cake pans
1 large white taper candle
1 box of small birthday candles
Directions:
1. Prepare the white cake mix according to directions on the box.
2. Divide the batter evenly between two bowls.
3. Butter and flour the cake pans, tapping out any excess flour.
4. Add several drops of red food coloring (representing the blood of Jesus) to the first bowl of batter. Mix well and pour into the first cake pan.
5. Add several drops of green food coloring (representing eternal life) to the second bowl of batter. Mix well and pour into the second cake pan.
6. Bake the cake layers according to directions on the box.
7. Let cool and then remove from the pans.
8. Add several drops of yellow food coloring (representing the birthday of the Son of Righteousness) to the white frosting.
9. Fill and frost the red and green layers with the yellow frosting.
10. Place the large white taper candle (representing Jesus as the center of our lives) in the middle of the cake.
11. Give each member of the family a small birthday candle (representing our lives revolving around Jesus) and have them place the candles around the perimeter of the cake.
12. Sing "Happy Birthday" to Jesus.
13. Using the "Jesus" candle, light the smaller birthday candles.
14. Say a prayer and blow out the candles!
Teachable Moments
"Do you think this is Jesus' real birthday?"
(Share why Constantine chose to celebrate Jesus' birthday on December 25.)

"Why do you think it is wrong to worship the sun?
Explain how silly – and sinful – it is to worship creation when we can worship the Creator.)

"How can we remember that Jesus is the reason for every season?"
(Brainstorm about ways to make Jesus the focus of all our holiday celebrations.)
Opening Presents
Traditions! At no other time of the year are traditions more important than at Christmastime. A tradition is like a secret password that allows you into the club and tells you that you belong to something bigger than yourself. Traditions bind people together as family, church, nation or culture.
Some Christmas customs and rituals cross cultural lines; others define them. In Australia, Santa's sleigh is pulled by eight white kangaroos. In Finland, it is traditional to take a sauna bath before Santa's visit. In Spain, Papa Noel delivers presents by climbing up balconies. And in New Zealand, Christmas is in summer, so families head to the beach for a yule-"tide" picnic.
When and how to open gifts is another tradition that varies the world over. Should presents be opened on Christmas Eve or Christmas morning? Do you put them under the tree or hide them in the branches? Are they wrapped or unwrapped? One thing is certain: In the end, it doesn't really matter how a present is opened, so long as it is opened.
What if you had put a lot of thought into finding the perfect present to give someone you loved very much? This gift cost you more than anybody could ever know, but to you, this person was worth it. Now how would you feel if the one you adored never opened the fit, or refused to even notice it?
God gave the gift of His Son, Jesus, to you. Have you opened your heart to receive Him as your Savior? The Bible says, "It pleases me that you continue to remember and honor me by keeping up the traditions of the faith I taught you" (1 Corinthians 11:2, The Message). This Christmas, it would please the Lord if you would open the gift He has given you.
You don't even have to wait until Christmas.
This Gift Comes with Strings Attached!
Tie a very, very long piece of yarn to one of the wrapped gifts you're giving. Now hide the present. Take a hold of the loose end of the yarn and wrap it around chair legs, through stair banisters, over tables, under couches – all over the house! To make this activity even more fun, hide a present for each member of the family, using a different color of yarn for each person. When it's time to hunt for the presents, just tell each person which color of yarn to follow. Oh, what a tangled web we weave! And what fun it is to hide and seek!
It's All in the Present-ation
Place enough small candy canes for each member of the family, and a single large one, inside a small box and then wrap the box. Put the wrapped box inside a larger box, wrap it, and then select another larger box until you've used all the boxes you can find. Have everyone sit in a circle and pass the package around as you play Christmas music in the background. When the music stops, the player holding the package unwraps it to reveal another wrapped package. Start the music again and continue passing the package around, unwrapping a box every time the music stops. The person opening the final box gets the large candy cane and shares the rest of his gift with everyone else.
Teachable Moments
"What is your favorite Christmas tradition we celebrate as a family?
(Share some of the funny Christmas traditions experienced around the world.)

"When do you think is the best time to open presents?"
(Share some of the family traditions you and your husband celebrated as children and why you've chosen to celebrate the ones you have for your family.)

"How do you think you would feel if you picked out something extra special to give someone you loved and they didn't even open it?"
(Talk to your child about how she can open her heart to receive the gift of Jesus.)
Christmas Dinner
Jesus was always inviting Himself over for a meal – and what a dinner guest He was! You never knew quite what to expect when He stepped through the door. You might witness a miracle between the first course and the second. You might hear, for better or worse, surprising truths about yourself. You might find yourself serving a ragtag cast of characters from the other side of the tracks. One time Jesus even provided the wine – 180 gallons of it!
One of His last acts before He died was to break bread with the people closest to Him. Today we remember His death on the cross for our sins when we drink the cup and eat the bread of Communion.
Knowing all this about Jesus, we shouldn't be surprised that the first celebration of His birth was a feast – specifically, the Feast of the Nativity, which originated in Rome during the fourth century. Although there are no records of such a feast in the early church, and you won't find it in the Bible, it isn't out of character with either. The Old Testament brims with feasts designed by God and given to His people. And as we've seen in the New Testament accounts of His life, Jesus loved to eat with His friends. (Sounds like a pretty good endorsement for feasting to me.)
The last book of the Bible, Revelation, tells us that a great banquet will be one of the first things we experience together in heaven. As one angel put it, "Blessed are those who are invited to the wedding feast of the Lamb" (Revelation 19:9). Do you know how to get invited to that party? Jesus said, "Look! Here I stand at the door and knock. If you hear me calling and open the door, I will come in, and we will share a meal as friends" (Revelations 3:20).
As you sit at the table for Christmas dinner and thank God for the food, remember Jesus. If you've never invited Him to step through the door and be Lord of your life, what better time to do it than at Christmas? It's His birthday, and – from then on and forever – it will be yours, too.
A Birthday Invitation
If you feel like your child is ready, why don't you ask if he would like to say this prayer and ask Jesus to come inside and be Lord of his heart and life?
Dear Jesus,
Thank you for coming to earth as a baby that very first Christmas. I believe You are the Son of God and that You came to die on the cross for my sins. I want to receive the gift of forgiveness that you have bought for me. Please come into my heart and be my Lord and Savior. Thank you for loving me so much. I love You, too. Amen.
Christmas Wassail
I can't imagine that Wassail was not served at the very first Feast of the Nativity. Even if it wasn't, we can still serve it at our Christmas feast.
1 gallon apple cider
1 teaspoon ground allspice
1 teaspoon ground cinnamon
1 teaspoon ground cloves
1 teaspoon ground nutmeg
½ cup firmly packed brown sugar
One 6-ounce can of frozen lemonade concentrate, thawed
One 6-ounce can of frozen orange juice concentrate, thawed
Combine 2 cups of the apple cider with the allspice, cinnamon, cloves, and nutmeg in a large Dutch oven; bring to a boil. Reduce heat to low and simmer for 10 minutes. Add the remaining cider, brown sugar, lemonade concentrate, and orange concentrate to the hot mixture, stirring well to dissolve the sugar; heat until very hot (do not boil). Makes 4 ½ quarts.
Teachable Moments
"Do you have any idea why we always eat so much at Christmas?"
(Ask your child if she thinks it might be because Jesus enjoyed eating with His family and friends so much. Share some examples of feasting from the Bible.)

"Do you think people have been eating big meals at Christmastime from the very beginning?"
(Tell your child about the first Christmas dinner, the Feast of Nativity.)

"I hope you get to eat in heaven, how about you?"
(Talk about how we get invited to the Wedding Feast of the Lamb in heaven.)
The Christmas Story
At that time the Roman emperor, Augustus, decreed that a census should be taken throughout the Roman Empire. (This was the first census taken when Quirinius was governor of Syria.) All returned to their own towns to register for this census. And because Joseph was a descendant of King David, he had to go to Bethlehem in Judea, David's ancient home. He traveled there from the village of Nazareth in Galilee. He took with him Mary, his fiancée, who was obviously pregnant by this time.
And while they were there, the time came for her baby to be born. She gave birth to her first child, a son. She wrapped him snugly in strips of cloth and laid him in a manger, because there was no room for them in the village inn.
That night some shepherds were in the fields outside the village, guarding their flocks of sheep. Suddenly, an angel of the Lord appeared among them, and the radiance of the Lord's glory surrounded them. They were terribly frightened, but the angel reassured them. "Don't be afraid!" he said. "I bring you good news of great joy for everyone! The Savior – yes, the Messiah, the Lord – has been born tonight in Bethlehem, the city of David! And this is how you will recognize him: You will find a baby lying in a manger, wrapped snugly in strips of cloth!" Suddenly, the angel was joined by a vast host of others – the armies of heaven – praising God:
"Glory to God in the highest heaven, and peace on earth to all whom God favors."
When the angels had returned to heaven, the shepherds said to each other, "Come on, let's go to Bethlehem! Let's see this wonderful thing that has happened, which the Lord has told us about."
They ran to the village and found Mary and Joseph. And there was the baby, lying in the manger. Then the shepherds told everyone what had happened and what the angel had said to them about this child. All who heard the shepherds' story were astonished, but Mary quietly treasured these things in her heart and thought about them often.
The shepherds went back to their fields and flocks, glorifying and praising God for what the angels had told them, and because they had seen the child, just as the angel had said.
Luke 2:1-20
---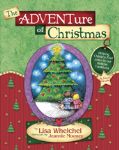 Excerpted from "The Adventure of Christmas" © 2004 by Lisa Whelchel. Used by permission of Multnomah Publishers, Inc. Excerpt may not be reproduced without the prior written consent of Multnomah Publishers, Inc.
Lisa Whelchel is best known for her role as Blair on the long-running television comedy "The Facts of Life." Now a homeschooling mother, speaker and pastor's wife, she is the bestselling author of "Creative Correction", "The Facts of Life and Other Lessons My Father Taught Me", and "So You're Thinking About Homeschooling." Lisa and her husband Steve, are the cofounders of MomTime Ministries. They live in Texas with their children, Tucker, Haven, and Clancy.