The Cross & the Pen: Author Linda Secrest McDowell
Eva Marie Everson

Author & Contributing Writer

2005

19 Feb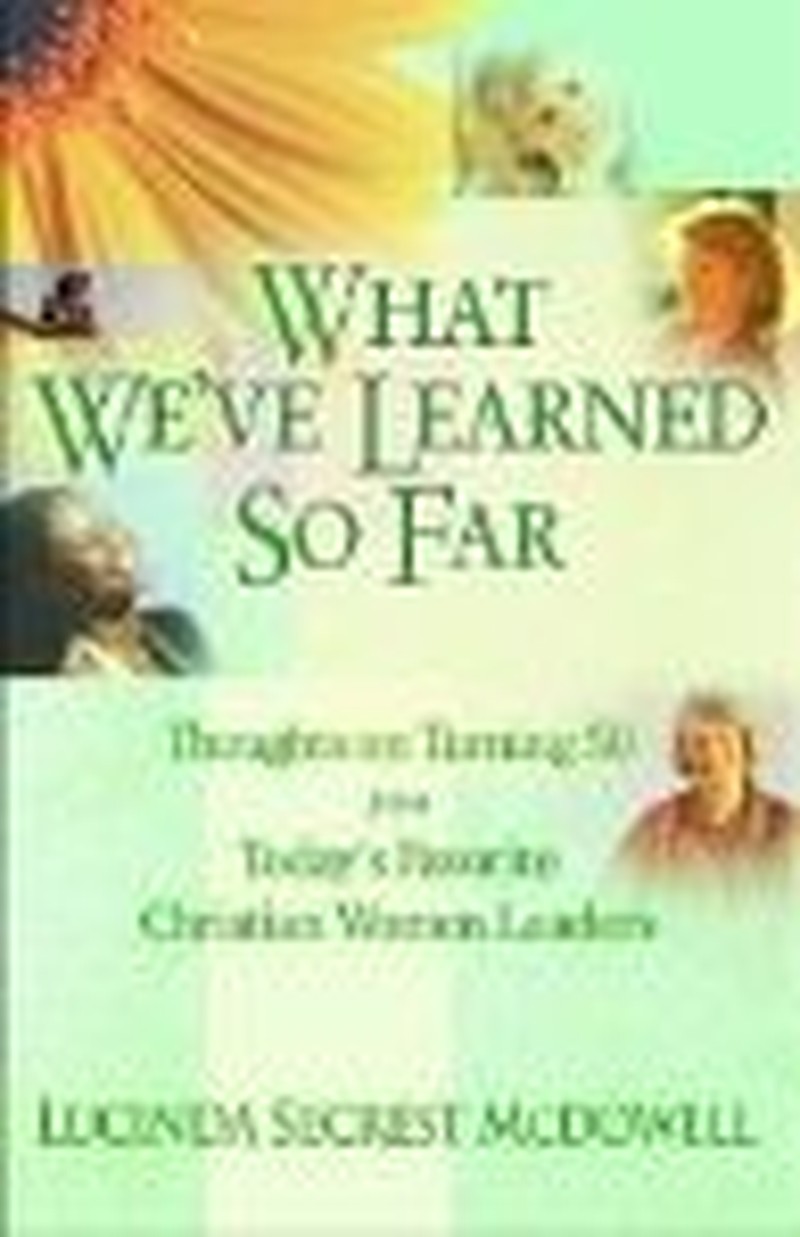 Welcome to The Cross & The Pen, Crosswalk.com's author-to-author interview! Today I'm talking to Lucinda Secrest McDowell, whose book, "What We've Learned So Far, Thoughts on Turning 50 from Today's Favorite Christian Women Leaders" (Cook, 2005), is certainly a favorite among those on my bookshelves.
Fifty looms on the horizon. I can hardly begin to believe I'm saying that, but I am and it does.
Fifty. Half a century. I would say "middle age," but very few live to be a hundred, so technically, we're beyond the halfway mark.
But, like forty, which carries with it a certain "now you can take me seriously," fifty brings about a precious new season in life. One that says, "I'm wiser now … " and "It's time to show the world — and myself — just who it is that I am."
When my friend told me she was writing a book about what the top women in Christian leadership think about turning fifty, I was impressed. Because, you see, I now know better than ever that it's the knowledge that makes the difference. Knowledge gives birth to wisdom because wisdom is oftentimes knowledge with a price tag.
So, I sat down with "Cindy" to ask her a few questions about her book. Wanna listen in?
Eva Marie:  Cindy, what an excellent idea! Tell me the truth, did you wake up on your fiftieth birthday and think, "I should write a book about this?"
Lucinda (Cindy): I began "preparing" to turn 50 long before the actual date. I realized that it would be an important milestone and so a few years before I actually sat down and wrote seven important lessons I believed I had learned so far, lessons which are so significant that I believe they have helped to shape who I am. Then I began reflecting on how I had learned these lessons, almost always the hard way! So I wrote stories to illustrate each one. My purpose was to be an encouragement (and a challenge) to the other 4 million baby boomers who were also reaching this important milestone and beginning to ask some hard questions about their lives. It was on my actual 50th birthday that I signed the contract for the book, so I was actually 51 when it premiered.
Eva Marie:  Well, we'll cut you some slack on that (smiling). "What We've Learned So Far" has the tagline: "Thoughts on Turning 50 from Today's Favorite Christian Women Leaders." Who are some of those women?
Cindy:  Obviously no one of us has a handle on wisdom or even truth, so I began thinking of my many peers, women in my age group who also write and speak and teach. I contacted each of these folks and invited them to be part of the project, to share one story depicting how they experienced the importance of one of these seven lessons of life. I'm delighted to have 50 contributors in the book such as Carol Kent, Anne Graham Lotz, Joni Eareckson Tada, Martha Bolton, Carole Lewis, Patsy Clairmont, Cheri Fuller, Becky Pippert, Jan Karon, Charlene Baumbich, Luci Swindoll, Gail MacDonald, Karen Mains, and many, many more.
Eva Marie:  Wow! Cindy, think about what some of us would do just to sit down and have conversations with a few of these women. That alone makes the book so valuable!
Cindy:  I think so, too.
Eva Marie:  You say in the introduction that you now embrace seven important "life truths." What are they?
Cindy:   Who I Am Is More Important Than What I Do, God is in Control, Relationship Are to Be Cherished, Freedom Is Found in Simplicity. Pain Either Destroys or Transforms ...
Eva Marie:  Isn't that the truth. …
Cindy:  (continues) Life Is Full of Surprises and Perseverance Pays Off.
Eva Marie:  I shout "amen!" to all of these! How did you come up with them?
Cindy:  Like I mentioned earlier, I spent quite a bit of time in prayer and reflection in my late forties as I was looking back over my own life and looking ahead, determined to embrace and invest in only those things that truly matter. That helped me pare down to basics, which became these seven truths. There's nothing particularly earth shattering about them, in fact they seem quite ordinary, but I believe they bear repeating and lifting up to others so that we all can realize that we are given a chance at making life count for now and more importantly for eternity. None of us knows how much time we have and therefore none of us wants to waste it, right?
Eva Marie:  Who are you hoping will read this book and what are you hoping they'll obtain from it?
Cindy: I hope this book will be read by women (and sure, even men) who consider themselves in a time of life evaluation. For many of us this is midlife, but this book works well for younger women also who just want to get a head start on wisdom. I hope that the real life stories by real women who have chosen to fully commit their lives, their families and their professions to God, will spur others to embrace all that God has for them as well. I strongly believe that it is never too late to write the story of the rest of your life. So my message to everyone whether I'm speaking or writing is that Life is hard. God is good, all the time.
Eva Marie:  I would think it would be a great book to give to younger women … those in their late twenties or early thirties especially. That is such a difficult time, anyway … so many changes and we can use a little wisdom at that stage. I remember those women who were in their fifties who mentored me when I was younger and it meant everything. Sometimes the difference in holding it together and totally falling apart.
So, okay, be honest. Do you have a favorite story?
Cindy:  Actually I probably have at least one favorite story from each section of the book but I won't play favorites in this interview.
Eva Marie:  Ah … that's very wise of you!
Cindy:  I will say that my own final story in the last section "Perspective" is one that literally changed my life and gave me a tremendous insight into God's sovereign purposes and how He works continually to orchestrate His will in the lives of His loved ones. This particular incident happened at a time I most need to hear from Him, and I rejoice that God spoke to me through a totally unexpected encounter with someone who shared with me a deathbed prayer twenty years before and how I was unwittingly the answer to that prayer. I'm still moved when I write this. But the truth is that God desires to speak to all of us in these sorts of ways and to confirm His will. Most of us just aren't listening or taking time to look for Him in our everyday encounters.
Eva Marie:  That is so true. (Smiles) Well, that does it, my friend. Thank you so much for being a part of my life, doing this interview, and for having the idea for this book in the first place! Good job!

Author and National Conference Speaker Lucinda Secrest McDowell presents contagious joy and hope through her humorous and profound "encouraging words that transform." In great demand as a speaker, Cindy has not only written for 50+ different magazines and collaborated on a dozen books, but she also authored five of her own: "Quilts From Heaven", "Amazed By Grace", "Women's Spiritual Passages", "A Southern-Style Christmas" , and "What We've Learned So Far" – earning Mt. Hermon's "Writer of the Year" award.


Award-winning national speaker, Eva Marie Everson is a recent graduate of Andersonville Theological Seminary. Her work includes "Intimate Moments with God" and "Intimate Encounters with God" (Cook). She is the author of "Shadow of Dreams"," Summon the Shadows" and "Shadow of Light." (Barbour Fiction) She can be contacted for comments or for speaking engagement bookings at  www.evamarieeverson.com.