The Cross & the Pen: Author Marita Littauer
Eva Marie Everson

Contributing Writer

2004

27 Nov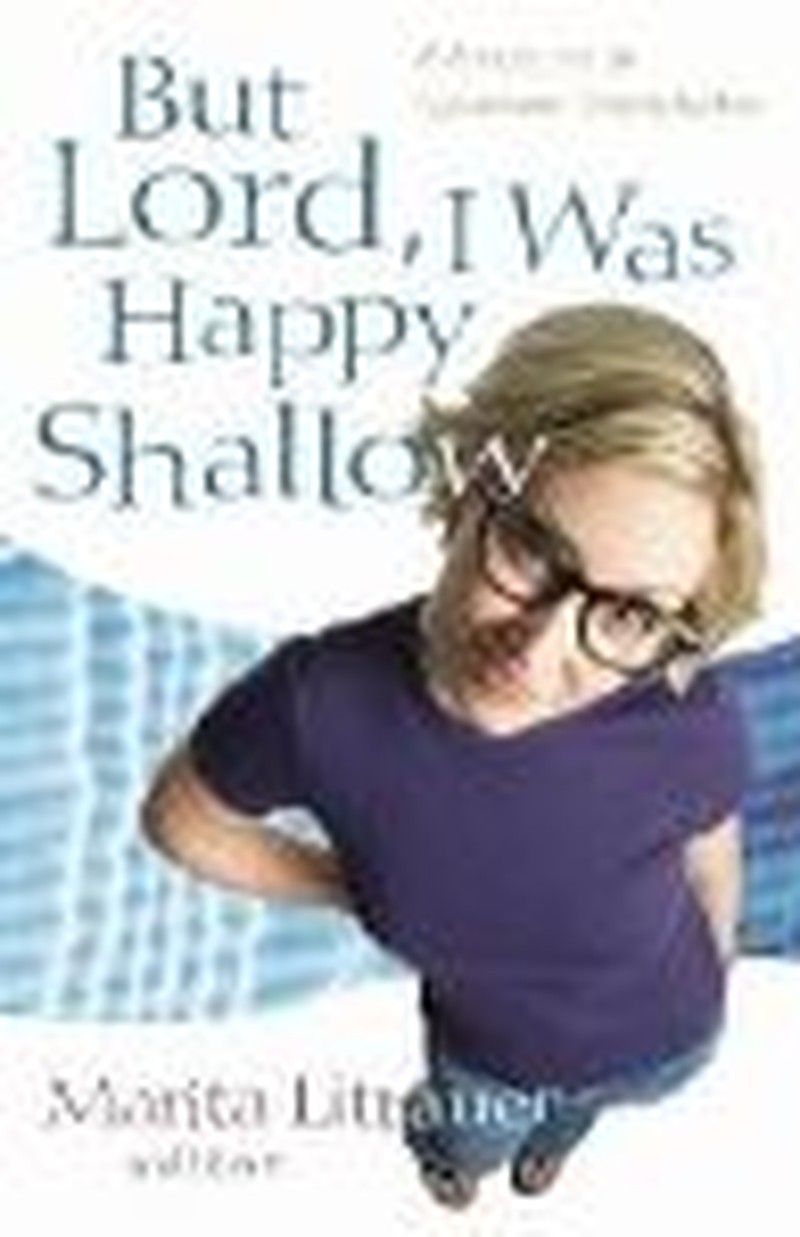 Welcome to "The Cross & the Pen," Crosswalk.com's author-to-author interview column!
Marita Littauer is a dear friend and someone to whom I give credit for my writing and speaking career. A few months ago, we "bunked" together at a Christian writers' conference held in a most picturesque setting at a campground in Oregon. She handed me a copy of her latest book, "But Lord, I Was Happy Shallow" (Kregel Publications) and then listened as I (along with friend, Kathleen Jackson) read from the pages. We laughed together and I told her, "M!" (I often call her "M.") "I've got to interview you about this!"
Recently we caught up with each other while online in an IM chat. We talked about how busy we both are (Marita is getting ready for a HUGE writers' conference — Glorieta — she directs this time of year) and about how fun her new book is to read.
Wanna listen in?
Marita:  Hello!
Eva Marie:  Well, hello, Miss M! Bet you're busy as all get-out about now, huh?
Marita:  My whole office is frantic [right now].
Eva Marie:  I'm going to ask you a few questions about your book, "But Lord, I Was Happy Shallow."
Marita:  OK. I do not have to worry about typos/spelling do I?
Eva Marie:  Nope! Just "chat" with me and I'll take care of the rest
Marita:  PTL.
Eva:  (Laughing) Here we go!
Marita:  OK.
Eva:  Shallowness … Marita, that's not a word you'd expect to see on the cover of a Christian book! But, your "tagline" intrigues me. "Lessons Learned in the Deep Places." Talk to me about that for a second.
Marita:  I had the title for the book long before I had a book. Many years ago, when I was teaching at one of my first writers' conferences, I ran into a colleague that I had not seen in many years. As we chatted, the colleague said to me, "I don't know, there is something different about you. You seem deeper."
Knowing why -- I have just been through a particularly difficult phase of my life -- in my head, I raised my hand toward heaven and said to the Lord, "But Lord, I was happy shallow."
Meaning, I did not need these tough times to create depth.
Eva Marie:  Oh, how I understand. ...
Marita:  Ever since them I have used that phrase repeatedly when tough times hit. People have responded to the little mantra so well, that I had to make a book out of it
We all know tough times produce character. But when they hit, we often -- as I literally did many times in 2003 -- hid our heads under the pillow and cry out why me God?
Eva Marie:  So, you're saying that even Christians can understand being shallow ... on a personal "I've experienced it" kind of way"?
Marita:  Yes, most definitely. On the flip side, when we are going through those tough times -- and generally I am referring to the daily hard knocks stuff, not the big tragedies like so many in Florida have faced this fall -- what we most want is a friend who will come along side us put their arm around us (even if only figuratively) and share our pain. The stories in "Happy Shallow" are like that for the reader who is in the midst of a tough place. They say, "I've been there. I understand."
Eva Marie:  M, you're listed as the general editor of this book, which is a collection of stories. What made you decide to allow others to tell their stories rather than just telling yours and then giving expository teaching? In other words, letting the stories teach the lesson?
Marita:  This book is a book I have wanted to write for a long time. My editor said. "No, No. Compilations books are a fad that will pass."
But the idea would not die. For me this book is special because through it I have been able to fulfill the publishing dreams of many.
Through the CLASSeminar, I have the opportunity to train hundreds of people each year in speaking and writing. Many of them feel called to getting their message out there. Through this book, a collection of stories, many people saw their name in print for the first time. When I handed some of the ones I know personally their first copy of the book with their words and their name in print, they cried. It brought tears in my eyes to see their joy. That makes this book special.
But, as I mentioned, the stories are a good model because they are like a friend giving you a hug.
In 2003 I had a particularly tough year which included my father's death in late 2002, my publisher killing two of my books, an employee having an awful accident that kept her out of work for three months, making the decision to end the SCWR (Southern California Women's Retreat) which I had run for 23 years, and the death of my dream house.
During that tough time, a friend sent me a note that said something like, "Remember, you can trust in God." It made me angry. "Like you think I am not? How do you think I am getting through this?"
Of course, I did not say anything to her, as I knew she meant well. But that was how I felt inside. That stuck with me as I complied the book. The story format is bite sized so the reader -- a person who needs to be lifted up can handle a short shot of encouragement -- a hug -- to carry them through. When you are in a tough place, I find we do not want a big, thick tome about the psychology of the issue. We need a friend and the story for mat provides that. Plus, each story was selected for its ability to leave the reader with a smile.
Eva Marie: How many stories do you have?
Marita:  There are over 100 stories. Honestly I do not know the exact count, but it is around 115.
Eva Marie:  Do you have a favorite among the favorites?
Marita:  Several. My sister's story is the favorite for the funny level. Which is interesting since her specialty is in the grief area and her story if the funniest. I often tell people to read it first.
Eva Marie:  I remember you telling me to read it first. And you're right. It is funny!
Marita: There is another that impacted me the most and I get teary when I tell about it -- though it is not a tear jerker. It's titled "The Wrong Story."
Eva Marie:  What is it about? (Not that I want you to cry. ...)
Marita:  "The Wrong Story" is Debbie Robbins' first published work. In it she tells about a habit she and her sister had. They like to people watch. If someone stood out in a crowd, they'd look at their attire and make up a whole life story about that person.
Eva Marie: Ah ha. ...
Marita:  One day in an airport, there was a forty-ish woman dressed in teenage clothes. She looked foolish. They made up a wonderful story about her life.
When they boarded the plane -- on SWA where the seats face each other -- this woman was across from them. They were mortified. As they chatted, the woman told them she was on her way home form her baby sister's funeral and she chose to wear her sisters clothes to help her feel closer to her sister.
Eva Marie:  Wow ... what a lesson learned, huh?
Marita:  It surely taught them a lesson! I am a people watcher too, and tend to be judgmental in my observations, so that hit home
That is probably the one that impacted me the most. But each story holds a powerful lesson. Some are funnier than others -- but all will leave you with a smile, leave you feeling lifted up
Eva Marie:  I think that your readers will find a lot of themselves within the pages of your book and, more than that, God's good graces and mercy over us when we act ... um ... shallow. Marita, thank you for taking the time to follow your gut and write/compile this book! Readers won't be sorry when they curl up with a copy!
Marita:  It is the kind of book you can read a little each day, catch a story while waiting somewhere or curl up with!
Eva Marie:  Hey, before we close ... wanna share with my readers what happened to that dream house of yours that "died?"
Marita:  Well, it was resurrected! I am now living it. Every day I thank God for the gift of my new house. I wrote up the story of the answered prayers -- two years worth of them for Allison [Bottke's] new "God Allows U-Turns Answered Prayers" book. I have the story posted on the personal web site: www.chuckandmarita.com.
Eva Marie:  Hey, girl. Get back to the franticness of your office. And, once again, thank you for taking time to chat with me about what I think is one of your funnest books!
Marita:  Thanks!
Eva Marie:  TTFN!
Marita:  TTFN!

Marita Littauer is the author of 13 books, including "But Lord, I Was Happy Shallow", "Your Spiritual Personality", "Journey to Jesus", "Love Extravagantly", "You've Got What It Takes", "Personality Puzzle" and "Talking So People Will Listen." Marita is the President of CLASServices Inc., an organization that provides resources, training, and promotion for speakers and authors. She is a gourmet cook and has a recipe column in The Godly Business Woman Magazine and is a regular contributor to the Christian Communicator and Writers Digest magazines.

Eva Marie Everson is the very busy author of fiction works like "Shadow of Dreams", "Summon the Shadows", and "Shadows of Light" and nonfiction works like "Intimate Encounters with God" and "Intimate Moments with God." To find out more about having Eva Marie come to speak to your group, please visit www.evamarieeverson.com.   Eva Marie and husband Dennis have been happily married for over 25 years.