The Cross & the Pen: Author Robin Chaddock & "Mom Overboard"
Eva Marie Everson

Contributing Writer

2004

8 May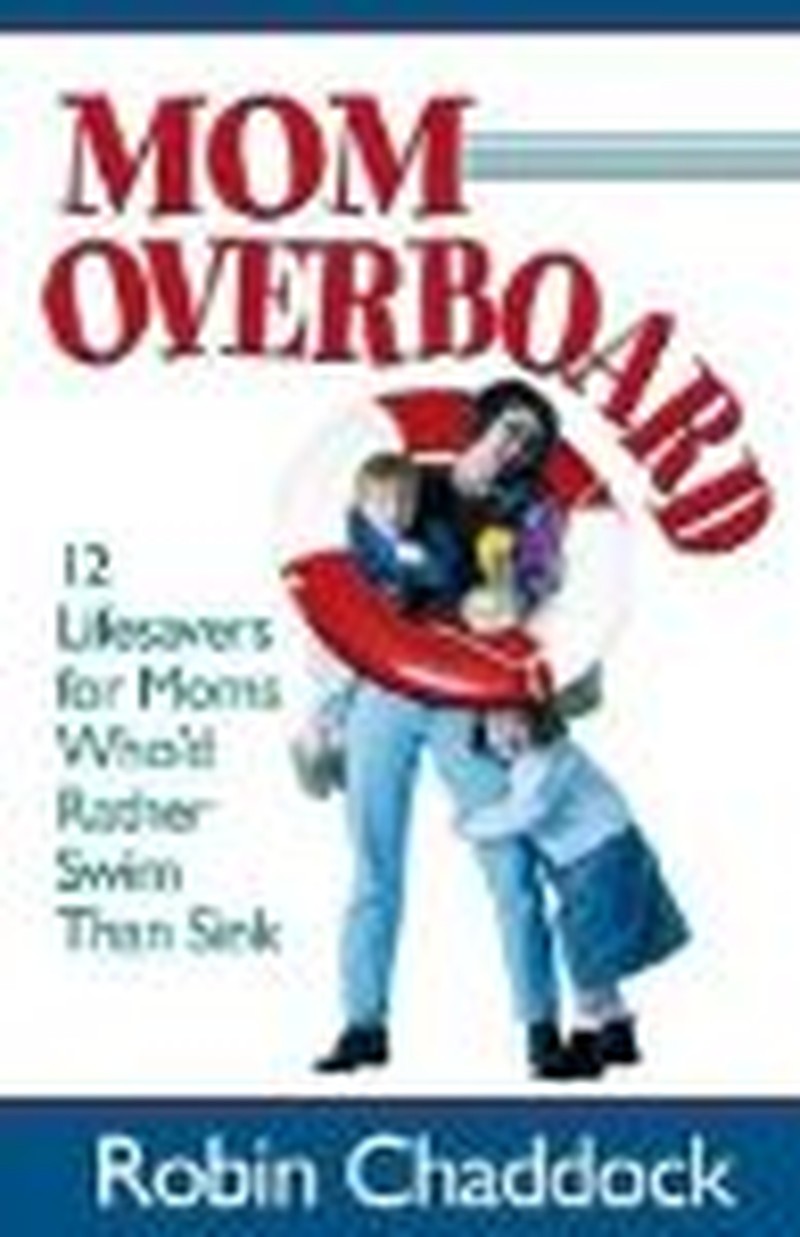 Welcome to "The Cross & the Pen," Crosswalk.com's author-to-author interview column!
Robin Chaddock is one of the very first people I ever met as I entered the world of writing and speaking ministry. She's funny and warm and very smart, and when I heard she'd written a book about motherhood survival ("Mom Overboard: 12 Lifesavers for Moms Who'd Rather Swim Than Sink"; Harvest House 2004) I just knew we had to talk! And so we did. Wanna listen in?
Eva:  Robin, you're a wife and a mother. Tell us a little about your family.
Robin:  I would love to.  I've been married for nearly 20 years to David, who I still like very much after all this time. We've done a lot together including producing two children, Madison who is currently 12 and in the 6th grade and Grant who is currently 8 and in 2nd grade. Just short of having a white picket fence, we're pretty typical including the dog and cat. David is a marriage and family therapist. The kids are fully alive and interesting in their own distinct things.
Eva:  Why did you want to write your book, "Mom Overboard"? What was the defining moment when you said to yourself, "This really should be a book!"
Robin:  When I realized I wasn't alone in my feeling of being overscheduled and under-rested! I knew it had to be a book when I pondered Jesus' assertion that he came that I have abundant life, and I didn't feel my life was abundant at all. Just too much to do, not enough sense of worth, and a feeling that I was drowning in all of the choices, comparisons, and competition. I figured Jesus wouldn't say what he said unless there really was a way for this to be true. That's when I started pondering the lifesavers that God must have put in my life and that I was simply ignoring or missing. 
Eva:  So, let's talk about the book. In the second part of the three-parter you maintain that God has a unique plan for moms. I know sometimes — especially when children are small — we mothers get the sense that we are only so-and-so's wife or so-and-so's mother. And while that is all well and good (and a blessing!), we want to know where we stand in God's equation. What is the "divine assignment?"
Robin:  Well, you are exactly right about so much of our sense of self-coming in relation to who we are to others. And you're also right that this isn't a bad thing, unless it's the only sense of self we have. The "divine assignment" is the answer to Paul's strong suggestion to the Galatians in Eugene Peterson's translation:  "Make a careful exploration of who you are and the work you've been given to do. Then sink yourself into it." The divine assignment is a very powerful combination of your central passion and your greatest strength. My divine assignment is to Stimulate Wholeness. The power of knowing and living this is the realization that I am unique and necessary. I can also live my divine assignment no matter who I'm with or what situation I find myself in.
Eva:  You give 12 "Lifesavers." First, what is a lifesaver … besides the little round candy?
Robin:  You crack me up! A Lifesaver is a natural gift from God, sent into this world to heal us and help us keep perspective.
Eva:  Let's talk about just a couple. One of my favorites … the self-care lifesaver. Do you think moms typically ignore their own needs?
Robin:  Absolutely. "Good Christian Women" have been socialized to put themselves last, supposing this is some kind of noble duty we should embrace to show how godly we are. But anyone who has ever flown on an airplane knows what folly this is in reality. What do the flight attendants tell you in the opening speech they give about safety? They tell you that if the oxygen masks fall out of the ceiling, you are to put yours on first before you try to help others. Why? Because if you are blue and lying in the aisle, you're not helping anyone else, you're in big trouble yourself, and you're probably impeding progress in making sure everyone is safe and healthy. We simply must take care of our spiritual, mental, emotional, and physical health first if we are to be effective ministers to others.
Eva:  I like what you said about moms dropping off their kids for school and driving twenty minutes down the road before they realize they're still listening to Veggie Tales.
Robin:  Boy, that's when I knew I had lost myself – when it didn't even matter to me that I wasn't listening to music I used to enjoy before I had become a mother and I was so engrossed in the mental to-do list running through my head that I didn't even realize that it didn't matter! We have to stay in touch with our preferences, our passions, and the peacefulness of our own center or we will feel "overboard."
Eva: … and how about the "yes and no" lifesaver?
Robin:  Ah, one of my favorites. When you have a sense of your divine assignment, you can better say yes to things that are truly going to be an authentic expression of who you are, and no to things that aren't. For example, when I get a phone call from the school, the church, or another organization asking me to volunteer or join something, I run it through the filter of my divine assignment to stimulate wholeness coupled with my skills and interests and know whether I should say yes or no. Have you ever said yes to something you wished you had said no to, but couldn't because of guilt or fear of being left out? In the end it doesn't feel good and most everyone suffers for the choice. That's not abundant life and is not the best use of our highest gifts. Know who you are, then say yes and no with clarity, authenticity and without guilt!
 
Eva:  Robin, would you pray a little prayer for moms who feel like they're drowning?
 
Robin:  Almighty and gracious God, thank you for the gift of your Holy Spirit. For any of us who are overwhelmed, help us to get a clearer picture of why we're overwhelmed and to take the steps, guided by your Spirit, to clear away the clutter of choice, comparisons, and competition. Help us to find others with whom we can be our true selves. Guide us to the wisdom of deeply knowing who we are as unique and beloved daughters of you. Through the peace of your Spirit, help us realize and embrace that we are never alone, we are never hopelessly adrift in your arms, and we are deeply, passionately and eternally loved by you. Let this reality sink into us and change us. In Jesus name, Amen.
Eva:  Amen. Thank you, Robin.

To learn more about Robin Chaddock and her ministry click here.

Award-winning national speaker, Eva Marie Everson's work includes "Intimate Moments with God and Intimate Encounters with God" (Cook). She is the author of "Shadow of Dreams," "Summon the Shadows" and "Shadow of Light." (Barbour Fiction) She can be contacted for comments or for speaking engagement bookings at   www.EvaMarieEverson.com.