The Cross & the Pen: Author Steve Barclift
Eva Marie Everson

Contributing Writer

2005

5 Apr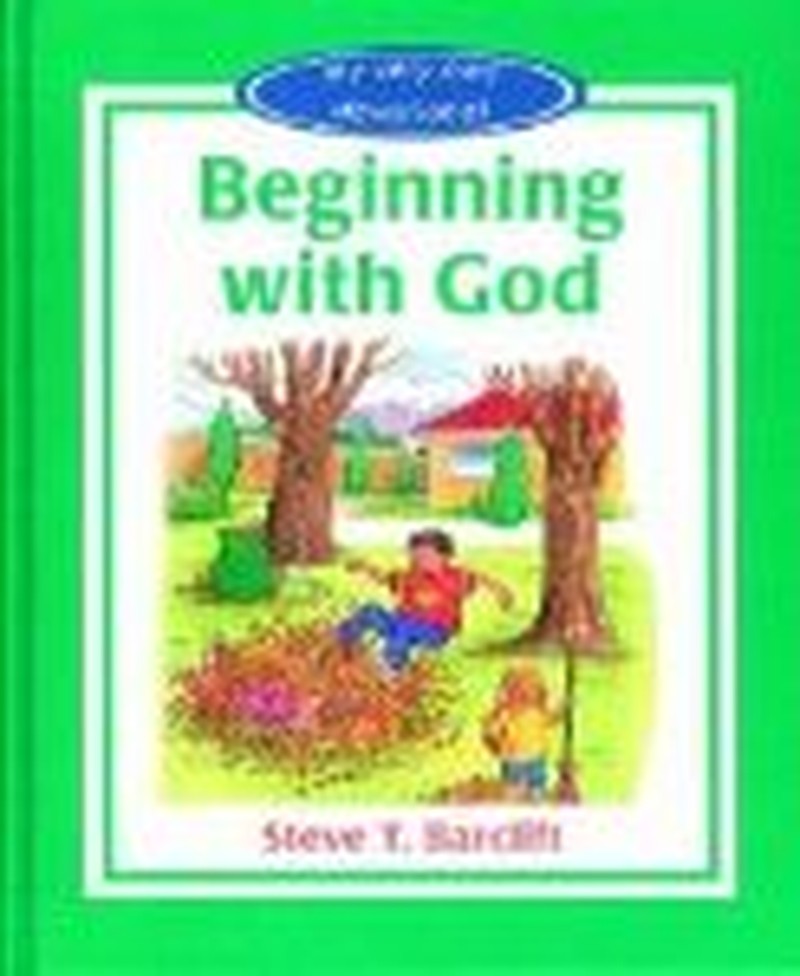 Welcome to The Cross & The Pen, Crosswalk.com's author-to-author interview!
Wanna know why I love ice cream parlors? 'Cause I meet such great people at them! I mean, only the nicest people hang out at ice cream parlors, right?
A year and a half ago, while working as faculty at a writer's conference, I met editor Steve Barclift. One evening, when a few of us "went out" for ice cream, the two of us ended up sitting "shoulder to shoulder." We chatted about this and that and I discovered this was really one very nice guy! And (wait till you hear this!) he writes books! For children!
Months later, Steve sent his children's devotional, "Beginning with God" (Kregel Publishers), for my granddaughter. Together she and I read the pages. I noticed how quickly she became involved in the lives of the "Kenton Family" and how easily she was able to relate to their godly methods of problem solving.
So, I called up my new friend Steve and said, "Let's talk about this book." He agreed … wanna listen in?

Eva Marie:  Steve, obviously the first question I want to ask you about is what made you want to write a children's devotional in the first place.  Talk to me about that. ...

Steve:  In the first place, I have to confess having been really put off by family devotional times when I was a kid. My father was a pastor, and, despite Dad's well-intentioned efforts, what I remember most about our family devotions is that they were dry and boring. My siblings and I dreaded them.
Later, when I married and became a parent myself, my wife, Jann, and I were as frustrated as the other Christian parents we knew, by the lack of good devotional materials available. We wanted to help our kids grow to love and obey the Lord, but for the most part, the tools for helping us in this all important task were the same ones used by my own parents with my siblings and me. Not much had changed over the years.
Eventually, God gave me an opportunity to do something about the problem. I was an editor for a Christian book publisher on the West Coast in the early '90s when my employer suggested that I consider writing a children's devotional. My own children ranged in age from three to eight years at the time, and as I mentioned, my wife and I had already found that there were few devotional resources available for kids. And I knew that other parents were having the same difficulty because, prior to that time, I had been the founding managing editor of Christian Parenting Today magazine – our readers were constantly telling us that they couldn't find devotional materials that their children would stick with. So, I took up the challenge and began writing, bouncing ideas off of the first- and second-graders in the Sunday school class my wife and I were teaching.
That book, "The Beginner's Devotional," was published in 1991. It became a best seller and won an ECPA Gold Medallion Award. "Beginning with God," my new devotional, which was recently released by Kregel Publications, is an updated version of my first devotional and features new and much better four-color art throughout, many new contemporary stories, and a host of other changes that make it a book that will resonate with kids today.
Eva Marie:  What did you envision when you wrote it?  Did you think family time every evening?  What was your goal, or your prayer, for the book?
Steve:  My intent was to provide kids, both my own and others who read the book, enough information about God and enough structure that they would begin to grow in their spiritual lives. I wanted them to come to understand the importance of developing a relationship with God and to know that, as difficult as life can be, God has provided a clear map – the Bible – that will help them at every point along life's journey. Kids need to know that for any decision they will ever need to make, they can find guidance in God's Word, and that the Holy Spirit will help them to understand and apply the rich truths of the Bible to their lives. In an age of international terrorism, war, pornography, and turmoil of every sort, our children can find stability and security and hope for the future in the Lord. The devotional is intended to help acquaint them with the God of the Bible.
More than anything, I wanted readers to see through the book that to be Christian isn't merely a commitment to attend church every week; Christianity is a lifestyle that is focused on the things of God. The contemporary stories in "Beginning with God" are designed to show kids that Christ should be the center of their lives.
When a crisis erupts in the Kenton family, the family turns to prayer and the Word of God for answers. The same is true for routine matters; the family's faith provides the framework for dealing with life. And I think it becomes clear to the reader that a Christ-focused existence is a very natural and positive thing. Though this fictional family struggles in the same ways as every other family, the Kentons' faith in God helps them cope with the ups and downs of life – every day.
Eva Marie:  How did you create the Kenton family members?
Steve:  I unashamedly patterned the Kenton-family characters after members of my own family. The Johnny character is based on my son, Wesley John. My oldest daughter, Elaina May, is represented as Elaina in the book. A younger daughter, Angela Joy, is the Joy character in the devotional. My wife, Jann, and I are the basis of the mother and father of the Kenton clan. (My wife and I had another daughter, Hannah, soon after my first devotional was published, and a new Hannah character became the focus of several units of the revised "Beginning with God," but that character is only a family friend. Unfortunately, there was no room for Hannah in the immediate Kenton family.)
While the book's characters are loosely based on my own family members – many of their quirks and personality traits mirror those present in the characters' real-life counterparts – the characters can to some extent be considered composites of other people I have known throughout my life. But my own family was a great starting place!
Eva Marie:  Okay, Steve.  Last question.  Will there be (or are there) other devo-type books featuring the Kenton family?
Steve:  I understand "Beginning with God" is selling well, and I wouldn't rule out a sequel devotional featuring the Kenton family. But none is in the works at present.
I am considering writing a devotional for children who are a bit older than those using "Beginning with God" – probably preteens. I will have a coauthor -- a scientist and published author who will provide a wealth of fascinating but little-known facts about God's amazing universe – and it should be a fun project! I hope to get the work underway soon.

Steve T. Barclift has worked in children's publishing for more than a decade. He is a Gold Medallion-winning children's book author, founding managing editor of Christian Parenting Today, and is currently the managing editor at Kregel Publications. He and his family live in Grand Rapids, Michigan.



Award-winning national speaker, Eva Marie Everson is a recent graduate of Andersonville Theological Seminary. Her work includes "Intimate Moments with God" and "Intimate Encounters with God" (Cook). She is the author of "Shadow of Dreams"," Summon the Shadows" and "Shadow of Light." (Barbour Fiction) She can be contacted for comments or for speaking engagement bookings at   www.evamarieeverson.com.