The Cross & the Pen: Author Virelle Kidder
Eva Marie Everson

Contributing Writer

2004

19 Apr

COMMENTS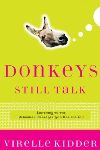 Welcome to "The Cross & the Pen," Crosswalk.com's author-to-author interview column!

I first "met" Virelle Kidder on the air. She was a radio talk show host in Albany, New York and I was an author/interviewee. I immediately warmed to her friendly voice and entertaining banter. This woman, I determined, was a true, FUN woman of God! Two years went by, more interviews, until one afternoon when I received an impassioned phone request. "Eva, I know you are about to go to Israel. Would you talk about this with my listeners? We want to know why you would go now? During the 'Middle East Crisis?'"
I said I would. About an hour later, Virelle called back, we conducted the phone interview and – during a commercial break – she said, "Oh, Eva! I want to go, too!"
Because I was going to Israel as a journalist … and because Virelle is a journalist, too, I gave her the contact information for attaining more information. The following day, Virelle called again and said, "Eva?? I'M GOING!"
What a JOY to share the Holy Land with Virelle! We became FAST friends … sisters in the Lord … and we continue to enjoy time together. Recently, I talked with Virelle about her new book, "Donkeys Still Talk" (NavPress). Wanna listen in?
Eva:  Virelle, what scripture inspired your book, "Donkey's Still Talk"?
Virelle:  Actually, my "aha!" moment came while reading Numbers, chapter 22, the story of the questionable prophet Balaam and his wonderful donkey who God blessed with a voice at just the right moment. I was also "up against the wall" like Balaam, unable to move my problem donkey, which at the time happened to be Bell's Palsy. Like many difficult and frustrating circumstances in life that we can't change no matter how hard we try, the "donkeys" God allows often how up right when we need to hear Him speak to us more than anything else. What He says will be life changing. Unfortunately, we can be as dumb as Balaam and beat our donkey in  many "spiritual" ways, like calling up every prayer chain in America, claiming verses over it, and wearing a face like a forgotten child. "Donkeys Still Talk" is about hearing God's voice even when we're not listening. God knows how to get our attention.
Eva:  When you and I traveled to Israel together I overheard you in the van seat behind me, telling our friend Dana your testimony. I get a sense that this was, in fact, the inspirational event for your book. Am I right?
Virelle:  Riding in that van around Israel with our host, Dana, and guide, Miriam, as well as you and our friends was one of the great highlights of my Christian life. Walking on the same paths that Jesus did, seeing the city God calls His homeland, was unforgettable. I'd go again in a heartbeat. But this book, quite honestly, was born in my heart over the longer stretch of years, now almost 35, that I have sought to follow Jesus, often balking rather badly myself. It's my fourth book and by far the most personal and difficult to write. In the same sense, it's a little love gift to others on the same path seeking to know Jesus better. I hope it will encourage others to see God's hand on every inch of their life, to listen for His Voice, and to know beyond a doubt that His love for them exceeds their wildest dreams.
Eva:  You write: "Sometimes when God speaks, He gives us nothing we ask for and everything we need."
Virelle:  I remember in particular a "conversation" I had with God in front of the bathroom mirror the first morning that I had Bell's Palsy. Being a full time writer and conference speaker, it's a fair guess when God paralyzes half your face that He wants your attention. That much I knew. I can't tell you I heard an audible voice, but I was certain He was speaking to me lovingly and directly when He asked, "Virelle, I was wondering, will you still praise Me with only half a mouth?" It wasn't what I wanted to hear at all. How could I waffle on that when others serve Him all around the world in the midst of great suffering? I whispered, "Yes, Lord."
"Good," He said. "Then will you trust Me when I give you something to do that I will also give you everything you need to do it?" That was the rub. My feverishly busy life bore witness to the doubter in me that I could ever do all God seemed to require that year. Funny, but that's been a regular theme for me. You'd think I'd learn by now, but again, I needed to face up to it. I was mustering up my own steam to do God's work, an impossible task. Again, I answered sheepishly, "Yes, Lord." But the real test was coming.
In a bold move I asked, "Father, could you please give me my smile again? I can't smile at my loved ones, my husband and kids, my little grandsons?" The question alone made me sob, as downstairs in our kitchen many of our adult kids and their spouses and children were gathered for Easter.
"Then smile at me," He said gently, "because I always see your smile and I think it's beautiful."
No healing, no outward smile, just a gentle reminder that God offers me the singular joy of serving with Him hand in hand. He wants to be all I need, all the time. All I have to do is ask and love Him back with my whole heart. It was several months before my face came back to almost normal. God gave me back clear speech so I could finish all my Spring speaking schedule. Best of all He gave me a happy, confident spirit and a new desire to stop and listen for His voice a lot sooner.
Eva:  Tell me about the face-to-face sections of your book.
Virelle:  Each of the eight chapters features "Face to Face," a Bible study/journal activity that can be used in a small group or simply alone with God. Also included are verses for treasuring, promises we need every day, called "Truth for the Sure-footed Journey." I hope readers will visit my website for even more helps. It's www.donkeysstilltalk.com, or www.virellekidder.com.
Eva:  What might a modern-day donkey look like?
Virelle:  Some women say they are married to it! (smiling!) Others talk about a challenging person in their family life or at work; others clearly identify their donkey as a health issue, a financial trial, or even depression. Donkeys come in all sizes and shapes. I'm not sure they are all sent by God. Some arrive at our own bidding, but each one can carry us to a new listening place of intimacy with God if we let it. Each one can lead us to surrender our tight grip, to learn to worship God right where we are. I can guarantee, you can tell a person who has learned to do that. They are changing daily more and more into His likeness without even knowing it.
Eva:  What eventually happens when we refuse to listen to the donkeys God brings into our lives?
Virelle:  I think eventually we become hardened in our spirit, unyielding, often judgmental. We get whiney and complain about the way God and everybody else is treating us. Someone who can't submit to God can seldom serve others joyfully. Their spirit sounds tinny after awhile, like the noisy gong or clanging cymbal 1 Cor. 13 talks about. Funny, but it's hard to recognize that in ourselves. It's a good thing to give someone you love and admire in the faith permission to tell you. Gently, of course.
Eva:  Virelle, would you pray for our readers, those who need to hear what the Lord has to say in their lives today?
Virelle:  I'd love to. Father, right now we might not like where we are. We confess we've been struggling with the challenges you've allowed, trying to handle them in our own strength. We are sorry, Father, for our foolishness and ask your forgiveness. Please open our eyes to see You on the path right in front of us. We turn our eyes toward you and seek Your face. We worship you and offer ourselves to you again this moment. Please take over our unruly hearts and lead our difficult donkeys on the path You know is right. We thank you ahead of time for all You will do. May the outcome bring You praise and honor and glory. In the strong name of Jesus, Amen.

Award-winning national speaker, Eva Marie Everson's work includes "Intimate Moments with God and Intimate Encounters with God" (Cook). She is the author of "Shadow of Dreams," "Summon the Shadows" and "Shadow of Light." (Barbour Fiction) She can be contacted for comments or for speaking engagement bookings at   www.EvaMarieEverson.com.