The Cross & the Pen: Stones of Witness
Eva Marie Everson

Contributing Writer

2004

19 Feb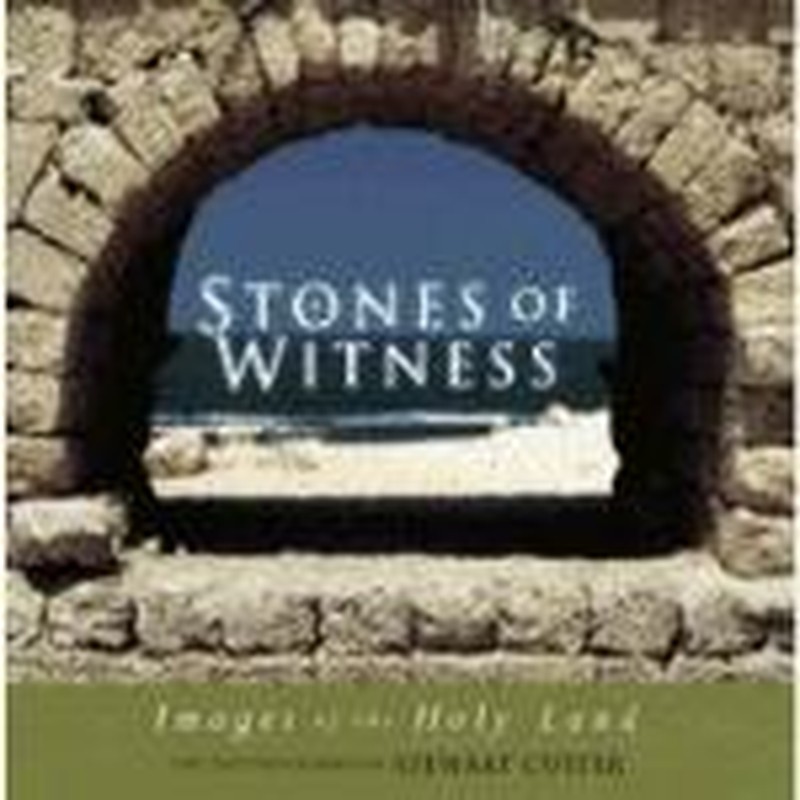 Welcome to "The Cross & the Pen," Crosswalk.com's author-to-author interview column. I haven't had the honor of meeting Dr. Stewart Custer, author and photographer of one of the most beautiful books I've ever seen.This past July, while attending a booksellers trade show, I was perusing an aisle when I came upon a display of Stones of Witness (BJU Press). So impressive is this work that I came to a complete halt and began to scan its pages. For someone who has just visited Israel and who loves the Holy Land so much, it brought back wonderful memories. For those who have not had the opportunity to go, it's the next best thing to going there!

As soon as I could, I contacted BJU Press for my personal copy ... then sought out Dr. Custer. Recently, we chatted about the book, the Holy Land, and photography. Wanna listen in?

Eva: Dr. Custer, before we begin talking about your book, would you share a little of your background with my readers?

Dr. Custer: The Lord called me to preach; I went to Bob Jones University to study; got a BA, MA. & Ph.D.; taught Bible, Greek, Theology; became chairman of the Division of Bible; recently retired after 43 years of teaching.

Eva: Wow, that's a long time. Okay ... your book is a collection of photographs, maps, etc. taken over the course of leading eight tours to the Holy Land. What drew you there the first time?

Dr. Custer: The University asked me to organize the tour; I laid out the itinerary and every time varied the route so that we would see other parts of the Holy Land; we got to see places that tourists never see, such as the great well at Gibeon, near Ramallah.

Eva: What is the biblical significance of the great well?

Dr. Custer: The great well at Gibeon was the place that Joab & Abner met & had a contest of champions that turned into civil war (II Sam. 2:12-17); Joab and his men won for David. Today Ramallah is also a war zone.

Eva: I visited Israel last year as a journalist. Before I left, those who had gone before me said, "If you go once, it won't be enough." Quite honestly, I thought: No, once will be enough. Now I'm here to tell you, once is NOT enough! Why do you think that is?

Dr. Custer: Someone who has been blessed by a tour to the Holy Land will go back every chance he gets.

Eva: But why do you think that is?

Dr. Custer: To stand at the place in which some Biblical experience happened is a deeply moving experience. When you stand at the Shepherd's Fields at Bethlehem and realize that somewhere around that field the angel appeared to the shepherds, the reality of that event is forever stamped upon your memory. We always read the Christmas story in Luke 2 at that place.

Eva: I have to agree with you. I know that, for me, reading the Bible changed after I saw the places where the event actually took place. When did the idea to do this picture book come to you? Tell me a little about how it went from thought to completion.

Dr. Custer: Most people cannot afford a trip to the Holy Land. I tried to organize the book like a tour, going up the coast, across the Galilean hills, around the Sea of Galilee, through Samaria to Jerusalem, and all the way down to the Red Sea. It gives the reader the impression of a guided tour.

Eva: Indeed it does! Your photographs are beautiful! For those who love photography, tell me a little about the camera you used, etc.

Dr. Custer: I used a Minolta single lens reflex, then went to a digital camera; now a Kodak 290.

Eva: Okay, here's my story. When I went to Israel I was one of six journalists. One or two had those throw away camera. A few had digital cameras. Mine was a Canon EOS 630 with interchangeable lenses, which I drug around in a wheeled backpack. Each shot was carefully determined and some things I just couldn't quite capture on film – though I certainly tried. I took a lot of ribbing about dragging the camera around, but in the end, my photographs are fabulous! Naturally I have one special photo, which is my favorite. What about you? Out of all the photos in the book, which is your favorite?

Dr. Custer: It's hard to pick just one. Of the places, the sacred steps on page 99, up to the palace of Caiphas; there you get the effect of walking where Jesus walked. Now there is an iron railing around them and you can't walk them. Of the people, the porter walking along carrying a refrigerator on his back, on page 113, was a shock to see. They are incredibly strong.

Eva: (Now I have to go back and revisit that photo!) Epiphany moments seem to come constantly while traveling in the Land of the Bible. What about for you? Any special moments? Moments that changed you?

Dr. Custer: I arrange the tour to be at the Chapel of the Beatitudes on a Sunday. We have a church service on the balcony overlooking the Sea of Galilee (pp. 44-45). People will often have tears running down their cheeks as they realize that it is the place that heard the precious words of the Sermon on the Mount for the very first time. Gordon's Calvary is also such a place. You can see the empty tomb and realize that the Lord Jesus Christ lives, triumphant over death.

Eva: Dr. Custer, the Bible tells us to pray for the peace of Jerusalem. Would you say a prayer for Israel?

Dr. Custer: May God grant that peace will come to Jerusalem and that the Prince of peace may be accepted as the Savior of the world. Amen.


Award-winning national speaker, Eva Marie Everson is the author of Shadow of Dreams, Summon the Shadows and the recently released and highly anticipated Shadows of Light. She can be contacted for comments or for speaking engagement bookings at www.EvaMarieEverson.com.