The Red Letters
Timothy J. Beals

Editor

2009

26 Mar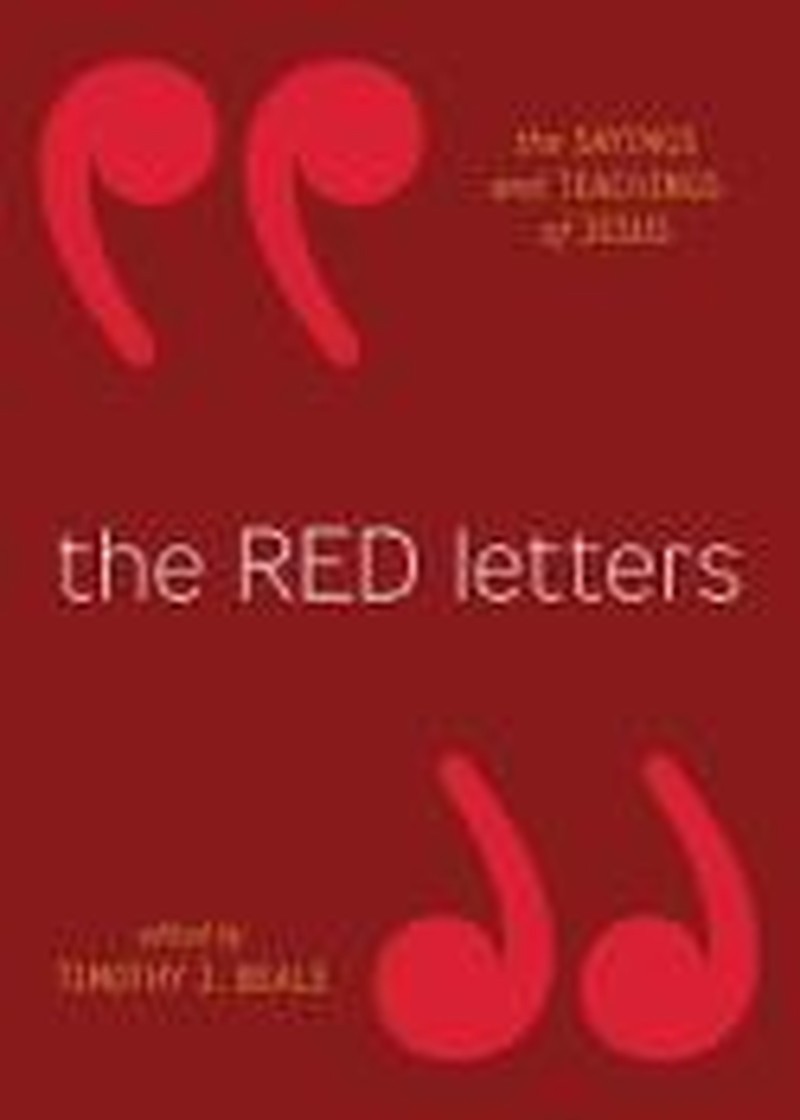 EDITOR'S NOTE: The following is an extract from The Red Letters: The Saying and Teachings of Jesus, edited by Timothy J. Beals (Crossway).
Foreword: The Word
Words are important. They can express reality and shape it. So when the writer of the fourth gospel account articulated the essential nature of the central figure in history, he said:
In the beginning was the Word, and the Word was with God, and the Word was God. He was in the beginning with God. All things were made through him, and without him was not any thing made that was made. In him was life, and the life was the light of men. The light shines in the darkness, and the darkness has not overcome it (John 1:1–5).
The apostle John could have used other metaphors, but none more clear, elegant, powerful, or true as "the Word." Jesus himself acknowledged the mysterious power of words in the account of the Roman soldier who shared with the Lord his concern for his servant's health. The centurion declared to Jesus, "Only say the word, and my servant will be healed" (Matthew 8:8). And Jesus "marveled" (8:10), literally was "amazed" or "astonished," at this claim—the only time in his earthly ministry he was "surprised" by the faith and understanding of one of his followers. Words make worlds. They have mysterious and undeniable power to share and shape our thinking.
But there is another thing about words: they have their limits. Because of the constraints of space and time, we are often forced to be selective, saying only the most important things (most of the time). That's what makes this volume unique. Here we focus on one thing: the words from the Word. By looking only at the "red letters," Jesus' spoken words, we see what is important to him.
The gospels are not comprehensive; John acknowledges that "there are also many other things that Jesus did. Were every one of them to be written, I suppose that the world itself could not contain the books that would be written" (21:25). So Jesus chose his words carefully. Sometimes he said nothing at all (Mark 14:61). When he spoke, his message was purposeful and poignant, measured and directed for an audience both present in history and extended through all time. Always he said what was true, and everywhere we hear him giving his listeners their proper place in his life.
The following presentation is meant to encourage readers to hear and understand Jesus' message in two ways:
through a narrated, chronological life of Christ in his own words—the sayings of Jesus (in Part 1)
through a thematic presentation of Jesus' message—the teachings of Jesus (in Part 2)
The origin of the red letters
Like chapter and verse numbers, center column references, and many other features we take for granted in our modern English Bibles, the red letters idea is a recent innovation. Its creator, Louis Klopsch (1852-1910), was born in Germany but moved to New York at age two and grew up there. By age twenty he had begun a career in journalism followed by a lifetime of service as both a printer and publisher. In 1890 he became the American editor of the British weekly, The Christian Herald, a newspaper that remained in print for over 130 years.
On June 19, 1899, while writing an editorial for the newspaper, Klopsch noticed these words from Luke 22:20: "This cup that is poured out for you is the new covenant in my blood." Impressed by the symbolism of blood, Klopsch asked a trusted publishing colleague if Christ's words could not be printed in red. His mentor replied, "It could do no harm and it most certainly could do much good."
An initial red-letter edition of 60,000 King James Version New Testaments soon sold out. Praise streamed in—from the King of Sweden (by telegram) to President Theodore Roosevelt (through a dinner invitation that Louis Klopsch accepted). Throughout the twentieth century, red-letter editions became standard in nearly all traditional and modern translations. While other trends in Bible publishing have come and gone, the red-letter option appears to be a fixed feature, welcomed and demanded by many Bible readers the world over.
The approach to this edition
A word about my methods and criteria. In the pages that follow, I have compiled every instance of Jesus' recorded message in the gospels from the English Standard Version. In an effort to reduce repetition, however, where two or more gospel accounts refer to the same teaching or event, I have selected only one—usually the fullest and most detailed account.
In Part 1 you will find a complete account of Jesus' life using only his words, including every remark of his earthly ministry recorded across all four gospels. In this section I have focused on Jesus' half of the dialogue with his followers and opponents. For the order of events, I have followed J. Dwight Pentecost's outline in A Harmony of the Words and Works of Jesus Christ.
In Part 2 you will discover every teaching of our Lord touching on the crucial issues of his day and our own. In many instances the accounts you read here are also rendered in similar accounts in one or more gospels. Throughout the book, the commentary and apparatus has been kept to a minimum to allow the power and compassion of Jesus' sometimes comforting, sometimes unsettling message to remain the focus.
My primary incentive is to provide a unique volume that will enable us to become better apprentices of the Master by allowing us to hear directly from him about what matters most. So we can be transformed by the words and share the thrill of the apostle who wrote, "And the Word became flesh and dwelt among us, and we have seen his glory, glory as of the only Son from the Father, full of grace and truth" (John 1:14).
Our hope is that the red letters become the read letters.
Part 1: The Sayings
Beginning
(The boy Jesus in the temple)
Why were you looking for me? Did you not know that I must be in my Father's house?
Luke 2:49
(At the baptism of Jesus, many years later)
Let it be so now, for thus it is fitting for us to fulfill all righteousness.
Matthew 3:15
(Upon being tempted with food)
It is written, "Man shall not live by bread alone, but by every word that comes from the mouth of God."
Matthew 4:4
(Upon being tempted to jump)
Again it is written, "You shall not put the Lord your God to the test."
Matthew 4:7
(Upon being tempted with the world)
Be gone, Satan! For it is written, "You shall worship the Lord your God and him only shall you serve."
Matthew 4:10
Ministering
(Jesus begins his ministry) |
The time is fulfilled, and the kingdom of God is at hand; repent and believe in the gospel.
Mark 1:15
(In the synagogue)
"The Spirit of the Lord is upon me,
because he has anointed me
to proclaim good news to the poor.
He has sent me to proclaim liberty to the captives
and recovering of sight to the blind,
to set at liberty those who are oppressed,
to proclaim the year of the Lord's favor."
Luke 4:18–19
Today this Scripture has been fulfilled in your hearing.
Luke 4:21
Doubtless you will quote to me this proverb, "Physician, heal yourself." What we have heard you did at Capernaum, do here in your hometown as well.
Luke 4:23
But in truth, I tell you, there were many widows in Israel in the days of Elijah, when the heavens were shut up three years and six months, and a great famine came over all the land, and Elijah was sent to none of them but only to Zarephath, in the land of Sidon, to a woman who was a widow. And there were many lepers in Israel in the time of the prophet Elisha, and none of them was cleansed, but only Naaman the Syrian.
Luke 4:25–27
Discipling
(To Simon and Andrew)
What are you seeking?
John 1:38
Come and you will see.
John 1:39
(To Simon)
So you are Simon the son of John? You shall be called Cephas.
John 1:42
(To Phillip)
Follow me.
John 1:43
(Of Nathanael)
Behold, an Israelite indeed, in whom there is no deceit!
John 1:47
(To Nathanael)
Before Philip called you, when you were under the fig tree, I saw you.
John 1:48
Because I said to you, "I saw you under the fig tree," do you believe? You will see greater things than these.
John 1:50
Truly, truly, I say to you, you will see heaven opened, and the angels of God ascending and descending on the Son of Man.
John 1:51
(To Simon) |
Put out into the deep and let down your nets for a catch.
Luke 5:4
Do not be afraid; from now on you will be catching men.
Luke 5:10
(To his mother)
Woman, what does this have to do with me? My hour has not yet come.
John 2:4
Traveling and Teaching
(To the servants)
Fill the jars with water.
John 2:7
Now draw some out and take it to the master of the feast.
John 2:8
(To those selling the doves)
Take these things away; do not make my Father's house a house of trade.
John 2:16
(To the Jews)
Destroy this temple, and in three days I will raise it up.
John 2:19
(To Nicodemus)
Truly, truly, I say to you, unless one is born again he cannot see the kingdom of God.
John 3:3
Truly, truly, I say to you, unless one is born of water and the Spirit, he cannot enter the kingdom of God. That which is born of the flesh is flesh, and that which is born of the Spirit is spirit. Do not marvel that I said to you, "You must be born again." The wind blows where it wishes, and you hear its sound, but you do not know where it comes from or where it goes. So it is with everyone who is born of the Spirit.
John 3:5–8
Are you the teacher of Israel and yet you do not understand these things? Truly, truly, I say to you, we speak of what we know, and bear witness to what we have seen, but you do not receive our testimony. If I have told you earthly things and you do not believe, hw can you believe if I tell you heavenly things? No one has ascended into heaven except he who descended from heaven, the Son of Man. And as Moses lifted up the serpent in the wilderness, so must the Son of Man be lifted up, that whoever believes in him may have eternal life.
For God so loved the world, that he gave his only Son, that whoever believes in him should not perish but have eternal life. For God did not send his Son into the world to condemn the world, but in order that the world might be saved through him. Whoever believes in him is not condemned, but whoever does not believe is condemned already, because he has not believed in the name of the only Son of God. And this is the judgment: the light has come into the world, and people loved the darkness rather than the light because their works were evil. For everyone who does wicked things hates the light and does not come to the light, lest his works should be exposed. But whoever does what is true comes to the light, so that it may be clearly seen that his works have been carried out in God.
John 3:10–21
(To the woman of Samaria)
Give me a drink.
John 4:7
If you knew the gift of God, and who it is that is saying to you, "Give me a drink," you would have asked him, and he would have given you living water.
John 4:10
Go, call your husband, and come here.
John 4:16
You are right in saying, "I have no husband"; for you have had five husbands, and the one you now have is not your husband. What you have said is true.
John 4:17–18
I who speak to you am he.
John 4:26
(To his disciples in Samaria)
I have food to eat that you do not know about.
John 4:32
My food is to do the will of him who sent me and to accomplish his work. Do you not say, "There are yet four months, then comes the harvest"? Look, I tell you, lift up your eyes, and see that the fields are white for harvest. Already the one who reaps is receiving wages and gathering fruit for eternal life, so that sower and reaper may rejoice together. For here the saying holds true, "One sows and another reaps." I sent you to reap that for which you did not labor. Others have labored, and you have entered into their labor.
John 4:34–38
The Red Letters: The Saying and Teachings of Jesus
Copyright © 2009 by Timothy J. Beals
Published by Crossway Books, a publishing ministry of Good News Publishers
1300 Crescent Street Wheaton, Illinois 60187
All rights reserved. No part of this publication may be reproduced, stored in a retrieval system or transmitted in any form by any means, electronic, mechanical, photocopy, recording or otherwise, without the prior permission of the publisher, except as provided for by USA copyright law.