Tone of Voice a Big Draw for Nobody
Brian Palmer

Infuze Magazine

2007

4 Dec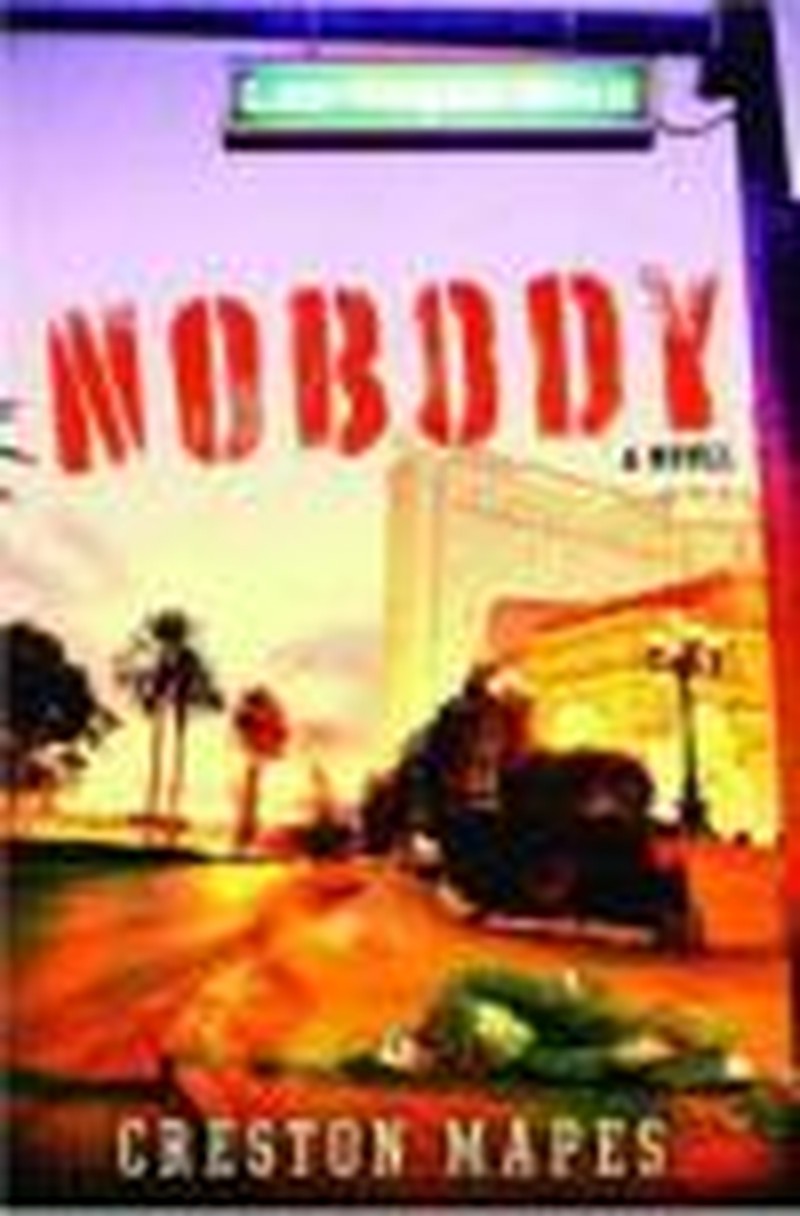 Author: Creston Mapes
Title: Nobody
Publisher: Multnomah Fiction
Sometimes in life you find yourself in situations where you absolutely, positively, not-a-doubt-in-the-whole-world know there are certain choices you should not be making. Common sense dictates to us that certain decisions will lead to ruin, or at the very least take us in the exact opposite direction of personal benefit. You don't even have to think about it, really. Other times, however, all you can do is look back at a choice you made and wonder what on Earth you were thinking.
Hudson Ambrose is having one of those days.
A reporter for one of the local Las Vegas newspapers, Hudson has a thing for letting his instincts and emotions completely overrun any sense he has or ought to have. How else can you explain why he would wander over to a homeless man's dead body on the side of a busy Las Vegas street, search his body, find a checkbook with a balance of well over $500,000 in it, and decide to pocket both the checkbook and a key to a safety deposit box somewhere in the city? I mean come on, I'm not a reporter and I know this setup alone is grounds for a nifty little piece, but why would anyone do this?
A funny thing happens though, as you continue to read the opening pages and chapters of Creston Mapes' latest page-turner, Nobody: you soon begin to realize that a dead man who's the hobo version of Uncle Moneybags is not what you should be focusing in on. What follows is a rip-roaring trip through the seedier parts of Vegas, Ambrose's childhood home in Texas and the booming metropolis of Atlanta, all of which introduces us to an unforgiving pastor of a mega-church, corrupt police officials and a homeless community that has been forever changed by one of its own in ways no one else could.
In his search to find out who this man is and why he was killed, Hudson Ambrose encounters a number of people who change his life in one way or another. There is Holly Queens, who works at the local rescue mission and has an unflinching faith in God, which counters Hudson's abject disbelief; Ken Van Dillon, Holly's psychopathic ex-boyfriend who stalks and hunts her without mercy, especially once Hudson meets her; and then there is Chester Holte—the mystery man in question. As Hudson's search continues and he learns more about who Holte was and why he left his top-of-the-world life back in Atlanta for the down-and-out community in Vegas, Hudson encounters one story after another about the wonders this guy did for others.
Which leads into one of the novel's—and more specifically, author Creston Mapes'—biggest draws: the tone of voice. One of the aspects that made his debut novel, Rock Star: Confessions of a Rock Idol, so engaging was that his main character was telling us the story, rather than some omniscient narrator. It seemed as though everything was happening right then and there. That book's sequel, Full Tilt, though exciting, seemed to lose some steam with its past tense framework, choosing to use a more passive voice that sometimes ratcheted the tension down when it should have been amplifying it.
Nobody returns to Rock Star's voice, telling the story from Hudson's perspective, but then it does something that is quite ingenious considering the scope of the novel: certain chapters are done in the voices of other characters in the novel. This is a particularly affecting and engaging device when used by people whose lives have been changed because of the kindness of Chester Holte; when you get their back stories, it somehow feels right to hear the stories coming from the characters, rather than some mystery narrator who knows everything. Your average reader might be uncomfortable with these changes of voice at first, but believe me when I say this is the most effective way Mapes could have structured this novel.
Some of the story's elements are formulaic and predictable enough (Will Hudson and Holly take a shining to each other? You bet. Does her faith and his lack of one pose a threat to them? Obviously. Is the local police chief corrupt and somehow involved in the mess surrounding Chester Holte's death? Take a wild guess.), but they aren't so unreasonable as to detract from the story of a homeless man who had it all, lost it all, found it again (in God), lost it again (because of His followers), and then simply chose to give it away.
In Chester Holte we see a magnanimous character who learned what it meant to give himself to the people who really needed his help instead of being cornered by the folks who wanted what he had. Holly is the example of healing in progress, while Hudson is the one who seems to resist the things he obviously needs the most, and while these two act as the story's primary characters in terms of page time, it is really Chester Holte who has the most to say even though he is dead before page one.
That's an impressive feat. That's an impressive character. Nobody is an impressive novel.





© 2007 Infuze Magazine. All rights reserved. Used with permission.