Two Wars
Nate Self

Author

2008

17 Jun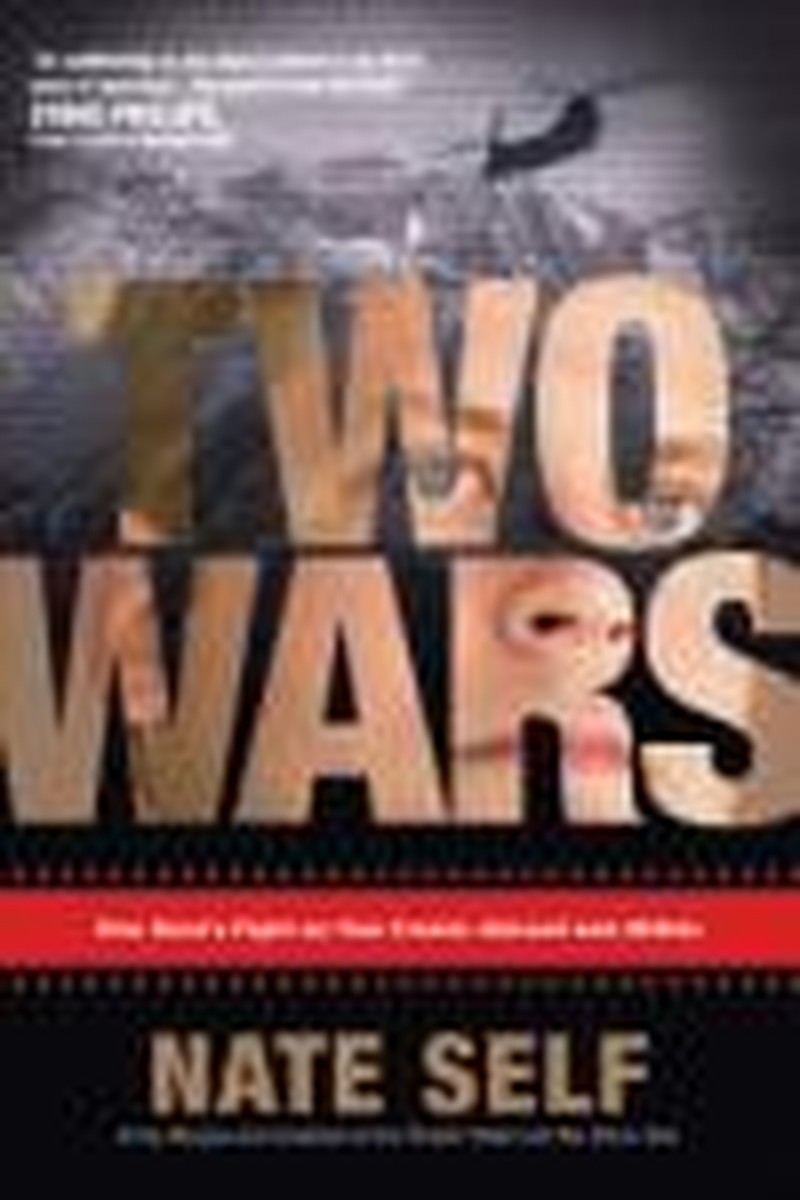 EDITOR'S NOTE: The following is an excerpt from Two Wars by Nate Self (Tyndale).
Chapter 1

That's what it takes to be a hero, a little gem of innocence inside you that makes you want to believe that there still exists a right and wrong, that decency will somehow triumph in the end.
— Lise Hand

FEBRUARY 14, 1993 CHINA SPRING, TEXAS

I was eager for church to conclude so I could grab lunch and run a few errands. I still needed to buy a Valentine's Day gift and card for my new girlfriend, Julie Wenzel. We had been dating for a couple of months. She was a year younger at age fifteen—a skinny blonde as tall as me, with a captivating presence and sparkling blue-gray eyes as inviting as a dip in the pool. We had planned an early dinner for Valentine's, and I looked forward to seeing her as soon as I could.
The pastor closed with a benediction, and I bolted to my baby blue '65 Chevy pickup in the back of the gravel parking lot. I loved shifting through that three-speed-in-the-floor V8 305 engine with the Eagles in the tape deck, and on the way home I imagined Julie sitting next to me with the gears at her feet, holding my arm through the bends in the road to keep herself from sliding across the vinyl bench seat.
Stop signs were optional along the empty country roads to our house in China Spring, Texas—population 1,500. As I pulled into our gravel driveway at home, I stopped to pick up yesterday's mail, which included the normal bevy of postcards and mailers from universities wooing high school juniors like me. A heavy, full-color catalog was wrapped around it all, a catalog that I had ordered from the most intriguing school on my list: West Point.
I went inside to the table with my sister and parents. But I had trouble paying attention to them as I thumbed through the literature.
"You seem to be into that," my mother said.
"Did you see this place?" I asked. I turned the catalog around for her to see the cover photo of massive gray granite buildings in front of an emerald parade field.
"Looks like a pretty place," she said. "Is that a school?"
"Well, yeah, it's a school, but in the military," I said. "West Point. It's the college for the Army."
"I thought you said you weren't interested in the Army."
"I said I wasn't interested in joining the Army through a recruiter. This is different."
"Whatever happened to being an eye doctor?" she asked. I didn't reply, continuing to flip through the pages.
"I'm fine with you dressing up and playing army as a kid, but not as a man."
"What's wrong with the military?" I asked.
"I just don't like it," she said. "You could get hurt."
"Being in the Army doesn't mean someone's shooting at you. They have doctors, too," I said. "Think about how much money it takes to get through medical school and set up a practice."
"Well, some things aren't worth the money," she said.
"Momma, I'm just looking into it. The Army seems like a boring life, anyway."
I left the table, went to my room, and placed the West Point catalog on my dresser. Growing up during the Cold War, I really had seen the Army as boring. But what interested me about West Point wasn't the free education, or the free ticket to becoming a doctor, or even really the Army. West Point drew me in a romantic sort of way.
Maybe part of me wanted to try something I wasn't sure I could do. Maybe part of me wanted to be a part of that history, to walk the same path as Eisenhower and Bradley and so many others. Maybe part of me wanted to find out why I felt connected to the men in that tattered black book, why my chest got hot when I read their story.


From Two Wars. Copyright © 2008 by Nate Self. Used by permission of Tyndale House Publishers, Inc., Carol Stream, Illinois 60188.