Velvet Steel: The Joy of Being Married to You
John Piper

Author

2009

19 May

COMMENTS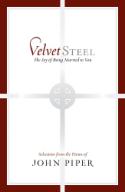 EDITOR'S NOTE: The following is an excerpt from Velvet Steel: The Joy of Being Married to You: Selections from the Poems of John Piper (Crossway).
Introduction
All but two of these poems were written for Noël in the first forty-two years of our relationship, starting from the day of our engagement. The other two are by Noël.
Most of them are excerpts from longer poems. The reasons for not including the whole poems is that some are too long and my aim is to give tastes, not meals—tastes of one man's affections for his wife.
I put this collection together in the days immediately after writing a book on marriage called This Momentary Marriage: A Parable of Permanence. This collection of poems completes that book. What seemed to be missing there was the taste of my affections for Noël.
In fact, the point of that book was that covenant-keeping, not the affections of being "in love," is the main point of marriage. But I also emphasized that tough-minded covenant-keeping is the best soil for the long-term flourishing of tender affections. Therefore, it seemed helpful that I give some tastes of what those affections were like over the last forty-two years.
Why poetry? Because poetry helps me intensify and express feelings that cannot be captured sufficiently in ordinary language. In fact, my definition of poetry is: an effort to share a moving experience by using language that is chosen and structured differently from ordinary prose.
Being in love is a very moving experience. It is like a river that over the years has rushing currents, crashing waterfalls, deep peaceful flows, eddies that swirl with scum, windblown backward drifts, surface heavings from boulders beneath, and long clean stretches of open water.
Not even poetry can render this reality in another form. But some of us must try. It is built into us humans that we must try to express the affections of love in ways that are not like the affections themselves.
We do it with songs, paintings, sculpture, drama, novels, woodwork, flower arrangements, purchased roses, notes left on the dresser, eating out, bed-and-breakfast weekends, repairing the leaky faucet, dressing up, sexual favors, special gifts, surprise phone calls, visiting concerts, movies, museums, gardens, oceans, mountains, and a hundred other ways.
My prayer is that these small tastes of my imperfect affections will fan affections into flame—for God, for your spouse, and, in every fitting way, for all the treasured people in your life.
Marriage is a parable of something greater than itself—the covenant-keeping relationship between Christ and his church. Christ's love for his church was tough enough to keep him on the cross until our purchase was finished.
But it was also tender and warm. Already through the Old Testament prophet, God gave this expression of affection:
How can I give you up, O Ephraim?
How can I hand you over, O Israel? . . .
My heart recoils within me;
My compassion grows warm and tender.
(Hosea 11:8)
May God cause such tender shoots of affection to grow in the covenant-keeping soil of your life. May the fullness of Christ's love be known and shown in the wholeness of every marriage bond.
John Piper
To Come and Capture Me
My love for you, Noël,
will drive me to pursue
with God and you
the one pure love and unity
that God's own Son
did show in birth and death for us.
As He Cast off His glory once
to capture me,
so would I shed my freedom now
to gain
Noël.
To a Diamond on Our Engagement
Dim Shadows of a brighter heart:
These nervous specks of color,
This little world of light;
These minute brilliances,
Yet they can sing!
So sing to her,
You little brilliances,
You timid colors,
You twinkling cosmos.
Sing to her!
Of God and Heaven,
Of life and Hope.
Sing to her!
Of high thoughts,
Of heart's capacities
Beyond your own crystal
realities.
Sing to her!
Of love
Of being loved
With Love more lucid than
yourself
And purely sing,
My little shadows,
And purely sing
Of me.
A Whispered Yes
Stunning sometimes to ponder
that all my future knowing
and all my future doing
will be a knowing-with and doing-for;
that you love me enough,
and love me yet,
to whisper me a Yes with your life.
She Kneeled to Be His Wife
Strength comes in all colors
even pink and purple.
I have seen Strength lie down—
like a Bulldozer.
I have seen her walk behind—
with the checkered flag.
She has given way to a feather's weight
and lifted mountains with ease.
Strength is a mystery creature
a man might give her his life.
For one, before he could reach her,
she kneeled to be his wife.
The Christian Hedonist Takes a Wife
Our God has made another way
To put his glory on display.
His goodness shines with brightest rays
When we delight in all his ways.
His glory overflows its rim
When we are satisfied in him.
His radiance will fill the earth
When people revel in his worth.
The beauty of God's holy fire
Burns brightest in the heart's desire.
I am a Christian Hedonist
Because I know that if I kissed
My wife simply because it's right,
And not because it's my delight,
It would not honor her so well.
With pleasures I will praise Noël,
And I will magnify my wife
By making her my joy in life.
So may this blazing, God-like flame
Ignite in us for his great name
A holy passion, zeal and fire
That magnify Him with desire.
I hail Him as my joy in life,
And take from his pure hand my wife.
Heartbeat the Morning of Our Marriage
Can I despise or doubt his wisdom
who, for ten thousand years,
has made of mortal men
bold conquerors of crisis,
who, from raw human trembling,
has forged finished victories?
Let him rage.
The sound of timid men fades like an echo;
only his thundering rings in history's ears.
Our Wedding Text
Habakkuk 3
Although the fig tree blossom not,
And all the vines of our small plot
Be barren, and the olive fail,
The sheep grow weak and heifers frail,
We will rejoice in God, my love,
And takes our pleasures from above:
The Lord, our God, shall be our strength
And give us life, whatever length
On earth he please, and make our feet
Like mountain deer, to rise and cleat
The narrow path for man and wife
That rises steep and leads to life.
Velvet Steel: The Joy of Being Married to You: Selections from the Poems of John Piper
Copyright © 2009 by Desiring God Foundation
Published by Crossway Books, a publishing ministry of Good News Publishers
1300 Crescent Street Wheaton, Illinois 60187
All rights reserved. No part of this publication may be reproduced, stored in a retrieval system or transmitted in any form by any means, electronic, mechanical, photocopy, recording or otherwise, without the prior permission of the publisher, except as provided for by USA copyright law.