Weatherproof "Outdoor Bible" Available for Troops
Randall Murphree

AgapePress

2006

24 Oct

COMMENTS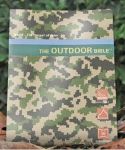 It's strong as stainless steel and sturdy as a Samsonite suitcase. Well, maybe not exactly. But it is a waterproof, tear-resistant Bible, ready for quick reference in the wild by hunters, snow skiers and campers – men like Bobby Bardin and Michael Marsee. That's who Bardin and Marsee had in mind – outdoorsmen like themselves – when they produced "The Outdoor Bible" in September 2005.
But it soon occurred to the creative duo that the same product which serves so well in the sportsman's world would also serve our soldiers well in war. So, project "Light of the World 2006" was born. In this project they are partnering with Campus Crusade for Christ Military Ministry to provide tough plastic, pocket-size copies of the "Gospel of John."
"There is not a more fitting gift at Christmas than that of God's Word," Bardin said. "The Gospel of John," like the entire Outdoor New Testament, is printed on 100 percent tough plastic, fully waterproof, resistant to outdoor wear and tear, sand and sweat.
"Our soldiers have combat gear," said Bardin. "This is spiritual gear!"
"Wow!" exclaimed one Alabama soldier's wife. "I'm so excited about 'The Outdoor Bible.' I'm saving it for a Christmas gift for my husband. He's being deployed to Iraq next year and he needed a new 'sword' that could stand up to some pretty major wear and tear. It might even be something that he passes off to another soldier when he comes home. What a blessing this will be. I know that it will make a huge difference for my husband while he's away."
Bardin and Marsee, along with Bardin's wife Anna, formed Bardin & Marsee Publishing in 2005 to produce this unique scripture. The original product, the "Outdoor New Testament," folds into six compact (5" x 6.5") parts. They are tucked into a burlap bag with drawstring. The whole package weighs less than 13 ounces.
Send the Word to Our Troops
Bardin & Marsee's camouflage-covered "Gospel of John" will be almost weightless – 1.4 ounces – and folded to be highly portable. The company, hardly more than a year old, is seeking churches and individuals to be a part of spreading the Gospel through Light of the World 2006.
"This is certainly a great idea," said American Family Association president Tim Wildmon. "What better gift could we send our troops? For a believer it can be encouragement and strength; for an unbeliever, it may be the very thing that leads him to Christ."
Bardin said they hope to ship 100,000 copies to U.S. troops this Christmas. They offer the "Gospel of John" for $4.00 per copy. Normally it will be a $9.95 product – remember it's made of tough, strong material. (Think steel, Samsonite.)
There are several ways others can join Campus Crusade and the young publishers to participate. Until November 20, individuals may order as few or as many copies as desired at the special rate from Bardin & Marsee.
"A church could commit to send one copy of the 'Gospel of John' from every member of your congregation," Bardin suggested. For churches or other groups, bulk orders are available in cases of 100, though the company promises to fill orders of odd numbers as well.
Bardin said his own church is going to let members write encouraging notes inside each "Gospel of John" they purchase, then send the copies on to Campus Crusade Military Ministry. To do that, a church should order from Bardin & Marsee, with payment, by October 25. If time prohibits that approach, Bardin & Marsee will ship directly to Campus Crusade if the church prefers.
"I urge people to take advantage of this unique and practical way to encourage our troops this Christmas season," said Wildmon. "Let them know they're not forgotten."

© 2006 AgapePress.  All rights reserved.  Used with permission.