When Teachers Pray
Vicki Caruana

Author

2004

20 Jul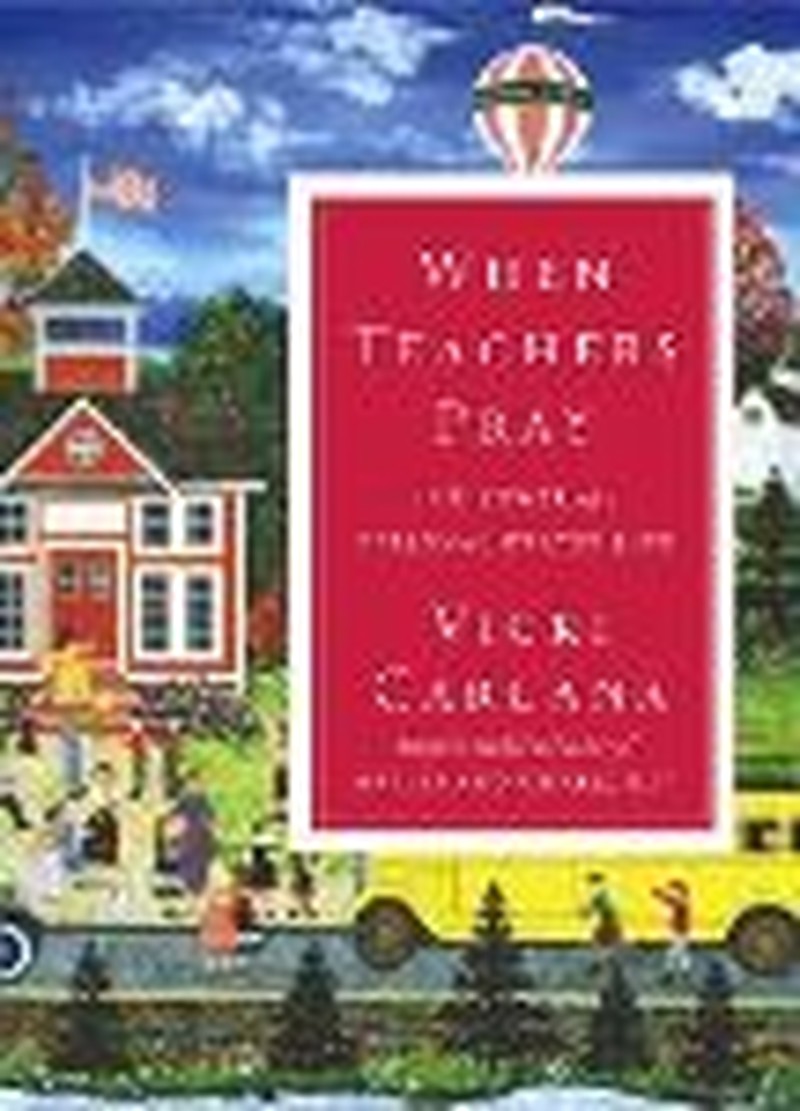 Pray the Issues:  Discouragement
Therefore strengthen your tired hands and weakened knees, and make straight paths for your fee, so that what is lame may not be dislocated, but healed instead.
HEBREWS 12:12-13
I began to hear the horror stories of burnout even before my first teaching job.  As soon as people found out I was going into special education, the "advice" started pouring in.  Staying motivated is not an easy task when you are worried about your students' progress day and night.  We're encouraged to look for small victories, but a special education teacher sometimes has to settle for minuscule victories. 
I had many students whose interpersonal skills were lacking.  They didn't know how to get along with others.  They either were painfully shy or their behavior was painfully inappropriate.  China was an eighth-grade, severely learning disabled girl who basically avoided contact with everyone, including me.  I didn't know how to reach her.  She was functioning on a third-grade level in reading.  I knew that if someone didn't break through her hardened shell, she wouldn't make it through high school.  But everything I did just drove her further inside herself.
At some point I stopped trying so hard.  After all, she wasn't the only student who needed me.  I didn't ignore her, but I no longer went out of my way to engage her.  One day toward the end of the school year, there was a gift on my desk.  China was absent that day.  It was a beautifully crafted beaded change purse.  The note attached said, "Thank you for being my teacher."  I smiled to myself thinking, Like I had a choice.  At the end of the day I was told China and her family have moved.  My chances to reach her had run out.  It really upset me, and I chastised myself for not trying harder.
Looking at the purse, I realized something.  This was it – the small victory.  China made that purse herself.  I still have it to this day.  It is a reminder of a seed planted that I pray someone else came along to water after me. 
Sometimes just the simplest of steps are enough to encourage us to continue.  Sometimes we need to see the "big picture" of God – who he is, where he is, and what his intent is.  We all get discouraged, but if discouragement goes unchecked, it can turn into despondency.  The circumstances of life can steal our joy.  Whether they are physical, emotional, or intellectual, these circumstances can be overcome by the love of God.  God has made certain promises for yourself in prayer.
WHO IS GOD?
When we are down and discouraged, we turn to ourselves or other people to encourage us.  But since the heart is deceitful above all else (Jer. 17:9), we cannot trust our own ability to lift ourselves up.  God is the only one who can lift us up.  Sometimes we don't turn to God because deep down we don't trust him.  We trust in our own abilities more.  But God is worthy of our trust.  Our dependence need only to lie in him.  Encourage means "to inspire with courage, confidence, or hope."  Who better to encourage then God?
FAITHFUL
If we are faithless, He remains faithful,
for He cannot deny Himself.
2 TIMOTHY 2:13
God is faithful, regardless of our previous experiences with man (Roman. 3:3-4).
ABLE
And God is able to make every grace overflow to you,
so that in every way, always having everything you need,
you may excel in every good work.  As it is written: 
He has scattered;
He has given to the poor;
His righteousness endures forever. 
2 CORINTHIANS 9:8-9
It is God who equips us to do what we have been called to do.  It is God "who is able to do above and beyond all that we ask or think" (Eph. 3:20).
HOLY
Lord, who will not fear and glorify Your name? 
Because You alone are holy,
because all the nations will come and worship before You,
because Your righteous acts have been revealed.
REVELATION 15:4
By his very nature, God is holy.  Everything he does is righteous.  Everything he does is worthy of praise and worship.  And since none of us is righteous – no, not one – we are better off putting our trust in the only one who is.
JUST
The Rock – His work is perfect;
all His ways are entirely just. 
A faithful God, without prejudice,
He is righteous and true.
DEUTERONOMY 32:4
God is a just judge, showing no partiality (1 Pet. 1:17).  Everyone who does wrong receives what he should for that wrong.  It doesn't matter who we are or what position we hold. It doesn't matter if we are tenured or teacher-of-the-year.  Can we say the same?  No.  Even in the midst of my discouragement, I know that God sees all and gives everyone according to his ways (Jer. 32:19).
Our God is trustworthy.  His character demonstrates it.  His actions illustrate it.  His mercy confirms it.  Because he is who he is, I have hope.  I am encouraged!
THE INDWELLING
In the midst of a storm we tend to look for God outside of it, asking him to come in and save us.  But he is not outside the storms of our lives.  He is there right in the middle of them.  Even if we are not aware of his presence, he is indeed there.  How do we know he is there?  His word says so in many places.  "And what agreement does God's sanctuary have with idols?  For we are the sanctuary of the living God, as God said:  'I will dwell among them and walk among them, and I will be their God, and they will be My people'" (2 Cor. 6:16).  Now we have not received the spirit of the world, but the Spirit who is from God, in order to know what has been freely give to us by God (1 Cor. 2:12).  We never walk alone – especially during the most discouraging of times.
GOD IS FOR US
What then are we to say about these things?
If God is for us, who is against us?
ROMANS 8:31
God sent us a helper, a comforter for times of trial and trouble.  The Spirit helps us in our weakness and intercedes for us when we pray.  Sometimes we are so confused or discouraged that the words to pray don't come.  That's when the Spirit, who lives inside of us and knows our every aching, our every desire, prays for us.  What an incredible advocate!  Jesus himself stands before the Father on our behalf.  He took our place, one who knew no sin became sin for our sakes – for my sake.  God poured out his wrath on Jesus, his only Son, on the cross that day – for you, for me.  He is our champion, our confidante, our defender, our deliverer – our Savior!  So when it feels as if no one is on your side or that no one cares about what you care about, remember that the God of the universe is for you – you personally.
GOD IS WITH US
"Haven't I commanded you:  be strong and courageous?  Do not be afraid or discouraged, for the LORD your God is with you wherever you go."
JOSHUA 1:9
Teachers feel incredibly isolated in their jobs.  Even though we are with students all day, we have very little opportunity to build relationships with fellow teachers.  So when we are troubled and discouraged, we don't know how to reach out for help.  Sometimes we even fear reaching out, thinking it makes us look weak; and in this day and age of accountability, no one wants to appear weak. 
Our God commands us to be strong and courageous.  It's not a suggestion or a piece of practical advice – it's a command!  God commands us things he himself has already equipped us to do.  Because he is for us, there is no one worth worrying about who is against us.  Even if we are faced with a trial that seems insurmountable, God is with us.  He may choose to calm the storm, or he may choose to calm his child.  Either way he is there with us.  So we have no reason to fear what man might do.  God is here, and he's in control!
GOD IS IN US
This is how we know that we remain in Him and He in us:
He has given to us from His Spirit.
1 JOHN 4:13
In the Old Testament, God dwelled among his people in different ways.  He accompanied them as a pillar of fire and cloud through the wilderness.  He spoke to them through Moses from Mount Sinai.  One of the most beautiful expression of God's love for us is seen in the New Testament.  First, he humbled himself and was born as a man to walk among his people.  That was a personal, face-to-face relationship.  But then he took this very personal relationship one step further.  He left his Spirit to reside and abide in the human heart.  How much more intimate can a relationship be?  He loves us so much that first, he died for us, and second, he placed his Spirit inside those who believe in him so that we could experience his love from the inside out.
HIS PLANS FOR US
Our God is more patient than any of us deserve.  Over and over again he is rejected, ridiculed, and refused.  Over and over again he forgives, blesses, and accepts us just the way we are.  And although we are to fear him – his awesome power demands it – he does not intend us harm but good.  Can we see clearly his plans for us?
"For I know the plans I have for you" – [this is]
the LORD's declaration – "plans for [your] welfare,
not for disaster, to give you a future and a hope."
Jeremiah 29:11
God spoke of Israel in this verse, but even now his plans for us, the church, are meant for good – his glory.  We may find ourselves confused, but God is not the author of confusion, so we can trust in his certainty about what he has in store for us.  Sometimes we brace ourselves in fear that God's designs are all against us.  But even things that seem to be harmful are for good.
We know that all things work together for the good of those who
love God:  those who are called according to His purpose.
ROMANS 8:28
God's purpose is to bring glory to himself.  We are created for such a purpose.  God will not give us what we fear or what we selfishly desire.  Knowing this, we are better able to seek him in prayer.  When our students don't achieve as we hope or our colleagues treat us with disdain, we can pray that God will be glorified through the situation, that our actions will be representative of a loving God who desires to bless his people. 
GAINING ENCOURAGEMENT
Finally brothers, whatever is true, whatever is honorable, whatever is just, whatever is pure, whatever is lovely, whatever is commendable – if there is any moral excellence and if there is any praise – dwell on these things.
PHILIPPIANS 4:8
Schools have reputations.  If there is a high turnover at a school, that is a red flag and an indicator to many that you wouldn't want to work there.  But sometimes you don't have a choice.  My first teaching job was a two-hour commute, and I desperately wanted to work closer to home.  After two years I finally got my chance.  I was so excited about my new prospect and shared my enthusiasm with colleagues where I was teaching at the time.  Surprisingly, no one shared in my enthusiasm.
They didn't know anything about my new school, and yet they were finding fault with it.  It was in a more prosperous district, and they assumed I would be swimming in a huge budget.  It was also a much larger school with more teachers, and they assumed I would get lost in the demands of teachers with more seniority.  I started to feel as though they were trying to sabotage my excitement about my new school. 
Not everyone was a naysayer, but enough were that it started to bother me.  On my last day no one huddled around me to say goodbye and good luck.  But one friend walked me out to my car with my last box in her arms.  "It's going to be great," she reminded me.
We can choose to listen to the naysayers, or we can focus instead on the good.  God directs us to focus on the things above.  The world is full of bad reports, so we must consciously focus our prayers on the good and perfect gifts from above instead.
So often we focus on the things that discourage us.  Instead we must set our minds on the things above (Col. 3:2), not on the things of the earth.  In other words, we must deliberately train our minds to contemplate heavenly things, not earthly ones.  This earth and all that is in it is passing away.  It is not our reality.  It is merely a shadow of what is real – God's will as it is done in heaven.
What specifically should we focus on then?  Philippians 4:8 tells us:
"whatever is true" – The Word of God is truth.  Time spent studying and memorizing Scripture will help you to focus on the things that are true.  Spend a few minutes in God's Word each morning at your desk before your students arrive.  It will help set the tone for the rest of the day.

"whatever is honorable" – Our feelings can betray us.  The heart is wicked (Jer. 17:9), so it is difficult sometimes to trust our own honesty.  Always compare what you say and what you think with what God expects.

"whatever is just" – God is the only just judge.  His statutes and judgments fit the behavior of every person without regard for their status in the community.  As a teacher, I wanted to be known as a loving, strict, but fair teacher.  We are tempted every day to be otherwise.  Follow God's precepts and you will be a just teacher.

"whatever is pure" – In the world's eyes you may be considered pure.  But it's not the world's opinion that matters.  We cannot purify ourselves; only God has the power to do that.  Ask him to cleanse you completely.  Just because everyone else in the teachers' lounge speaks ill of the new principal doesn't make it right.  Things are not gray – they are black and white.  Pray that God helps you to see the lines clearly and then focus on those things that are pure.

"whatever is lovely" – The world is full of unpleasantness.  Our news reports it every day.  But we do not have to concentrate on it.  We can instead concentrate on those things that are lovely, pleasant, and pleasing.  I admit that it is a challenge at the end of a difficult school day, but we can make a deliberate effort to pay attention to those things that are lovely.  They will then cause us to pray in thanksgiving to God, the Creator of such things.

"whatever is commendable" – In this age of accountability and the grading of schools, we hear a lot about schools that are failing or being closed.  Wouldn't you prefer to hear more about those that are succeeding?  Wouldn't you prefer to hear about quality teachers?  Find a way within your sphere to focus on those people and those things that are of good report.  Is someone doing something wonderful in your school?  Toot her horn!  Raise a banner!  Strike up the band!  Call attention to the good instead of perpetuating the bad reports of others.
OFFERING ENCOURAGEMENT
Blessed be the God and Father of our Lord Jesus Christ, the Father of mercies and the God of all comfort.  He comforts us in all our affliction, so that we may be able to comfort those who are in any kind of affliction, through the comfort we ourselves receive from God.
2 CORINTHIANS 1:3-4
I was less than thrilled with my first teaching assignment.  It was in a sixth-grade center in an inner-city ghetto.  It was frightening to say the least, especially when my own principal told me never to come in early or stay late and never to drive a car there that I cared about.  It was two years with absent parents, uncooperative students, no budget to speak of, and chronic classroom vandalism.  College did not prepare me for teaching in this environment.  But it was that same environment that taught me to be creative in my teaching, my discipline, my communication efforts with parents, and my materials.  Because of that experience I've been able to help many others faced with similar situations, and it has been so satisfying to be able to do so.
God comforted me through many trials during my years in the classroom.  It was only because I was comforted that I am now able to comfort others.  Only teachers really understand what other teachers are going through.  Unfortunately, we often keep to ourselves and only communicate our discouragement in the form of a gripe session in the teachers' lounge.  Have you been comforted by the Great Comforter?  If so, reach out to that brand new teacher and soothe her spirit.  Be a listening ear and a praying heart for the veteran who just can't take it anymore.  Pray that God will reveal to you who needs to be comforted today.  He will show you; just be willing to go where he points.
We have the hope of an eternity with God.  Allow that hope to proclaim itself to all those around you.  Then when things go wrong and you are at peace, others will want to know how.  They will ask you about the hope that is within you.  Be ready with your response!
PRAYER POINTS
2 Timothy 2:1:  "You, therefore, my child, be strong in the grace that is in Christ Jesus." 

Hebrews 12: 12-13:  "Therefore strengthen your tired hands and weakened knees, and make straight paths for your feet, so that what is lame may not be dislocated, but healed instead."
PRAYER PROMPT
Often we are discouraged because we try to change things in our own strength.  We are unable to do it.  Only God can do it through us.
PRAY
Lord, it is so difficult to hide my feelings, especially when they border on despair.  I want to protect my students from my emotions.  I don't want my feelings to get in the way of my teaching and their learning.  But when I cover them, I still don't feel at my personal best with the students.  Even in this situation, I want the peace you have promised – the peace that passes all understanding.  Lord, release that peace to me now.  Yet if I still experience turmoil, cover any mistakes I might make with your love.  Let your love trickle down as my love for my students.  I will reveal my struggle, and then if I handle it the way you would have me handle it, others will ask about the peace that is within me.  Thank you for this time of suffering.  Let it work in me patience, perseverance, and finally peace.  Amen.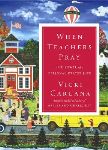 Excerpted from "When Teachers Pray: The Power of a Personal Prayer Life" by Vicki Caruana. Copyright 2004. Broadman & Holman Publishers. Used with permission.

Vicki Caruana educates and encourages kids and those who live and work with them to strive for excellence.  Trademarked as America's Teacher™, Vicki desires to educate America about education.  She is the best-selling author of "Apples and Chalkdust" (over 500,000 copies sold).  Vicki founded Teachers in Prayer for School (TIPS), which helps sponsor teacher mini retreats educators to gain rest and renewal.