Bendinger's "Stick It" Gets a Poor Mark
Annabelle Robertson

Entertainment Critic

2006

22 Sep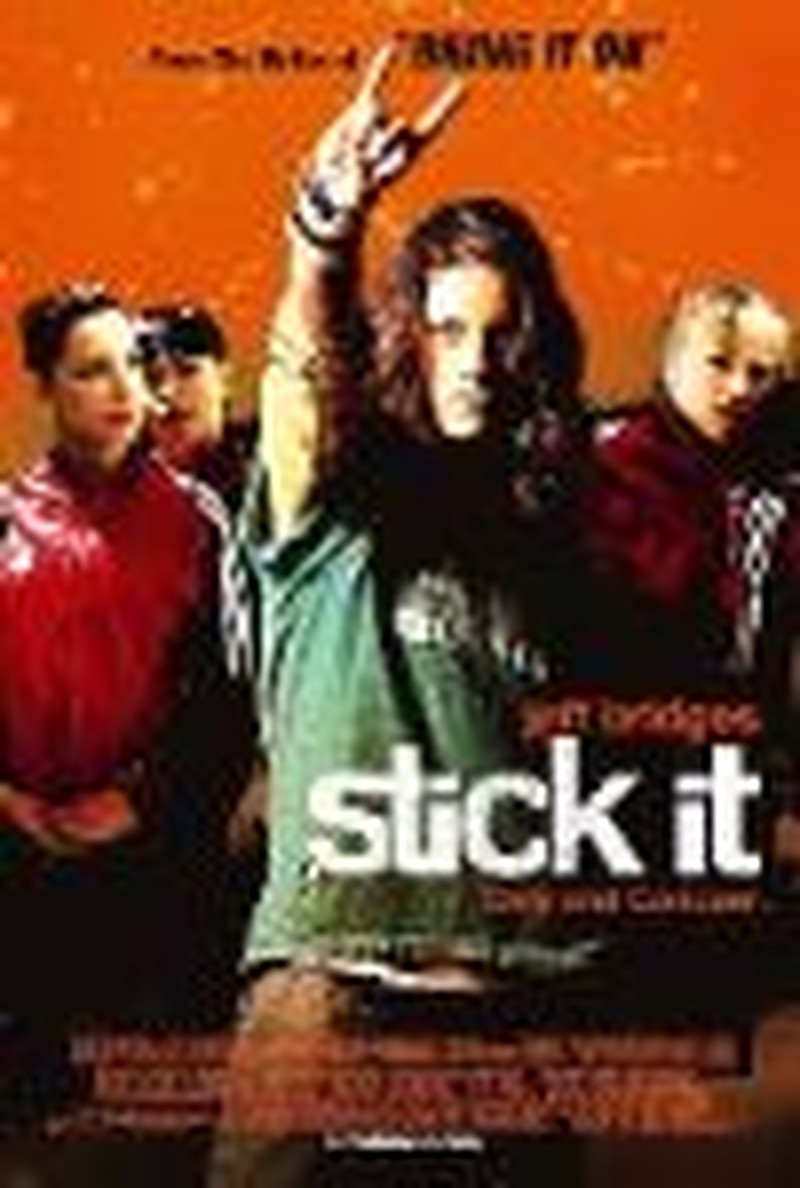 DVD Release Date:  September 19, 2006
Theatrical Release Date:  April 28, 2006
Rating:  PG-13 (for some crude remarks)
Genre:  Drama/Sport
Run Time: 103 min.
Director:  Jessica Bendinger
Actors:   Jeff Bridges, Missy Peregrym, Vanessa Lengies, Jon Gries, Gia Carides, Julie Warner
When the opening credits for "Stick It" began to flash by, in music-video-amphetamine style, I couldn't help but be confused.  Blaring rock music?  Spray-painted graffiti names?  Extreme stunts – in a gymnastics movie???  Had I mistakenly inserted Stephen Baldwin's über-cool skate video ( "Unusual Suspects" ), instead of Jessica Bendinger's ("Bring It On") latest film?  No, I had not. 

Too bad.

Haley Graham (Missy Peregrym) is a tough cookie.  She hangs with the guys, defies the law and would rather go to jail than rat on a friend.  Plus, she can take her bike up and down a half-pipe faster than any boy around.  It's a natural talent that Haley used to use on the gymnastics mat, until she walked away from the nationals two years ago – which cost her team the championship and made Haley a pariah.

Haley hasn't exactly been a good kid, although given her selfish, absentee parents, this is no surprise.  But when her latest bike routine lands her in front of a county judge, she does not get a perfect score.  Haley is sentenced to an ultra-expensive gymnastics academy run by Coach Burt Vickerman (Jeff Bridges).  "Vic," as the girls call him, doesn't have a lot of patience for Haley's attitude.  He's far more interested in the cash brought in by his students' wealthy parents.  But he sticks with Haley – even as the other gymnasts ignore her.  Soon, Haley must decide whether she'd rather nurse her pain or go for the gold.  

But, wait.  You can't get a gold medal in gymnastics.  I mean, you can, but only if the judges like you, your mother, your coach, your hairdo and your dog.  They're sooooo arbitrary, you know.  Like, they totally enforce outdated rules – such as proper grooming.  So who wins and who doesn't has little to do with athletic ability and everything to do with whether a judge ate her Wheaties that morning.  But, hey!  That's what rebels are for, right?  To overturn evil, corrupt organizations like the American Gymnastics Association.  And who better to take on such a system than wannabe punk-rocker Haley? 

Bendinger has penned several scripts in addition to "Bring It On," including "The Truth About Charlie" and "First Daughter."  None of these are about to win an Oscar – for best screenplay or anything else.  But at least "Bring It On," a cheerleading movie, had some funny moments.  "Stick It," on the other hand, is Bendinger's first attempt at directing, and her inexperience shows. 

In several scenes, you feel like you're standing onset, watching the movie being made.  At a cocktail party, people dance without music.  At the national championships, the arena feels (and sometimes looks) empty.  There are no outstanding performances and the main character is not particularly likeable (though she can act and is certainly gorgeous).  Both the dialogue ("It's called a friend. You should try it.") and the plot (Texas judges sentence criminals to gymnastics schools?) are weak.  All the characters tend to resemble one another as well.  Three of the four main gymnasts are airheads who constantly make dumb comments.  And all the mothers are ambitious, selfish has-beens who schmooze (or worse) with the coaches.

Bendinger does deviate slightly from the usual sports movie plot, with a mildly interesting ending.  However, the message that ending sends – that rebelling against all the rules of a sport, because you think they're bad – is a very poor one.  Seems like Bendinger, a former gymnast, might be sporting over a bad score.

It's a shame to see Jeff Bridges in a film like this.  He's such a good actor, with so much charisma – not to mention four Oscar nominations – that he should be at the top of the Hollywood A list, doing serious dramatic work, rather than standing in the shadows of a bunch of teenagers.  While he's not bad in this film, he's not very good, either. 

Newcomer Missy Peregrym – who looks like Hilary Swank's younger twin – has spunk, but she doesn't do much except flash the devil's horn sign and teach her peers how to rebel.  Vanessa Lengies, as Haley's teammate and rival plays the classic mean girl, with a ding-a-ling spin.  But the worst performance is from Gia Carides, as Haley's over-the-top, melodramatic mother – with a fake Southern accent.  Her lines are few, but her worst scene takes place early in the narrative, which sets an ominous tone.

There are some good messages in "Stick It."  The first is that things aren't always what they seem, so none of us should be quick to judge – lest we be judged ourselves.  The second is about the importance of teamwork, and that we cannot go it alone, no matter how hard we try.  And finally, "Stick It" insists that we can take on an unjust system – even if our victory is short-lived. 

These are good messages.  Unfortunately, they're overshadowed by a rebellious tone – not to mention some extreme cruelty and rudeness, which seems to be a part of each gymnast's personality, even the heroine.  None of them are kind, and the ones who aren't bitingly vicious are just idiots.  What happened to the athlete scholars who inhabit so many sports? 

Worse still is the message that athletes should rebel against the rules, the authorities and even the sport itself, whenever they feel like it.  Hilary says, "We can be the ones to pick the winner."  But is that really what sports, much less sportsmanship, is about?  It's disturbing, to say the least – just like the many lingering shots of young girls' bodies, which make the most of their skin-tight leotards.  Even I was distracted, so I can only imagine how teenage boys might react.

The list of DVD extras appears long and full, but it's really skimpy, with very little substance – kind of like the film, I'm sorry to say.  So, overall, this judge – however arbitrarily – is giving "Stick It" a poor mark.

AUDIENCE:  Older teens and up  
      
DVD EXTRAS:
"Buttaharas" – bloopers and outtakes
"Skinny Fat" – deleted scenes with optional commentary
"Hard Corps" – the real gymnasts/stunt doubles
"The Elites" – full gymnastics routines performed by top gymnasts
"We Run This" – Missy Elliott music video
"Crowded" – Jeannie Ortega featuring Papoose music video
"The Judges' Table" – uneven bar routines in slow motion with optional commentary
Feature Commentary – with director and actors
CAUTIONS:
Drugs/Alcohol:  Social drinking at cocktail party.
Language/Profanity:  A few mild obscenities.
Sexual Content/Nudity:  Teenager refers to a parent's affair (which caused a divorce); teens flirt; one boy reveals that another is a homosexual.
Violence:  On the gymnastics floor only.
To read Crosswalk.com's interview with actress Maddy Curley,  click here.