Engaging "World's Fastest Indian" Moves a Bit Slow
Annabelle Robertson

Entertainment Critic

2006

16 Jun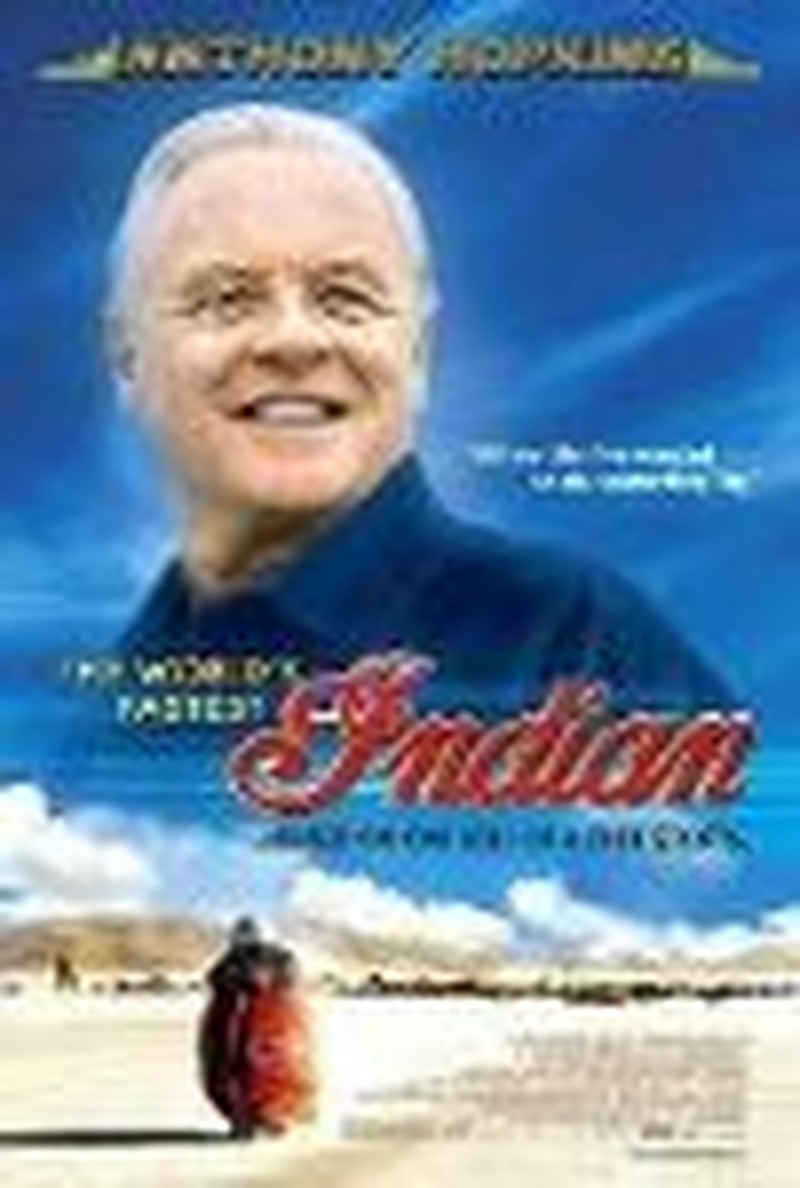 DVD Release Date:  June 13, 2006
Theatrical Release Date:  December 7, 2005 
Rating:  PG-13 (for brief language, drug use and a sexual reference)
Genre:  Drama
Run Time: 127 min.
Director:  Roger Donaldson
Actors: Anthony Hopkins, Diane Ladd, Aaron Murphy, Paul Rodriguez, Annie Whittle, Chris Bruno, Bruce Greenwood
It's a well-known fact that in emergency rooms across the country, motorcycles are called "donor-cycles."  In this film, it's easy to understand why.
Burt Munro (Anthony Hopkins) is an aging New Zealander and expert mechanic with a crazy obsession for motorcycles – particularly his 1920 Indian Twin Scout.  Which is fine, except that it's 1967 and the antique bike, though fast, is wobbly on a good day.  Not only that, but Munro, who has no money save his social security pension, dreams of racing his "Indian," as he calls it, on the Salt Flats of Utah, where veteran motorcyclists head each year to break land speed records. 
After a few bumps and starts, Munro puts up his property as collateral and convinces a ship captain to allow him to work as a cook, in exchange for overseas passage.  Munro arrives in the U.S., wide-eyed and naïve to big city ways, where he stays in a seedy hotel on Sunset Boulevard and befriends a transvestite (Chris Williams) and a used car salesman (Paul Rodriguez), who help him purchase a vehicle and make repairs to the Indian.  He then makes a memorable trip to Salt Lake which includes an accident, a one-night stand, an overnight with a Native American and a ride with a Vietnam soldier who explains the "merits" of Agent Orange.
After arriving in Utah, Munro must then persuade officials to let him race – when he hasn't pre-registered, doesn't own a parachute or safety suit and doesn't meet any of the technical requirements with his bike, such as brakes.  "I'm planning on going, not stopping," he explains.  And so he does, showing them all that even an old man can have plenty of zoom. 
Based on a true story written by Australian-born and New Zealand-raised director Roger Donaldson ("Thirteen Days," "Cocktail," "The Bounty") who made a documentary about Munro in 1972, "The World's Fastest Indian" may have a crummy title and be a bit slow, but is definitely an engaging film that both men and women will enjoy.  "David vs. Goliath" stories never grow old, when they're in the hands of an expert storyteller – which Donaldson certainly is.  Hopkins is in his element as well, offering a detail-oriented performance that matches Munro's oddball character. 
The message of the film is simple, and that's to follow your dreams, no matter how impossible they may seem.  "If you don't … you might as well be a vegetable," Munro insists.  The reward, he explains, is "in the doing of it."  This is a good message, and certainly, God calls us all to excellence.  I can't help but hope that when we strive to reach the top of our chosen fields, however, as believers, we'll live for others rather than ourselves, as Munro so obviously did.
Though his talent, determination and hard work are things we should all admire and emulate, Munro is otherwise perhaps not the greatest of role models.  In the documentary, he wears a T-shirt that says, "Dirty old men need love too" – the same thing a young female interviewee says about him, with a grimace.  In the film, another woman repeats this refrain, when she is observed by the neighbors after spending the night with Munro, on their first date.  Munro also thinks nothing of having a one-night stand with someone he's just met (Diane Ladd), just weeks after kissing his girlfriend goodbye.  It's not clear whether he ever married or had children, but we don't see any family members in his life, and he appears to be very lonely.  Even after his great victory, it's a neighbor he calls – not a loved one.
Perhaps that's why this record-breaker, who died in 1978, insisted that "When you're dead, your dead."  Then again, Munro was a motorcyclist – not a theologian.
DVD EXTRAS:
Feature Commentary with Writer/Director Roger Donaldson

Deleted Scenes

The Making of "The World's Fastest Indian" – consists of interviews with actors and crew.  Very little about how the film was actually made.

Southland: Burt's Hometown of Invercargill – a view of the town and country that Munro put on the map.

Burt Munro: Offerings to the God of Speed – a documentary about Munro, made and filmed in 1972 by Donaldson.  Includes extended interviews with Munro, family members, friends and competitors. Would have been nice to see a postscript, saying when Munro died (1978), and something about his family.
AUDIENCE:  Older teens and adults
CAUTIONS:
Drugs/Alcohol:   Several scenes with drinking and mild drug use.

Language/Profanity:  A few profanities and obscenities, including one strong one. 

Sexual Content/Nudity:  Multiple scenes with an openly transvestite male character, dressed in drag, who is portrayed sympathetically and as normal; man sleeps with a woman on their first date and later, with another woman he has just met, but no overt sex scenes or nudity. Characters urinate outdoors (seen from behind) and also discuss same.

Violence:  Male characters argue then battle it out in a motorcycle race; various crashes and high risk of peril; character is badly burned after riding motorcycle.