Fifth in Love's Series Shows Improvement
Annnabelle Robertson

Crosswalk.com Contributing Writer

2007

4 Dec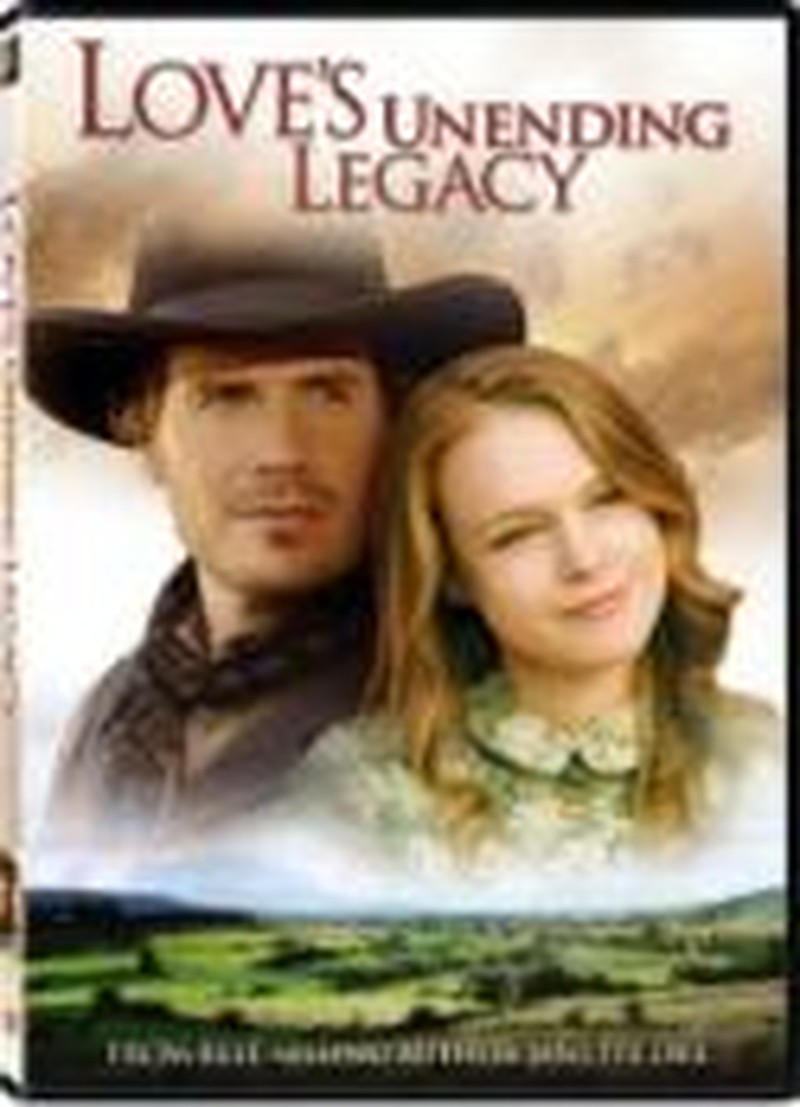 DVD Release Date: December 4, 2007
Rating: None
Genre: Faith-Based Drama/Romance/Western
Run Time: 84 min.
Director: Mark Griffiths
Actors: Erin Cottrell, Dale Midkiff, Victor Browne, Samantha Smith, Holliston Coleman
It's been three years since Willie, the husband of Missie LaHaye (Erin Cottrell, Love's Abiding Joy, Legally Blonde 2) has died. She's now heading home to her father Clark (Dale Midkiff, Love's Abiding Joy, Deep Rescue) and her stepmother Marty (Samantha Smith, Transformers), where she intends to raise her only son, Maddie (Brett Coker).
Clark sets up his daughter in a small but cozy house, and she starts working as the town's schoolteacher. Soon, Missie notices the town sheriff—or is it he who notices her? Either way, Zach Tyler (Victor Browne, The Confessional) is as handsome as they come. He's also courageous and not afraid to stand up for what's right—the very thing that caused Willie's death, in fact, which Missie keeps reliving. Unfortunately, Missie isn't ready to let go of her husband's legacy. But Zach isn't ready to trust in God, anyway. Although Missie does, she understands that feeling, because of the SIDS death of her daughter, Cathy, years ago.
When a group of orphans arrives on the train seeking adoption, Missie has no intention of volunteering. She's got her hands full as a single mom. But when the other families depart, leaving the feisty Belinda (Holliston Coleman, TV's Medium) behind, Missie takes pity on the child. At 14, Belinda isn't an easy kid to love—especially when Missie realizes she's stealing food and sneaking out of the house. But eventually, Missie realizes why, and things take a new turn.
This is the fifth DVD in the Fox Faith series—based on novels by Janet Oke—which all take place out West during the final years of the 19th century. This film has a new director, Mark Griffiths, and his 23 years of television experience show. There are mistakes, like too many flashbacks of Willie's death, and some melodrama (also Willie's death). It also looks like they used the same set for Marty's house as they did for Missie's house, which is hundreds of miles away. But overall, the film is a major improvement over the previous ones in the series.
Devout Oke fans, however, may be disappointed. The script deviates substantially from the book—far more than the usual Hollywood changes. Willie does not die in the books, which is likely to frustrate some. A number of characters disappear without explanation and Missie also has only one child, instead of several.
As it stands on its own, however, the script works. Still, given that it was written by Pamela Wallace, who won an Oscar for her work on Witness, I would have expected a lot more. Without the book to strictly adhere to, she could have easily added some suspense. Missie being courted by both the God-fearing, single pastor and the unbelieving Zach, for example, or a scene that shows Zach wrestling with his unbelief. The teleplay is hampered by silly dialogue, too, like the scene where Missie refuses a gold locket from Zach. She tells him that she could only accept such a thing from a man she loved. "Could I be such a man?" he says, staring deep into her eyes and moving closer.
The best part about the film is the actors' performances. While nothing falls into an award-winning category and there is little nuance, they all have lots of experience, so their characters are believable and likeable. Cottrell keeps Missie sympathetic, and Coker's Maddie is adorable. Browne does a great job with his lines, especially since many sound like they've been inspired by a daytime soap. Coleman's performance is a little shaky, with too much petulance. And while I'm not a big Midkiff fan (at least in this series), at least he doesn't have many lines here.
As with the previous films in this series, the Christian message is nuanced. It's obvious that the LaHayes are believers, since they occasionally talk about their faith, but they're not annoying about it. The film also has the requisite church scene and a dinner table prayer, along with a believable conversation about the challenge of trusting in God during painful circumstances. Overall, however, it's well handled and the message is clear for anyone who has "ears to hear."
Love's Unending Legacy will win approval with fans of this bestselling Christian DVD series, who will appreciate the big improvement in cinematic qualities. With the exception of young children, who may be frightened by the (mild) violence, it will remind many of Little House on the Prairie and is perfect for family viewing.

CAUTIONS:
Drugs/Alcohol: None—although one flashback scenes appears to take place in a saloon.
Language/Profanity: None.
Sexual Content/Nudity: One chaste kiss between a couple who has just declared their love for one another.
Violence: People carry guns and harm, but little violence takes place, at least on-screen. In one flashback scene, which is repeated at least three times, a man is shot (no blood) and dies, slumped against a wall. A foster father jerks around and is harsh with a young boy, whom he is clearly abusing, along with his wife (all offscreen). Characters talk about a lame horse and a man walks off with a gun to put him down. A puppy dies but comes back to life.