So This is Christmas One Unhappy Holiday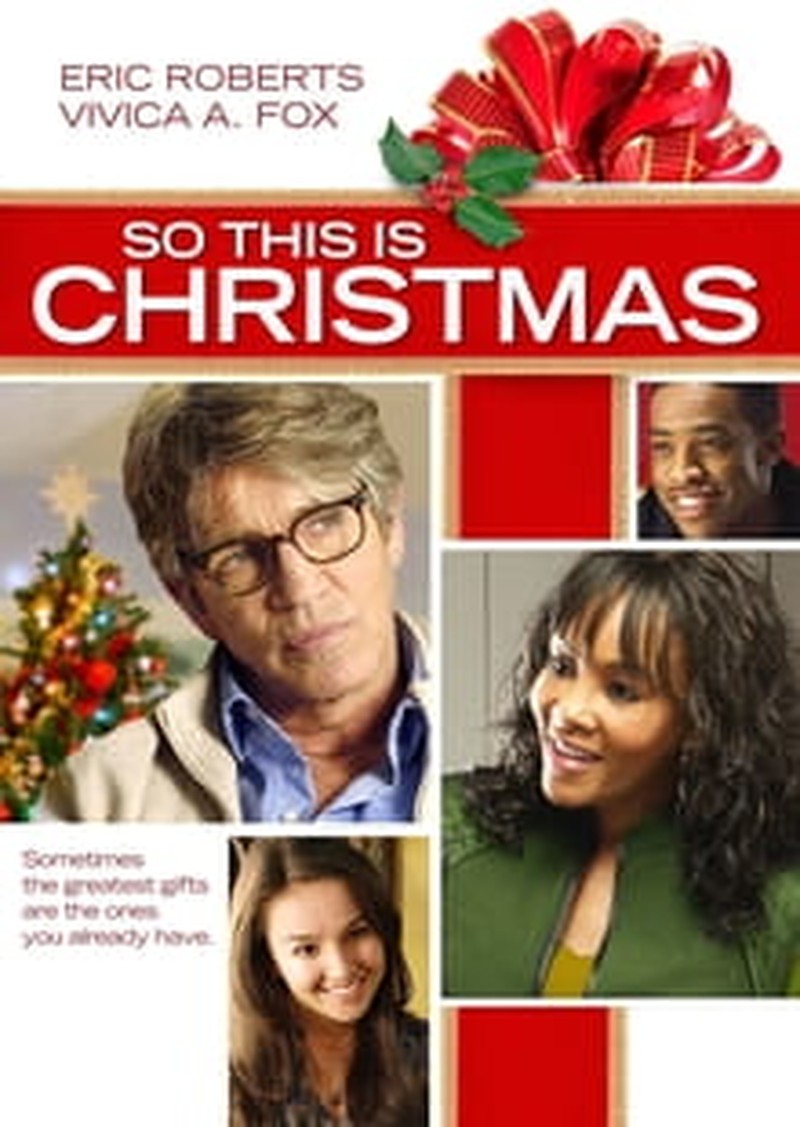 DVD Release Date: October 1, 2013
Rating: PG-13 (for violence and sexual content)
Genre: Family, Drama, Romance
Run Time: 115 minutes
Director: Richard Foster
Cast: Eric Roberts, Vivica A. Fox, Lexi Ainsworth, Titus Makin Jr., Bryan Massey,
It's October, so naturally the commercialized world is already getting a jump-start on Christmas. One example of this seasonal marketing outflow is the new film by Foster Entertainment, So This is Christmas, which on the surface appears to be your standard, cheesy, holiday film for the whole family. In truth, this is not the case. A garden-variety holiday special would never tackle such heavy issues or lead its audience down such a twisting road. So This is Christmas is not a family movie, it is not a Christmas movie, but it tries hard to be a Christian movie.
Once it was over, though, I wasn't sure what it was supposed to be.
The story opens with Ashley Lane (Lexi Ainsworth) recounting the events of the pervious month to a police officer. We find that Ashley is a troubled teenager living at home with her equally troubled family. Her father, Bill (Eric Roberts, This is Our Time), is inattentive and battling financial ruin. Her stepmother, Sharon (Vivica A. Fox, Home Run), is consumed with her work and a borderline bully to Ashley. And her stepbrother Jason (Titus Makin Jr.) has turned to crime to support his drug addiction.
Then one night, when Ashley's at her lowest, she meets a cheerful handyman named Mac (Bryan Massey) who convinces her to write and direct a Christmas play for the local Children's Home.
If Christmas were any other movie, this would be the point where Ashley's wayward family are all drawn into the play through a series of laughable hijinks. Instead, the film takes a dark turn and heads straight in the opposite direction. Though the ending does eventually culminate in a children's play, the subjects of Christmas, family, and even God are given a back seat. What viewers do get is veritable parade of every moral and spiritual calamity a human being could possibly face. This movie has everything: drug addiction, alcoholism, stealing, abusive parents, teen pregnancy, attempted rape, gang violence... the list goes on.
In the movie's defense, Christmas tries to make these tragedies authentic for viewers. These are very real problems faced by real people today, and it's important to see the consequences that come with them. Still, the sheer number of problems becomes overwhelming; some dwindle out of the storyline, others get neatly tied up in a series of unlikely events toward the end.
As for the actors, a few, like Fox, attack their roles with passionate performances, managing to overshadow the apathetic delivery of co-stars like Roberts. Unfortunately, choppy transitions, clumsy storytelling, and some long-winded dialogue only serve to mar Christmas final presentation.
So This is Christmas is a film that tries to take advantage of the holiday spirit but falls short of success. As hard as the movie tries, whatever positive elements it conjures up are no match for the avalanche of problems that follow. For the wary viewer, this is one present best left unopened.
CAUTIONS:
Language/Profanity: Several uses of the word "A*s" and "sh*t", a few derogatory references to girls is salacious outfits.
Alcohol/Drugs: Several scenes of underage drinking, characters are shown drunk, a girl sneaks vodka into a water bottle, a girl drinks peppermint schnapps to cover the alcohol on her breath, Jason is a drug addict and frequently shown snorting crack, characters are shown to be high, one character smokes crack, morphine and other painkillers are mentioned, numerous scenes in bars, characters are called lushes and drunks, a boy goes through withdrawal and must be checked into rehab.
Sex/Nudity: Characters are shown in their underwear, passionate kissing, sex between two characters is implied, a teenage couple is seen in bed, boys shown shirtless, a girl is pregnant, close dancing in a club, a girl says she isn't a virgin.
Violence/Crime: Jason steals to feed his drug addiction, gang violence, shoplifting, a girl is physically abused by her father, a girl is shot, a girl is molested by robbers, abortions are discussed, bloody injuries are show, a fatal car crash, a man is stabbed through the hand with scissors.
Religion/Morals: A girl says she's a Christian and makes the sign of the cross, Mac talks frequently about Jesus, Ashley reads the Bible, the Christmas play is centered on Christ's birth.
*This Review First Published 10/15/2013