"Joyeux Noel" Stirs Contemplation of War's Complexity
Annabelle Robertson

Entertainment Critic

2006

17 Nov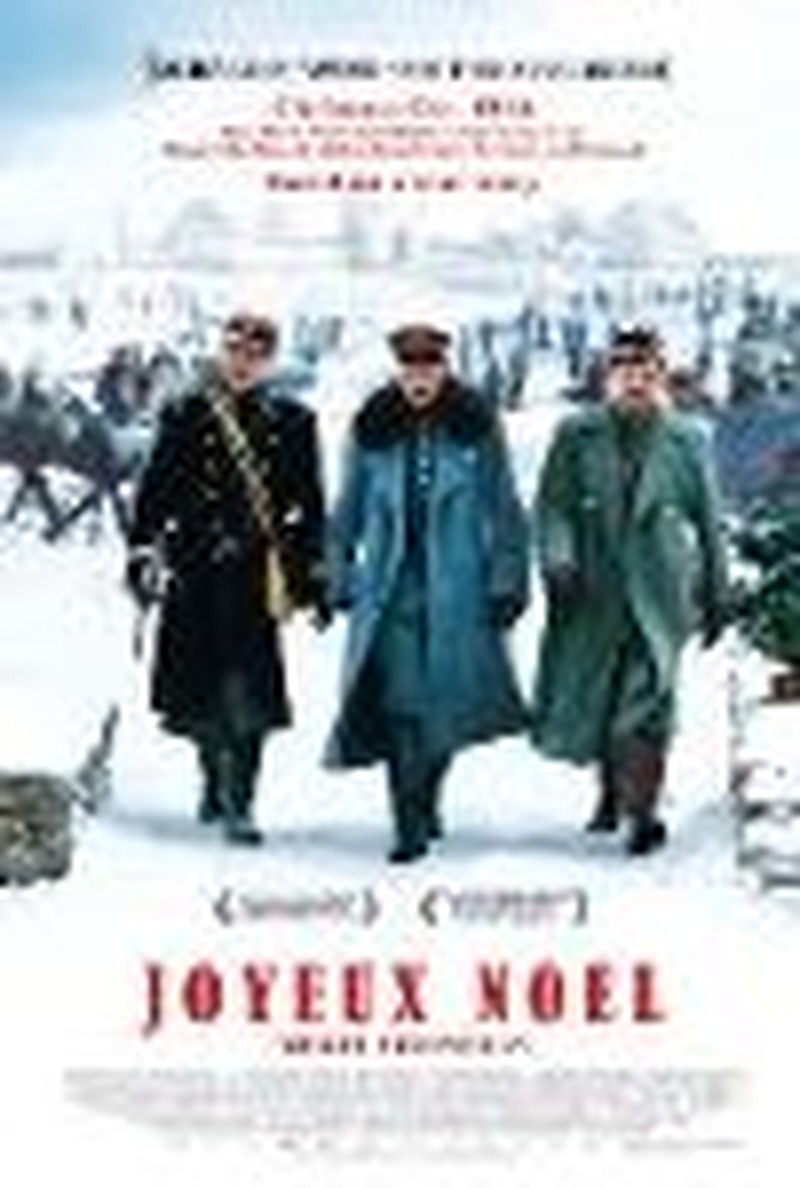 DVD Release Date:  November 14, 2006
Theatrical Release Date:   March 3, 2006 (limited) 
Rating:  PG-13 (for some war violence and a brief scene of sexual nudity)
Genre:  Drama/War
Run Time: 119 min.
Director:   Christian Carion
Actors:  Diane Kruger, Benno Furmann, Guillaume Canet
On November 11, 1918, troops from every major country in the world set down their arms, ending the brutal First World War with a ceasefire that would be formalized one year later, with the Treaty of Versailles.  More than 15 million people – almost half of which were civilians – lay dead.  Another 22 million were wounded.
This global conflict, set in motion by the assassination of Archduke Franz Ferdinand and his wife while in Sarajevo in 1914, was heralded as "the war to end all wars."  Sadly, as we now know, it was not.  WWII, which ignited just 20 years later, would leave an estimated 62 million dead, including 12 million alone from Hitler's Holocaust.
Unaware of the global impact their fighting was having, soldiers from Scotland, France and Germany found themselves huddled in trenches in Northern France on Christmas Eve, 1914.  At times as little as 12 feet apart, they fought against the cold and tried not to glance at their wounded, who lay in front of them in the bitterly ironic-titled "no man's land."  But when a German voice begins to sing "Schtille Nacht" ("Silent Night"), a Scottish stretcher bearer/chaplain named Palmer (Gary Lewis, "Billy Elliot") suddenly joins in with his bagpipes. 
Soon, these mortal enemies are sharing chocolate, champagne, photos and stories from home.  They even share a Latin mass led by Palmer.  The next day, the soldiers continue their ceasefire and solemnly bury their dead, then play soccer together.  When word about their fraternization reaches their commanding officers, however, all will pay the price.
At home in Scotland, Palmer is a village priest to two brothers, Jonathan (Steven Robertson, "Kingdom of Heaven" ) and William (Robin Laing, "Band of Brothers"), whose initial excitement to enlist bears a striking ressemblance to that of the Tarleton twins in "Gone With the Wind."  Sadly, the young men's naivete is stripped just as mercilessly as that of all soldiers during America's Civil War.
The German tenor, Sprink (Benno Furmann, "The Order"), is serving as a private after starring in the Berlin Opera for many years.  In a script choice that both forshadows WWII and contrasts that war with WWI, Sprink's field commander, Horstmayer (Daniel Bruhl), is Jewish and married to a French woman.  Sprink is inspired to sing to the men after his stage partner and lover, Anna Sorensen (Diane Kruger, "Troy," "National Treasure" ), arranges a nearby recital for a Prussian nobleman so that they can see one another.  In a largely superfluous role (with acting to match), Anna ends up staying the night with Sprink in the trenches.
The French are led by Lieutenant Audebert (Guillaume Canet, "The Beach" – who happens to be married to Kruger in real life), an excellent officer so rattled by his order to lead a charge that he vomits before giving his men a heartfelt, but less than convincing, speech about their impending victory.  Audebert's father and commanding officer is General Francais (Bernard Le Coq).  His wife has recently given birth, but because she is now behind enemy lines, Audebert has received no word from her yet.  This will come later, as a result of the ceasefire.
Written and directed by French newcomer Christian Carion and shot in three languages with subtitles, "Joyeux Noel" is based on a true story about various incidents of fraternization that occurred along a 700 kilometer stretch of the Western Front on that Christmas Day so long ago.  In one of the DVD "extras", Carion explains the actual historical events that prompted him to write the film, including a tenor who performed then came out to see the troops applauding him and a cat that was later arrested for treason (and actually shot) after crossing between enemy lines with messages attached to his collar.  Unfortunately, Carion's informative interview is not translated, nor does it contain subtitles, making it useless for those who do not speak French.
"Joyeux Noel" boasts a strong script and excellent performances from a cast of unknown actors, most of whom do a magnificent job.  The singing (dubbed by soprano Natalie Dessay and tenor Rolando Villazon) is beautiful – although more than a little suspended belief is required for Kruger's lip synching.  The sets may seem a bit clean to those familiar with the horrors of WWI.  However, as Carion points out, these events took place just 6 months after the start of the war, when most of the devastation had yet to occur.
Not surprisingly, the film was nominated for (but did not win) last year's Oscar for Best Foreign Film.  Although not an easy movie to watch, "Joyeux Noel" nevertheless stirs the soul to contemplate both the complexity and the tragedy of war.  Its message is an important one.  With this film, Carion shows us that often, wars occur not because of righteousness or self-defense, but simply because people in power – those who remain at home by the fire, while the bakers and cobblers battle it out in the cold – deem it so. 
That doesn't mean that war is never justified, nor that all wars (or even our current one) are similar to those fought during the first half of the 20th century, when little save the lust for land and power pitted men against one another.  But it does mean that when marching off to battle, we tend to focus on that which separates us, rather than that which we have in common.  It's a message not just for war, but for all relationships, especially during this season of peace on Earth.
      
DVD EXTRAS:
Director Commentary
Interview with director (in French, no subtitles)
Deleted Scenes
Trailer
CAUTIONS:
Drugs/Alcohol:  Various scenes with social drinking and smoking.
Language/Profanity:  Little to none, save one or two slightly off-color words in French but not translated as such into the subtitles).
Sexual Content/Nudity:  One sex scene between an unmarried couple.
Violence:  War violence, including shooting, explosions, soldiers being shot and some blood, as well as thematic and conceptual violence.