Why Did I Get Married Proves Dramatic, Uncomfortable
Annabelle Robertson

Crosswalk.com Contributing Writer

2008

15 Feb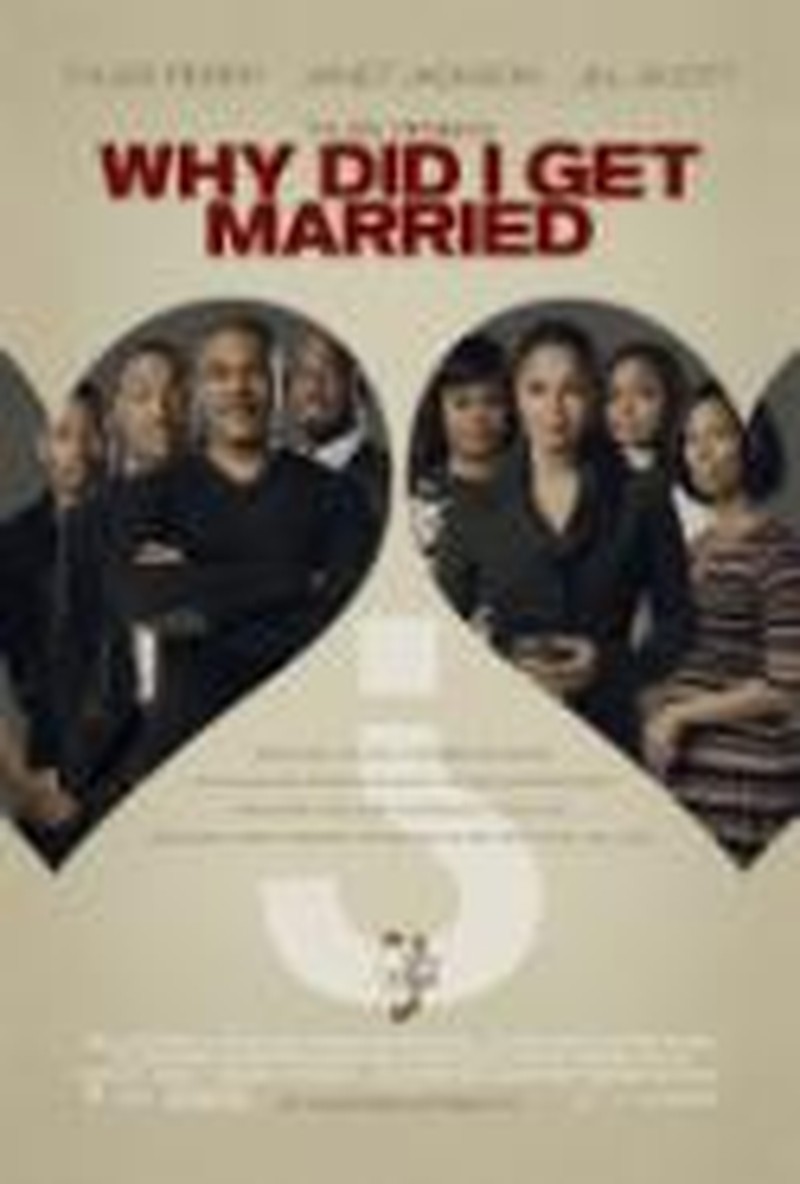 DVD Release Date: February 12, 2008
Theatrical Release Date: October 12, 2007
Rating: PG-13 (for mature thematic material, sexual references and language)
Genre: Comedy, Drama, Adaptation
Run Time: 118 min.
Director: Tyler Perry
Actors: Janet Jackson, Tyler Perry, Jill Scott, Malik Yoba, Richard T. Jones, Michael Jai White, Lamman Rucker, Sharon Leal, Tasha Smith, Denise Boutte
When eight friends from college meet for their annual marital retreat, secrets spill and tensions boil. Terry (Tyler Perry), a successful pediatrician, wants another child, but his stressed-out lawyer wife, Dianne (Sharon Leal) just wants to keep working. Angela (Tasha Smith) has a drinking problem, and being drunk gives her an excuse to vent. She takes out her anger on her passive husband, Marcus (Michael Jai White), as well as anyone who crosses her.
Mike (Richard T. Jones) can't stand his wife, Sheila (Jill Scott), and isn't ashamed to tell the world. He constantly abuses and humiliates Sheila about her large girth. A strong Christian, Sheila just keeps forgiving him. She even allows Mike to bring their "friend" Trina (Denise Boutte) on the weekend. But when Mike forces Sheila off the airplane because of her size, and arrives alone at the Colorado cabin with Trina, the other wives are infuriated.
The one couple that seems to have it together is Gavin (Malik Yoba) and Patricia (Janet Jackson). She's an award-winning psychologist and relationship expert. He's a loyal husband and successful architect. But they, too, have issues, which will become clear all too soon.
It's said that a family is only as healthy as its secrets—and these families definitely have secrets. "To love!" they toast, as they sit down to eat. But before the meal is over, all love will be tossed out the window—and all of their secrets will be exposed. Adultery, venereal disease, addiction, anger, passivity, repression, betrayal and selfishness—it's all here. And as the film unfolds, we see just how destructive these patterns can be, yet how frighteningly easy they are to slip into for couples.
Writer/director/producer Tyler Perry, of the film's superfluous possessory title, is an often-overlooked Christian making huge strides in Hollywood. A successful theatre company owner in Atlanta, Ga., he has produced numerous plays, some of which have been made into films (Diary of a Mad Black Woman and Madea's Family Reunion). His work, which typically explores faith, family and friends in the African-American community style, has led to a large and very devout fan base, and his style is funny yet heartfelt.
Here, Tyler sheds the drag and plunges into new depths. Not only does he offer an important view of wealthy, professional African-Americans, but he also deals with marital woes in a sensitive manner. It's dramatic, at times, and occasionally uncomfortable to watch. Sometimes, the dialogue sounds more like a stage play than a film. Smith's character is particularly vociferous in her opinions, and doesn't show any restraint. Likewise, Jones would have also benefited from a more subtle approach in his role. He's far too mean, and too often, to be real. Fortunately, Smith says what everyone is thinking, however, which provides good comic relief.
Jackson, who made a comeback with this film, is as understated as her character, but still nice to watch. The film's frame, however, which centers on a book she has written about these friends, is completely extraneous. Omitting it would have only strengthened the story. Jill Scott, on the other hand, all but steals the film with her sad but soon-to-be spunky Sheila. A successful gospel singer, Scott clearly has a huge future in film as well. Many Christian women will also relate to her dilemma between doing what is "right" and facing reality.
Perry makes you really think about the issues that affect marriage, and the choices we make as we attempt to work it out. His message? Think very carefully before you point the finger—and before you leap. His characters talk about the "80-20" rule, whereby couples often ditch their marriage to find the "20 percent" they are missing, only to discover they no longer have the "80 percent" they already had.
"I can deal with a lot of things, but this, I'm not strong enough to deal with," says one character, at the film's climax. "You don't have to be strong by yourself," her husband answers, joining her tears. "Let me be strong for you." This is the attitude Perry wants to impart, and it's a crucial one. Spouses need each other, but they have to be willing to give of themselves and be vulnerable, first. And no matter what, there's always hope.
The best line of the film, which Jackson's character delivers, is this: "The greatest achievement for anyone is to love God, yourself and others." Sure, it's corny, but it's also true. And it's an important message for the many marriages facing similar struggles offscreen.
DVD EXTRAS:
Janet Jackson: Return of an Icon
Reflections on Getting "Married"
The Music of "Married"
Also from Lionsgate (previews)
CAUTIONS:
Drugs/Alcohol: Characters drink wine in several scenes.
Language/Profanity: Occasional profanities and obscenities. Also, rude insults like "ho," "skank," etc. are tossed at one character.
Sexual Content/Nudity: No nudity or sex scenes. Married couples kiss, snuggle and discuss/argue about sex, venereal disease, adultery and betrayal. A spouse flirts with another woman then later, seen from the hallway, sneaks into her bedroom late. Two men who appear to be gay make catty comebacks.
Violence: A man, infuriated by a revelation of adultery, lunges for his wife's neck before being stopped. A woman, lost in the mountains, worries for her safety (but no harm comes).