3 Things to Know about Christmas with The Chosen: The Messengers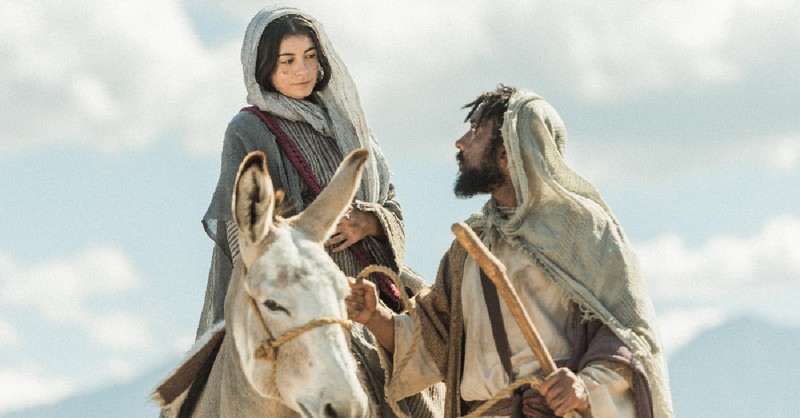 Joseph is a man of honor who is doing his best to obey God's will and to love his new wife, Mary, who is pregnant.
Even so, obedience isn't always easy.
He and Mary just completed a long and grueling trip from Nazareth to Bethlehem. They trod on dry and dusty roads. They nearly ran out of water. Then, upon arrival, they discovered they had no place to stay. All the inns, it seems, are full.
Yet there's hope: The wife of one of the innkeepers has offered them a place to sleep.
"[She] said that if we wanted, we could try camping in the stable," Joseph tells Mary. "They promised us water and blankets – even lamb's clothes for the baby. And they promised that they would be clean."
Mary, who is seemingly minutes or hours away from giving birth, agrees to the unusual arrangement.
"We will make it work," she says, smiling.
The new film Christmas with The Chosen: The Messengers re-tells this well-known biblical story in a unique way, weaving the biblical narrative with a creative story that will inspire and move you – and perhaps even lead you to shed a tear.
Here are three things you should know:
Photo courtesy: ©Loaves & Fishes Productions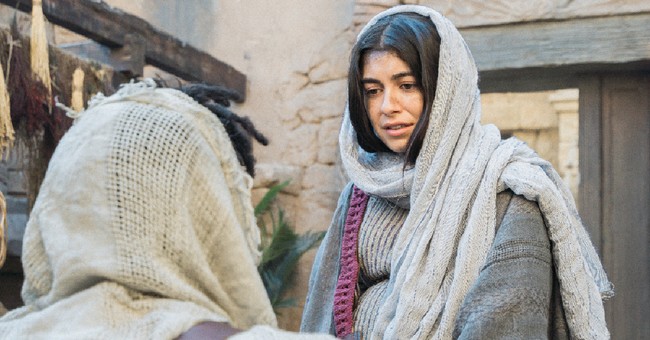 1. It's One of the Best' Chosen' Episodes Yet
Christmas with The Chosen: The Messengers is a musical extravaganza, a Christmas celebration, and a new episode of The Chosen, all rolled into one film. Every minute of the two-hour Christmas special is inspiring, but the new episode is the star. The story follows a (very) young Mary and (a somewhat older) Joseph as they journey on the road to Bethlehem – still getting to know one another and still contemplating this incredible mission God has given them.
Like every episode of The Chosen, the plot follows the biblical text while imagining what might have happened in between the verses. Mary tells Joseph that "no one would have blamed" him for divorcing her because of her pregnancy. Joseph, though, quickly rejects that idea: "I wouldn't change a single thing that has happened since that dream." Finding no place to stay in the crowded streets of Bethlehem, Joseph tells Mary they were offered a stable. He then proceeds to shovel out manure as Mary works to transform a trough into a crib.
Messengers, though, is no ordinary Christmas story. It's authentic. (We see fluid on the ground when Mary's water breaks.) Further, the episode brilliantly mixes an entertaining plot about Mary and Joseph with an imagined scene involving biblical characters from 48 A.D., molding the two stories into one. (If I spoiled the plot by telling you more, you'd be upset.)
It's one of the best (and most creative) episodes of The Chosen yet.
Photo courtesy: ©Loaves & Fishes Productions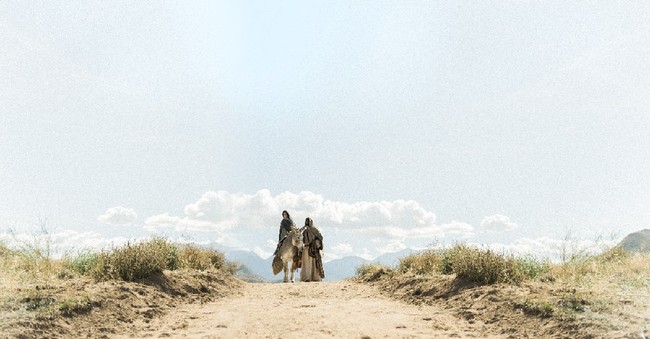 2. It's Filled with Music that Will Move You
If you've never experienced a concert in a movie theater, now is your chance. Christmas with The Chosen features some of the top religious artists singing old and new songs alike. Among them: Phil Wickham, For King & Country, Maverick City Music, Brandon Lake, Cain, Matt Maher, Jordan Feliz and We The Kingdom.
This isn't a dull show, though. The artists sing outdoors on the set of The Chosen, which only adds to the Christmas feel and spirit. For King and Country, for example, performs Go Tell It on the Mountain while walking through the (movie set) streets of ancient Israel.
The film closes with Phil Wickham and the other musicians gathering on a temple-like movie set for – perhaps – the best rendition of Joy to the World you've ever heard.
The movie also includes interviews with the musicians about the Christmas story.
Photo courtesy: ©Loaves & Fishes Productions
3. It Was Filmed in Secret
Typically, the filmmakers behind The Chosen divulge everything to their fans – including when and where they're shooting the next episode. They post pictures on social media. They invite special guests to the set. Such publicity helps spark excitement and additional donations. (The Chosen, after all, is crowdfunded.)
That, though, did not happen with The Messengers, which was filmed in late September and early October.
The film, in essence, was a Christmas present for fans, who responded by setting a Fathom record with $1.5 million in ticket sales during the first 12 hours. (Fathom is the distributor.) The film then topped another record, becoming Fathom's best-selling and highest-attended event in history, with $8 million in sales (from 640,000 tickets sold).
"We decided to not let anyone know," director Dallas Jenkins told Crosswalk. "... I don't know how we pulled it off, considering our fans and how rabid they are. But the hundreds of people who were on the set all honored their non-disclosure agreements."
The film is, Jenkins said, a "unique opportunity" for Christians to "experience Christmas in a new way – and to do it together."
Visit FathomEvents.com.
Christmas with The Chosen: The Messengers is unrated. It contains no coarse language, violence or sexuality.
Entertainment rating: 5 out of 5 stars
Family-friendly rating: 5 out of 5 stars
Photo courtesy: ©Loaves & Fishes Productions
---
Michael Foust has covered the intersection of faith and news for 20 years. His stories have appeared in Baptist Press, Christianity Today, The Christian Post, the Leaf-Chronicle, the Toronto Star and the Knoxville News-Sentinel.