3 Things to Know about The Waltons: Homecoming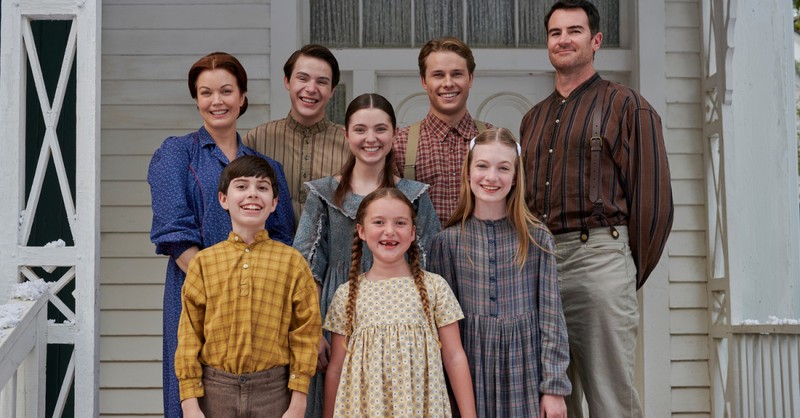 It's Christmas Eve, and Olivia Walton and her children are preparing to celebrate the holiday with a simple meal in the midst of the Great Depression, with grandma and grandpa by their side.
Some family members, though, are struggling to discover their Christmas spirit.
"I wish daddy was here," Elizabeth, the youngest member of the family, tells her mom.
Her daddy, John Walton, has a hard-working job miles and miles away – more than a half day's drive over the hills and valleys of Virginia – and has told his family he won't be home to celebrate with them.
But when Olivia receives a telegram with the best news of the season: John's boss has given him Christmas off – and John is on his way home aboard a bus.
Yet that good news is quickly dampened by more news: A major snowstorm is predicted to slam Virginia, and John's bus must beat it in order to arrive without danger.
Will John make it home safely?
The new CW movie The Waltons: Homecoming tells the story of John, Olivia and their family as they battle a storm – literally and figuratively – on Christmas Eve.
Here are three things you should know about it:
Photo courtesy: ©Tom Griscom/The CW
1. It's Mostly True to the Original Walton's
The Waltons aired on CBS from 1972 to 1981, and – for the most part – the film stays true to the original look and feel. It has the same music. It has a similar ending (as the film closes, we see a scene of the house from the outside and hear John Boy and his family members tell one another, "Merry Christmas.") It also features the same actor, Richard Thomas, who played John Boy. He introduces the movie and then serves as the film's narrator. More significantly, Homecomingpromotes faith and family values (more on that below).
"I wanted to create again something that families can watch together," executive producer Sam Haskell told SuperTalk Mississippi.
The film's plot is simple yet engrossing: John Walton is trying to get home for Christmas from his out-of-town job. Apart from a dozen or so coarse words (details below), it's nearly a perfect family-friendly film.
This is the first original CW television movie, Haskell said.
Photo courtesy: ©Tom Griscom/The CW
2. It's Filled with Faith and 'Good Feels'
The Waltons: Homecoming is like a slice of apple pie or a cozy night by the fireplace. It just makes you feel good. It promotes what life's all about – faith, love and family – and repairs what's bad. Mary Ellen and John Boy argue, but they soon reconcile. John Boy and his dad have a major disagreement, but they, too, resolve their differences. In Homecoming, black and white people sit together on a bus and worship together in a church – even though it takes place during a time (segregation) when that didn't always happen. ("Everybody is welcome in any of God's houses," we hear.)
Faith plays a major role. The Waltons pray together. We learn that the family tree is listed in the Bible. When a neighbor gives them a turkey, mom calls it "God's answer to our prayers." Further, we see the Waltons and their neighbors sing Christmas carols, and we hear the pastor tell the parishioners – who are holding candles – that they're celebrating "the birth of another light."
Of course, not everyone embraces faith; John Walton says he doesn't like to be "preached to." But when the film ends, even he is worshiping in the church.
Photo courtesy: ©Tom Griscom/The CW
3. It Makes You Grateful for What You Have
Homecoming takes us back to a time – the Great Depression – when life's luxuries were not owned by every American. It was a time before smartphones, televisions and the Internet. It was a time when families weren't sure where their next dinner would come from. (In Homecoming, Olivia Walton, the mom, considers killing the family chicken for a Christmas meal – but rethinks the plan when she realizes it's the same chicken that provides eggs.) It also was a time when toys and gifts were rare – and were cherished. (Each child in Homecoming opens one gift for Christmas.)
We live in an abundant "throwaway" society, where blessings are easily forgotten and where the trials of our ancestors seem lightyears away.
The Waltons: Homecoming shouts at anyone who will listen: Learn gratitude. And be content with what you have.
Content warnings: The Waltons Homecoming has mild language, including a-- (1), h-ll (2) and d--n (9). Other content: A Walton brother jokes that Mary Ellen wants "breasts for Christmas." Two elderly women in town make a moonshine-style drink and then distribute it to others, saying they want to "celebrate our Lord's birthday."
Entertainment rating: 3.5 out of 5 stars
Family-friendly rating: 3.5 out of 5 stars
Photo courtesy: ©Tom Griscom/The CW
---
Michael Foust has covered the intersection of faith and news for 20 years. His stories have appeared in Baptist Press, Christianity Today, The Christian Post, the Leaf-Chronicle, the Toronto Star and the Knoxville News-Sentinel.