4 Things You Should Know about Downton Abbey: A New Era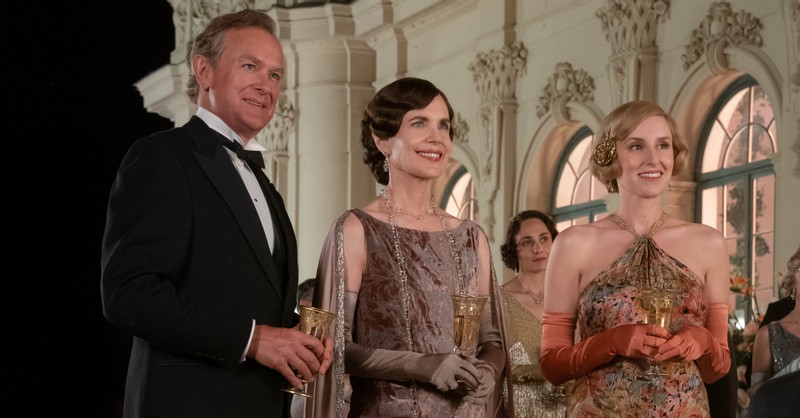 Robert Grantham is a British aristocratic man with a massive estate, an exquisite mansion, and a leaky roof.
A very leaky roof.
Unfortunately, Grantham doesn't have the money in the bank for such a major repair.
But then Hollywood comes calling – or, more specifically, the film company British Lion. It wants to make a movie ("The Gambler") on Grantham's property. Even better, it will pay Grantham a royal sum of money – enough cash, in fact, to pay for that roof.
At first, Grantham is hesitant. But then his daughter, Lady Mary Crawley, intervenes. He agrees.
"You steer ahead," he tells her with a smile, knowing she and her husband are the heirs of the mansion. "You are the captain now."
The new film Downton Abbey: A New Era (PG) tells the intriguing story of the Granthams hosting a "moving picture" company. It stars Hugh Bonneville as Robert Grantham, Michelle Dockery as Lady Mary, and Elizabeth McGovern as Cora Crawley.
Here are four things you should know:
Warning: Spoilers ahead!
Photo courtesy: ©Ben Blackall/2022 Focus Features LLC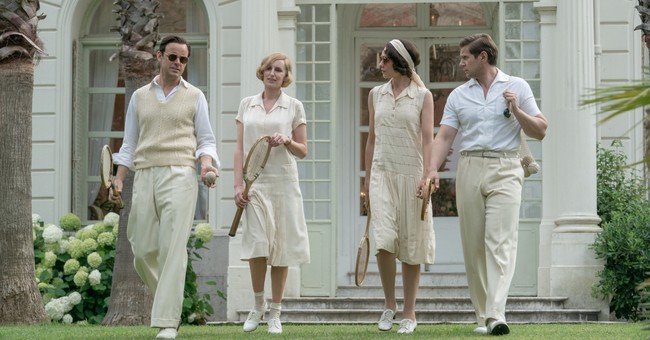 1. It's a Sequel, Set in 1928
A New Era is set a few months after the previous movie, 2019's Downton Abbey, and finds the Granthams once again confronting a fast-changing society.
In the first film, set in 1927, the Granthams welcomed King George V and Queen Mary of the United Kingdom to their vast estate. A New Era follows two storylines: 1) a visit by the Granthams to a French villa that the aging Violet Crawley inherited, and 2) the filming of a silent movie on the picturesque estate (or, as Mr. Carlson calls it, a "moving picture").
Of course, the two films are a continuation of the Emmy-winning ITV/PBS series Downton Abbey, which ran from 2011to 2016 and told the story of Robert Crawley (the "Earl of Grantham"), who was searching for a male heir to his estate in a male-dominated society. With three daughters and no sons, his only hope was to find a distant cousin to marry one of his daughters.
The television series and the film are a trip back to a bygone era of the aristocracy (although everyone mostly gets along), social classes (although a few people "move up") and the turning of the page from the old ways of the 1800s to the new ways of the 20th century (the suffrage and union movements formed key plots in the series).
Photo courtesy: ©Ben Blackall/2022 Focus Features LLC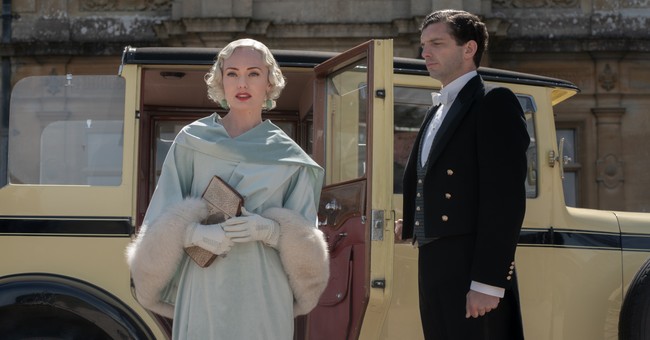 2. It's Still Fun and Charming
A New Era has the same music that warms your heart. It has the same characters you love – and a few new ones you may be tempted to love to hate (the lead silent actress, Myrna Dalgleish, is snotty-nosed and quick-tempered). The smiling servants are still here, ready to fluff your pillow (Daisy, in particular, is thrilled with the thought of meeting a famous actor). The curmudgeons are back, offering plenty of lines to make you chuckle (Mr. Carson is repulsed by the thought of "vulgar actors" occupying the mansion). It has the same charm, too, with scenic, fly-over shots of the towering estate that appear even more magnificent on the big screen.
Meanwhile, A New Era continues the drama's intriguing spotlight on inventions of the Industrial Revolution (airplanes, cars and the telephone played a big role in the TV series). In A New Era, we get to see the Granthams' reaction to silent films ("picture shows"). We also watch their amazement when sound is added to the track (Edith says films are "starting to talk").
The historical references in A New Era are largely correct. "Picturegoer" magazine was a real-life publication (Daisy is a fan). British Lion was a real-world studio (that's the company in charge of production). And many silent actors really did struggle with the transition to "talkies" (after all, a woman with a Hollywood face doesn't necessarily have a Hollywood voice).
Photo courtesy: ©Ben Blackall/2022 Focus Features LLC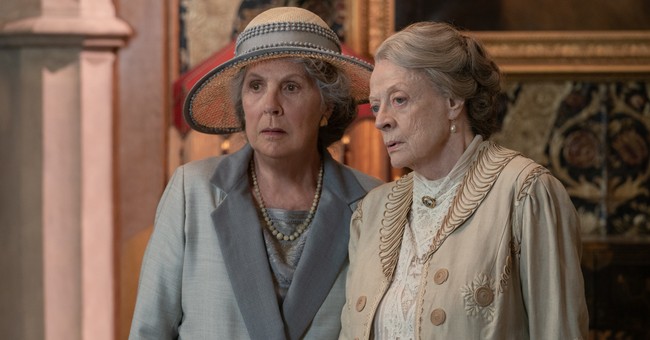 3. It's PG On the Outside, But …
A New Era is rated PG for "some suggestive references, language and thematic elements" – a rating that easily holds up if the only concern is visuals and curse words. It's free of violence. It contains no on-screen sexuality or sensuality. (I caught three words: h-ll, b----rd and an exclamatory "my G-d").
Still, there is some "PG-13" material implied in the storyline.
Thomas Barrow, the gay butler, has two conversations about his sexual identity – first with Mrs. Hughes (after he expresses sadness that a male romantic interest married a woman, she calls Barrow "brave" and says men like him face persecution) and then with the silent actor Guy Dexter, who has eyes for Barrow throughout the film and invites him to visit him in the United States ("I don't have a wife to look after me, so you could do it."). Later, Barrow hands in his resignation to live with Dexter. ("I hope you'll be as happy as our cruel world allows," Lady Mary tells him.) Mind you, the word "gay" is never mentioned, and unlike the 2019 movie, the film contains no same-sex kiss. Discerning children, though, will catch on.
Meanwhile, two other storylines imply something is morally amiss with Violet and Lady Mary.
We learn that Violet, the Dowager Countess of Grantham, had a one-week fling with a Frenchman while she was married, and it's heavily implied they produced a baby. For the remainder of the film, her son, Lord Robert Grantham, is faced with the possibility that the father he knew was not his biological father ("I might be a life-long fraud.") He even meets a man who would be the brother he never knew. (We later learn, though, that Violet's fling never became physical.)
Lady Mary, who is married, develops a friendship with director Jack Barber while her husband is out of town. She goes to a movie with Barber (they sit together) and works as a voice actress on his set. Although he is interested in her – and she seems to like him – she rejects his advances toward the end of the film. ("I'm too old-fashioned to believe that what I want is the only thing that matters").
Even if everything ends well with Violet and Lady Mary, it could produce uncomfortable questions from children.
Photo courtesy: ©Ben Blackall/2022 Focus Features LLC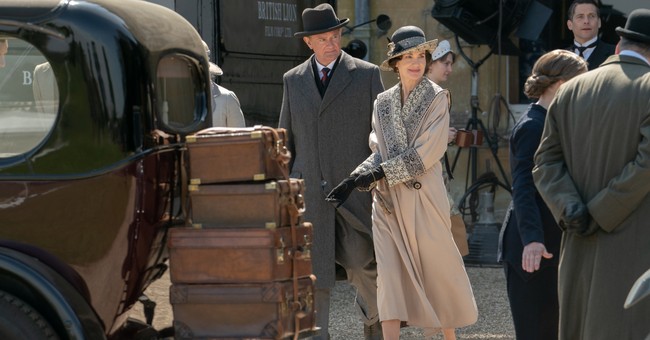 4. It Has Many Great Lessons
A New Era is filled with solid lessons. It contrasts the wealthy but self-centered Myrna Dalgleish with the lowly but joyful servants, reminding us that the fruit of a cheerful soul is worth more than diamonds and gold. It also contrasts Myrna with her co-star Guy Dexter, who has stayed humble despite his fame and fortune – demonstrating that money and haughty behavior don't have to go hand-in-hand.
It teaches us that talent doesn't segregate by class (the director is shocked to learn that Mr. Molesley, a butler, has a natural ability for writing scripts). It urges us to practice grace and mercy to those who wrong us, even when it's difficult (Daisy's kindness to Myrna helps change her behavior).
Finally, A New Era also encourages us to show grace to those who face moral failures. The Granthams lived in an era when an out-of-wedlock birth led to the shunning of both mom and child – and, potentially, rumor-filled headlines.
That, of course, is the scandal at the center of the plot. Yet such a reaction lacks the biblical grace Jesus displayed. In the modern era, it also has a profound impact on the abortion debate. (If we in the pro-life community want moms to choose life, then support and grace are essential.)
Overall, A New Era is similar to its predecessors. It's not perfect, but it's still magical – and it's far better than most talking pictures in the modern cinema.
Entertainment rating: 3.5 out of 5 stars.
Family-friendly rating: 3.5 out of 5 stars.
Photo courtesy: ©Ben Blackall/2022 Focus Features LLC
---
Michael Foust has covered the intersection of faith and news for 20 years. His stories have appeared in Baptist Press, Christianity Today, The Christian Post, the Leaf-Chronicle, the Toronto Star and the Knoxville News-Sentinel.
Related podcast:
The views and opinions expressed in this podcast are those of the speakers and do not necessarily reflect the views or positions of Salem Web Network and Salem Media Group.